Victor Fong, 20, hopes to work in bay area over the next 10 years and bring technological advances to his home country in South America.
Chinese-Venezuelan student Victor Fong Hu Zizheng, 20, was awed by mainland China's fast-growing technological advances in artificial intelligence and digital payments every time he visited the region during his summer holidays.

The country's rapid progress inspired Fong, who was born in Venezuela but moved to Hong Kong with his family seven years ago to avoid the political and economic turmoil there, he said.

Now studying financial technology at the University of Hong Kong, he hopes to one day bring the scientific advances back to his home country in South America to help it thrive.

"We don't have these things in South America … When the political crisis hit [Venezuela], it made me think a lot about how integral the financial system was to the country," he said.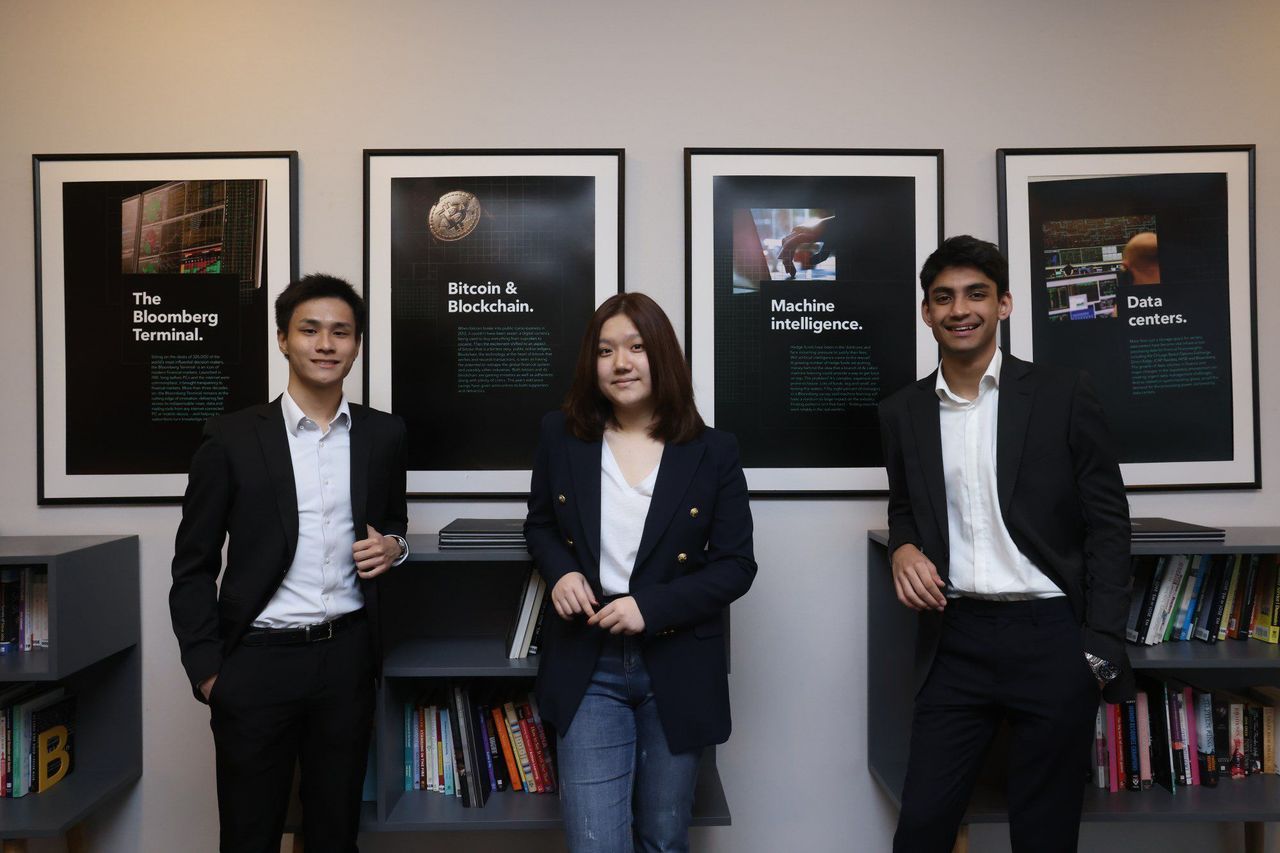 (Left to right) Victor Fong, Germaine So and Tanush Changani.


"If you could export these technologies to less developed regions, like South America or Africa, they could build more robust and effective systems. People could have more access to credit and improve their lives.

"I think this is something worth fighting for."

With dreams of bringing technological advances back home, Fong was among 323 students selected to undergo three weeks of training under the Greater Bay Area Fintech Talent Initiative on financial technology this month – a programme organised by the Hong Kong Monetary Authority (HKMA), Bloomberg and the Hong Kong United Youth Association.

More than 20 financial giants, including Goldman Sachs, HSBC, J.P. Morgan, Bank of America, Citigroup and Hong Kong Exchanges and Clearing will provide support to the initiative, which aims to nurture fintech talent in the bay area plan, Beijing's scheme linking Hong Kong, Macau and nine cities in Guangdong province to form an economic powerhouse by 2035.

Among the companies is Ant Group, the fintech affiliate of South China Morning Post owner Alibaba Group Holding, which is the only tech-focused institution.

The government has introduced a number of talent schemes to tackle a worsening brain drain, with the local workforce shrinking by about 140,000 between 2020 and 2022.

Fong, who hopes to work in the bay area in the next 10 years to focus on artificial intelligence and big data, is optimistic about the development prospects of the region due to its large area and population size compared with Silicon Valley and the Tokyo Bay Area.

Also part of the initiative is Tanush Changani, 19, now studying computer and data engineering at City University. Aspiring to develop a career in software development or fintech, he said he hoped to better understand the inner workings of fintech and the bay area through the programme.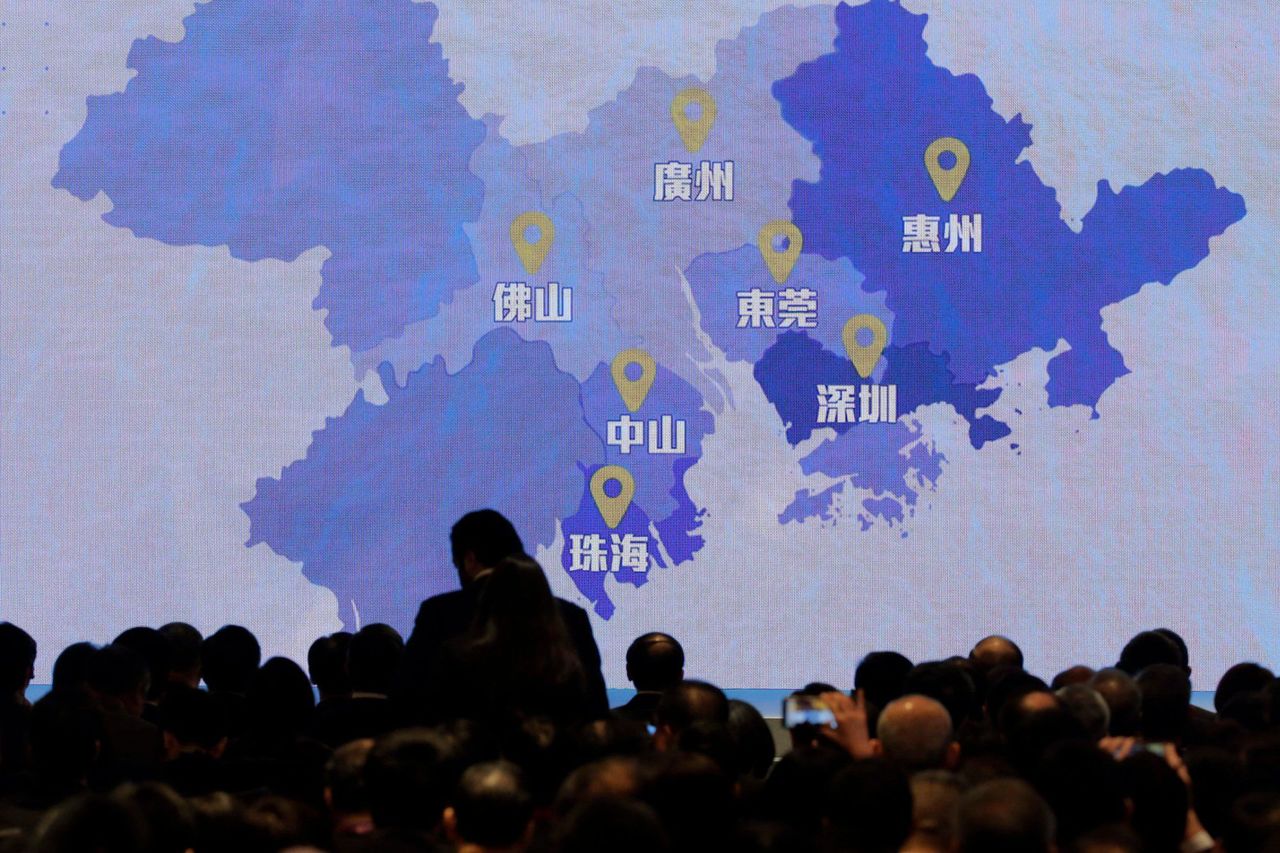 A screen shows a map of the Greater Bay Area during a symposium in Hong Kong in 2019.

"With the talent from Hong Kong, abroad, and with other mainland cities joining together, we can really create an amazing workforce to elevate where it stands today," he said.

Changani, a Hong Kong-born student of Indian ethnicity, said he did not receive enough Chinese-language education in school and urged authorities to provide more support for those aspiring to work in the bay area to overcome language barriers, such as Chinese crash courses on fintech for international workers and English lessions for residents there.

"The bay area is like Hong Kong in that it can turn into a bilingual place to attract foreigners to work there so we'll have more talent to make contributions," he said.

Germaine So Mei-chi, 18, a University of Hong Kong student studying international business and global management, said she hoped to seize the opportunity to equip herself with more knowledge about fintech, noting she had not learned much about technology in school under STEM, an umbrella term for the disciplines of science, technology, engineering and mathematics.

"The technology focus in the local school education system was not very sufficient. There aren't many opportunities for us to learn about the most recent technological trends," she said.

"There is a lack of incentives, especially for female students, to join the STEM fields."

Interested in digital wealth management, So said she hoped to gain as much experience and fintech knowledge as possible to become an entrepreneur in the future.

"In the long term, I hope to work in areas in fintech that still need development, and hopefully start my own business to try and tap into these fields," she said.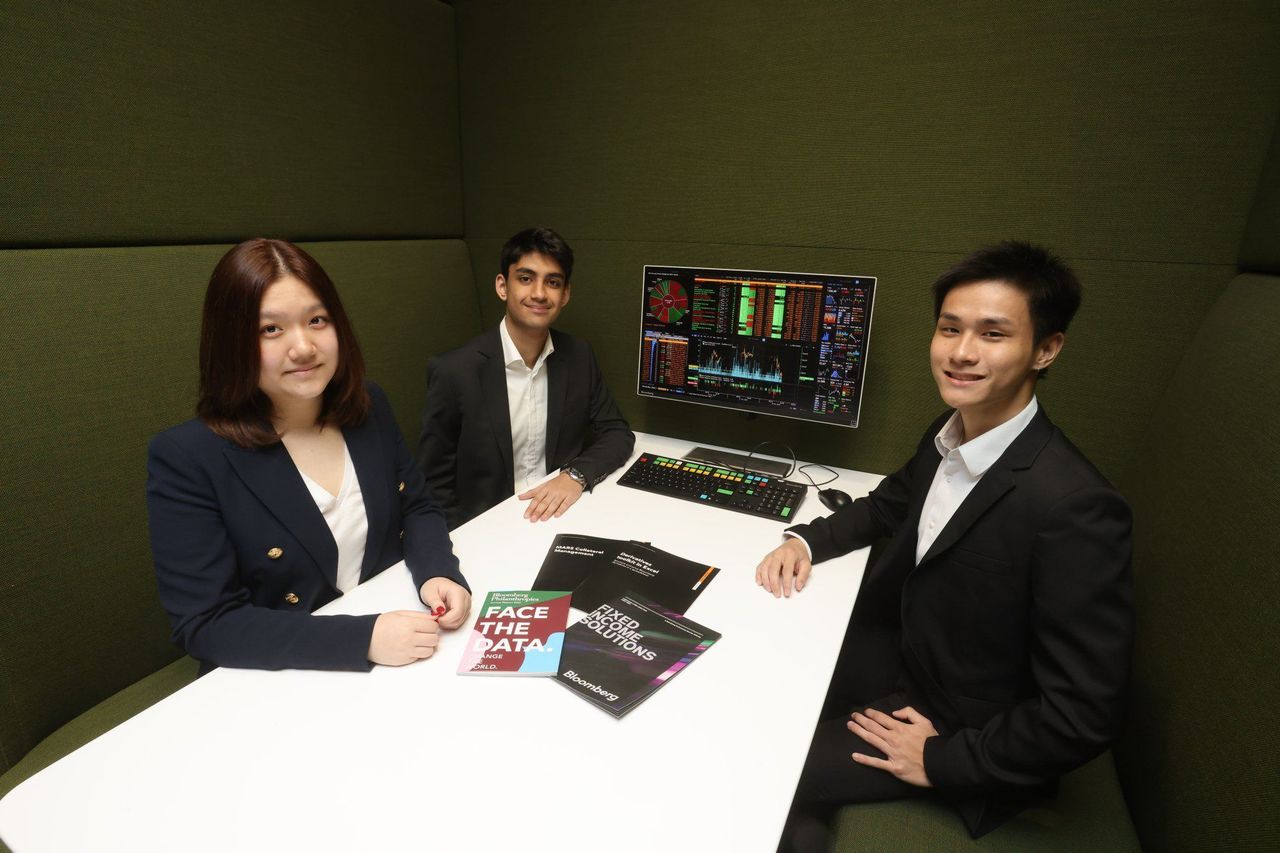 (Left to right) Germaine So, Tanush Changani and Victor Fong.

Bing Li, head of Asia-Pacific at Bloomberg LP, said he hoped the programme could create excitement for a career in fintech, while equipping participants with a network of mentors as they entered the workforce.

"We are at an interesting crossroads … with market volatility resetting the risk appetite of many investors. In the short term, that may mean less capital for greenfield fintech investments and ultimately a trickier job market for young graduates," he said.

"That is why it's critical that those people close to the fintech sector … keep finding pathways to drive motivated graduates into this space and ensure a pipeline of fintech talent."

Jennifer Tan, Ant Group's executive vice-president of strategic development and government affairs in the bay area, said: "We have perfect interactions with more than a dozen students … thanks to the students' contributions in bringing us a lot of innovative ideas for our local businesses."

David Liao, co-chief executive of HSBC Asia-Pacific, said the shortage of fintech talent in Hong Kong would ease with the reopening of its border with the mainland. "There is no better time than now to look for career opportunities in the financial industry in Hong Kong and the [bay area]," he said.

He added the group would remain committed to investing in the city's talent pool and creating career opportunities in the bay area and that it would help students understand its digital transformation.

Rocky Cheng, chief information officer of the Bank of China (Hong Kong), said it aimed to enrich participants' knowledge about fintech and inspire through the initiative.