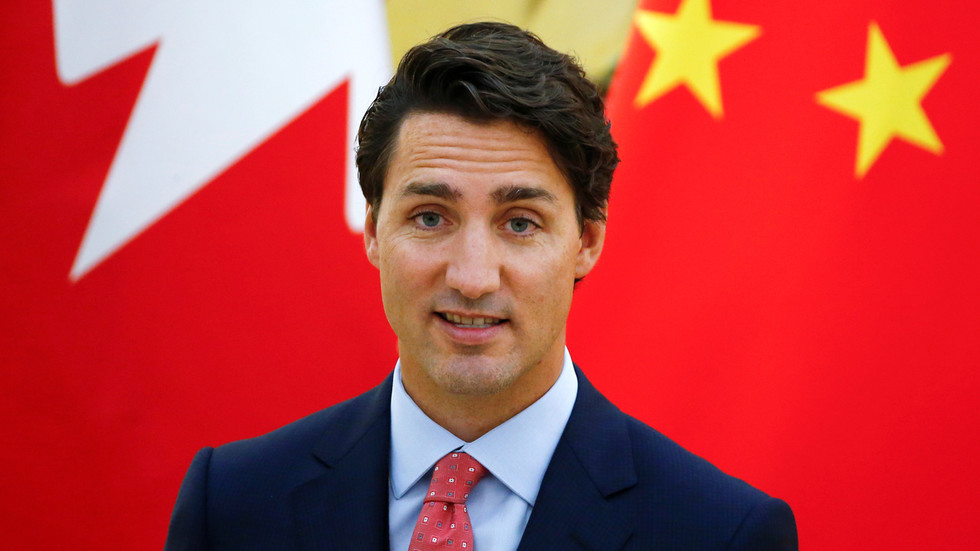 It's not China that's playing 'divide & rule' against the West
Canada's Prime Minister Justin Trudeau has said that China is seeking to play a "divide and rule" game against western nations. But he seems to miss the point, as it is not Beijing that does this.
"We've been competing and China has been from time to time very cleverly playing us off each other in an open-market, competitive way," the premier told Global News in an interview aired on Saturday.

Acknowledging the economic opportunities China presents, Trudeau then called for a "united front" against it. These are arguably the most provocative comments he has made on the issue yet, despite relations between Ottawa and Beijing having long fallen into a deep chill following the Meng Wanzhou and 'two Michaels' controversies.

But there's one point he's missing: it is not simply China who is exploiting differences between countries in the west in order to maximize its own individual and strategic gain. The more tacit perpetrator of such behavior, in fact, lies a lot closer to home, and is happy to utilize the conflicts between China and its allies in order to profit for itself in a zero-sum game. Guessed who it is yet?

In the interview, Trudeau was talking about "capitalist democracies," but he seemingly fails to understand the implications of the first word in practice.

Trudeau is right to recognize that China's immense economic clout is its most hardy strategic asset in coming to terms with the US and its allies. With a population of over 1.4 billion people and a rapidly growing economy, China is an economic bonanza for western countries in that it has provided opportunities on a scale that not only cannot be found at home but anywhere else in the world. Despite recent geopolitical tensions, there is, in theory, a maximum appetite that greater benefits from China's market should be reaped, albeit on political conditions solely favorable to the West. What he is mistaken about is the fundamental assumption that it is merely Beijing who is using its economic clout to play 'divide and rule' across various countries' interests and if it were not doing so, the benefits between western countries would be handily distributed evenly and fairly. Trudeau said that Western countries should "show a united front" against China's increasingly "coercive diplomacy." But will that give the West what it wants?

Trudeau might want to question why the United States has recently doubled tariffs on Canadian softwood lumber imports. Is this the united front he dreams of? Or is it a tactful result of Beijing's 'divide and rule'?

In his comments the Canadian prime minister bigged up capitalism but seemed to omit the fundamental reality of what the term means; and that is to pursue private profit through the capitalisation of an opportunity against competitors, not the equal distribution of benefits based on a value sentiment. Canada's biggest ally, the United States, is motivated by the former, not the latter, and has shown repeatedly that it is willing to profit at the expense of its own partners.

For example, when China stopped buying coal from Australia (due to Canberra pursuing the hostility against Beijing that Washington wanted to see), America took their market share and started exporting to them instead. When France had a deal to sell submarines to Australia, America undercut the deal and replaced it with its own. When the US feared Denmark was going to buy Eurofighter Typhoons, it allegedly weaponized Danish intelligence services to spy on its government.

America aggressively competes against its own "allies" in order to deliver the greatest gains for itself. It seeks obligation from these countries, only to undercut them.

What Trudeau's blunder is here is that when a 'united front' is shown against China, it will only derive more benefits for American interests and none for the allies who suffer on their behalf. Canada itself should already know this. When the US pursued its campaign against Huawei and demanded that Canadian police arrest the company's chief financial officer, Meng Wanzhou, who was it who suffered China's retaliation? It was America's interest in attacking the company, yet it was Ottawa who ultimately paid the price when China detained Canadian nationals Michael Spavor and Michael Kovrig in retaliation. In this case, why should Canada not seek to put its own interests regarding China first, as opposed to following the foreign-policy preferences of the United States, as it has always done under the name of a superficial solidarity?

There is no united front because that term itself defies the reality of how capitalism works, of which the United States is the foremost and most extreme global proponent. When "allied" countries, on the other hand, attempt to make deals with China that the United States is not a party to, it likewise quickly becomes resentful. For example, Washington ramped up the Xinjiang issue to drive a wedge in China's relations with Europe apparently because it didn't like the idea of the Comprehensive Agreement on Investment (CAI) – a trade agreement between China and the EU – and that Europe could gain market access to China which the US didn't have. At the same time, the US is happy to make those deals with China independent of what its allies might get.

Trudeau's comments aptly sum up Canada's bizarre and self-defeating foreign policy, placing too much good will in following the US, which shows them no good will in return. Canada is asking for unity and solidarity against China and accusing Beijing of a 'divide and rule' game while its southern neighbour continues to attack its industries and exports with the Trump-era 'America First' protectionism. It isn't China who's doing the dividing.