It would be odd for both sides to keep up any pretence of maintaining a distance, as political practices over time have changed.
In politics, it is revealing to see how certain practices once considered taboo can become publicly acceptable as the new normal.

That is the case in the delicate interactions between local leaders and Beijing's representatives in Hong Kong, which critics used to take as a barometer of the city's "high degree of autonomy" under the "one country, two systems" governing policy.

In recent years, Beijing has put the focus on how its "comprehensive jurisdiction" over Hong Kong must be properly implemented, and such interactions between the two sides have resulted in changing responses and outcomes.

Last week, the day after being elected as Hong Kong's next chief executive, John Lee Ka-chiu's packed schedule was underscored by visits to all four of Beijing main representative institutions in the city: the central government's liaison office, which oversees all Hong Kong-based mainland agencies; the Commissioner's Office of China's Foreign Ministry; the People's Liberation Army's local headquarters; and the Committee for Safeguarding National Security.

Lee's office gave the media a heads-up, making it as normal as his other open engagements. Luo Huining, Beijing's envoy, greeted Lee at the front gate of the liaison office, allowing a brief photo opportunity to the crowd of journalists in tow. There was no political outcry.

Turn back the clock just 10 years, and it was a completely different story.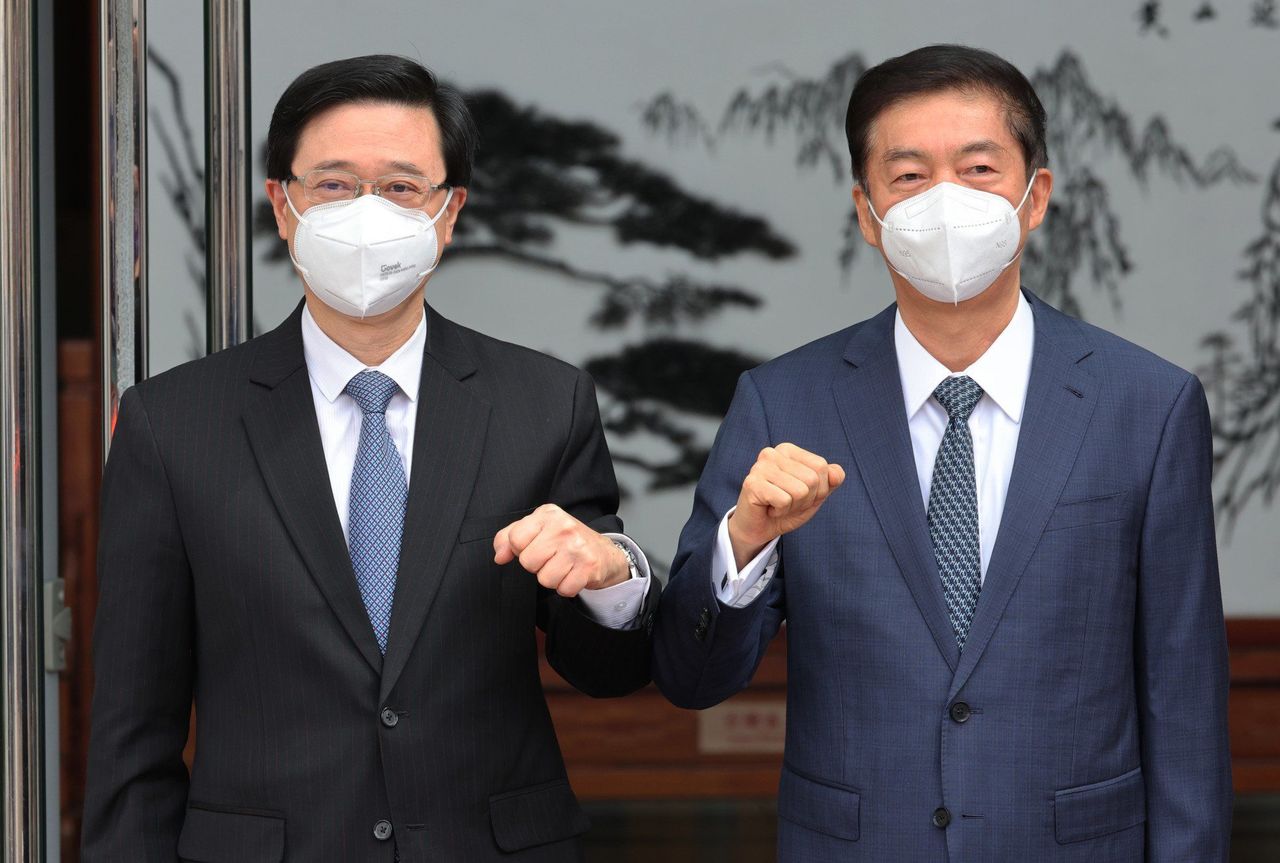 John Lee (left) with Luo Huining at Beijing's liaison office.

Back in 2012, soon after Leung Chun-ying was elected as chief executive, he paid what he described as a "courtesy call" to the liaison office. That set off a political storm, with Leung's critics accusing him of paying his dues to the office for canvassing votes for him, and even inviting Beijing to meddle in Hong Kong's internal affairs.

Leung, known for his tough style, rejected the allegations and insisted he had gone there to discuss further enhancing Hong Kong-mainland China cooperation. He also cited the practical need to finalise with the office his trip to Beijing to receive the State Council's appointment letter.

The controversy was to be expected, given the extreme political divide back then, but some also argued that Leung's predecessors, Tung Chee-hwa and Donald Tsang Yam-keun, had not made such high-profile calls to the office after being elected.

Leung, in a sense, started a new protocol that was attacked by the opposition as "Sai Wan ruling Hong Kong" – using the Cantonese term for "Western" in a reference to the location of the office. Beijing dismissed any notion of interference, describing it as a courtesy call for normal exchanges.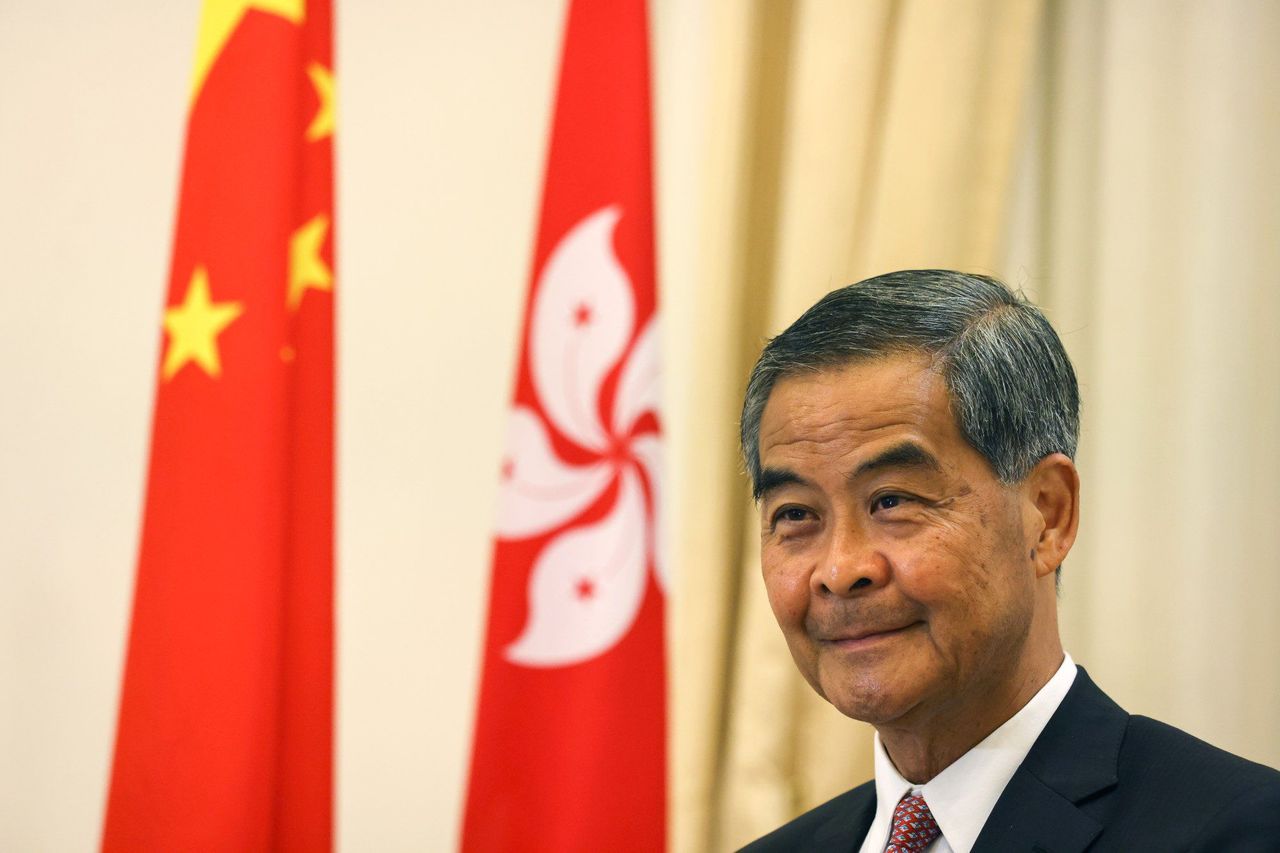 Former Hong Kong leader Leung Chun-ying started a new protocol that was attacked by the opposition as 'Sai Wan ruling Hong Kong'.

There was a subtle change five years later when Carrie Lam Cheng Yuet-ngor took over from Leung – she visited the liaison office only on the third day after her election. Throughout her campaign period, Lam publicly declared that she did not need the office to secure votes for her and insisted there was no such thing as "Sai Wan ruling Hong Kong".

That kind of fuss has become a thing of the past, with Beijing now enforcing its uncompromising principle of "patriots ruling Hong Kong". And whatever the circumstances, it would be odd for the two sides to keep up any pretence of maintaining a distance, since Hong Kong's chief executive must be accountable to the central government as well.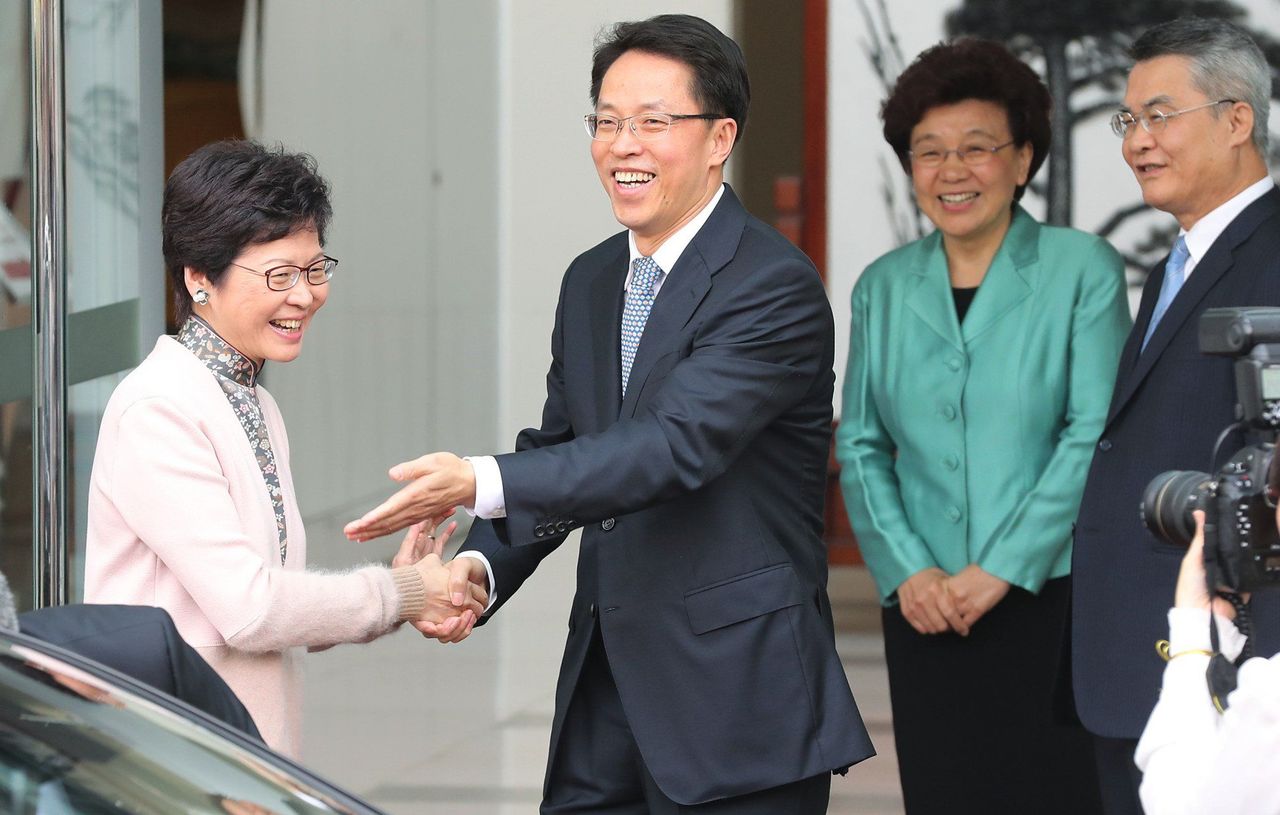 Carrie Lam (left) shakes hand with then liaison office head Zhang Xiaoming after her win in 2017.

Lee, who is busy forming his future cabinet, must get his wish list approved by the top leadership in Beijing before making any official announcement. Proper communication between him and the relevant mainland authorities here or up north is a practical reality.

However, the fact that Lee's meetings with locally based mainland officials did not spark any political outcry this time is only one side of the coin – the other is how he can take the best advantage of the one country, two systems policy.

That remains an everlasting political test, not only for Lee but also his successors in future.