Fans gather at Hong Kong Coliseum well before admission time, showing off Mirror merchandise and chanting their favourite singers' names; identity verification process 'smooth and faster than expected'.
Thousands of fans of Hong Kong boy band Mirror formed snaking queues in Hung Hom on Monday night to get their identity verified and scan the "Leave Home Safe" contact-tracing app as they waited eagerly for the group's concert to begin.

The popular Canto-pop group has adopted a real-name ticketing system for its concerts at the Hong Kong Coliseum – one of the city's biggest venues for gigs – as a way to combat scalpers, although some fans had trouble accessing the ticketing platform when tickets were first released in May for public sale.

As of 8pm, 15 minutes before the show was due to begin, most of the concertgoers had yet to enter the venue. Fans had to complete identity verification at separate booths before entry. The show started at 8.50pm after a 35-minute delay.

A Mirror fan in her 40s, who preferred to be known by her surname Wong, said she saw a fan vomit and collapse in the crowd near the entrance.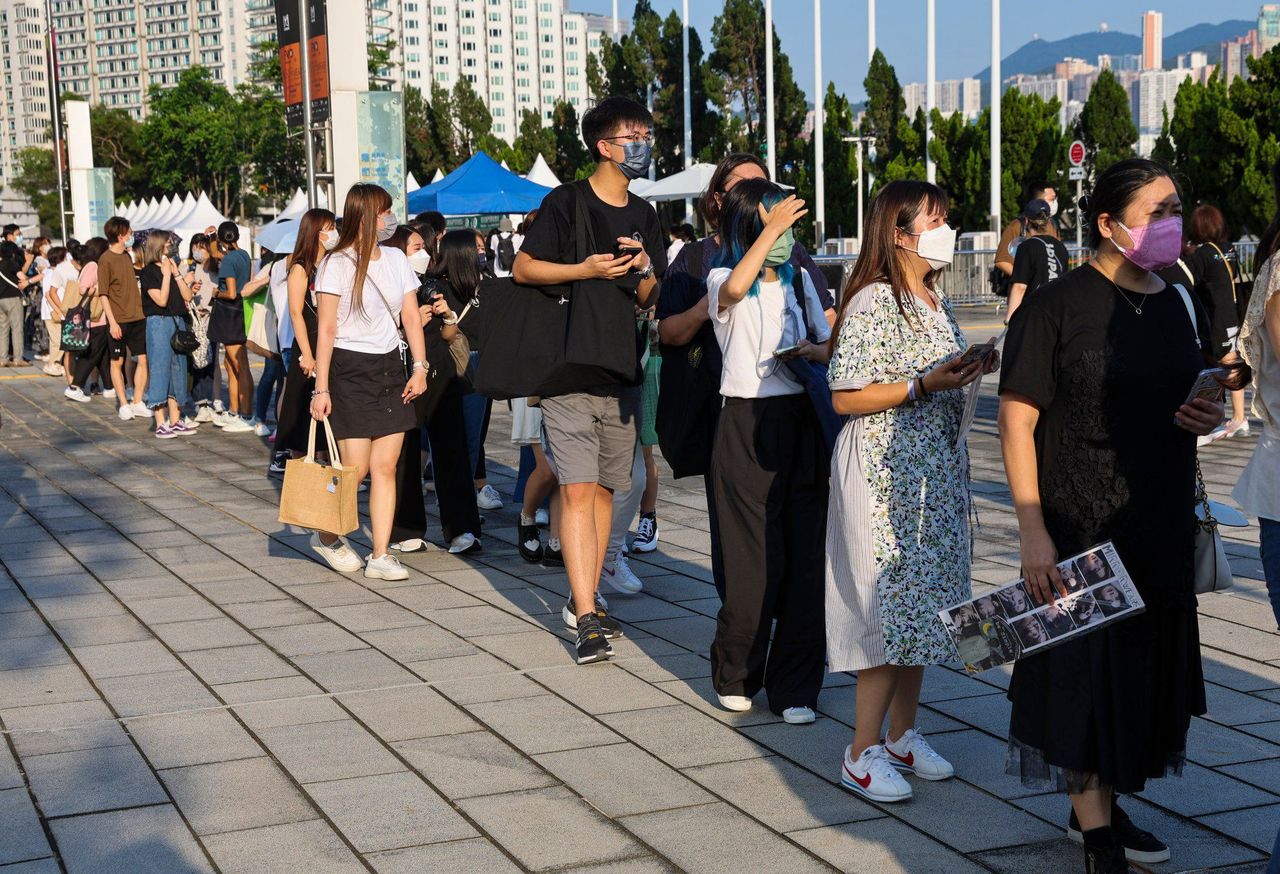 Fans of Mirror queue at verification counters before the group's concert at the Hong Kong Coliseum on Monday.

"It was so hot and suffocating today. I saw those crowds at the entrance and didn't want to join. I saw someone vomit and faint too, they had to be tended to by staff," she said. She arrived at the Coliseum after 7pm as she wanted to avoid the crowds.

Fans began streaming into the entry area at 6.30pm after those who bought their tickets on a real-name basis were allowed to verify their identities at counters set up outside the venue.

Staff tied wristbands on the arms of concertgoers if the name on their ticket matched the one on their identity cards.

A number of fans arrived at the venue early, expecting that extra time would be needed to accommodate the new identity verification measure.

Fan clubs, each comprising more than 50 members, took group photos while donning identical T-shirts and chanting slogans to proclaim their love for their favourite celebrities.

Supporters of member Keung To filled a section of a street opposite the Coliseum, chanting the name of their favourite singer.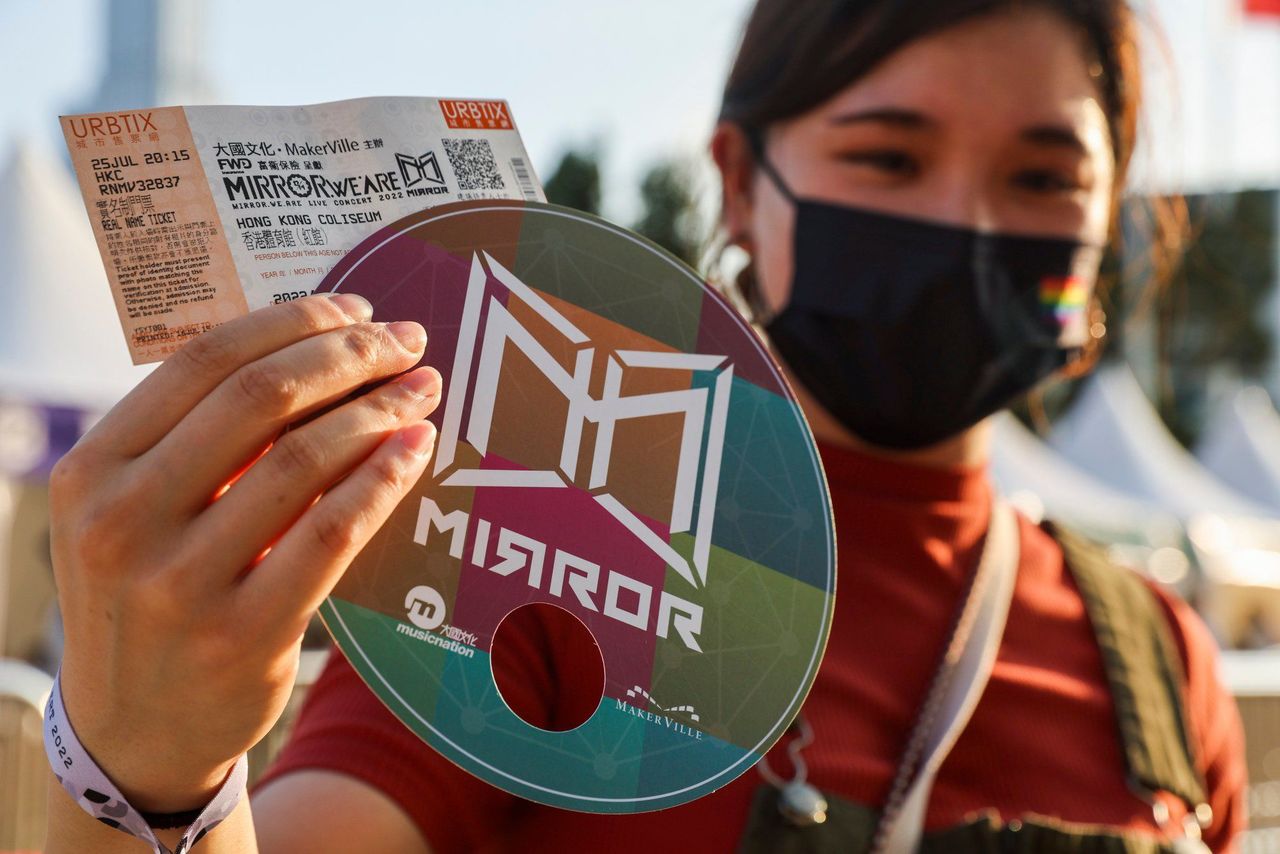 A Mirror fan shows off wristbands, concert tickets and souvenirs ahead of the concert at the Hong Kong Coliseum.

Flora Wong, a 47-year-old clerk, and her daughter took part in a spirited chant organised by the fan club of another band member, Anson Lo Hon-ting, before the concert. They arrived at Hung Hom at 5.45pm to find that they only had to queue for a few minutes to complete the verification process.

"It was very smooth. I only queued for a few minutes," Wong said. "It was so hot today, but it's all worth it to support Anson Lo."

Wong even spent about HK$1,000 (US$127) printing banners to distribute to fellow fans and another HK$1,000 on getting two neon plaques for the concert.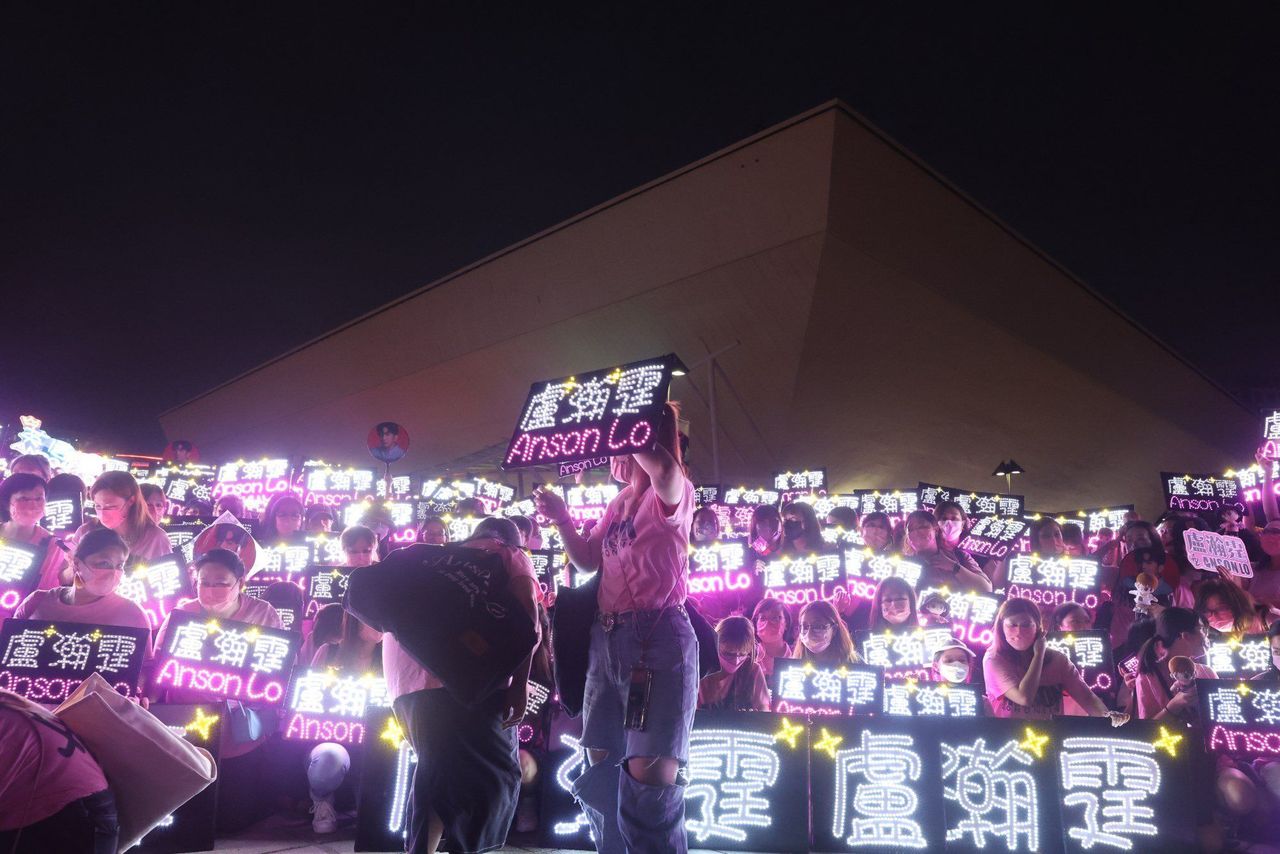 Fans of Anson Lo cheer before Mirror's concert at the Hong Kong Coliseum on Monday.

A 28-year-old volunteer of band member Ian Chan Cheuk-yin's fan club, who gave her surname as Tam, came three hours before the official start time of the identity verification process. She wanted to scout photography locations for the group.

Tam and some other volunteers brought more than 10 boxes of supplies, from handheld banners to merchandise, for sale. They also had 60 neon plaques to lend to anyone without any.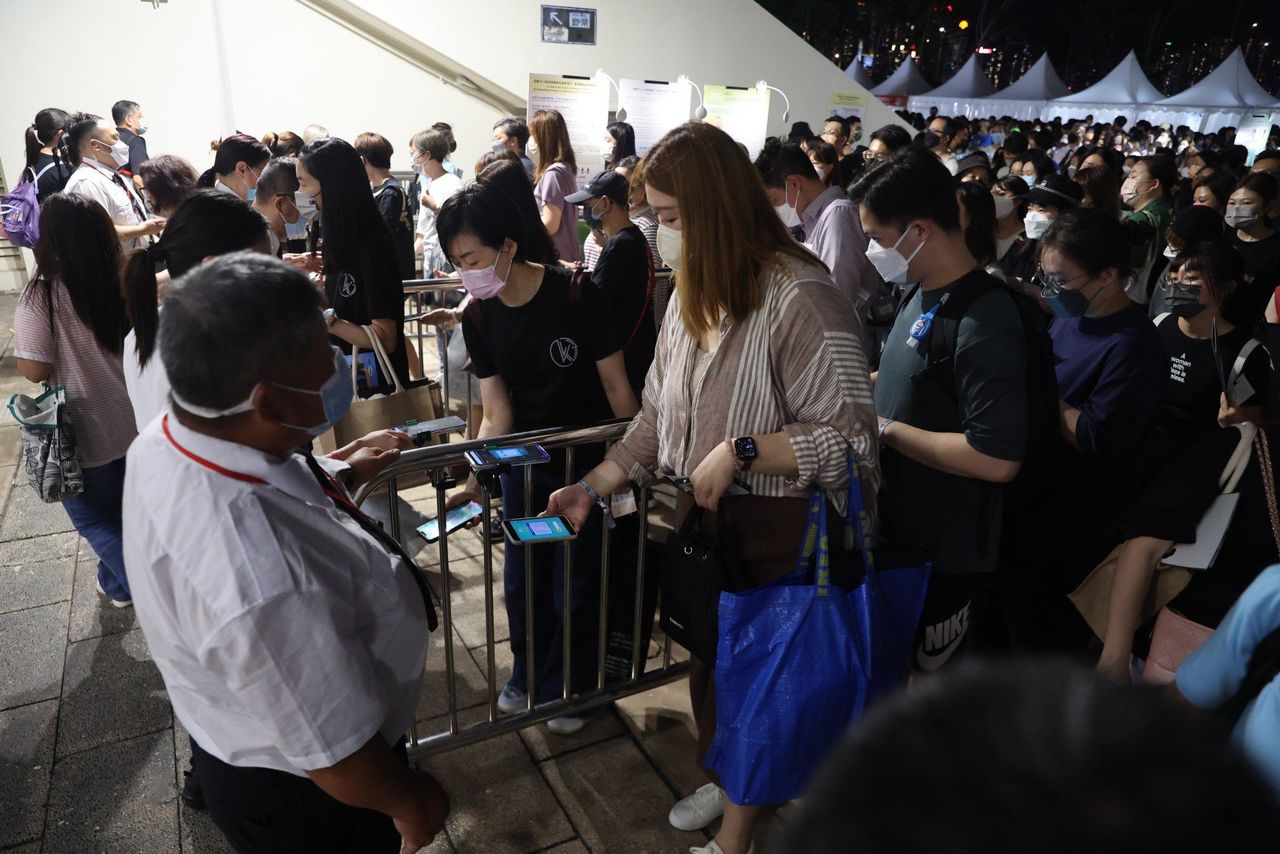 Fans scan the "Leave Home Safe" app before entering the Hong Kong Coliseum for Mirror's concert.

Having volunteered for the group for three years, Tam said she was nervous about the event.

"There are a lot more people and a lot more attention on Mirror tonight [compared with previous events]. I'm nervous because it's their first time on a four-sided stage as well – this has never happened before," she said.

Around 30 per cent or a total of about 37,700 tickets, ranging in price from HK$480 to HK$1,280, for Mirror's 12 shows at the stadium were put up for public sale under a real-name ticketing system as a way to combat scalpers. The remaining 70 per cent were sold privately by the organiser or through the concert's sponsors.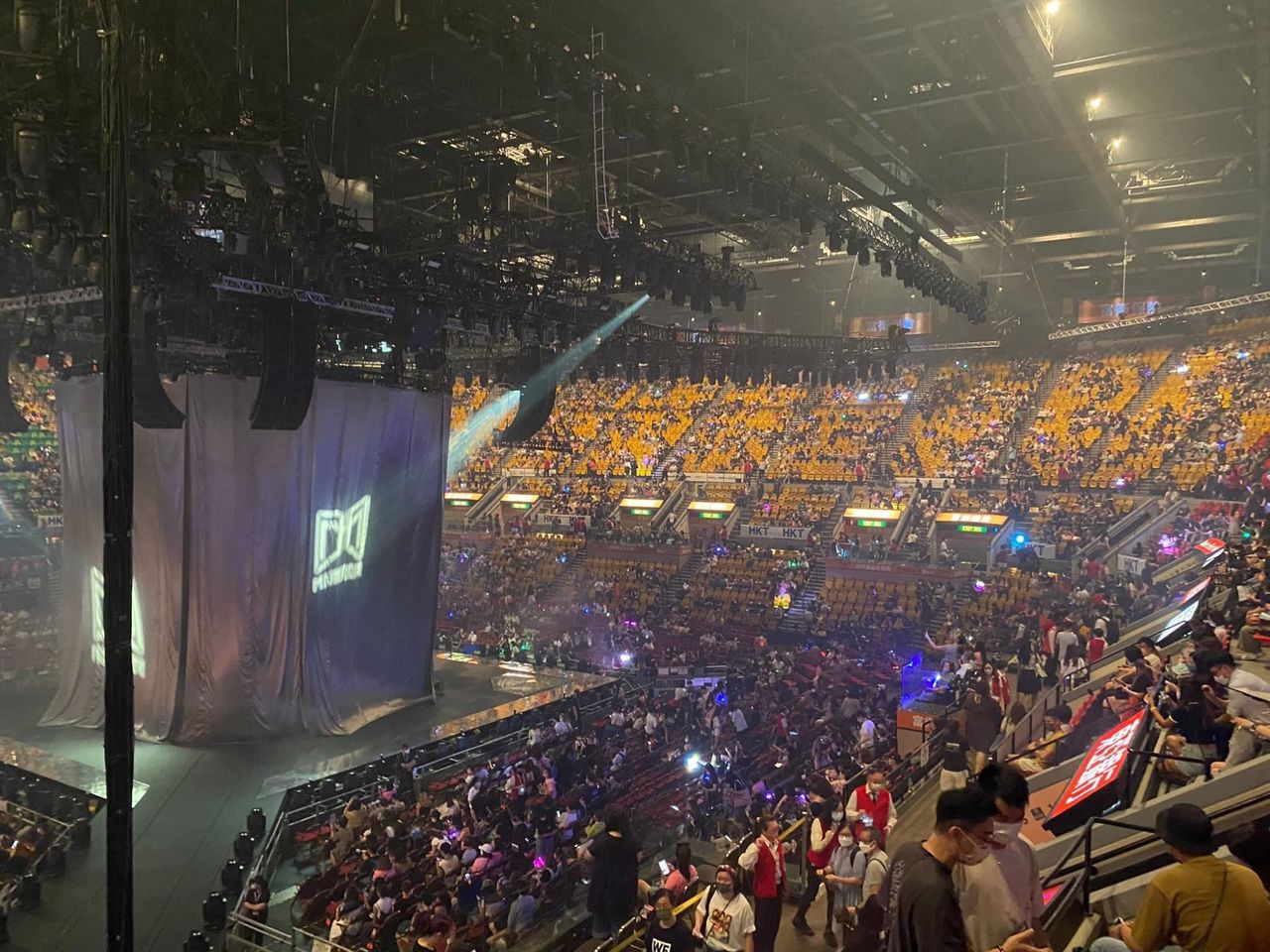 Fans at Mirror's concert at the Hong Kong Coliseum.

Under the system, each person could buy only two tickets at most each time and had to provide his or her full English name, which must be the same as the one listed on the buyer's identification documents. Their names were checked upon admission.

Buyers were not allowed to transfer the tickets to another person or change the tickets' dates. Refunds at half price were allowed if the buyer could not attend.

The tickets were available for sale on Urbtix on May 31, when a number of fans had complained about failing to access the purchasing system or complete the buying process even after hours of attempts.