KeeTa, part of mainland China food delivery giant Meituan, launches in Hong Kong on Monday with ambitions to cover entire city by year-end
Meituan, a mainland China food delivery service giant, on Monday launched new Hong Kong delivery brand KeeTa in a bid to grow its business outside its home turf.

The Post looks at how the new platform might fit into a market already dominated by Foodpanda and Deliveroo, which have been in competition for more than seven years.

What is KeeTa?

KeeTa, launched on Monday morning, is Meituan's first food delivery service outside the mainland.

KeeTa said on Sunday the brand name was derived from the cheetah, a big cat famed for its speed.

The food delivery giant's co-founder and CEO Wang Xing told analysts in a conference call in March that the multilingual Hong Kong market could prepare the company for future international expansion.

The newcomer will compete for couriers and customers with Foodpanda and Deliveroo as the city's economy recovers from Covid-19.

Hong Kong food delivery service provider analyst Measurable.AI said Foodpanda last December led the duopoly with a market share of about 70 per cent based on orders, with Deliveroo on 30 per cent.

A similar service, Uber Eats, exited the city in late 2021 after a five-year presence.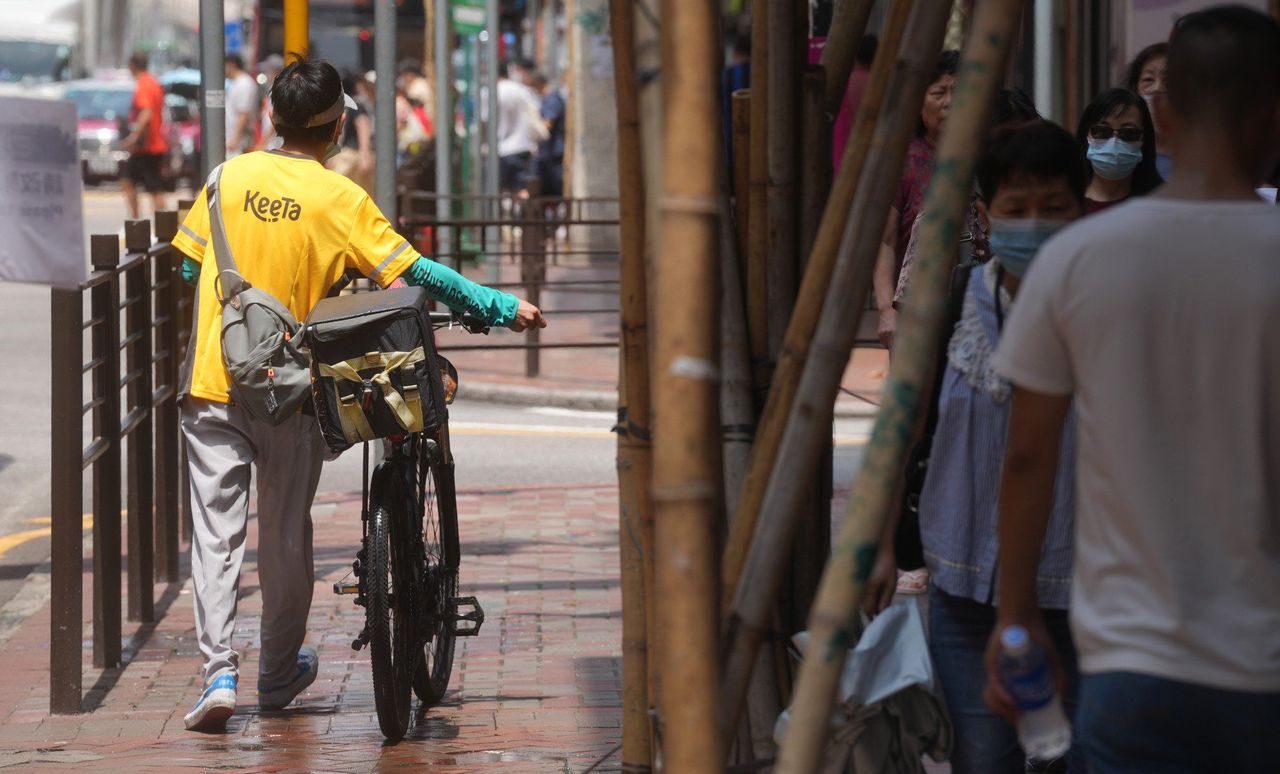 A KeeTa delivery rider on the streets of Mong Kok.
What can customers get from KeeTa?

KeeTa's food delivery service is at present available only in the Mong Kok and Tai Kok Tsui districts in Kowloon, but the business said it aimed to achieve citywide coverage by the end of the year.

It claimed that the cost of an order could go down to HK$50 (US$6.40) which was "noticeably lower than other platforms".

KeeTa said it was also to launch a "one billion" campaign for customers, which includes new user coupons totalling HK$300 a head, delivery fee waivers, food discounts and referral rewards.

The Post placed test orders on Monday afternoon with all three platforms for a "Burger Lovers Combo for 2" from the same McDonald's restaurant, to be delivered to a hotel in Mong Kok.

The total cost without special offers from KeeTa was HK$125, with Foodpanda and Deliveroo both charging HK$125.90.

All the platforms took a delivery fee of HK$8 and the HK$2 platform charge for KeeTa was 90 HK cents cheaper than Foodpanda.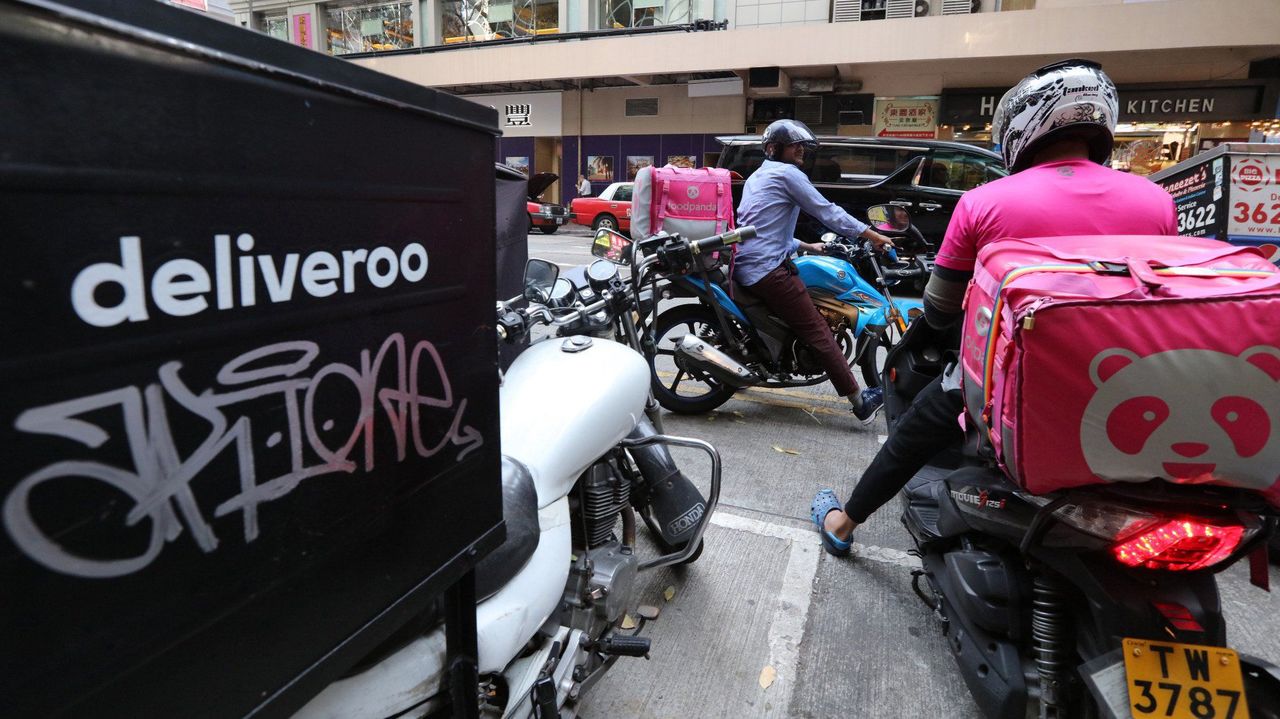 Foodpanda and Deliveroo riders on the road.
How are existing platforms responding to KeeTa?

Foodpanda, which entered the city market in 2014, told the Post on Monday that customers in the Mong Kok area – one of KeeTa's launch pads – could redeem a special voucher pack valued at HK$500.

The industry top dog said that the entry of a new player reflected "the still untapped potential that food delivery services can offer to Hongkongers."

Deliveroo, which entered the Hong Kong market seven years ago, said it was "encouraging to see new market players as the industry continues to grow".

Its latest customer offers did not appear to target the areas now served by KeeTa.

What is the couriers' reaction to KeeTa?

Meituan began recruiting food delivery couriers in February and riders that talked to the Post at the time were not enthusiastic about the new competitor's package.

Laddi Dhillon, a 41-year-old delivery rider who has worked for Foodpanda and Deliveroo, has created a courier account with KeeTa.

Dhillon said riders will watch to see if KeeTa outperforms the competition in other areas, such as order management, as KeeTa's payment scheme and benefits appeared similar to the big two.

"If they're having the same freelance model, then riders would consider how much freedom they'll lose while working for them, how helpful their rider support is and how user-friendly their app is," he explained.

Doubts were cast on KeeTa's decision to launch the service in Mong Kok in a Facebook group of food couriers.

User "Hin KI WU" said he only picked up two orders over lunch time.

Chan Kwong Lung, another user, predicted that takeaway orders would be thin on the ground in an area packed with dining options that people could get to easily.

But he added housing estates on Anderson Road in Kwun Tong would probably generate more orders because of its hillside location away from urban areas.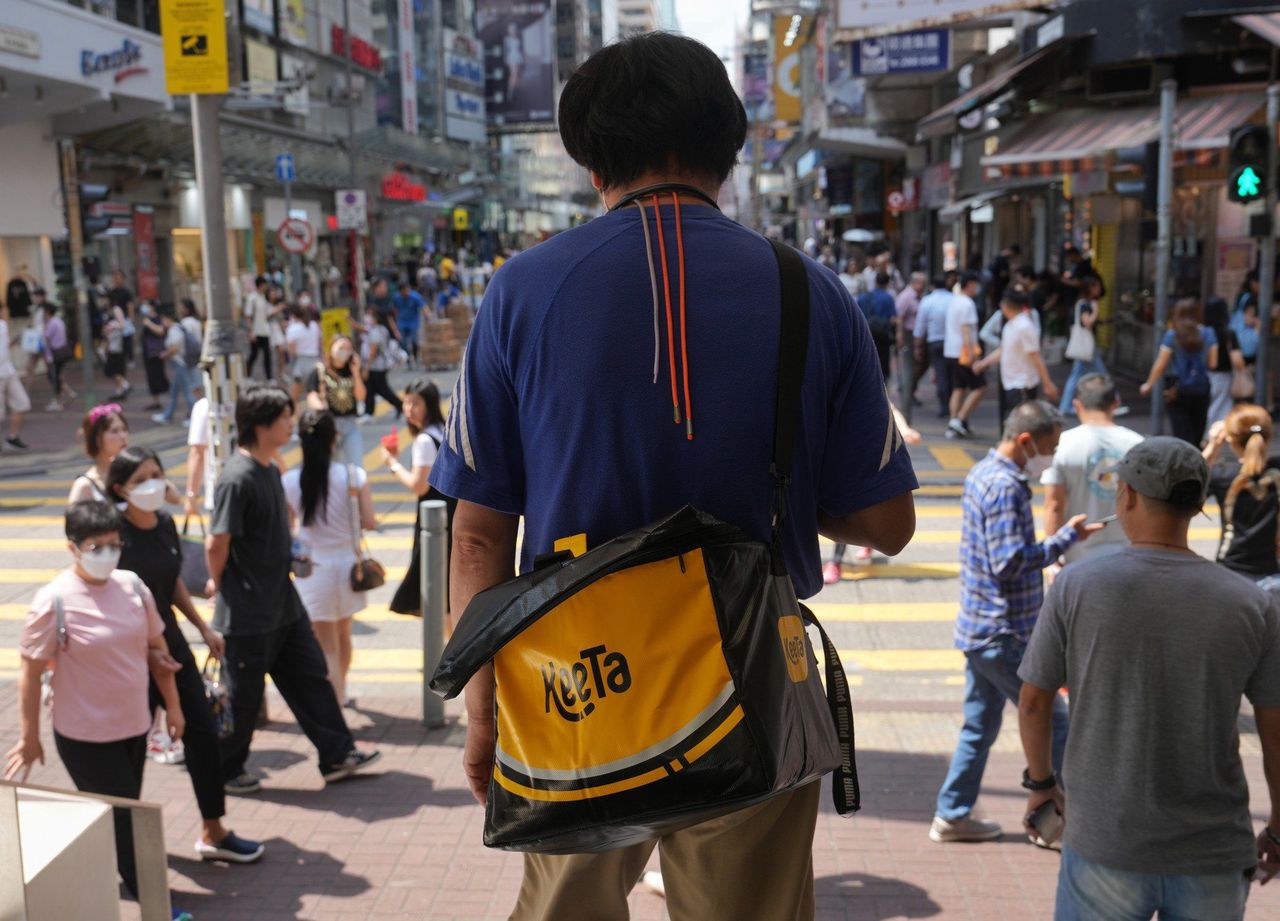 A KeeTa delivery rider waits for an order in Mong Kok on Monday.
Is there room for a third food delivery service in Hong Kong?

KeeTa maintained that Hong Kong's takeout market was still in a growth stage and that customer need was still unmet.

"As consumers use food delivery services more frequently, it is expected that more restaurants will choose to engage food delivery platforms in order to open up new sources of income," KeeTa explained.

The Measurable.AI report that tracked food delivery receipts from 2019 to the end of last year found the order volume in the city had maintained an upwards trajectory.

But Chinese University economics professor Terence Chong Tai-leung highlighted the report, released earlier this year, was unable to register the changes in customer behaviour after most of the city's Covid-19 restrictions were lifted in late December, which likely caused a resurgence in dining out.

"Food in Hong Kong is relatively cheap and, by comparison, it's expensive to add one-third or one-quarter of the food price to the delivery costs," Chong added.

"The delivery cost is also kept at higher levels by steep petrol costs and traffic jams. Keeping two operators in the market has already been a challenge, in my opinion."