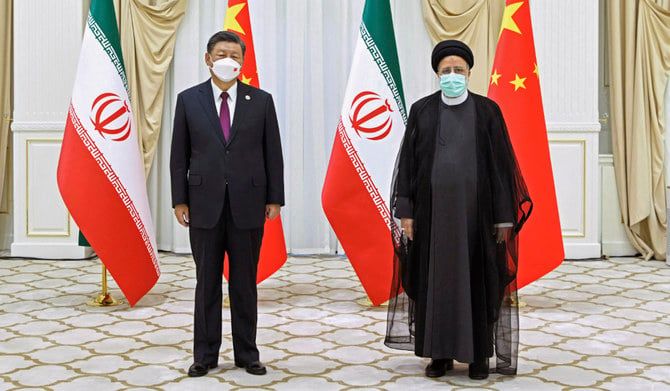 Iran's President Raisi begins visit to China
Iran's President Ebrahim Raisi arrives in China on Tuesday to begin a three-day visit aimed at strengthening economic cooperation and consolidating relations between the two countries.
Raisi is expected to hold private talks with his Chinese counterpart President Xi Jinping in the capital Beijing, with the pair expected to sign a number of "cooperation documents," Tehran has said.

Iran and China have strong economic ties — especially in the fields of energy, transit, agriculture, trade and investment — and in 2021 signed a 25-year "strategic cooperation pact."

Both countries face pressure from Western nations over their positions on Russia's invasion of Ukraine, which was launched almost a year ago.

Iran has emerged as one of Russia's few remaining allies as Moscow has been pushed deeper into international isolation over the invasion.

Tehran faces accusations by Western countries that it has been supplying armed drones to Russia for use in the war in Ukraine, a charge it denies.

In December, Washington outlined what it said was an extensive relationship between Iran and Russia involving equipment such as helicopters and fighter jets as well as drones, with the latter items resulting in new US sanctions.

Moscow's offensive in Ukraine is a sensitive issue for Beijing, which has sought to position itself as neutral but has offered diplomatic backing to its strategic ally Russia.

Raisi and Xi met for the first time last September in Uzbekistan at a summit for the Shanghai Cooperation Organization, where the Iranian president called for expanded ties.

According to Iran's state news agency IRNA, Raisi will take part in meetings with Chinese businessmen and Iranians living in the country.

China is Iran's largest trade partner, IRNA said, citing the 10-month statistics of Iranian customs authorities. Iran's exports to Beijing stood at $12.6 billion, while it imported $12.7 billion worth of goods from China.

China's foreign ministry spokesman Wang Wenbin said Raisi will also meet Premier Li Keqiang and top Chinese legislator Li Zhanshu.

"China and Iran enjoy a traditional friendship, and it is the strategic choice of both sides to consolidate and develop China-Iran relations," Wang said.

Beijing wants to "play a constructive role in enhancing the unity and cooperation of countries in the Middle East and promoting regional security and stability," he added.

Raisi's first visit to China comes days after he declared victory over the nationwide protest movement triggered by the death in custody of 22-year-old Mahsa Amini following her arrest for an alleged breach of Iran's dress code for women.

Authorities say hundreds of people, including dozens of security personnel, have been killed and thousands arrested during the protests which they generally label as "riots."

The judiciary has sentenced 18 people to death in connection with the protests, according to an AFP tally based on official announcements. Four people have been executed, triggering international outrage.