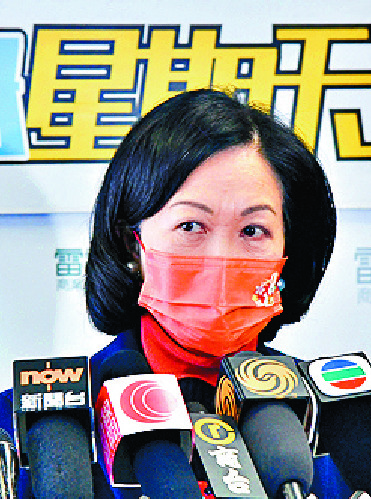 Ip hits out at UK for canceling HK lawmakers' invite
It was "groundless" and "under political pressure" that a British parliamentary group withdrew an invitation for two lawmakers from Hong Kong to attend a seminar in London, Executive Council convenor Regina Ip Lau Suk-yee said.
The British branch of the Commonwealth Parliamentary Association issued a statement last Thursday, saying it unanimously decided to withdraw the invitation for Hong Kong lawmakers to attend the 2023 Westminster Seminar on Effective Parliament because of "deteriorating situation" in the SAR.

Dominic Lee Tsz-king of New People's Party chaired by Ip and Carmen Kan Wai-mun had been due to attend the event from March 13 to 17 in London.

The British group said the seminar aims to promote parliamentary democracy and participants would share their experience with each other.

It said that despite "serious erosion of political plurality and participation in Hong Kong", Hong Kong lawmakers did participate in some CPA events in Britain in recent years to be involved in democracy-promoting dialogue.

Speaking on the radio yesterday, Ip criticized the group for not understanding Hong Kong's situation.

"Its decision was made under political pressure. The statement was groundless," she said.

Ip accused some "anti-China" critics and Hongkongers in "self exile" in Britain of targeting Lee.

Defending the legislature, Ip said the Legco has became orderly and efficient since electoral changes were made and new Legco rules took effect last January.

Meanwhile, Ip criticized the United States for "promoting war".

Ip accused the US of advocating that the mainland would start a war against Taiwan at a certain time while selling Taiwan weapons and acting to get Japan and South Korea to side with.

"The Us is turning Taiwan into a porcupine. It is a conspiracy," she said.

At a meeting with the financial secretary last week, Ip's party proposed to increase football betting duty from the current level of 50 percent to 80 percent to improve government revenues.

The proposal was immediately slammed by the Hong Kong Jockey Club as "a lack of understanding of the competition in the wagering market and the club's investment and businesses."

Ip said the jockey club "overreacted", saying it should not reject suggestion.

Meanwhile on the sideline of Heung Yee Kuk Cup at the Sha Tin Racecourse, Exco member and Heung Yee Kuk chairman Kenneth Lau Ip-keung echoed her view, calling for soccer betting duty to be raised to 70 percent.

Lau lost an attempt in the club's steward election last year.

Referring to the jockey club's reserve, Lau asked: "What is the reserve for? To build more football courts or buy (football club) Chelsea?"