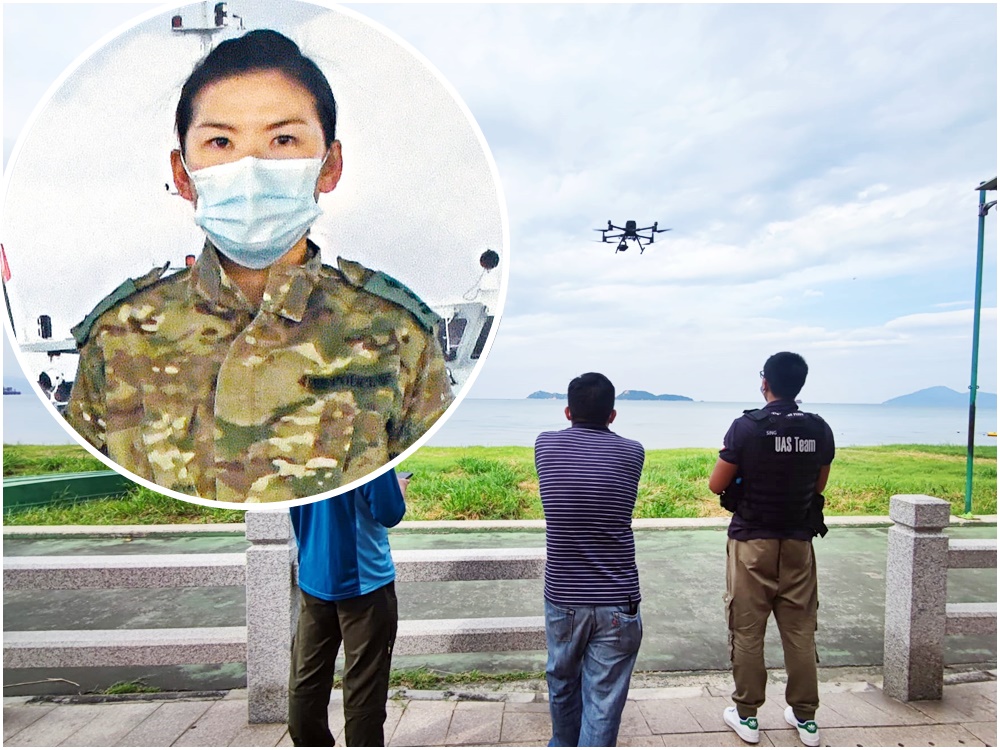 Inter-departmental search for missing female marine inspector continues today
The Marine Police, Fire Services Department and Government Flying Service today searched around Lung Kwu Tan, Lung Kwu Chau and Sha Chau in Tuen Mun for female marine police Lam Yuen-yee who went missing during an operation yesterday.
Frogmen and aerial cameras were sent out, with people inspecting with binoculars near the shore. Two helicopters of the Flying Service hovered over Sha Chau, and the Hong Kong-Zhuhai-Macao Bridge to Tai O.

Yesterday morning a police boat flipped over when chasing a speedboat. Four officers including Lam fell into the sea near Sha Chau but only three were rescued and rushed to Tuen Mun Hospital.

The female cop who went missing is senior inspector Lam Yuen-yee, an officer of the Marine West Division working at Stonecutters Island Marine Police Small Boat Police Station. She was the commander of the police boat team.

The three marine police officers were injured in the incident, including the foreign senior inspector, who was injured on their left chest, back and hip; the sergeant driving the pursuit craft, was injured on their right arm and right knee; the other officer, was injured on their left-back and right hip. Three were in Tuen Mun Hospital in a stable condition.

The incident took place at around 8am yesterday while the small boat division was carrying out a regular operation in the northwest of the airport in Chek Lap Kok.

Lam, together with the other three officers, noticed a number of suspected smuggling speedboats at Sha Chau, then chased one of them in a multi-mission interceptor.

Both of them had to dodge other moored boats, and the speedboat crashed to the right stern of the interceptor boat, causing the interceptor to sink and the four officers to fall into the sea.

Lam has been married for two years and has no children. It is understood that she joined the police in 2007 as a police constable and was posted to Tuen Mun District. She was later transferred to Tuen Mun district crime squad.

Lam was then promoted to inspector. She holds a boat driving license and is also a member of the policewomen's soccer team.

She was transferred to the Marine Police in 2015 and become a senior inspector. She joined the small boat division last year as the first female marine police officer in the field.

Lam busted numerous smuggling cases before, including a case involving goods and animals of HK$37 million last year.