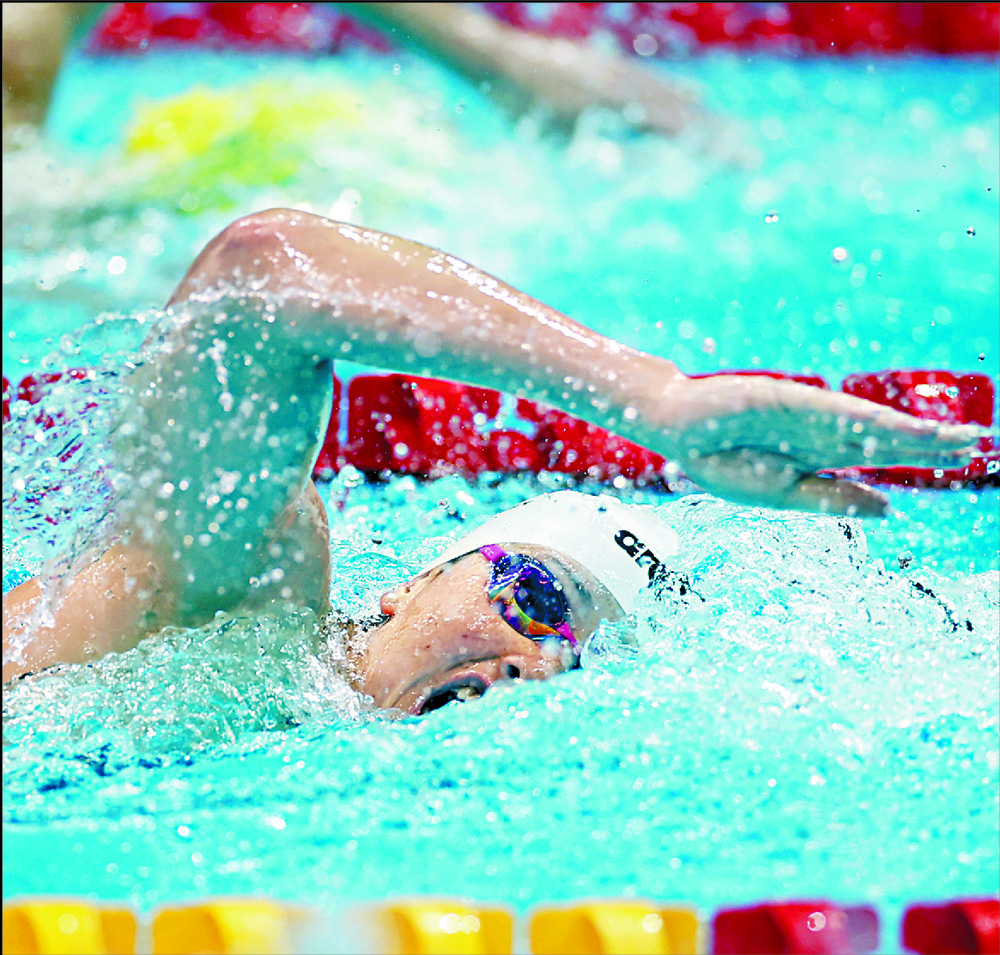 Injury final straw for Haughey in pullout
Olympic medalist Siobhan Haughey has withdrawn from the 2022 World Aquatics Championships due to an ankle injury.
Four hours before a 200-meter-freestyle race yesterday, the Hong Kong China Swimming Association announced Haughey's withdrawal and said a further review was needed for the 100m freestyle tomorrow.

The association added that the decision was based on the discussions between the coaching and medical teams.

But two hours later, 24-year-old Haughey confirmed on Instagram that she is unable to compete in all championship events, which is held in Budapest, Hungary, this year.

She said she had been trying to return to "where I want to be" quickly through various training regimens and rehab.

"At such a high-caliber meet, I want to make sure I'm delivering high-level performances," Haughey said.

"While my ankle had improved a lot, I just don't think I'm ready to race.

"I'd love to race this week because of how hard I've been training but it's also important for me to take a step back and keep my long-term goals in mind," she added.

Haughey added that quarantine had also affected her performance.

"Getting through quarantine and lockdowns at the beginning of the year wasn't easy," she said, adding that the additional challenge imposed by her injury was "really testing my character."

The medalist wished good luck to those in the meet, and added: "Can't wait to come back racing at the world stage and grace everyone with some fast swimming again."

Haughey hurt her ankle in mid-May, which led to her absence from the Mare Nostrum Tour in Monaco. Her coach Tom Rutson said she was unable to walk the day after she was injured, but her training resumed three weeks ago even though she needed protective gear to walk.

Haughey is the holder of one world record, four Asian records and 16 Hong Kong records.

She won the 200m freestyle race in the 2021 FINA World Swimming Championships on December 16, breaking the world record at 1:50.31.

She also won two silver medals at the 2020 Tokyo Olympics in July, becoming the first Hong Kong athlete to gain two medals at the Games.

Haughey was among many big names absent from this year's World Aquatics Championships.

Australian Olympic gold medalist Ariarne Titmus, US swimmer Katie Ledecky, and Swedish Sarah Sjostrom were all absent from the 200m freestyle, making Haughey a big favorite.

It was the same situation with the 100m, as Australian Tokyo Olympics winner Emma McKeon and her compatriot Cate Campbell did not sign up.