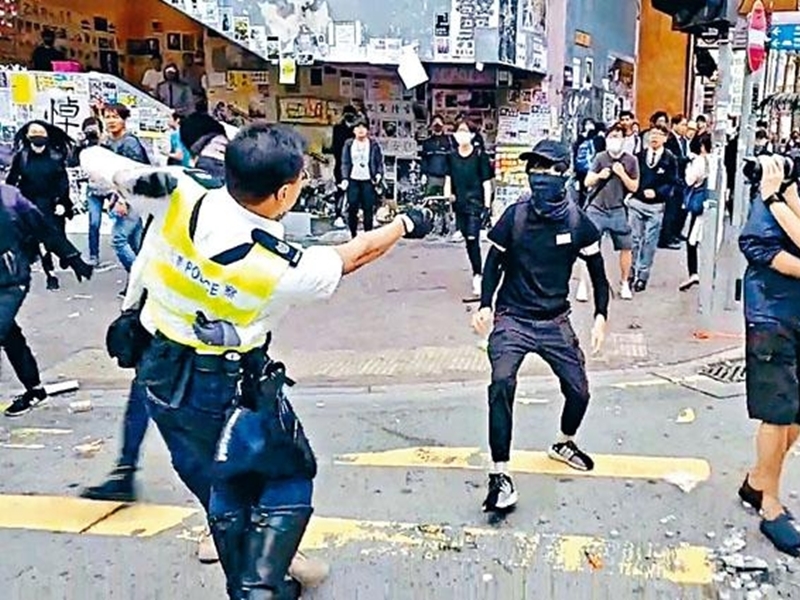 Inexperience pushes cop to shot protester in Sai Wan Ho, court hears
A cop who shot a protester in Sai Wan Ho at the peak of social unrest panicked and overreacted because he had no experience in handling scenes of protests and riots, the District Court heard on Thursday.
In a Sai Wan Ho protest on November 11, 2019, a cop identified as "A" in court fired a live round at the abdomen of protester Chow Pak-kwan, who after the incident had his kidney and half his liver removed.

A earlier testified in court and explained he fired the shot as he felt his life was endangered at that point.

In District Court Thursday, 21-year-old Chow alongside another protester Woo Tsz-kin, 20, appeared before judge Adriana Noelle Tse Ching again, who will hand down her judgment on August 29.

The duo were charged with obstructing police officer and attempting to snatch the officer's gun at a junction between Shau Kei Wan Road and Tai On Street. Chow also faced another count of attempted escape.

When making the closing statement, the prosecution appealed to the court to rule whether that shot was reasonable and necessary force according to the Police Force Ordinance and Public Order Ordinance. The lawyer also recalled A's testimony, saying that protesters surrounding him were holding weapons and "staring at him."

The prosecution also believed Chow wielding his hand twice before the shot was aiming to snatch A's revolver. Another cop also testified and said Woo planned to snatch A's gun since Woo touched A's wrist and part of the gun.

Yet, the defense challenged the prosecution that the first time Chow wielded his hand he was "sweeping away" the revolver A pointing at him. The second time was after A fired the shot and Chow was holding onto his body with both hands without any intention to snatch the gun.

The defense also referred to Woo's testimony, who said under police caution that he was trying to "take back a white-clad man," who later successfully fled the scene. The lawyer added Woo was trying to protect others instead of snatching A's gun.

The defense pointed out that although A received training at police's tactical unit in 2017, A had never handled any protest or riot. A also panicked at that time and overreacted, leading him to misjudge that Chow and Woo were trying to disarm him.