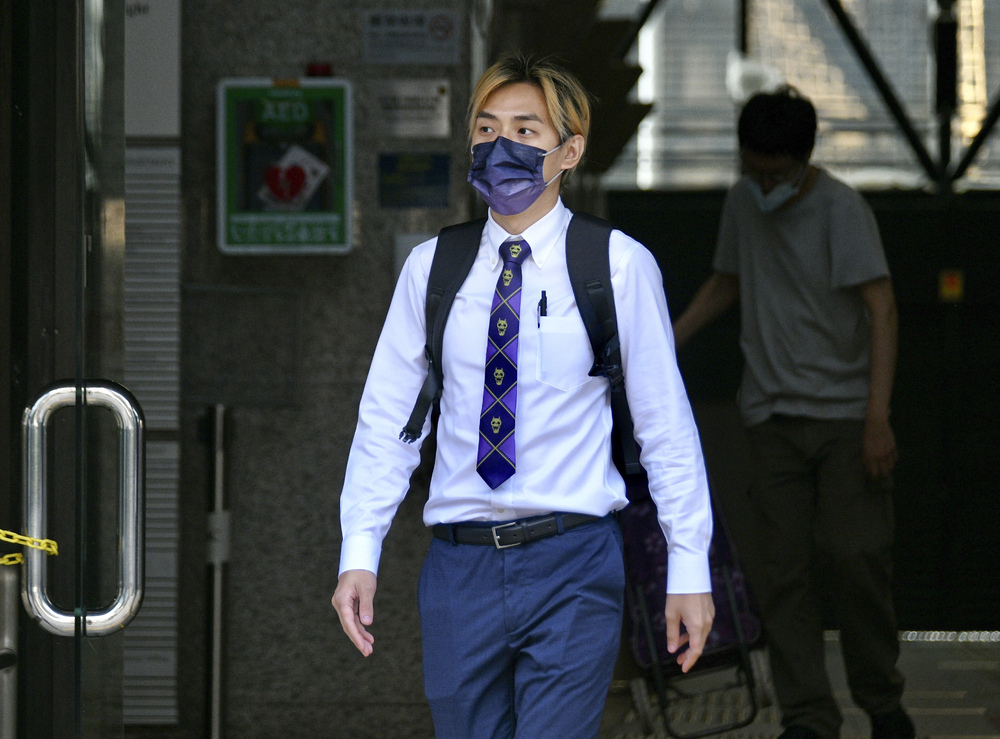 Independent singer Lester Chong and 9 others jailed for up to 52 months over PolyU 'rescue' protests
Independent singer Lester Chong Zing was among 10 people that were jailed for up to 52 months on Saturday for rioting outside Polytechnic University four years ago, while the judge said the court didn't seek to ruin the defendants' lives and believed they learned a valuable lesson. 
The 10 defendants were among the 213 protesters arrested in Yau Ma Tei by police at the peak of the 2019 social unrest over a series of protests that aimed to "rescue" protesters trapped within the university. 

The 10 were construction worker Au Yeung Ho-ming, 28; photographer Chak Pak-lung, 31; student Cham Pui-lam, 22; hair stylist Chan Sze-chun, 21; jobless Cheng Tai-kwan, 28; music teacher Lester Chong Zing, 31; students Chow Ka-wai and Chow Nok-ching, both 22; music teacher Kan Lai-yin, 27; and bar staffer Lai Tsz-yan, 25. 

They were earlier convicted of rioting at Nathan Road between Waterloo Road and Hamilton Street on November 18, 2019. 

Appearing before judge Josiah Lam Wai-kuen in District Court, six of them – Chong, Au Yeung, Chak, Cheng, Kan and Lai – were jailed for 52 months. The remaining four – Cham, Chan, Chow Ka-wai and Chow Nok-ching – were jailed for 50 months. 

When passing down the sentence, Lam disagreed with the defense who said the nature of this case was not serious, as he continued that rioters confronted police for about 40 minutes and lobbed over 250 Molotov cocktails. Lam also noted that police were outnumbered at the time. 

Although there was no evidence that the defendants acted violently and threatened others' lives, they could still encourage other rioters by their presence at the scene, Lam said. 

The judge added the court may send a wrong message to the society if it passes down lenient sentences. The nature of defendants' crimes was in no way any lesser even they "didn't chant slogan or lift a finger", according to Lam. 

A barrister representing Cheng sobbed as he pointed out such large-scale protests are unlikely to happen in the future after the Hong Kong national security law came. He also pointed to President Xi Jinping's care for youth development and referred to the newspaper advertisement by billionaire Sir Li Ka-shing, in which Li quoted a line from a Chinese poem and called for peace. 

Judge Lam said he understood how the defense felt but stressed that they cannot behave emotionally. 

Lam then pointed out that the defendants were not carrying weapons, illegal tools or dangerous items, with some wearing face masks only. 

Lam noted the court didn't seek to ruin their lives with the sentences, and believed they had learned a valuable lesson already.