Chief executive says he is a fan of diplomatic skills displayed by Chinese foreign ministry representatives.
Young Hongkongers should learn more about China and global affairs to prepare themselves to be ambassadors from the nation to the world, Chief executive John Lee Ka-chiu said on Friday.

Lee, who said he was a fan of the Chinese foreign ministry's spokespeople, promised to promote Hong Kong through social media and introduce new measures to support young people.

"I will deliver my first policy address in October and our public consultation has begun. I encourage students and friends from the education sector to express their views," he said.

"I believe that everyone's brainstorming will definitely help us to open a new chapter for young people in Hong Kong."

Lee outlined his plans as he spoke to about 100 pupils, teachers and politicians at a prize-giving prize for the Hong Kong Cup inter-schools diplomatic knowledge contest.

He told the audience that pupils who took part in the competition must have watched remarks made by Chinese foreign ministry representatives Hua Chunying, Wang Wenbin and Zhao Lijian as they learned about Chinese diplomatic work.

"When faced with questions from journalists all over the world, the spokespersons were able to state the country's position in a decent, clear and confident manner, and fully demonstrated diplomatic wisdom and the style of a major country," Lee said.

"I'm also a fan of the foreign ministry spokespersons, and I often pay attention to their press conferences to keep abreast of the latest developments in the country's foreign policy."

Lee said that his administration would learn from how the foreign ministry's spokesmen, as well as the ministry's Hong Kong office, used social media to promote China.

"I encourage students to continue to enhance their diplomatic knowledge … I also expect you to equip yourselves well, and hope that in the near future, you will be able to tell the stories of China and Hong Kong well on the international stage," Lee told the youngsters.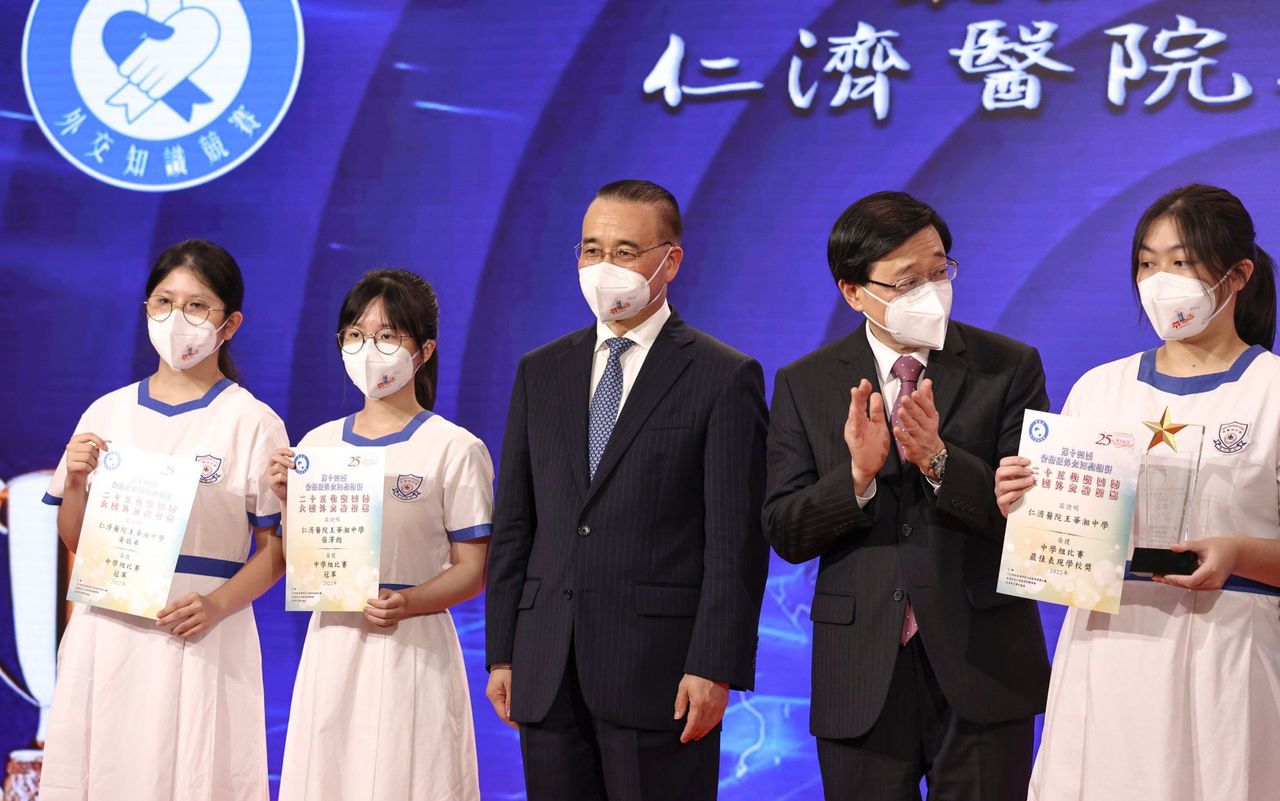 Liu Guangyuan, (left) the Chinese foreign ministry commissioner in Hong Kong, and Chief Executive John Lee present prizes for a citywide schools quiz on diplomatic knowledge.

The Chinese foreign ministry commissioner in Hong Kong Liu Guangyuan backed Lee's views and added that he hoped that the city's young people would demonstrate their patriotism at home and abroad.

"Young people in Hong Kong need to set their sight on the world … and become promoters of cultural exchanges between China and foreign countries," he said.

This year's contest, held in March, was the 14th since the event was launched in 2007.

A record 47,000 young people from about 230 primary and secondary schools answered questions on Chinese diplomacy, modern history and the mainland's Hong Kong policies, as well as on international affairs.

Pupil and teacher representatives from eight schools, four primary and four secondary, were given awards for their performances in the competition at the ceremony.

The winner in the secondary school section was the Yan Chai Hospital Wong Wha San Secondary School in Tseung Kwan O.

The Taoist Ching Chung Primary School in Tuen Mun took the honours in the primary section.

Poon Wai-pak, a Primary Six pupil from the Taoist school, said his participation in the contest had made him realise that history was not as boring as he had thought.

Yu Shuk-yi, a Form Three pupil at the secondary school winner, said that the competition has helped her to understand more about China's role in the United Nations.

She added it had also increased her knowledge of the Greater Bay Area project, which she said would help Hong Kong reinforce its status as a global financial hub through closer integration with the mainland.