Meanwhile, shop owners and stylists say they are worried about 'inconsistent' social-distancing policies.
Hong Kong residents have flocked to hair salons after they reopened following a month-long closure, but hairdressers and shop owners say they are worried about "inconsistent" social-distancing policies leading to financial uncertainties amid the city's fifth wave of coronavirus infections.

People also expressed concerns about salons having to close again, prompting them to prioritise scheduling a trim as soon as they heard about the reopening.

Last month, residents said they were caught unprepared as Hong Kong leader Carrie Lam Cheng Yuet-ngor announced hair salons would be closed for two weeks from February 9 under tightened social-distancing rules. She later further extended the ban to April 20, but shortened it earlier this month to Thursday.

At a Ma On Shan branch of QB House, a chain which specialises in 10-minute haircuts, almost 10 customers queued up for a trim on Thursday at noon. Most of them were men, with only one woman waiting in line.

Joe Wong, a 36-year-old nurse, said he had waited for two months to get a haircut. He spent his only day off during the week at the salon.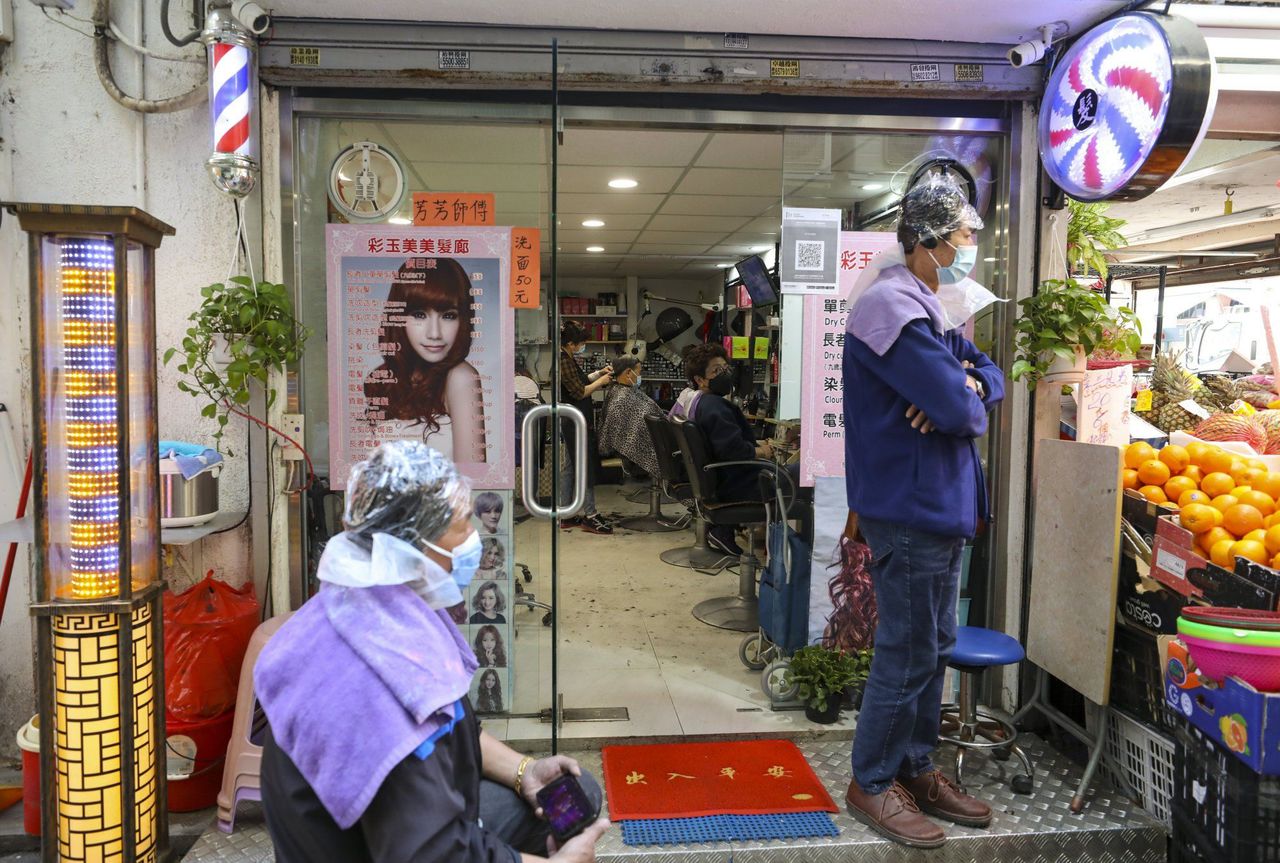 Residents waiting at a Tai Po hair salon.

"I've already ordered an electronic razor and was prepared to shave my hair at home, but since salons have reopened, I'm here," he said.

"[The closure of hair salons] reflects how chaotic the government is when it comes to policymaking. Their policies change all the time and they don't think about the consequences."

He accused the government of ignoring the needs of business professionals by abruptly mandating the closure of barber shops.

"I don't mind having an uneven haircut, but what about people who need to look smart for their clients?" Wong said.

Another customer in the queue, 35-year-old clerk Michael Hung, said he rushed for a cut as soon as the government announced the return of salons.

"I plan to get a shorter haircut this time, as I don't know when salons will close again. I just want to avoid another hassle around this."

Retiree Ng Yee-mei said she was overjoyed with the news of the reopening and was also opting for a shorter cut because she was worried about salons being shut down again.

"I'm just so happy salons are open again. My hair's growing out and I feel hot with my thick hair under this weather," she said.

The 62-year-old walked for 30 minutes from her home to the salon.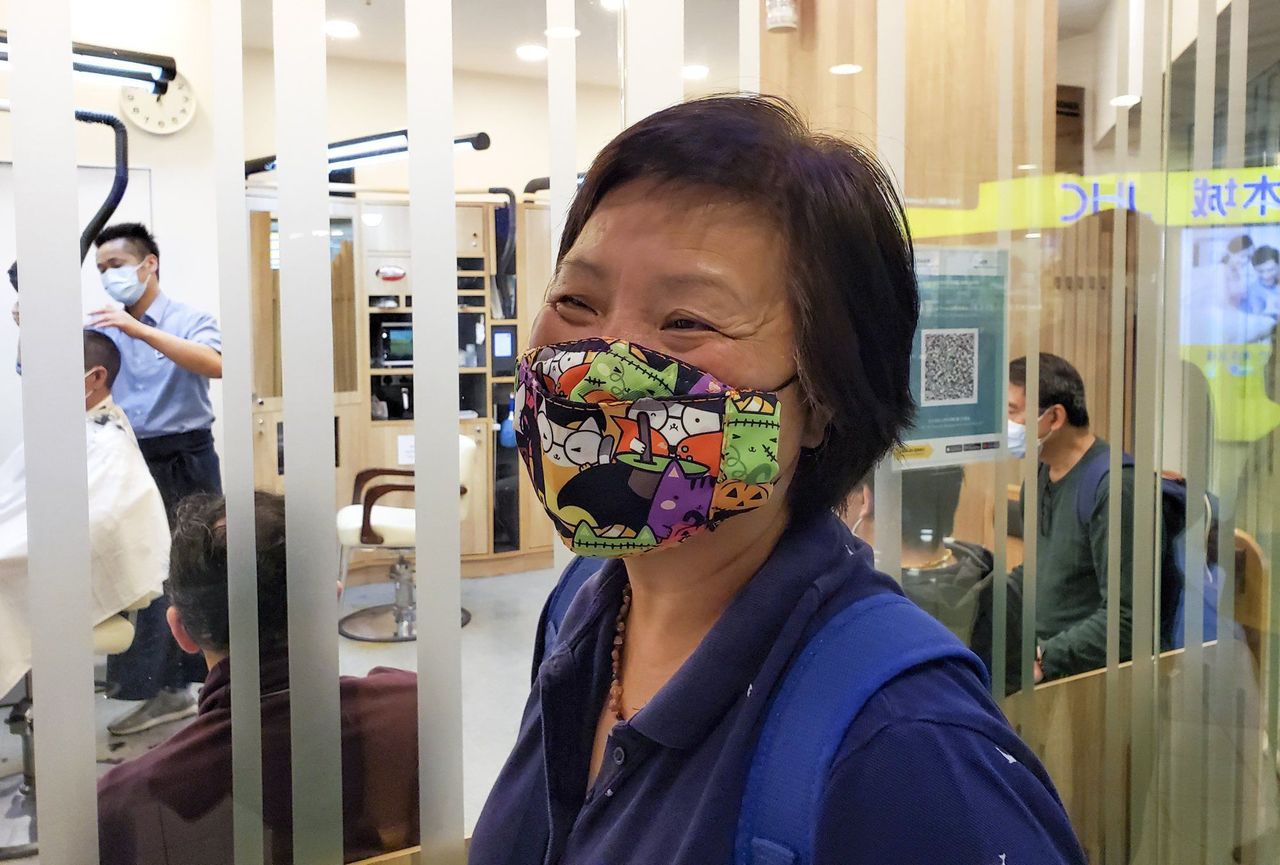 Ng Yee-mei said she was overjoyed when she heard about hair salons reopening.

Marcus Mak, nine, was the youngest in the queue outside QB House.

"My dad brought me here for a haircut. He's going to the bank and getting a Covid-19 test today," he said.

Other than haircuts, people who relied on haircare services to tend to their locks also dashed to salons for a long-awaited treatment.

A 73-year-old woman, who asked to be identified by her surname Kwong, said she hurried to her hairdresser for a perm on Thursday.

"I'm getting my hair done now, who knows when salons will be forced to close again. When my husband saw the news that salons would open today, he told me to go get my hair fixed as soon as possible," she said.

Kwong, who used to get her hair styled every week, said she found the closure agonising. "It's been too long, my hair is all grown out and straight. I dared not go out to meet friends like this, I dared not even look at myself in the mirror!" she said. "These closures are such a torment from the government."

Hairdressers and salon owners said the shutdown was a "waste of time", adding that the lapse in business led to massive income losses, while the sudden closure gave them no time to find alternative ways to make up for their loss in earnings.

Conway Cheung, a 50-year-old hairstylist at an independent salon in Chung On Estate, said about 20 customers had visited the shop since it reopened at 9am.

"That's more people than usual, people have waited too long for a haircut," he said.

Cheung estimated a loss of about HK$100,000 (US$12,788) for his salon between February and March.

"I felt like I was being toyed with by the government throughout the closure. When they announced a delay in the reopening of salons two weeks ago, I started thinking about taking private appointments at clients' homes, but that's just inconvenient," he said.

"It's just a month and a half of wasted time. The closure period was too short for me to venture into anything outside this industry. I'm just glad salons are now back in operation."

Ling, the owner of an independent salon in Ma On Shan, said she harboured mixed feelings about reopening.

"I don't know what to feel about this. I'm worried about the risk of catching the coronavirus in the shop. Why not reopen salons after the citywide mandatory testing?"

For Ling, the current wave of infections has resulted in both fewer customers and a shortage in staff.

"If I don't open the doors of the salon, I can't pay rent – that's HK$30,000 a month, way above the government's subsidy amount of HK$15,000. If I open my doors for business, however, there is a risk of catching the virus and there's not much business anyway," Ling said.

"Who knows if I will be forced to close again?"