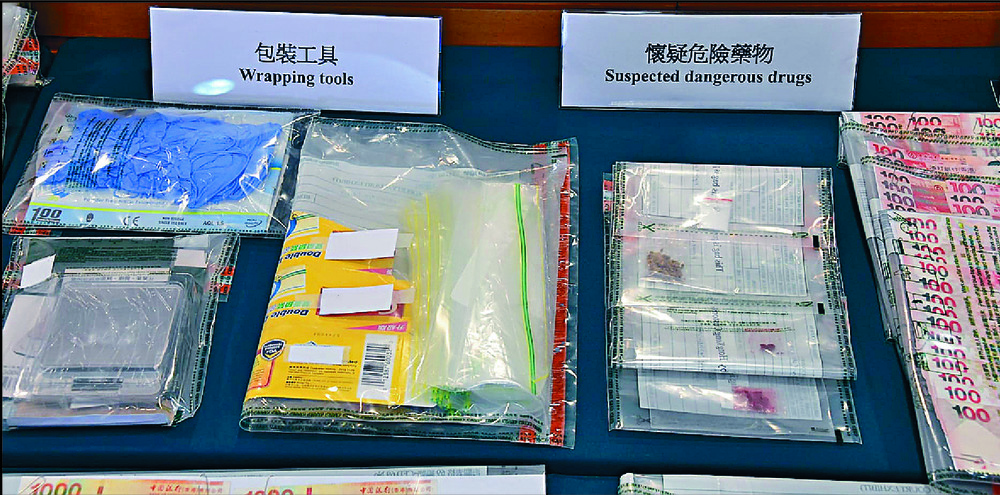 Husband dobs wife in amid ketamine uptrend
A 30-year-old man reported his wife to the police after witnessing her take drugs at their Lok Ma Chau home yesterday.
After receiving the call from the husband, Wong, officers quickly arrived at the village house on San Tam Road.

The 26-year-old wife, Lee, was subsequently arrested for possession of dangerous drugs due to the presence of a small amount of ketamine in the house.

In a separate case on May 6, five men were arrested for trafficking 200 kilograms of ketamine and a small amount of heroin, with the combined haul worth some HK$86 million.

The Customs and Excise Department's head of airport investigations, Lee Man-lok, said the haul marks the largest air-cargo ketamine bust in 10 years.

The drugs were stashed inside a freight consignment that arrived from the Netherlands via Taipei. Although the package was declared as containing power drills, officers found 200 bags of ketamine scattered across eight carton boxes.

Two men, aged 23 and 37, were arrested at the airport later that day. They have since been released on bail pending further investigations.

In a follow-up operation on Monday, officers raided three residential units in Sham Shui Po where they seized some 350 grams of heroin worth around HK$360,000. They also found small amounts of ketamine, ecstasy, marijuana and methamphetamine. Officers also seized HK$640,000 in cash along with drug packaging materials.

Three men - aged between 44 and 62 - suspected to be involved in the operation were arrested.

There has been a rising trend in ketamine trafficking over the last few years, Lee said.

"This is the fourth case this year in which large amounts of drugs worth over HK$100 million were seized Drug-trafficking syndicates are constantly changing their methods to evade us."

A department spokesman reminded the public not to "help other parties carry controlled items into and out of Hong Kong [for money]."

He added: "They are also reminded not to carry unknown items for other people or release their data or home address for receiving parcels."