About 60 organisations are taking part in the two-day Exploring New Opportunities Job Fair, the biggest since cross-border travel restrictions were lifted fully.
Hundreds of hopefuls have descended on Hong Kong's largest job fair since cross-border travel restrictions were fully lifted last month, with more than 4,700 vacancies up for grabs amid labour shortages in the city.

Leon Lau, 27, showed up on the first of the two-day expo in Mong Kok on Wednesday looking for steady work after being laid off as a security guard during the Covid-19 pandemic and working odd jobs since then.

"If I could find a job as a security guard, I would take it, but I want to try something new as I don't want to be stuck in this profession for my entire life," he said.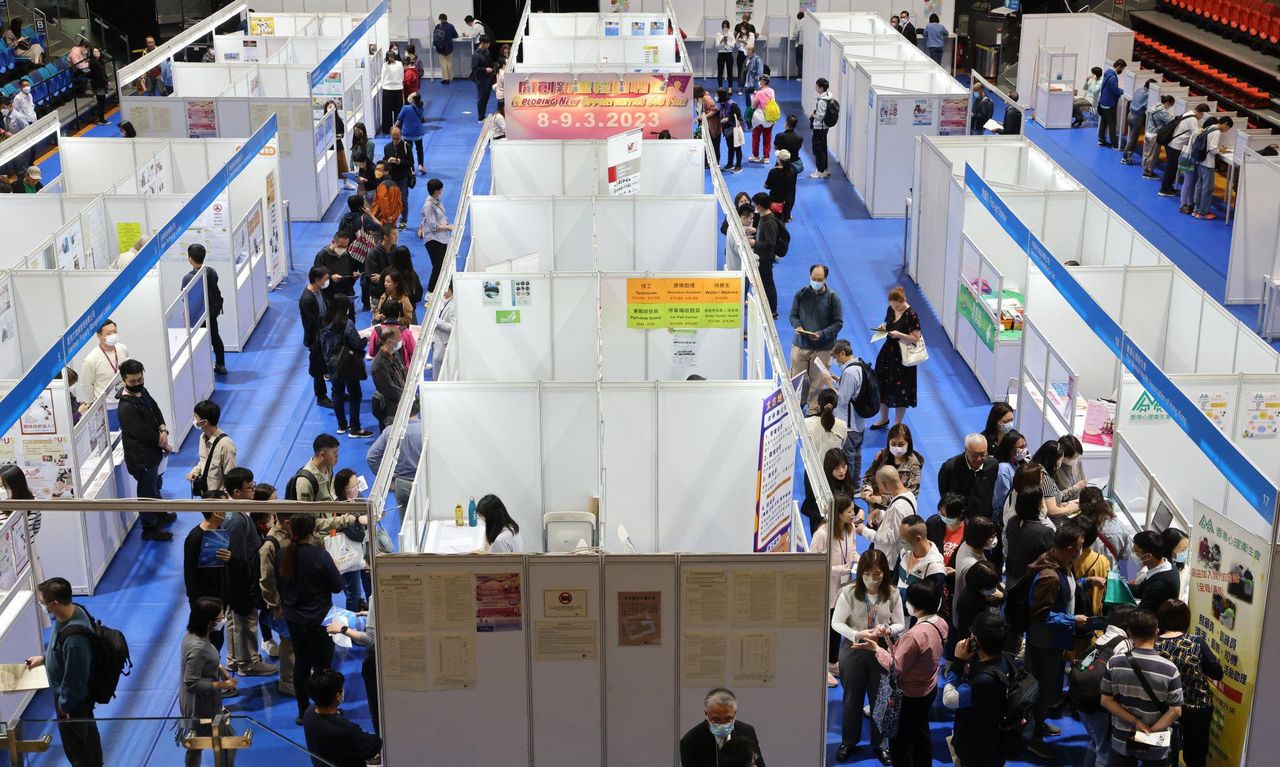 About 60 organisations are taking part in the two-day fair.

Lau said he was looking to apply for a job as a salesman or chef and that he expected it would be easier to find work as the city had been returning to normal since February.

Labour shortages are a challenge for the city's post-pandemic recovery especially in the aviation, tourism, food and beverage, and retail sectors.

A warehouse truck driver surnamed Choi said he had been looking to switch jobs for better pay and benefits.

However, the pandemic meant very few opportunities presented themselves to do so.

"When there is no demand, you won't be able to switch jobs even if you want to," Choi said. "Now that there is demand as the city opens up, you will have opportunities to do so."

Around 60 organisations are taking part in the two-day Exploring New Opportunities Job Fair, organised by the Labour Department, with more than 4,700 vacancies across different sectors. They include openings in retail, food and beverage, hotels and property management.

More than 2,400 positions are available in the food and beverage industry, retail and hotels.

A total of 1,245 attendees visited the fair at MacPherson Stadium by 4.45pm.

Some companies admitted they were facing a manpower shortage, but expressed optimism they would be able to fill positions.

Mei Lau, a human resources and administration officer at ramen chain Ichiran Hong Kong, said they needed to hire more staff as customers had returned to their restaurants with the lifting of pandemic restrictions and the full reopening of the border with mainland China.

She added the company had adjusted the base salary for staff in February to retain employees and attract potential applicants, with bonuses for attendance.

"We are more optimistic we can hire the people we need, as we saw many more applications after we adjusted the base salary," Lau said.

"However, others in the food and beverage industry are fighting for manpower, so we will need to think about what we can do to keep our colleagues besides increasing our salary."

As of 1.30pm, the company had hired one full-time employee and interviewed five applicants. The company hoped to hire up to 20 workers on Wednesday.

At the Swire Properties Management booth, human resources officer Kaylie Ng said the firm was experiencing a manpower shortage of between 5 per cent and 10 per cent as the city returned to normal, with many of its staff returning to their former jobs in the travel or aviation sector.

The company did not have a target for the number of people it aimed to hire, but they had received two to three applications for building attendant and security guard jobs.

To attract applicants, the company also offers bonuses for referrals and attendance, as well as employee benefits.

Hong Kong's unemployment rate stood at 3.4 per cent for the rolling three-month period between November 2022 and January, back to the pre-pandemic level recorded for November 2019-January 2020.