Ping An Insurance, one of HSBC's biggest shareholders, recommended the London-based bank spin off Asia business and list in Hong Kong, according to reports.
HSBC, in the midst of the latest reorganisation of its worldwide banking operations, has gone on the defensive to fend off its largest shareholder's call to break up its business.

The London-headquartered bank, which traces its roots to Hong Kong and earns almost two-thirds of its pre-tax profit in Asia, said it has the right strategy as the global financier for trade between the East and the West.

"First and foremost, we remain a global institution serving our clients on a global basis, but [with] particular unique strengths within our global franchise," the bank's chief executive Noel Quinn said during its annual shareholders meeting, emphasising HSBC's worldwide presence. "One of those is Asia, one of those is the Middle East and one of those is the UK."

HSBC is on the defensive amid media reports that its biggest shareholder Ping An Insurance Group is pushing to spin off the bank's Asia business for a separate listing in Hong Kong. Bloomberg and the Financial Times reported that Ping An, with an 8.2 per cent stake at the end of March, has held discussions with HSBC's board, both citing people familiar with the matter.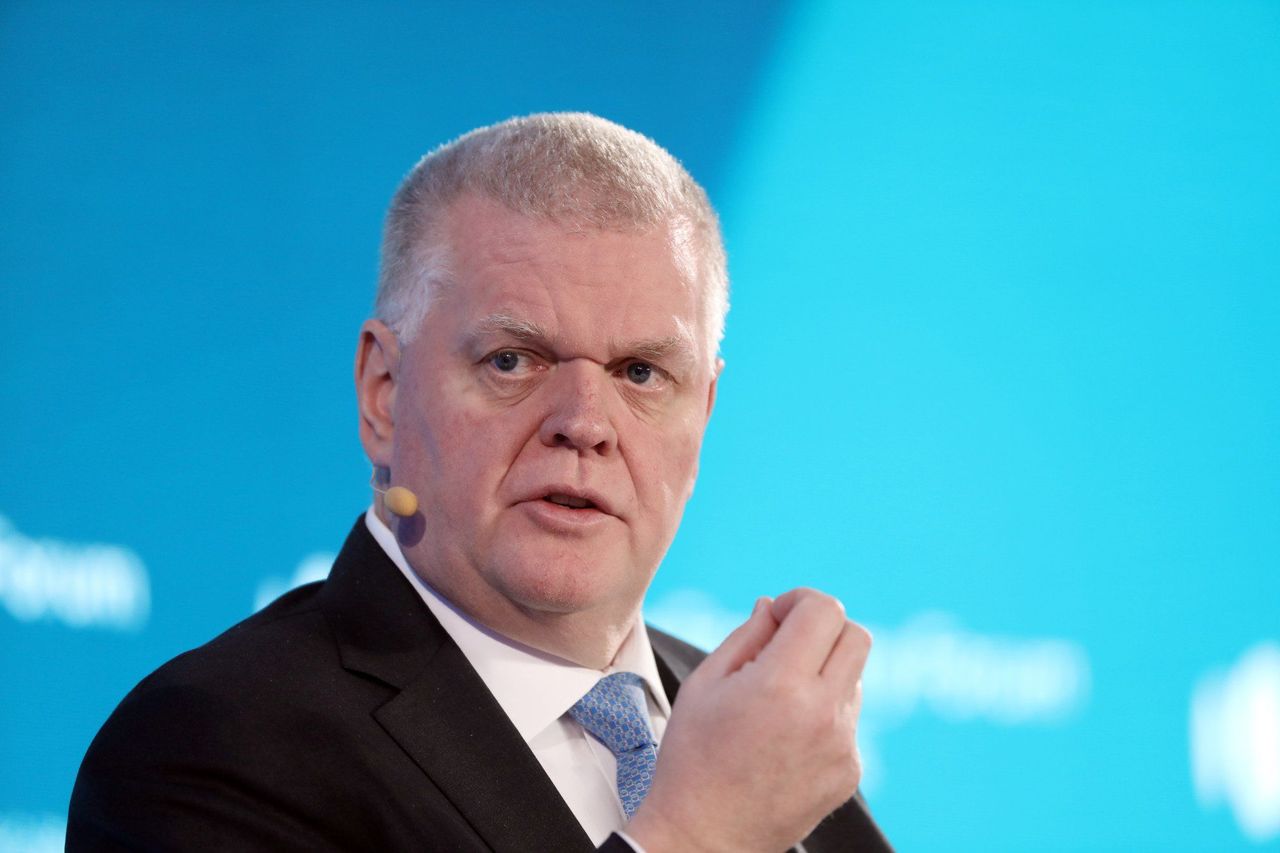 HSBC's chief executive Noel Quinn during a panel discussion at the Bloomberg New Economy Forum in Beijing on Nov. 22, 2019.

HSBC would not confirm that it had been approached by Ping An about the break-up, but said it regularly engages with investors and is committed to "maximising value for all our shareholders." Ping An, based in Shenzhen, declined to comment.

"We believe we've got the right strategy and are focused on executing it," a HSBC spokeswoman said. "Delivering on this strategy is the fastest way to generate higher returns and maximise shareholder value."

HSBC's shares have plunged as much as 67 per cent since 2018, but clawed back some of those losses to close at HK$48.55 on Friday in Hong Kong. Even though it has outperformed the benchmark Hang Seng Index over the past year, HSBC's shares in Hong Kong remain 43 per cent off its January 2018 peak.

The bank's headquarter is in London even though Europe and the UK contributed to 20 per cent of its 2021 pre-tax profit, while Asia -most of the earnings came from Hong Kong and mainland China – made up 64.8 per cent.

HSBC's geographic span has landed it in the middle of global geopolitics, particularly the deteriorating US-China relations over a range of thorny issues, from the December 2018 detention of Huawei Technologies' chief financial officer Meng Wanzhou, to the bank's position in China's controversial national security law for Hong Kong.

Another controversy was in 2020 when the bank acceded to a call by the UK's Prudential Regulation Authority – HSBC's primary regulator – for all banks to suspend their dividends and shareholder buy-backs.

The UK regulator said at the time it wanted to ensure all banks under its purview had enough capital on hand to support the British economy during the early days of the coronavirus pandemic.

That sent the bank's stock plunging to a 25-year low, leading to calls by a number of disgruntled Hong Kong investors for the bank's break-up. The bank reinstated its dividend last year, paying out its final half of its 2021 dividend this week.

Several shareholders have said HSBC should move its headquarters back to Hong Kong – 28 years after its acquisition of Midland Bank and relocation of its base to London. HSBC's management has repeatedly rejected the idea of moving its headquarters, which it last reviewed in 2015.

As part of its presentation to HSBC's board, Ping An reportedly referred to the split of the insurer Prudential, which spun off its UK, European and US retirement arms and is now an insurer focused solely on Asia and Africa, the Financial Times reported. UK-based Prudential is listed in both Hong Kong and London and wants to locate its next CEO to Asia.

Even though its stock has recovered from two years ago and is one of the better performing bank stocks globally this year, HSBC's shares are trading nearly half the value they were at four years ago despite hitting a two-year high in Hong Kong in early February.

Talk of a break-up resurfaced as HSBC is in the middle of its latest pivot to Asia, where it will shift US$6 billion in capital from underperforming businesses in the US and Europe over five years. HSBC is also betting on rising income in the Greater Bay Area and other parts of Asia, as it bulks up its wealth management business.

As part of its revamp, HSBC sold its US mass-market retail banking business and is in the process of completing the sale of its French retail bank.

"We're the largest trade bank in the world by quite a degree," Quinn said. "We're one of largest global payment houses in the world. We're one of the largest foreign exchange banks in the world."

"One must recognise that much of that trade and payments activity is into and out of Asia," he said. "I think we're uniquely positioned to help, particularly, corporate customers and some of our international retail customers trade between the West and the East and that is what we've been doing for 156 years."