University of Hong Kong estimates outbreak will eventually infect 4.8 million people, or almost two-thirds of city's population.
The fifth wave of the coronavirus pandemic has swept through Hong Kong like a tsunami and many more cases are expected in the months ahead. The University of Hong Kong has estimated the outbreak will eventually infect 4.8 million people, or almost two-thirds of the population, and push the death toll as high as 6,000.

Health authorities have scrambled to launch hotlines and registration platforms for residents who have contracted Covid-19. The Post has gathered information on how you can seek help from the government and other organisations if you catch the virus.


1. How can you confirm your Covid-19 diagnosis?

Hong Kong health authorities now accept two broad types of Covid-19 tests: the antigen tests or antibody tests.

While the rapid antigen test (RAT) detects pieces of protein that make up the coronavirus in your body, the antibody test confirms your past exposure to the disease.

People who suspect they have caught the virus should undergo a rapid antigen test. These self-test kits are widely available on the market, including at pharmacies and supermarkets.

The Department of Health's medical device division has approved 10 types of RAT kits for use in the local medical field, out of which four are suitable for use at home.

The department has also referred the public to lists of approved tests on its website compiled by the National Medical Products Administration, the United States Food and Drug Administration and the European Commission.

The Consumer Council has set up a search engine that catalogues test kits approved by such entities.

Health authorities will distribute free RAT kits to high-risk individuals and groups, such as residents and staff at residential care homes, cross-border drivers and people under home quarantine.

The polymerase chain reaction (PCR) test is considered more accurate than the rapid antigen tests. You can arrange an appointment at private hospitals, clinics or via the community testing centre website for this type of testing. Nasal and throat swab samples will be collected during the procedure.

Residents can opt for another kind of PCR test known as the deep throat saliva test, or DTS, if they suspect they have been exposed to the virus. Specimen collection packs are available at outpatient clinics under the Hospital Authority, vending machines at MTR stations and post offices. The samples have to be given to designated collection points while results are provided several days later. However, the government is phasing out DTS as a recognised compulsory testing method.

Up to 15 types of workers are required to regularly undergo PCR tests, such as airport staff, school personnel, frontline staff at hotels, health care professionals, construction labourers and catering businesses employees.


2. What should I do if I am infected with Covid-19?

The government has launched an online self-reporting platform for those who test positive using a RAT. After filling out the online form, residents will receive an isolation order to carry out home quarantine. All declarations must be made within 24 hours following the test. People without internet access should call the following hotline for support: 1836 119.

Those who test positive using a PCR or DTS test will receive calls or text messages from the Department of Health to arrange further steps. They will be required to fill out an electronic form to declare their quarantine option.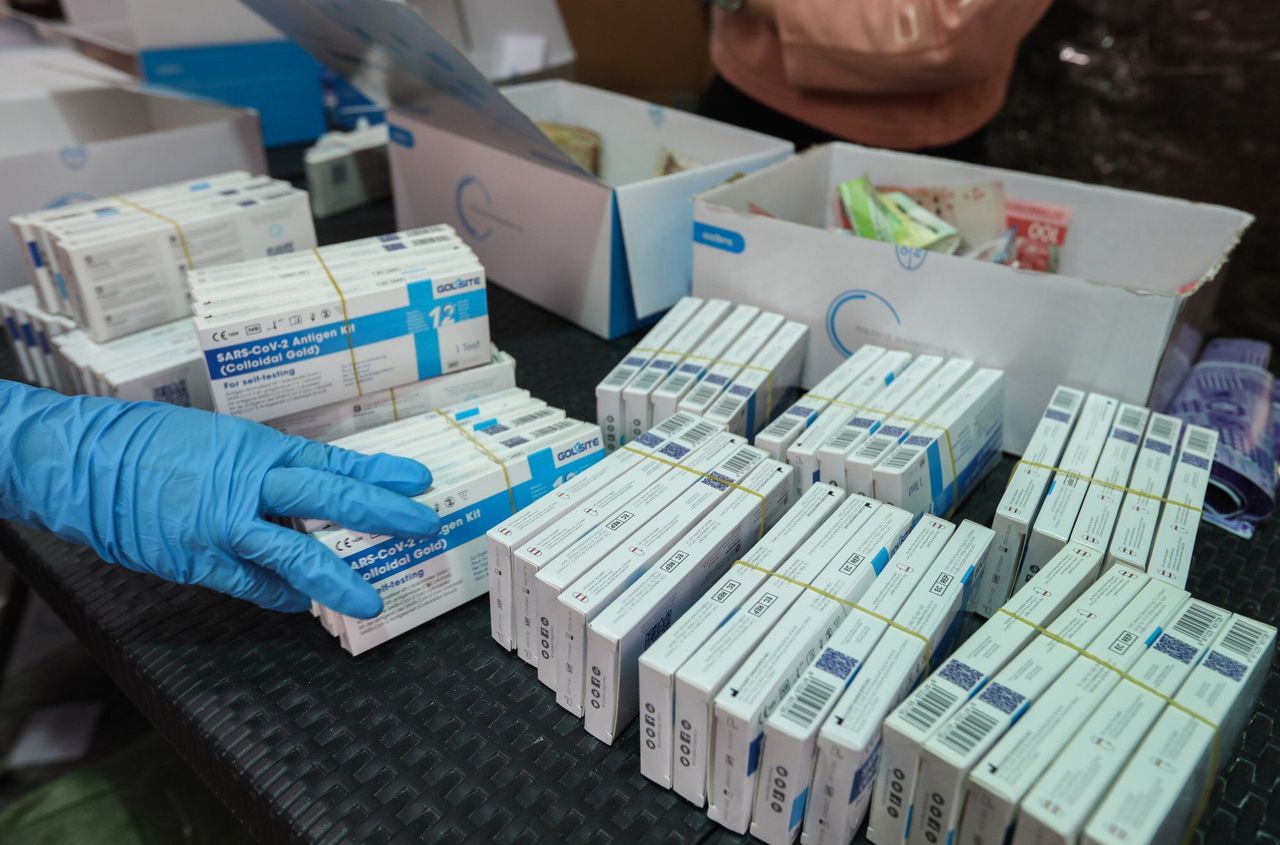 Residents buying rapid antigen test kits at a shop in Sham Shui Po.

Residents self-isolating at home will be given a parcel that includes pills, a thermometer and an oximeter to monitor their heart rate and blood oxygen levels. A handbook is enclosed in the package with the dos and don'ts of home quarantine.


3. If I develop moderate symptoms, where can I get help?

Residents who have moderate symptoms or are asymptomatic should stay at home until signs of illness subside and they test negative using a rapid antigen test, according to health authorities.

The Hospital Authority has set up a support hotline at 1836 115 to provide medical advice and answer questions. The hotline operates from 8am to 10pm daily.

If you need medical help, you may arrange an appointment with one of the 23 designated Covid-19 clinics.

Once an appointment has been made, residents are advised to choose point-to-point transport to travel to the clinic, either by private car or by calling a designated taxi at 3693 4770 for free.

The Home Affairs Department has launched a 24-hour "Stay Home Safe" hotline at 1833 019 to assist people who undergo home quarantine. Officers will mark down requests for help and refer the cases to relevant departments for follow-up.

The Hospital Authority on Tuesday introduced a care system to support infected residents undergoing quarantine at home or at isolation facilities. Residents who have reported their positive results to health authorities will receive a text message that directs them to fill out an electric form. The system will then send the individual relevant medical information and advice on further steps, such as how to make an appointment at designated clinics.

Residents who need to isolate at a community quarantine facility can contact the Fire Services Department for transport arrangements at fsd_cif@hkfsd.gov.hk, on the WhatsApp hotline at 5233 1833 or at the WeChat handle at fsd_cif.


4. What should I do when I start to develop warning symptoms?

You should travel to an Accident and Emergency facility by either a private car or a designated taxi for Covid-19 patients. Residents can also dial 999 in case of a medical emergency. Warning symptoms include a persistent fever of 38.5 degrees Celsius or higher for more than two days, convulsions, difficulty breathing or marked changes in mental status.

People who are at high risk of getting very sick from Covid-19 are also advised to visit a hospital if they contract the virus. This includes immunosuppressed individuals, patients with chronic diseases, seniors aged 70 or above, children aged five or below and women who are 28 weeks pregnant.

Authorities have designated Queen Elizabeth Hospital in Yau Ma Tei, Ruttonjee Hospital in Wan Chai, TWGHs Fung Yiu King Hospital in Pok Fu Lam, Haven of Hope Hospital in Tseung Kwan O, Tin Shui Wai Hospital, North Lantau Hospital in Tung Chung for Covid-19 patients.

Hong Kong Baptist Hospital and Union Hospital, located in Kowloon Tong and Tai Wai respectively, will also begin admitting Covid-19 patients soon.


5. How do I know I have recovered from Covid-19?

People who are unvaccinated or have received one dose of a vaccine can be discharged from home quarantine once they get a negative RAT result on day 14.

Those who have received at least two jabs need to test negative for the virus using a RAT kit on both the sixth and seventh day before they can resume their daily activities.


6. Which non-governmental institutions can I seek help from?

Baptist University's Chinese Medicine Specialty Clinic is providing free online Chinese medicine consultation for infected residents. Those who are interested can make a reservation online.

The Practising Pharmacists Association provides medicine delivery and consultation services to those subject to home quarantine, with each session costing HK$100 (US$13). Their hotline 6903 1813 operates daily from 10am to 7pm on weekdays, and 10am to 1pm on Saturdays and Sundays.