Building vertically was, in reality, Hong Kong's only option due to the geology and climate, but the city has made the best of it. Creating communities around MTR stations has strengthened rather than weakened community engagement and helped bind us together.
A fuss over the latest super-tall tower to pierce the sky above New York's Central Park has got me thinking about the neighbourhood-destroying potential of high-rise buildings and how Hong Kong's community-wide adoption of vertical living is distinct and perhaps not as harmful.

This most recent kerfuffle is over Steinway Tower on 111 West 57th Street, the newest glass sliver to rise 435 metres above Billionaire's Row along the southern end of Central Park. It has surpassed Hong Kong's 75-storey Highcliff on Stubbs Road to claim the title of the world's skinniest building. Steinway Tower is indeed a monument to brilliant modern engineering, but it is also a dubious addition to the neighbourhood it now looms over.

Edwin Heathcote, long-standing architecture and design critic for the Financial Times, last week called Steinway Tower "a deposit of unimaginable wealth in the sky" that is divorced from the life of the city below. "Its ethereal profile makes it the purest illustration of architecture as an expression of surplus capital," he said – not a home but a luxury good, "more like a land-bound yacht".

The tower is the latest of a series of seven supertall residential buildings – including One57, Central Park Tower, Central Park South and 432 Park Avenue – that now cast their long shadows over the park. Critics have dubbed them "safe-deposit boxes in the sky".

These flats are not built for New Yorkers. They are built exclusively for the often-absent super-rich, selling for up to US$66 million and bought through offshore entities intended to disguise ownership. They are designed for the well-heeled to avoid "the possibility of accidental encounter with a neighbour or an ordinary citizen".

Despite its height and cost, Steinway Tower has just 60 condominiums. As Samuel Stein at the City University of New York recently noted: "The problem with super-thin high-rises is not their size per se. It's that so few people live in them … Instead of 60 gigantic condos, this building could fit 442 normal-sized apartments."

Instead of drawing in the local community, Heathcote says, they are "floating over but alienated from the city". At street level, the cafes, restaurants, stores, actors' studios, small offices and newspaper stands that once populated 57th Street have gone. "The only people around are doormen."

Critics contrast these supertall residential towers with, for example, the Rockefeller Center, completed in 1939 and still a focal point of constant public and civic activity. Heathcote recalls the "golden era" of skyscrapers in the 1920s and 1930s, which aspired to build vertical cities "connecting the street to the sky via a labyrinth of corridors and arcades, shops, hotels, restaurants, subways, studios, theatres and, of course, offices".

My sense here in Hong Kong is that life in a high-rise city can still aspire to that golden-era vision. Vertical cities were not intended to be in the image of today's Billionaire's Row.

Hong Kong has for decades been more densely populated with supertall buildings than any other city. Estimates suggest it has around 9,000 high-rise buildings, putting it well beyond the likes of Shenzhen, Shanghai, New York and Dubai.

Legend has it that more than half of Hong Kong's population lives above the 15th floor. While I have never been able to confirm this, my intuition says it's about right. Other reports estimate that the combined height of all Hong Kong's high-rises is over 333km.

There are specific reasons Hong Kong came to dominate vertical living. Our steep mountains and narrow coastal wedges of flat land forced builders to look up rather than build horizontally.

Our sharp mountain backdrops made skyscrapers feel at home and in scale, unlike in London, New York or Dubai. Their comparatively flat landscapes enabled horizontal spread and made skyscrapers feel out of proportion.

The hectic development during the past three decades of our MTR network created a unique business model in which new town communities were built vertically from every station. Our heat and heavy rain encouraged planners to concentrate community amenities in, or close to, each station. The tiny flats built for our population encouraged Hongkongers to eat and socialise outside.

As a result, our vertical lives have strengthened rather than weakened community engagement. Even in the heart of Central, a mix of office and hotel towers rises out of vast and bustling shopping complexes.

In my early years in Hong Kong, I always marvelled how the walk from my flat to the Star Ferry took me through three hotel lobbies, two office towers and along one of the world's largest shopping centres. Our high-rise developments encouraged community footfall rather than keeping out local people.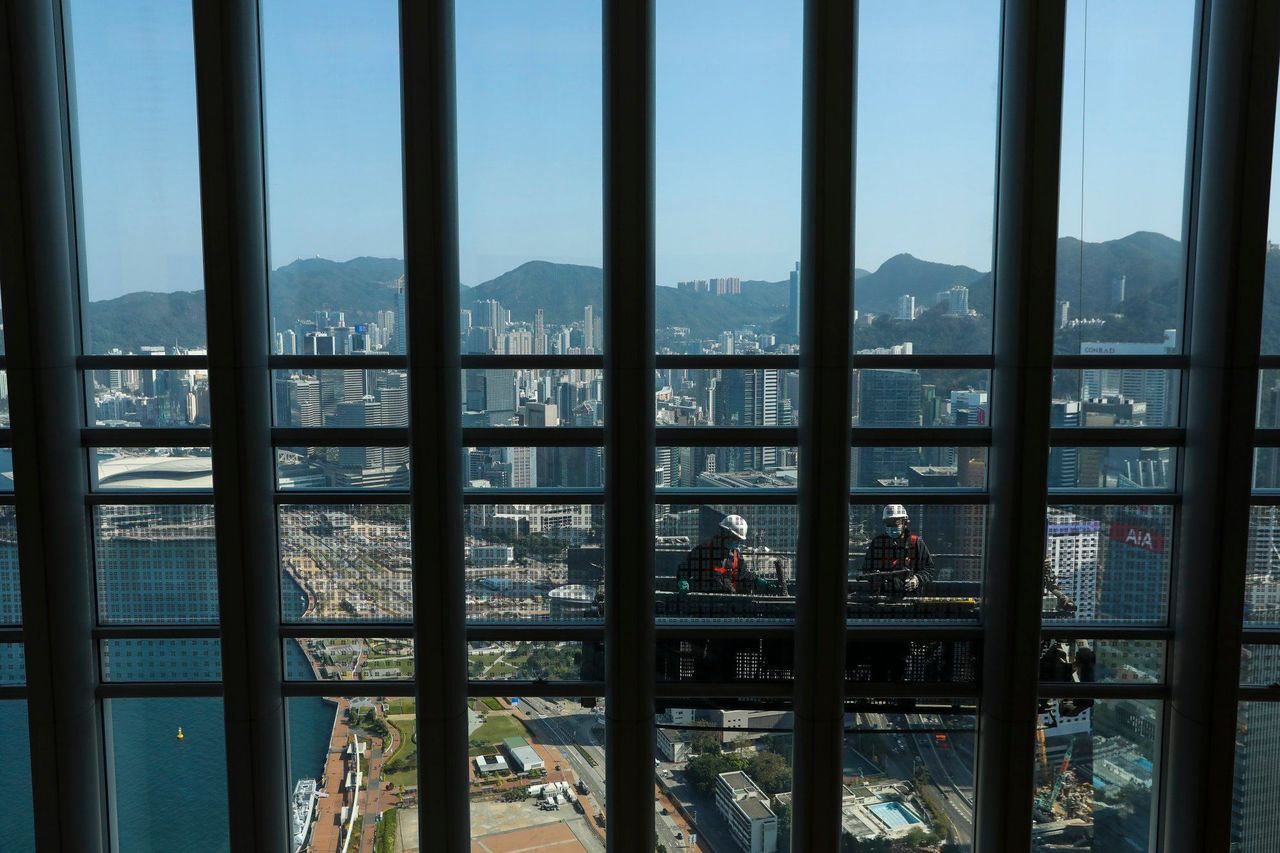 Workers clean the windows of a high-rise building in Central on February 4, 2021.

It used to be said that the skyline belonged to God, broken only by spires and cathedral domes. As we moved into more secular times, the brick chimneys of Industrial Revolution manufacturing and then grand commercial headquarters began to dominate our skylines, accompanied by our monuments to civic identity.

In the second half of the 20th century, the high-rise buildings that began to crowd our skylines were public housing estates for low-income families.

Only recently have the super-rich begun the de facto privatisation of the skyline by substituting exclusive condominiums in the sky for the mansions and gardens at ground level that were traditionally hidden behind high walls. Hong Kong is among them, with its fair share of egregious wealth and "safe-deposit boxes in the sky", but they are not so ostentatiously set apart.

High-rise living is a democratic virtue we have made out of a necessity forced on us by geology and climate. It is a common plight that has bound us together rather than set us apart. Long may it stay that way.