Covid-19 pandemic has cast a pall over city, with many still seeing no light at the end of the tunnel.
Hong Kong's finance chief has rolled out a raft of measures and sweeteners, from consumption vouchers to loan guarantees, aimed at boosting public confidence and keeping small businesses afloat in a city grappling with a Covid-19 crisis.

The Post speaks to residents and business owners, who say that despite the relief package, the road ahead remains uncertain until the city is out of the pandemic woods.


'I really need the extra cash'

Cheng Wai-lok, 49, who runs a Japanese restaurant in Jordan, said he would definitely apply for the Special 100% Loan Guarantee Scheme after the borrowing limit for small and medium-sized businesses (SMEs) was raised to HK$9 million (US$1.6 million) in the budget.

Stricken by the recent tightening of dine-in restrictions, including a ban on dining-in past 6pm, he said he was desperate for a loan of at least HK$2 million, on top of the HK$3 million he borrowed in April 2020 to ease his cash flow crisis. He was already discussing with his bank to further extend the repayment period.

"Before the fifth wave of infections, I ordered a lot of goods for the festive season. But my business has dropped by 90 per cent over the past two months. I've only made about HK$30,000 in February," he said. "Now I desperately need cash to pay for those supplies."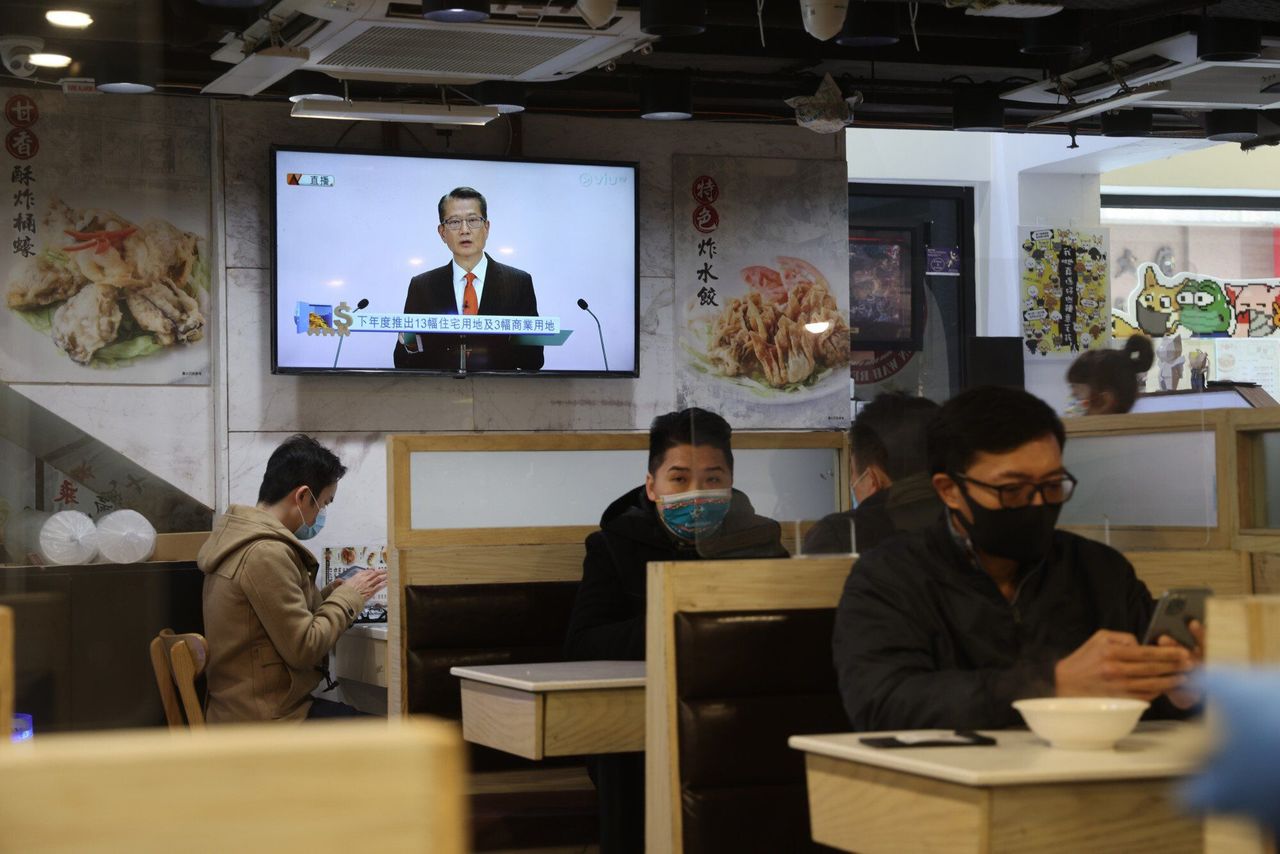 Financial Secretary Paul Chan seen on a TV screen delivering his budget.

Cheng, who has been running the restaurant for about five years with four employees, said he needed to pay HK$42,000 in rent as well as monthly operating expenses of more than HK$100,000.

"I don't want to give up. I want to persist with my business for as long as I can no matter how hard it will be. I really need the extra cash for survival," he said.


'Still hard to compete'

The government will hand out HK$10,000 in digital vouchers to 6.6 million eligible Hongkongers to encourage them to spend more, but business owners and consumers have mixed opinions on the scheme.

Waye Chong, 32, who runs a Taiwanese food shop in North Point, said the scheme, first launched last year, only gave his business a limited boost.

"It is hard for us to compete with the big companies, and consumers have a low desire to spend during the pandemic," he said.

Jewellery chain Chow Sang Sang said it expected the handouts – which are double the amount of last year's scheme – to inject momentum into the retail market, noting the previous round of spending boosted its revenue by about 30 per cent.

Personal trainer David Yuen Chun-kit, 32, said the scheme made him feel more secure about keeping his job, adding he planned to buy more personal protective gear with his vouchers.


The long wait

Retired restaurant employee Xu, 74, has waited five years for a government-subsidised care home place for her 89-year-old husband who has severe dementia and lacks self-care ability.

The couple live in a public housing flat in Cheung Sha Wan and receive about HK$8,000 a month in Comprehensive Social Security Assistance.

They have no children, and Xu has taken care of her husband alone for 10 years since he was diagnosed with dementia in 2012.

She has to help him with everything, from brushing his teeth and eating to using toilets. She has to constantly keep an eye on him, except when she goes shopping for food or to the hospital. On these occasions, she rushes home each time, as she is worried about him being on his own.

Having taken care of him for so long, Xu said she felt exhausted, especially as she was getting older and had several medical conditions herself.

The couple applied for a subsidised care home place for the husband in 2017, and have been waiting ever since.

"We have waited for so long. I don't know how long I will be able to continue taking care of my husband," said Xu, who asked to be identified by her surname only.

Financial Secretary Paul Chan Mo-po announced in his budget speech that the Pilot Scheme on Residential Care Service Voucher for the Elderly, which the Social Welfare Department launched in 2017 to offer another option for those in need of residential care but still on the waiting list for a subsidised place, would be regularised.

But Xu said she had concerns about the service quality of the care homes under the scheme, especially private ones. She said she would rather wait for a subsidised place for her husband where he could receive good care.

"I don't want to leave him in the hands of others who I don't trust," she said. "I would rather wait for now as long as I'm capable of looking after him."


Unemployment woes

Sukey Lai, a 32-year-old freelance hair and make-up artist, has lost most of her income under tightened social-distancing measures.

To solve her financial woes, she plans to apply for pandemic-related temporary jobs created under the government's Anti-epidemic Fund.

"But I'll be worried as there might be a risk of catching the virus," she said.

Angel Law, 57, lost her job at a cha chaan teng but remains hesitant about applying for money through the 100% Personal Loan Guarantee Scheme.

"I will only apply if there's really no choice as I have to worry about returning the money eventually," Law said.