When the front was founded back in 2002, its members assumed it would just be temporary, but since then it has become one of the city's most important outlets for public dissent.
For almost 19 years, the Hong Kong Civil Human Rights Front has been synonymous with one significant date: July 1.

The date is the anniversary of the city's return to China in 1997, and every year since 2003 – when 500,000 people took to the streets to oppose a proposed national security law that was eventually scrapped – the umbrella group has marked the occasion with a major protest. That tradition, however, finally came to an end this year when the front declined to organise its annual rally, one year after the imposition of a new national security law, this one mandated by Beijing, that some pro-establishment figures accuse it of violating.

The front's abrupt end was confirmed in a statement on Sunday, though its fate was sealed the previous Friday when its member groups endorsed a resolution to disband.

Announcing the decision amid a looming police crackdown, the group said in a statement it had originally hoped to continue its fight, but its secretariat had failed to keep up its operations after the group's convenor, Figo Chan Ho-wun, was imprisoned. Chan was jailed for 18 months in May over an unauthorised 2019 protest.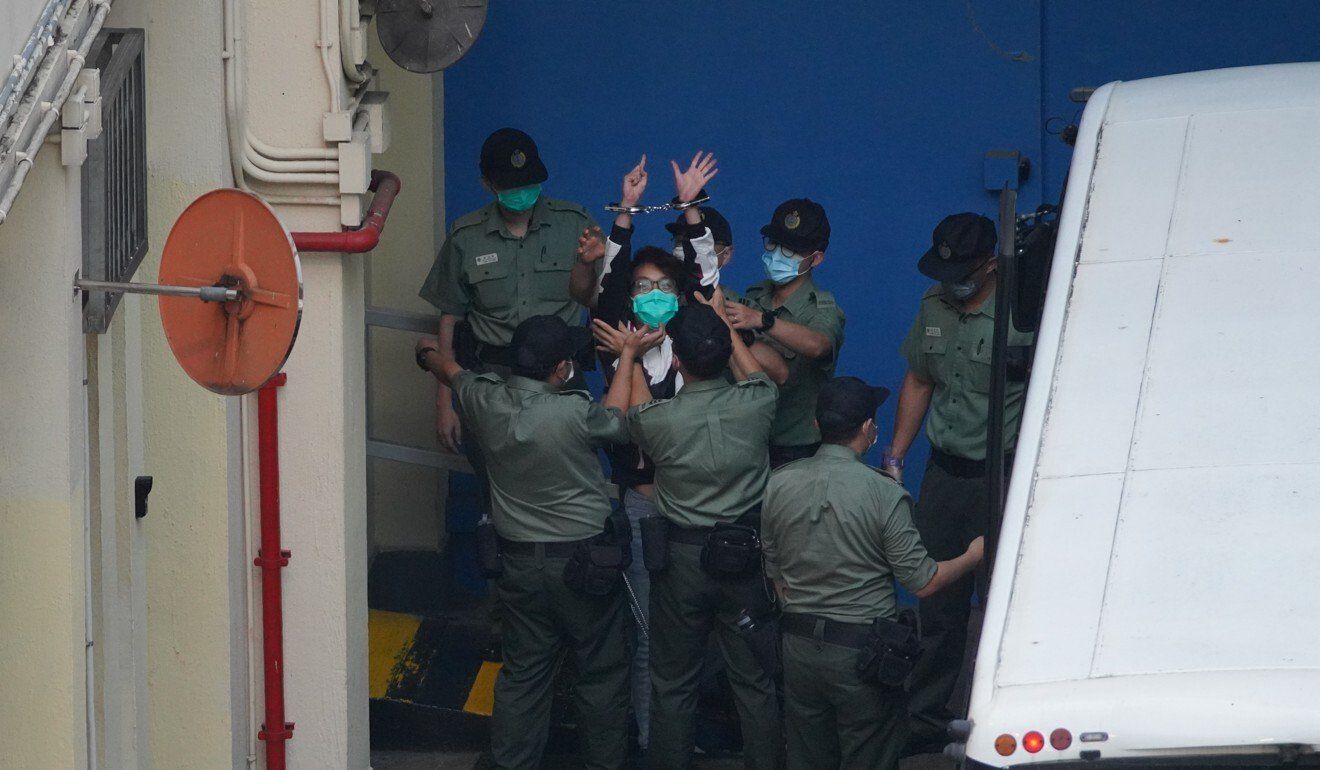 The front's convenor, Figo Chan, is serving an 18-month prison sentence related to an unauthorised 2019 protest.

Analysts and activists saw the disbandment as the end of an era, one in which civic groups were respected and freedom of assembly was not only upheld, but encouraged in the city.

"For a long period of time, the front was criticised for being non-violent, serving as a formality with no real influence. But when the regime cannot even tolerate the existence of such an organisation, one can understand how much worse the situation we are now facing is," said Richard Tsoi Yiu-cheong, one of the group's founding members.

The front's formation was just as "unexpected" as its dissolution, according to Tsoi.

It all began in 2002, when the government was considering legislation under Article 23 of the Basic Law, which requires Hong Kong to implement a local version of mainland China's national security law. Concerned by the legislation, several activists, led by Christian campaigner Rose Wu Lo-sai, gathered with the intent of forming a platform to discuss human rights issues.

"We believed it was good to have a platform, as society lacked voices from civil groups and the general public," Tsoi recalled. "All we had were political parties in the 1980s and 1990s."

As it turned out, more than 30 civic groups showed up to take part in what organisers had expected to be a small meeting, and the focus quickly shifted to the national security bill, seen as the most pressing issue at the time.

Tsoi, then convenor of the front's Article 23 working group, assumed the organisation – still in its infancy and loosely organised – would be temporary and disband once it had served its purpose, just like many others. Its first march in December 2002 attracted 60,000, a figure that would come to seem small by comparison.

Everything changed when an unprecedented 500,000 people took to the streets on July 1, 2003 to protest against the Article 23 legislation. It was the largest protest the city had seen since the handover.

"From that day onwards, the front decided to continue to serve as an organiser, a channel, so as to allow members of the public to vent their anger on political and social issues every year by joining a massive protest together on some specific dates," he said.

"July 1 was no longer just a day marking the handover, it also became a day where citizens could express themselves and speak out."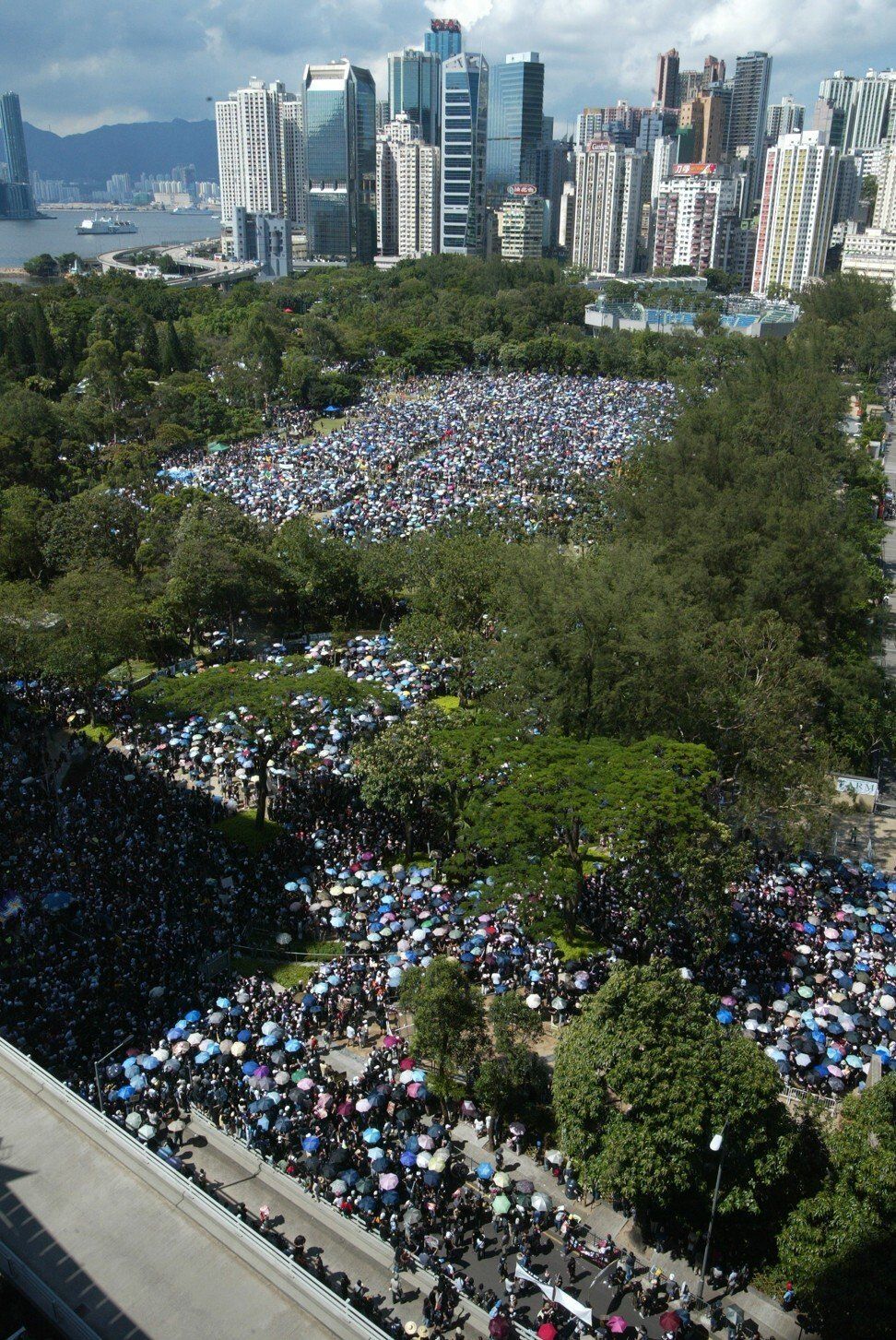 Participants gather in Victoria Park for the front's first July 1 march, in which some 500,000 people took part.

Although the number of participants in future rallies went up and down over the years, the front maintained its status as one of the city's pre-eminent protest organisers. That status was further cemented during protest movements in 2014 and 2019, in which the public demanded greater democracy and the withdrawal of a controversial extradition bill, respectively.

Rallies organised by the front during the latter period attracted as many as 2 million participants, though police have disputed that figure.

A total of 14 convenors have served over the past 18 years, some of them student activists and others seasoned politicians. Four of them – Gary Fan Kwok-wai, Au Nok-hin, Jimmy Sham Tsz-kit and Figo Chan Ho-wun – are currently in jail.

Johnson Yeung Ching-yin, convenor of the front in 2013 and 2014, said he believed the group had been an agenda-setting body ever since its formation, with the July 1 marches giving the public an outlet for a wide range of concerns, including the minimum wage, environmental issues and land problems.

"People said the front's marches were like holding a carnival every July 1. I somewhat agreed with that saying. It was like a carnival that allowed people to demonstrate, to show their list of demands, without consequences, and the government would at least know what people's concerns were," he said.

Yeung said the front's success had also encouraged many other civic and concern groups to form after 2010, leading to impactful movements on issues such as national education, universal suffrage and even the extradition bill.

"The front is still part of civil society, but other groups could also perform and lead well without the front," he said.

Comparatively speaking, Yeung said, the front was a peaceful organisation. It always applied to police for a letter of no objection for its rallies, and most of its events were legally sanctioned.

"Some people, such as families, only wanted to participate in peaceful assemblies, and the front created such a space for them – at least before August 2019," Yeung added.

However, the 2019 protest movement changed the situation. As the demonstrations dragged on for months in the city's streets and college campuses, becoming increasingly violent, the relationship between the front and the authorities became more strained. Since early 2020, police have also cited pandemic-related rules in forbidding large gatherings.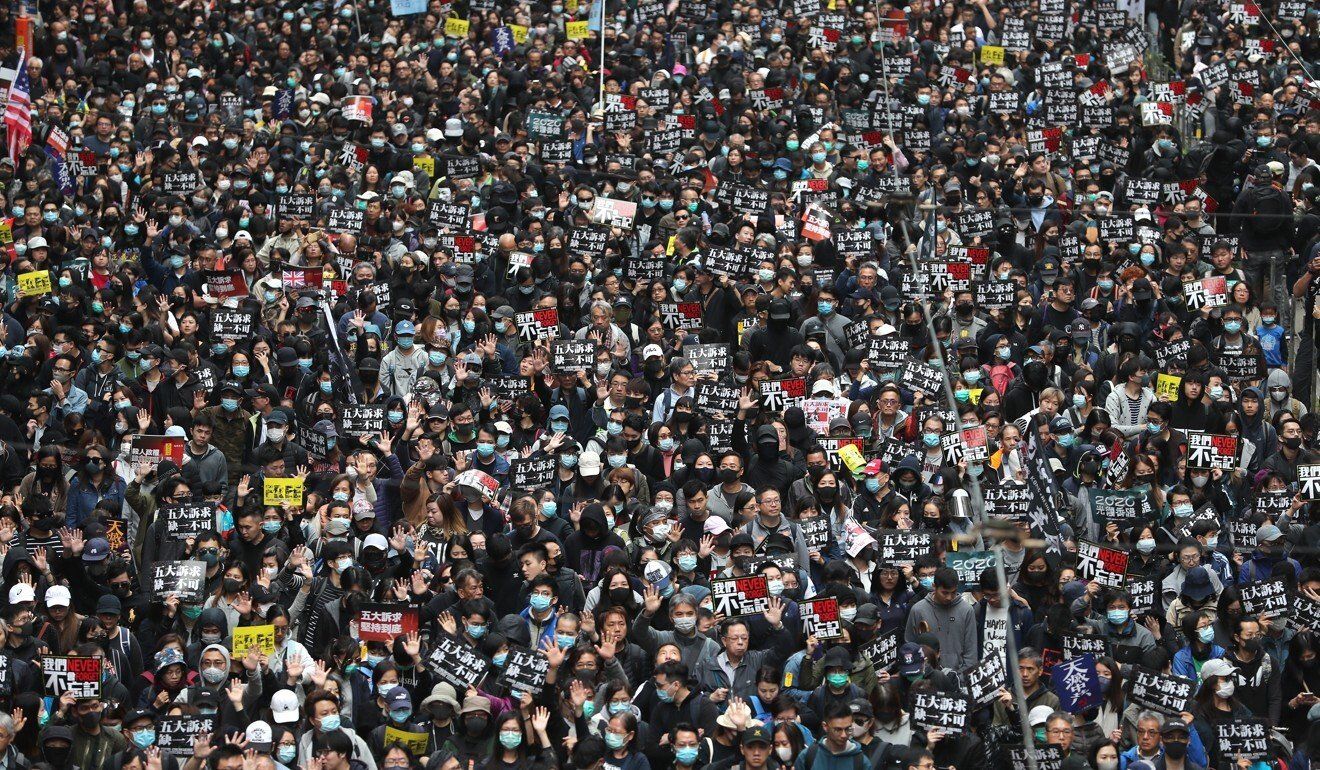 People take part in the front's New Year's Day march in 2020. Since the coronavirus pandemic took hold in the months that followed, police have banned large-scale gatherings.

Nearly 20 years after the front's success in thwarting the Article 23 legislation, Beijing imposed its own national security law on Hong Kong in June last year. The law, which bans any acts of subversion, secession, terrorism and collusion with foreign forces, was aimed at preventing a repeat of the 2019 social unrest.

The front tried to keep up its July 1 tradition last year despite the pandemic-related measures, filing an application for its march, which was rejected by police on public health grounds. Thousands took to the streets nonetheless in defiance of the ban.

This year marked the first time the front did not try to hold the mass rally, citing the recent jailing of its leader and an ongoing police investigation into its legality.

Police have yet to give an update on the progress of their investigation since questioning the group in April over its finances, and its role in a declaration handed to the United Nations calling for an international investigation into alleged brutality on the force's part during the 2019 protests. Police also grilled the front over its failure to register with the government under the Societies Ordinance.

In an interview published by the pro-Beijing newspaper Ta Kung Pao on Friday, police chief Raymond Siu Chak-yee said the front could have violated the security law as it hosted a series of unlawful assemblies in recent years. He warned that police had gathered evidence and could take action against "unlawful groups" at any time.

At its height, the front had 48 member groups. That figure dropped to just 10 since reports first emerged about the police investigation. The Democratic Party, the Civic Party, the Association for Democracy and People's Livelihood, and Professional Teachers' Union (PTU) – which itself disbanded just last week – were among the groups to leave the front.

Rumours that the front would disband have circulated since April, but in an open letter in May, jailed convenor Figo Chan dismissed the idea and vowed to keep the organisation running.

The tide appeared to turn more recently, however. On Wednesday, a day after the opposition-leaning PTU announced its dissolution, sources told the Post the front, now run by acting convenor Chung Chung-fai, had no choice but to also disband.

Yeung, the former convenor, said the demise of many civic groups this year was evidence of the authorities' newly oppressive tack.

"They simply do not accept any dissident voices, no matter if you are mild like the PTU," he said.

Yeung said it was hard for him to imagine how much everything had changed this year, but he encouraged people to keep their faith in the ability of civil society to bounce back.

"Each alliance is backed by individuals, and individuals are free beings who can break up and form new groups and entities. It may take longer in such an era, but it will still happen," he said.

Michael Davis, a former professor of human rights law at the University of Hong Kong, said the front's disbandment was "an enormously important loss to civil society" in the city.

Without its promised democratic reforms, he said, Hong Kong over the years had come to depend on popular protests to register the public's concerns and safeguard the city's autonomy. Davis pointed out that the front had always applied for the proper permits for its rallies and insisted on non-violent protests.

"One could imagine things would have been much less orderly without them. They have been very important in giving voice to civil society," he said.

"Without such protected freedom of association ordinary people will feel less optimistic about conditions in Hong Kong and we may see that frustration expressed in more emigration."

The pro-establishment camp, however, was not upset to see the front go.

Tam Yiu-chung, the city's sole delegate to China's top legislative body, said any group that threatened the stability of Hong Kong and national security should be outlawed.

Lau Siu-kai, vice-president of semi-official think tank the Chinese Association of Hong Kong and Macau Studies, said it was expected that more "anti-China" civil society groups would disband as they realised Beijing was serious about eradicating all opposition.

He added that the suppression was likely to continue, given the central government's belief that Hong Kong was being used by Western countries, such as the United States, to hit out at China.

"The central government has done so much already, by introducing the national security law and overhauling the electoral systems. It will not stop at this point," he added.

In its statement on Sunday, the front expressed gratitude to Hongkongers for marching with it over the past 19 years.

"Our calls resonated across the entire city. We let the world see Hong Kong, let the light shine in the darkness, and let democracy and freedom take root in people's hearts," it said. "Although the front no longer exists today, we believe different organisations will continue to uphold their beliefs and support civil society, without forgetting why they started."

It also added that the group had already directed its trustee to donate its HK$1.6 million (US$205,563) in assets it owned to "suitable bodies".