Top architects, engineers from mainland China invited to share expertise with local students as part of high-profile campaign to instil patriotism in Hongkongers.
Beijing's top office in Hong Kong launched another community outreach drive on Monday by inviting renowned architects and engineers from mainland China to share their expertise with local students, but analysts warned nurturing a sense of national identity in the city through such initiatives would take time.

Lu Xinning, deputy director of the central government's liaison office in Hong Kong, also revealed that more mainland industry representatives as well as experts and scholars from various fields would be invited in the future to hold themed exhibitions in the city and even attend face-to-face talks with members of the public.

"[We hope these events can help] Hong Kong compatriots to have a deeper understanding of China's development, witness the country's achievements, build a strong identity with the country, and inspire patriotism," Lu said.

She was speaking at the opening ceremony of an exhibition showcasing China's construction history and the latest techniques deployed in the fast-moving sector. The programme is co-organised by the liaison office, the Hong Kong government and China State Construction Engineering.

As part of the wider programme of this week's exhibition in Wan Chai – one of a series of events the liaison office is holding to engage with the Hong Kong community – four mainland experts from the fields of architecture and engineering have been invited to speak at different universities.

In June, a team of six Chinese space engineers and designers were invited to pass on their knowledge to pupils and academics in Hong Kong, while an extraterrestrial dialogue was held last month between 200 local students and three mainland astronauts orbiting Earth aboard China's Tiangong space station.

The liaison office – Beijing's top agency in Hong Kong – has significantly raised its profile over recent months through its drive to "listen directly" to ordinary residents. It has even prepared a to-do list for the Hong Kong administration and its own officials to improve the city's governance based on the feedback received from its outreach efforts.

Lu Xinning, deputy director of the central government's liaison office in Hong Kong.

Lu said she hoped Hongkongers could "appreciate the beauty of Chinese civilisation" and "feel the spirit of the country" through the exhibition.

"To explore the architectural history of our nation in different periods is to follow the evolution of a period of history and civilisation. I believe our Hong Kong people will feel proud of Chinese civilisation and the rise of the motherland," Lu said.

Speaking at the same ceremony, Chief Executive Carrie Lam Cheng Yuet-ngor also called on residents – especially young students – to visit the exhibition, which is running at the Hong Kong Convention and Exhibition Centre from Monday to Saturday.

"Through this exhibition, I believe the general public can have a deeper understanding of the nation's history. They will also know better how to appreciate our nation's remarkable achievements from the old days to the present," she said.

Political scientist Ivan Choy Chi-keung, from the Chinese University of Hong Kong, said Beijing and the local government were clearly hoping to evoke national pride among city residents by listing some of the country's greatest accomplishments.

"Beijing assumes that through showcasing the national achievements, Hongkongers will take pride in being Chinese so they will be more patriotic," he said.

Choy warned, however, that if the central government continued to restrict Hongkongers' freedoms through top-down policies – such as the Beijing-decreed national security law and its drastic shake-up of the city's electoral system – their negative feelings about China would not subside.

"If Beijing fails to address their desire for freedom and being respected, this will only cause Hong Kong people to be resistant and alienated from it," he said.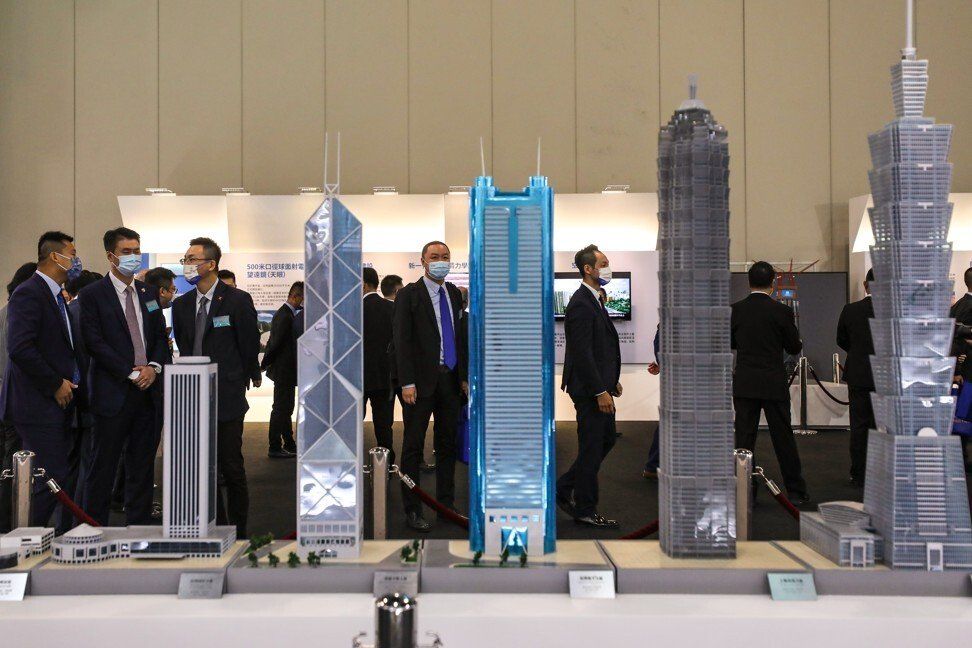 The exhibition is a celebration of Chinese architecture.

Lau Siu-kai, vice-president of the semi-official Chinese Association of Hong Kong and Macau Studies, said instilling a national sense of identity among Hong Kong people would be a long process for Beijing.

"In the beginning, it is normal that some Hongkongers still harbour averse sentiments against China as they don't understand the rationale behind all these political purges," he said, referring to the crackdown on opposition figures accused of endangering national security.

"But after a few years when Hong Kong society has gradually restored calmness and stability, Hongkongers will start to view China in a rational manner and appreciate the opportunities it brings to Hong Kong."

The first seminar of the campaign to allow city students to draw on the expertise of architects and engineers was held at the University of Hong Kong on Monday with Xiao Xuwen, chief expert of China State Construction Engineering.

He outlined some of China's great infrastructure projects – such as Shanghai Tower, the world's second tallest building, and the Hong Kong-Zhuhai-Macau Bridge – and introduced the advanced technology behind them to about 1,500 university students.

However, most attendees of the seminar were mainland students studying construction-related disciplines in Hong Kong.

Daniel Duan, 26, a mainland postgraduate student of construction project management, said he joined the seminar to gain a better understanding of the great infrastructure projects in China. "I would like to broaden my knowledge about construction technology and development in China. I feel very proud about the national achievements."

Another postgraduate student from the mainland, Chen Suwei, who is studying civil engineering, said: "Knowing all these big projects in China really makes me have a sense of pride about our country and our future."

The other experts invited to the city in this round of seminars are: Zhang Yi, general manager at China State Construction International Medical Industry Development Company; Zhang Kun, chief engineer at China Construction Third Engineering Bureau; and Zhao Yuanchao, chief engineer at China Northwest Architecture Design and Research Institute.