Housing is 'key' to solving many of the city's issues, Beijing-endorsed candidate says after curated closed-door visits.
Hong Kong's sole chief executive candidate John Lee Ka-chiu vowed on Sunday to make public housing supply a policy priority, as he visited grass-roots communities for the first time since launching his bid for the city's top job.

Without going into details, Lee pledged to expedite the acquisition of land and to compress building programmes, noting that housing was a deep-rooted problem linked to poverty and resource allocation.

With two weeks to the May 8 leadership poll, Lee visited two households on Sunday and also met ethnic minority representatives, interactions that were mostly closed-door affairs carefully choreographed by his campaign office.

Insiders said Lee's team was in full swing to draft his election platform, with a release set for Friday at the earliest and the visits were to give him a chance to meet the wider public.

Following an earlier Post report, several TV stations said on their websites an hour-long "question and answer session of the 2022 chief executive election" would be held at 8.30pm on Saturday.

Sources previously told the Post a televised policy forum, election rally and meetings with youth groups were being planned for the final week of his campaign. During the forum, Lee is expected to interact with a group of journalists, modelling the annual TV programmes held by the city leader and financial secretary following their respective policy address and budget announcement.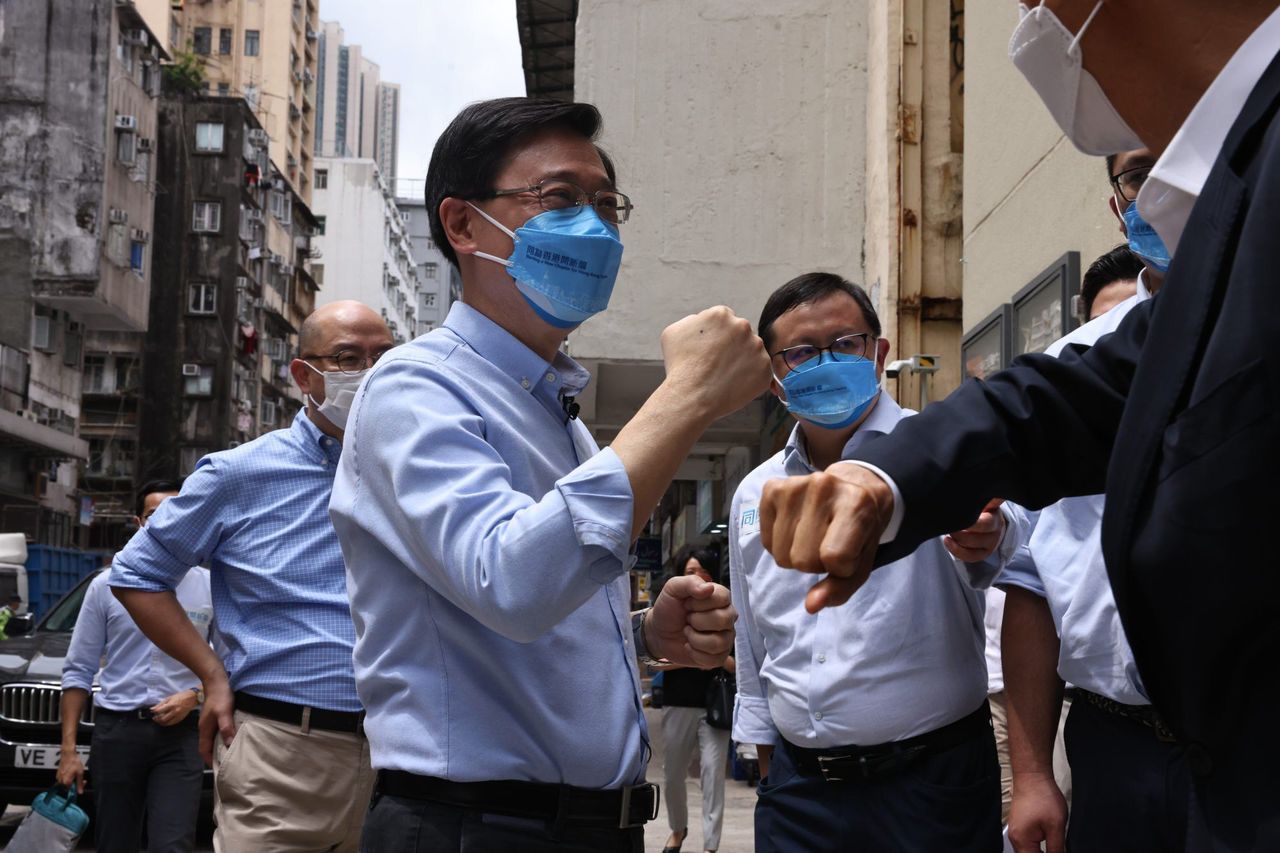 Lee with his campaign team on Sunday.

Analysts said that while Lee's visit on Sunday was carefully curated, it was a positive beginning as the former security chief sought to revamp his public image.

"On a scale of 10, I'd give him six to seven points," said Professor Song Sio-chong at Shenzhen University's Centre for Basic Laws of Hong Kong and Macau.

"But subdivided flat residents and ethnic minority people are relatively easier residents to engage, he must also meet in person the more difficult ones such as university students, and the sectors hit hard by the pandemic."

The leadership hopeful was accompanied by about 10 members of his team when he arrived on Shanghai Street near Yau Ma Tei's iconic fruit market at 10am, and greeted two shop owners before walking up a tong lau – an old tenement-style building – housing hundreds of residential units.

During the 40-minute closed-door visit, the building entrance was guarded by plain-clothes police officers who kept journalists off the premises.

Lee later told the press that he visited two households – a single mother who lived with her two children in a 150 sq ft home, and an elderly woman who lived alone in a 40 sq ft subdivided flat. Both were in the queue for public housing.

"I understand housing is key to the solutions of many important issues in Hong Kong. It's not just about the living environment, but also poverty and resource distribution," Lee said.

"I won't underestimate the challenges to this deep-rooted problem long accumulated for years. If elected, I will streamline the procedure of expediting land and make interdepartmental coordination more effective. It also applies to the delivery, I will think of ways to compress the building process."

Asked if he had a target of when Hong Kong's notorious subdivided flats would be eliminated, Lee said he hoped to "achieve results" instead of "solely chanting slogans". Last year, Xia Baolong, director of the Hong Kong and Macau Affairs Office, implored the city to "say goodbye" to such squalid rented compartments and set a deadline of 2049 for them to be erased from the city's housing.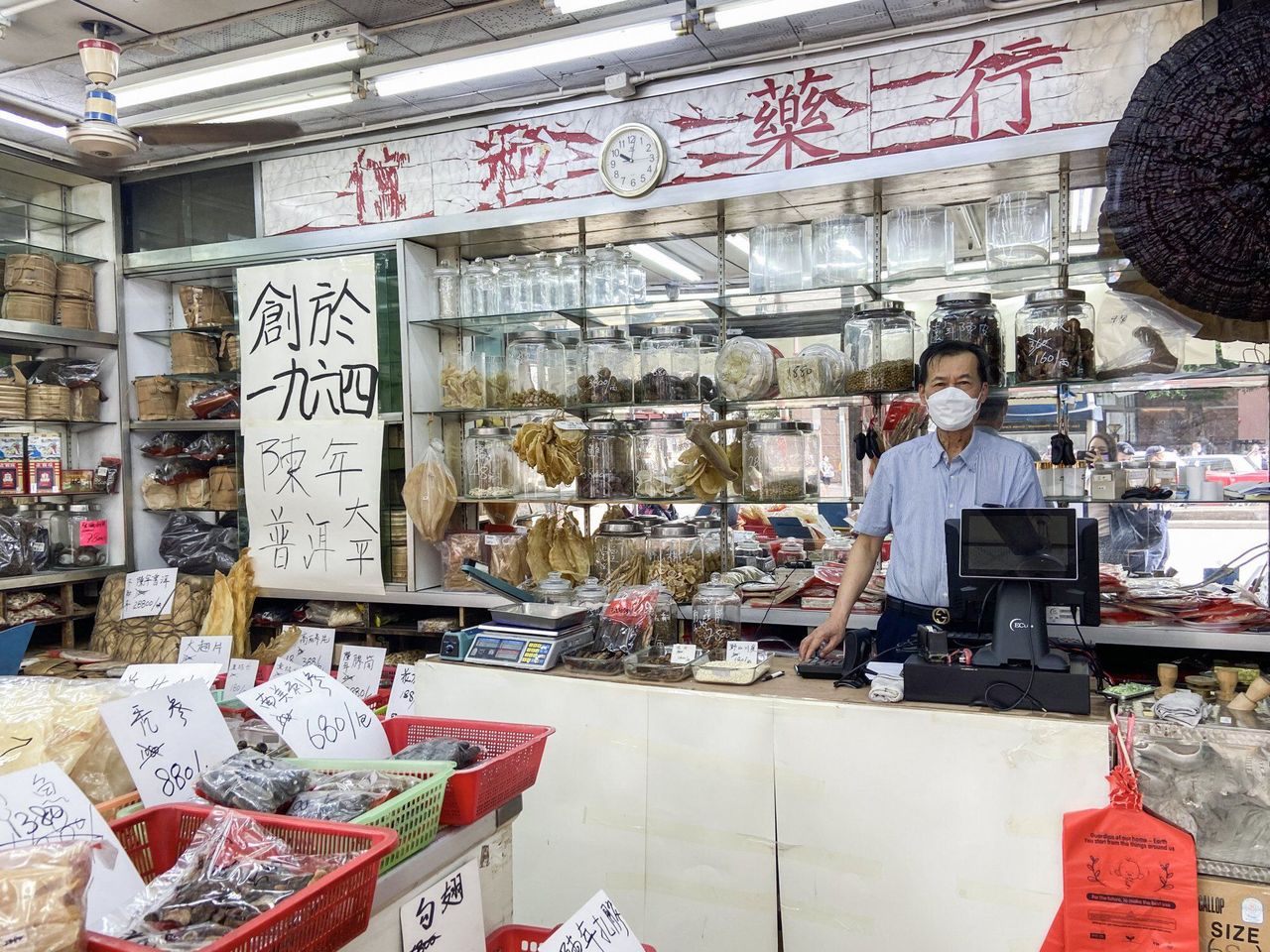 Lin, owner of a Chinese medicine pharmacy in the area Lee visited.

The Post spoke to some residents and businesses in the area after Lee left the scene. One man, who only gave his name as Wong, said the candidate's home visits were merely "political stunts". "There were plenty of police officers inspecting the building the whole morning," the resident said.

An owner of a Chinese medicine pharmacy, named Lin, who greeted Lee before the former official walked up into the building, said he hoped the new administration would boost economic recovery as he was gearing up to shut down his business in the coming months after a hammering from the Omicron-fuelled fifth wave.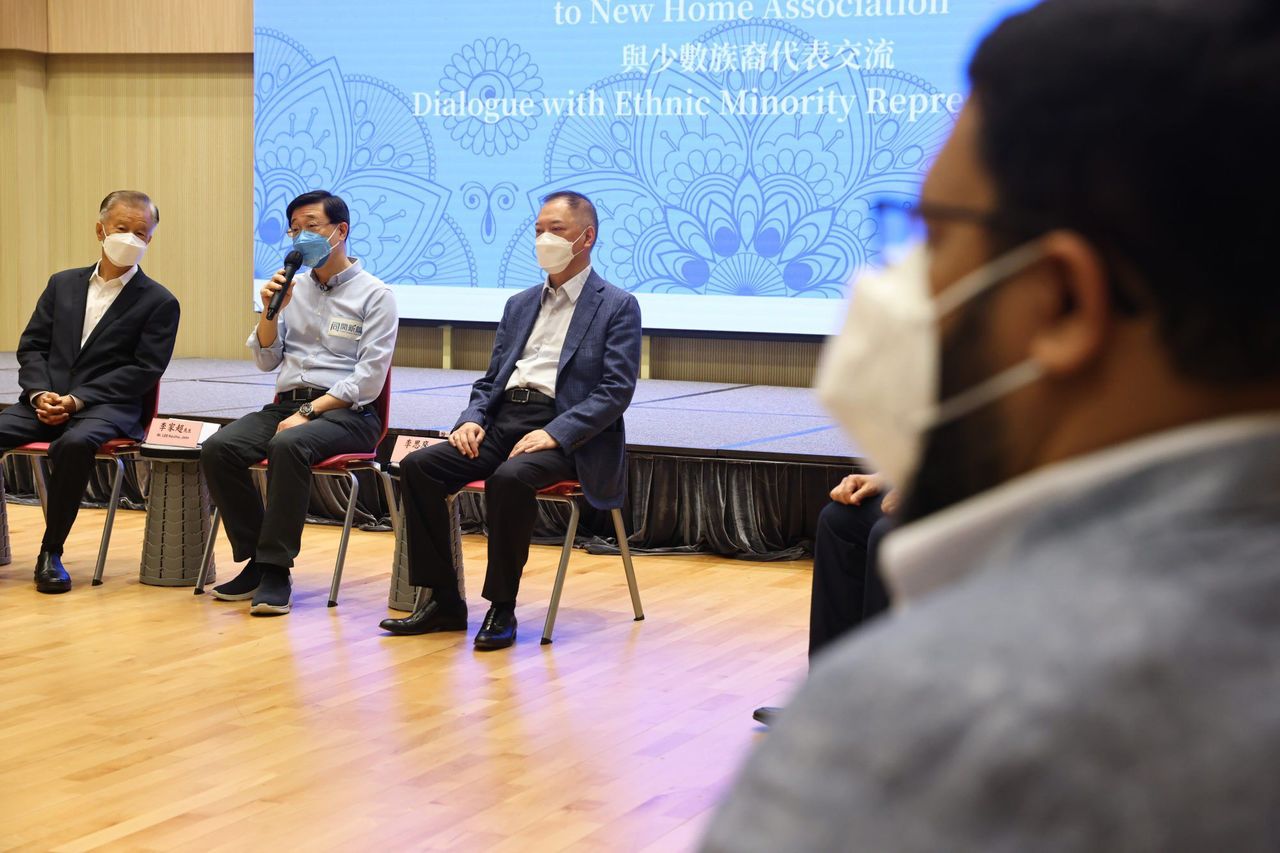 The press was allowed to cover the first five minutes of the 40-minute session between Lee and representatives of ethnic minority groups in Jordan.

Lee, formerly Hong Kong's No 2 official, also went to Yau Tsim Mong Multicultural Activity Centre in Jordan to meet a dozen representatives of ethnic minority groups, with the session arranged by the New Home Association.

The charitable organisation, which also serves new arrivals from the mainland, was founded by pro-Beijing billionaire Hui Wing-mau, chairman of the Shimao Group and vice-chairman of the All-China Federation of Returned Overseas Chinese.

Members of the press were allowed to cover five minutes of the 40-minute closed-door talks, during which Lee affirmed that the city's success hinged on harmony, togetherness and diversity.

After the session, Lee described his exchanges with the four attendees who represented the local Pakistani, African, Nepali and Indian communities as "rewarding", as he welcomed suggestions to help ethnic minorities integrate with society. He said one African business leader urged the government to reopen the border with mainland China so they could resume operations.

The Post reported on Saturday that Lee had plans to set up a deputy chief secretary and deputy financial secretary post, while his campaign director Tam Yiu-chung said the addition of such positions was requested by "numerous Election Committee members".

Lee stopped short of confirming the report on Sunday, but said people would have a clear idea about the governing structure when he delivered his election platform later this week.

Sources also said Lee would consider revamping the incumbent leader's Policy Innovation and Coordination Office, where a group of young researchers helped to push forward new initiatives, into a think tank led by senior and experienced social scientists, much like the previously-instituted Central Policy Unit.

But an insider on Sunday said the manifesto was unlikely to go into such details.

Lee set out on his latest campaign trail after tough social-distancing measures that were in place for months were earlier eased. Asked if he would meet more residents in the coming two weeks, including young people arrested in the 2019 anti-government protests, Lee said he would "continue to meet with various sectors" to explain his policy priorities.

Insiders said Lee's campaign team was arranging meetings with youth groups and would touch on youth policies in his manifesto.

Hong Kong was rocked by months of social unrest in 2019, with clashes between protesters and police often descending into violence. Lee was the security minister at the time.

Song, the political analyst, said while Lee had yet to meet any supporters of the opposition camp, it was a good start for him to have pulled together the TV forum.

"It would be good if a contestant could question him on TV, just like in the past. But since he's the only one, at least the journalists can ask him in-depth questions that ordinary people care about."