'If you build estates slowly, you have to pay,' Lam tells Housing Authority as part of proposal to ease Hong Kong's shortage of homes.
Hong Kong's main provider of public housing should be made to distribute support payments from its own budget to residents waiting years for subsidised flats in a bid to encourage an acceleration of its building programme, according to the city's leader.

Chief Executive Carrie Lam Cheng Yuet-ngor said on Sunday that switching liability for the government subsidies to the Housing Authority would make the body more accountable to the public and drive forward efforts to ease the city's shortage of homes.

Under a recent initiative, about 90,000 households queuing at least three years for public housing – the maximum wait as pledged by the Housing Authority – receive monthly allowances aimed at improving living standards for low-income families.

"The cash subsidies are currently paid by the government, but why shouldn't it be the Housing Authority? If you build the estates slowly, you would have to pay," Lam said in a televised interview.

"Establishing a spirit of accountability [in the administration] is also a crucial way of boosting governance."

She said the Housing Authority – a statutory body in charge of building and managing Hong Kong's public housing estates – bore responsibility for completing the construction process quickly once it was given the land, and was judged against the target of allocating homes to applicants within three years of them joining the waiting list.

Asked if she thought the authority was moving too slowly on this front, Lam said she saw room for improvement, especially regarding the use of an emerging building technique known as Modular Integrated Construction (MIC).

The approach – involving free-standing, integrated modules being fabricated, finished and inspected in a factory, then transported to a building site for installation – had greatly shortened the time it took to complete housing projects, Lam said. But she noted there had been no widespread adoption of the practice in Housing Authority projects.

She argued that MIC offered the best way to build public estates – especially for rental flats – given they generally took a standardised form, unlike many private projects.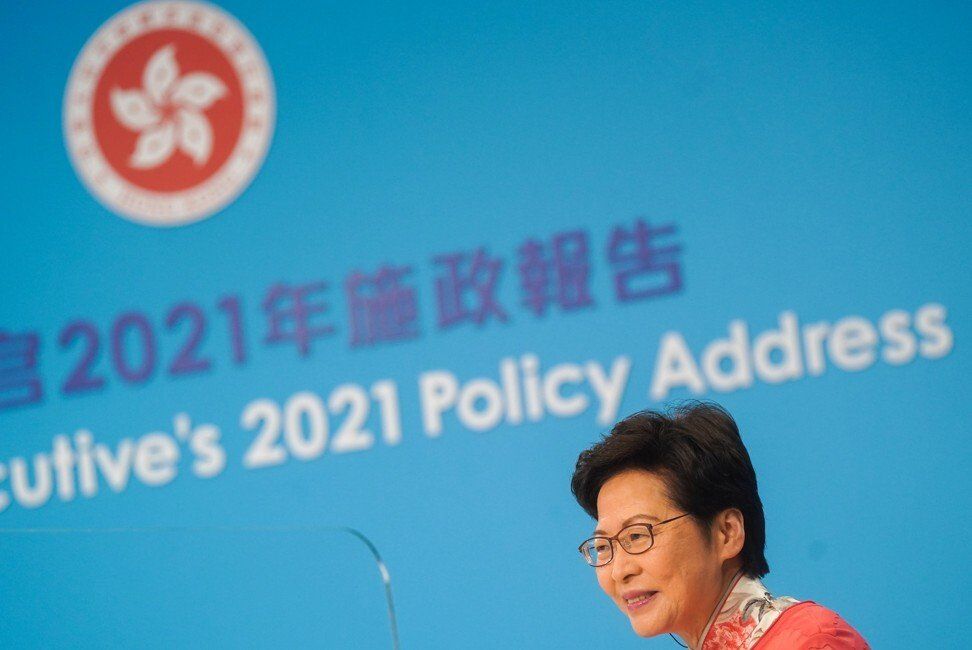 Chief Executive Carrie Lam.

As of June, about 153,600 applicants were queuing for public rental housing, with an average waiting time of 5.8 years – the longest in 22 years and almost double the Housing Authority's three-year service pledge.

The subsidy scheme for those on the long-term waiting list distributes HK$2,250 (US$1,860) a month to two-member households, with families of six or more getting HK$3,900.

The Housing Authority's operating surplus for 2021-22 is projected to be HK$6.4 billion.

A spokesman for the Housing Authority said it always cooperated fully with the government to construct public housing accommodation as quickly possible. He said the body would allocate its resources in a prudent manner so it could manage its operating expenses and construction costs in a sustainable manner.

Housing Authority member Dr Billy Mak Sui-choi, speaking in a personal capacity, said a variety of factors could have contributed to the delay, including land supply shortages – the government's responsibility – as well as the authority's efficiency levels.

"It is understandable and reasonable to hold the Housing Authority accountable and monitor its work if the problems lie in the body," he said. "But it will be unfair to expect the authority to meet the three-year pledge if there is an insufficient supply of land."

It was therefore vital for the government to come up with a clear mechanism for monitoring the Housing Authority's performance, said Mak, also an economist at Baptist University.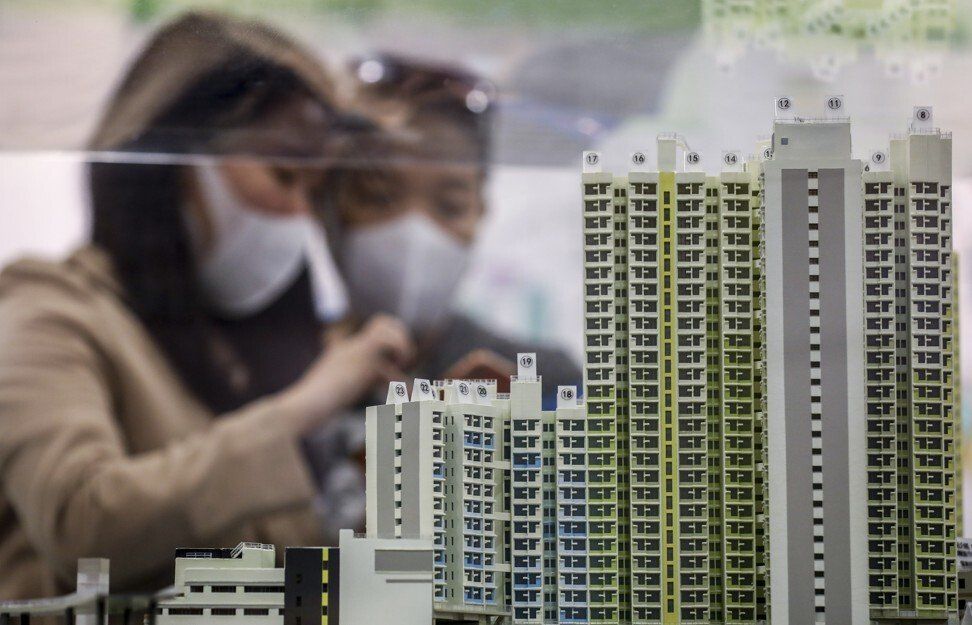 Potential homebuyers examine a model of a Housing Authority scheme in 2020.

Anthony Chiu Kwok-wai, another Housing Authority member, said he did not see how Lam's idea for transferring the subsidies burden to the body would help solve the issue.

"The problem is not about who forks out the money, as the Housing Authority, after all, is also using taxpayers' money," Chiu said.

Instead, he said the bottleneck lay in the early stages as most of the land allocated to the authority was not shovel-ready. It usually took a decade to prepare the land for development with the necessary infrastructure in place such as roads, electricity, water supply and sewage, he added.

Chiu also pointed out that the MIC building method which Lam lauded had its limitations, given the difficulties in transporting the large structures to small sites or those with narrow approach roads.

A more effective way of expediting the building process, he said, would be for the government to amend laws so as to guarantee the conclusion of land-rezoning procedures within three years.

Lam made housing the focus of the final policy address of her current term last week, with a new Northern Metropolis as the centrepiece.

The lack of affordable housing is one of the most pressing problems facing Hong Kong, the world's most expensive property market.

Later on Sunday, the government announced that Lam had paid a visit to four families in a transitional housing project run by charity group Lok Sin Tong.

Alongside Secretary for Transport and Housing Frank Chan Fan, she visited four families with school-age children, all of whom had moved from subdivided flats to transitional housing and were happy with their new living arrangements, according to the government statement.

Lam said the current administration had broken away from its previous mindset and was actively using short-term unused land to increase the supply of transitional housing.

"Every time I visit families who have moved into transitional housing, I feel the joy in their hearts, especially those with children, as the more spacious space provides a learning environment for them," she said in the statement.