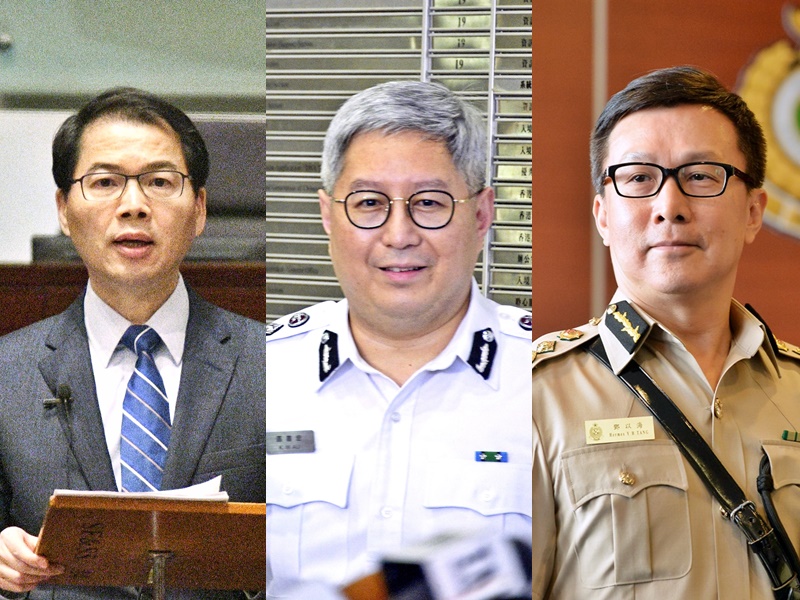 Hotpot trio had paid their price, says security chief
Hong Kong's Secretary for Security Chris Tang Ping-keung on Wednesday said the three senior government officials, who violated social distancing rules by attending a dinner at an exclusive private club in March, had already paid their price and apologized for their actions.
It was revealed last week that immigration and customs chiefs Au Ka-wang and Hermes Tang Yi-hoi, along with undersecretary for security Sonny Au Chi-kwong and six others were each fined HK$5,000 for flouting a cap on group gatherings, after a police investigation into a rape case uncovered the dinner in Wan Chai.

The Security Bureau later said the officials didn't know how much the dinner cost, adding that they had been invited to the event, reportedly by mainland developer Evergrande.

Tang brought up the issue today at the Legislative Council today, saying it is crucial for government officials to keep in contact with all parts, all sectors of the society.

He also added their understanding of society is part of their work in formulating policies for Hong Kong.

The security chief also said he had personally looked into the dinner, and found that no conflict of interest was involved, nor did the top officials make any commitments to those who attended the event.

However, Tang refused to say whether mainland government officials were present at the posh dinner, citing privacy concerns and ongoing criminal proceedings.

On Monday, former ICAC chief investigator Stephen Char Shik-ngor called for an in-depth probe into the case, saying it was unreasonable and unacceptable for the officials to claim they had no idea how much the meal had cost at the exclusive club.

Char, who's also a barrister, also questioned why security officials needed to communicate with a mainland developer.