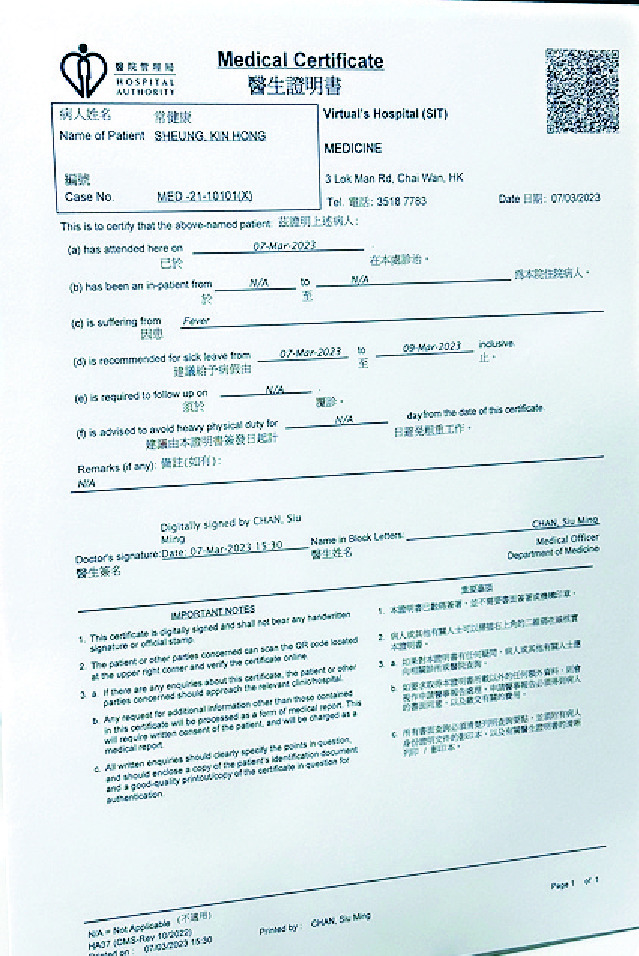 Hospitals start handing out sick leave e-certs
Public hospitals will be giving out electronic medical certificates to patients from today, enabling them to check and share their sick leave details on a mobile application.
But the Hospital Authority will continue to make paper documentation available so that people can become familiar gradually to the new lines.

Patients can download and share the medical certificates on the mobile app HA Go and check their details any time. Certificates will be stored for two years in the app.

There will also be a QR code on the electronic medical certificate for verification. So employers can scan the code to enter the authority website and check authenticity.

And information on certificates can be updated or replaced - and all over the phone rather than requiring trips to a hospital.

Doctors have needed to print out certificates and sign them previously. So issuing certificates with e-signatures will speed up the consultation process, said United Christian Hospital ophthalmologist Tiffany Yeung Lok-man.

"The time we can save for one consultation is short," Yeung remarked, "but considering the huge number of patients visiting Hospital Authority doctors I believe the new arrangement will help us save a lot of time and paper."

Although doctors will no longer need to sign the certificates by hand there will be proof of a doctor's expertise on the back of a certificate to show they are legally valid, authority senior health information officer Ku Pang-shing said.

So far, the HA Go app has been downloaded by 1.8 million Hongkongers, the authority reports, and it believes the number will keep increasing.

"We will decide whether the paper certificates will be scrapped after the number of users of HA Go reaches a high level and if we hear from patients that they don't need the paper certificates any more," Ku said.

"Temporarily, we will issue both paper and electronic certificates and consider fully replacing paper certificates after more people accept the electronic ones."

Apart from the electronic medical certificates, the Hospital Authority will also set up self-service machines at public hospitals for patients to make bookings and to register for medical check-ups.