Consulate estimated mourners had to wait in line for hours in 'very hot weather', with queues going as far as to Hong Kong Park and Cotton Tree Drive.
Under a blazing sun and unusual September heat, Emily Ng was among hundreds - if not thousands - of Hong Kong residents on Monday who queued for several hours outside the city's British consulate to sign a book of condolence for the late Queen Elizabeth.

The long-time fan had written to the monarch once every two months over the past four years, as well as sent the queen several paintings Ng did herself.

In her letters, Ng said she shared moments from her life and the story of her grandmother, who was also an admirer of the British royal family.

"It feels like writing to a family member. I even got some replies, which were very kind and humanising," the 30-year-old said, adding that some of the responses were tailored to her letters. "I think I've witnessed the human touch of the royal family."

Ng said she developed a fondness for the monarch as a result of listening to her grandmother tell stories about the Windsors while poring over her stamp collection. The family also hung a portrait of the queen in their home.

"My grandmother was born before the war and had experienced the reigns from King [Edward VIII] to the queen. The royal family was a part of her life," Ng said. "Even though we're no longer a colony now, I wish to continue that relationship."

Regina Ip Lau Suk-yee, convenor of the Executive Council, was also seen at the consulate at Admiralty dressed in black. Local media reported that she was flanked by two bodyguards as she entered the building at around 3pm.

She told the Post that she was there through a courtesy arrangement offered by the consulate to express her "sympathy for the British people for the loss of their sovereign", and that she stayed for only five minutes.

Ip paid tribute to the late monarch on her Twitter account three days ago in a post that read: "Queen Elizabeth II visited Hong Kong two times during her reign.

"She impressed me as a dutiful and caring monarch, who had weathered many storms but never shunned her responsibilities. She is a symbol of resilience and loyalty to her people and country. May her soul rest in peace."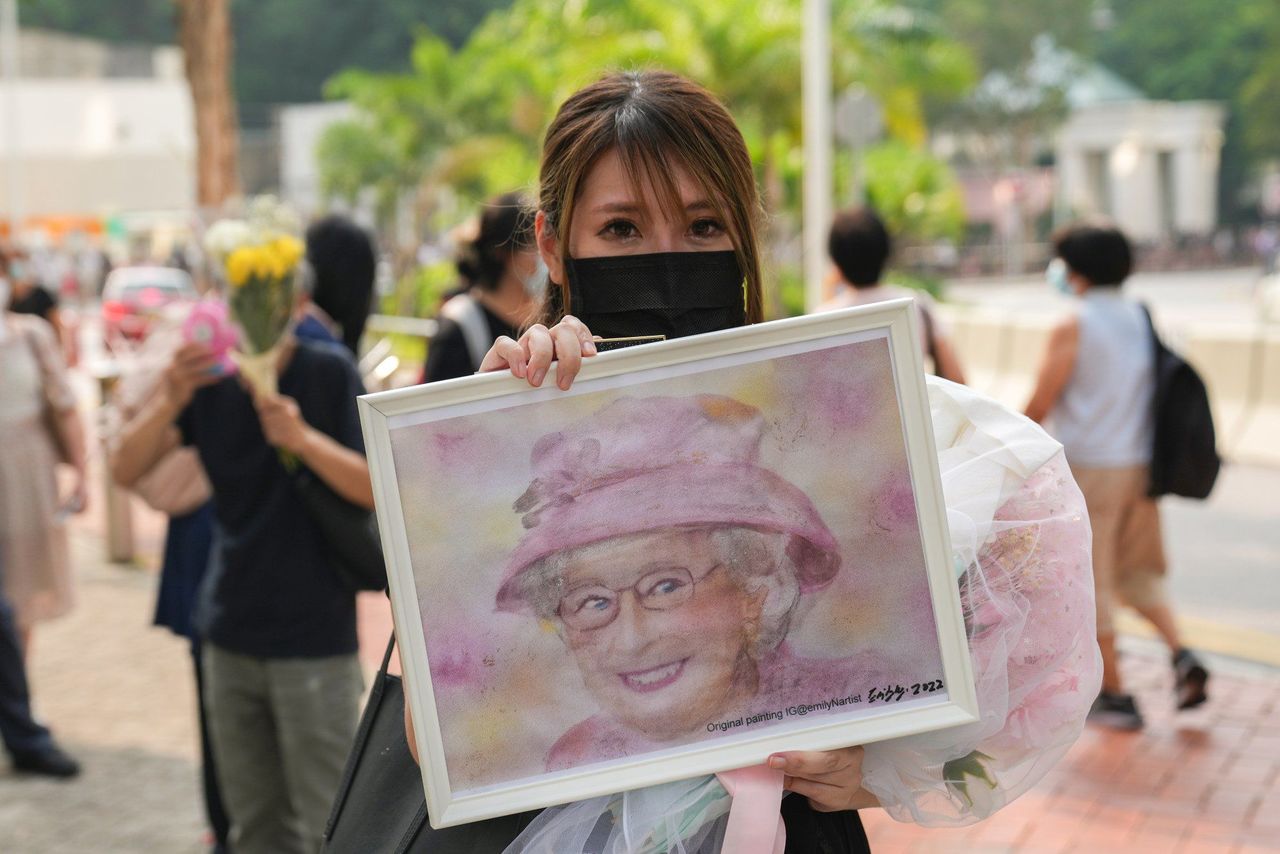 Emily Ng, a long-time fan of the late queen, paid tribute with a portrait of Queen Elizabeth.

Britain's longest-serving monarch, Queen Elizabeth died last Friday at age 96, with Chinese President Xi Jinping and Chief Executive John Lee Ka-chiu among world leaders who expressed their condolences.

Her coffin arrived in Edinburgh on Sunday, after a six-hour journey from Balmoral Castle, her summer home in the Scottish Highlands. A state funeral will take place at Westminster Abbey in London on September 19.

Ng, who also planned to deliver a portrait of the queen and bouquet of flowers, said she was not worried about the weather or the long queue, noting that it was to be expected.

"I've had unique memories with the queen, and I'm here to bid farewell," she said.

Mourners of all ages got in line to pay their respects, with many observed wearing black and carrying small bouquets as they travelled through Admiralty MTR station on Monday – the final day of the three-day public holiday to mark the Mid-Autumn Festival.

Despite the consulate estimating a three-hour waiting time for mourners, people queued as far as Hong Kong Park and Cotton Tree Drive under a "very hot weather" warning issued by the city's Observatory, which reported temperatures of 34 degrees Celsius (93.2 degrees Fahrenheit).

Staffers were also seen chaperoning seniors and families with children into the consulate as part of priority arrangements, with staff closing off the queue at 4pm.

Jeff Lo, a 37-year-old surveyor who was among those standing in line to pay his respects, said he came to save memories for his seven-month-old daughter.

"It might be hard to witness an iconic moment like this in the future," he said.

Lo said he hoped pictures of this occasion would help remind his infant daughter of the city's history and her identity as she grew up, adding that he was unsure if he would leave Hong Kong someday.

Jeff Lo, a 37-year-old surveyor, was at the consulate with his seven-month-old daughter.

"People like to say it's the end of an era with her passing. I wouldn't feel so much in the past, but now it's different with the current situation," he said.

Some elderly residents who grew up in Hong Kong under British rule, before sovereignty over the city was restored to mainland China in 1997, said they felt a personal attachment to the monarch as they stood in line to pay their respects.

A lady in her 60s, who only gave her name as Kalinka, said she has been coming for the past three days to express her gratitude to Queen Elizabeth.

"I've benefited from the queen. Her institutions, like schools and hospitals, have been good for the city," Kalinka said. She added that only a few people had lined up last Friday, but tributes had begun to pile up the day after.

The book of condolence will be available to sign at the British consulate in Hong Kong from 10am to 4pm every day until the coming Friday.