Offerings resembling mainland travel permits, passports and flight tickets among the most popular items.
Paper offerings resembling passports, mainland China travel permits and flight tickets have become the most sought-after items during this year's Ching Ming Festival, as Hongkongers starved of travel due to Covid-19 curbs wish their ancestors do not suffer the same fate.

Grave-sweepers visited family tombs in small batches on Tuesday while adhering to the government's social-distancing curbs that include a ban on public gatherings of more than two people across households.

Ching Ming Festival, a public holiday in Hong Kong, is important in Chinese culture. Families often spend it visiting cemeteries and remembering their ancestors.

But cemeteries across the city were quieter on Tuesday compared with previous years. In two graveyards located in Chai Wan and Diamond Hill, most visitors were seen in small groups from the same household, while others flouted social-distancing rules by gathering together with residents from different households. Others chatted without their masks on.

Retiree Wong Siu-mui, 67, bought two sets of paper offerings, including paper money, garments, iPads and watches, for about HK$400 (US$51) from a store in Sai Ying Pun on Tuesday morning before visiting the tombs of her father and younger brother in a cemetery in Chai Wan.

The former hospital employee said she used to make this trip annually with her daughter, son-in-law and two grandsons. This year, given the city's severe pandemic situation and concerns that her family members, especially the young children, would be infected, she decided to go alone.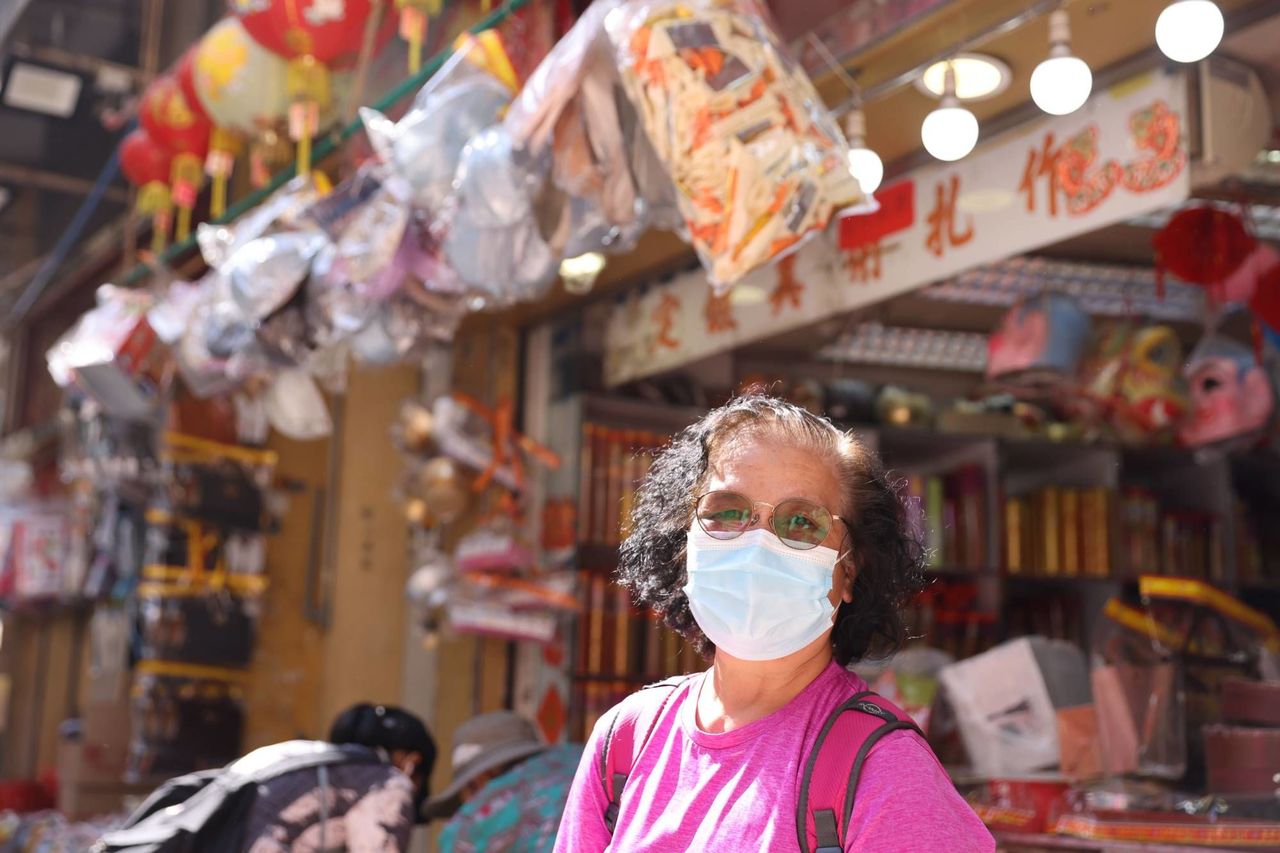 Wong Siu-mui, 67, went tomb-sweeping alone this year, rather than with her family members.

"I have visited [my father and brother's tombs] every year during Ching Ming Festival. I attach great importance to this traditional festival when I remember my loved ones," she said, adding that she insisted on going despite the surging wave of Covid-19 infections.

"I always feel better and relieved mentally after visiting them and burning the offerings for them, knowing that they would know they are remembered," she said. "Still, going alone without my family makes me feel a bit differently."

As some columbariums have temporarily close under Covid-19 rules, residents have come up with other ways to commemorate their ancestors.

Retiree May Ho, 74, used to visit a columbarium in Tsz Wan Kok in Tsz Wan Shan every year before the pandemic along with her immediate family members and relatives, totalling about 20 to 30 people.

But due to the temporary closure of the facility, she is planning on visiting a cemetery in Diamond Hill instead on Wednesday where her husband's grandmother was buried. She said she would burn paper offerings for her other ancestors in Tsz Wan Kok at the cemetery as well by using a "special stamp" she believed would send the gifts directly to her loved ones.

"There are other ways to remember our ancestors despite the pandemic's disruptions," she said. "It is fine, as long as we respected and treated them well when they were alive."

To Chin-sung, a 70-year-old owner of paper offerings shop Chun Shing Hong in Sai Ying Pun, said more people bought the "special stamp" this year along with the paper offerings, as many customers had resorted to burning the offerings at home or other places because of the closure of some columbariums, as well as the restrictions on travel to mainland China.

He had a busy morning at his shop on Tuesday, with many tomb-sweepers buying offerings to burn for their ancestors.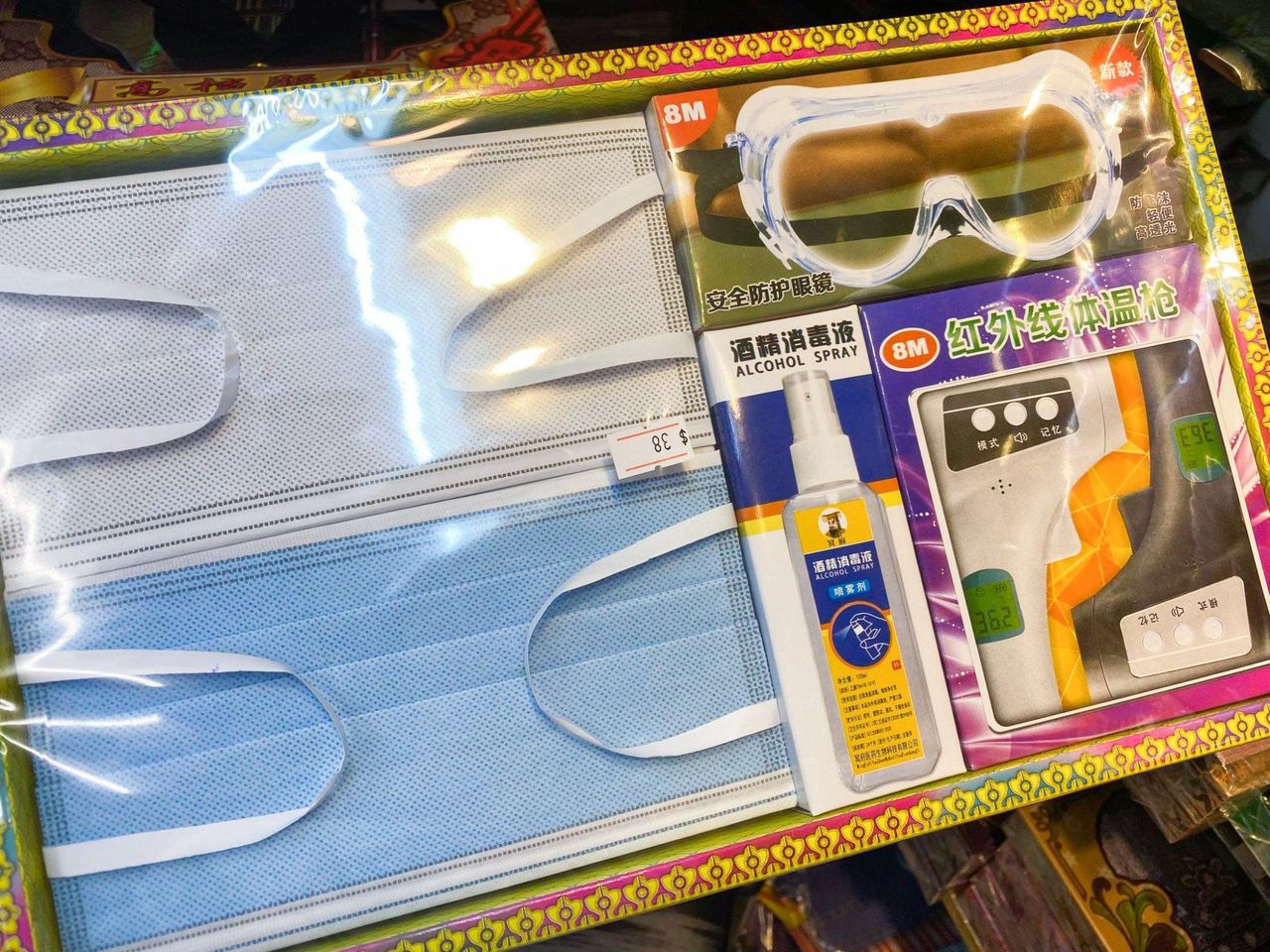 A set of paper masks, goggles, alcohol spray and a thermometer sold in a paper offerings shop in Sai Ying Pun.

To said the surging infections this year had discouraged some families from going tomb-sweeping, adding that business had fallen by about 20 per cent from before the pandemic and was also worse than last year. He noted that some regular customers could not go to mainland China to visit their ancestors' tombs as well.

Aside from common paper offerings including money, gold ingots, garments, food and mahjong sets, To said this year's sought-after item was a set of travel documents, including passports, mainland-Hong Kong travel permits, flight and train tickets as well as bank cards and cheques. Each set goes for HK$18.

"People have grown fed up with being cooped up at home and developed 'pandemic fatigue'. They want to travel themselves, and wish their ancestors can do so as well," he said, adding that many also wanted to emigrate to other places.

Offerings such as cough syrup and traditional Chinese medicines were also popular, To said, as people wished for their ancestors to stay healthy amid the pandemic.

However, other pandemic-related gifts have waned in popularity, according to many paper offerings shops. Paper masks, goggles and alcohol sprays were seen placed in less conspicuous places like shelf corners.