Traffic has intensified after the Shenzhen government increased quota of quarantine hotel rooms.
Hong Kong is set to allow travellers heading to mainland China through Shenzhen Bay Port to book Covid-19 tests online as residents continue to swamp the checkpoint and ignore the government's advice to delay trips over the border.

Shenzhen authorities also announced on Sunday a new measure to crack down on scalping of quarantine hotel rooms by allocating them through drawing lots following discussions with the Hong Kong government.

Shenzhen Bay Port, one of just two land passenger crossings that remain open amid the pandemic, has been packed with crowds in the morning over the weekend after the Guangdong provincial city boosted the number of quarantine hotel rooms by 700 to 2,000 a day and added additional spots for those in need.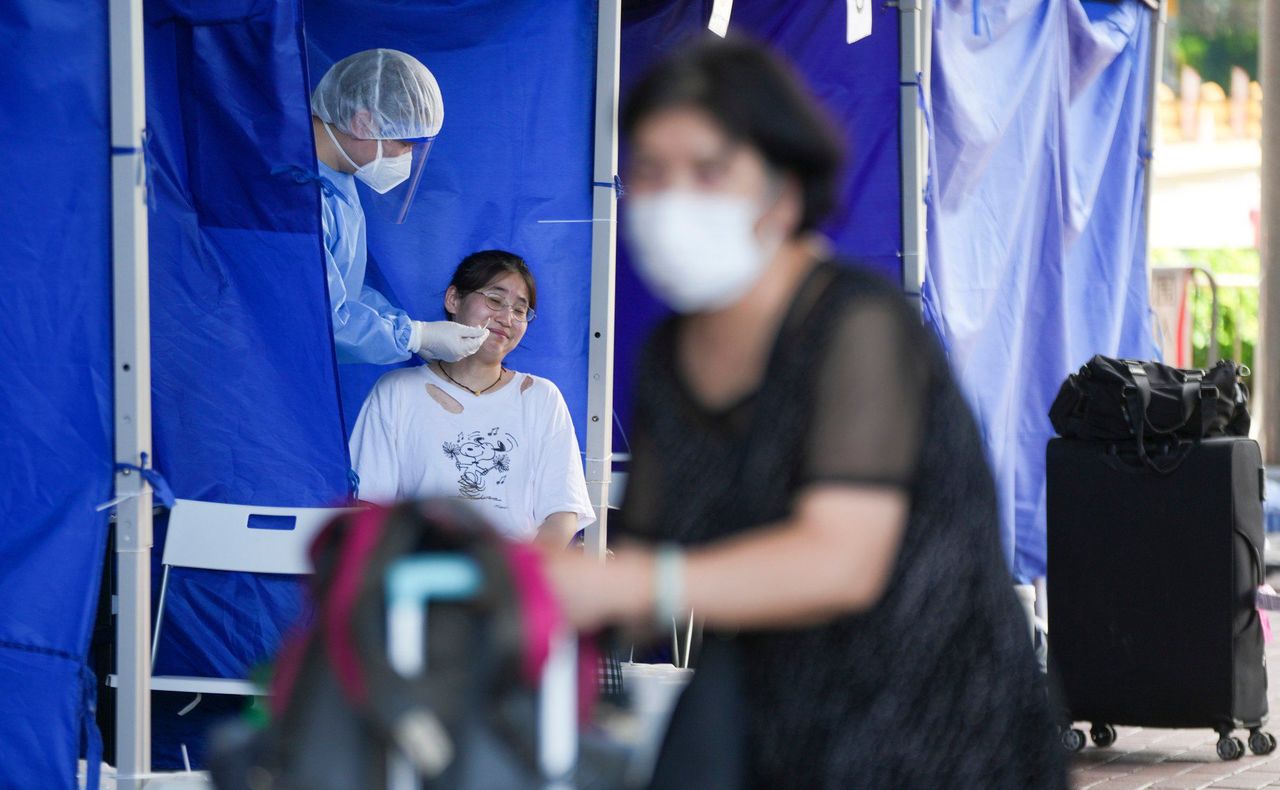 A traveller takes a Covid-19 test at the Shenzhen Bay Port crossing.

As seen during a Post visit on Sunday, queues snaked outside the checkpoint as hundreds of travellers from Hong Kong waited to undergo the required nucleic acid test before crossing.

Among the early birds was logistics worker Nelson Yuen, 52, who arrived at the crossing at 10.45am. He had lined up for two hours to get his test done, but by 3.15pm, the result was still not ready.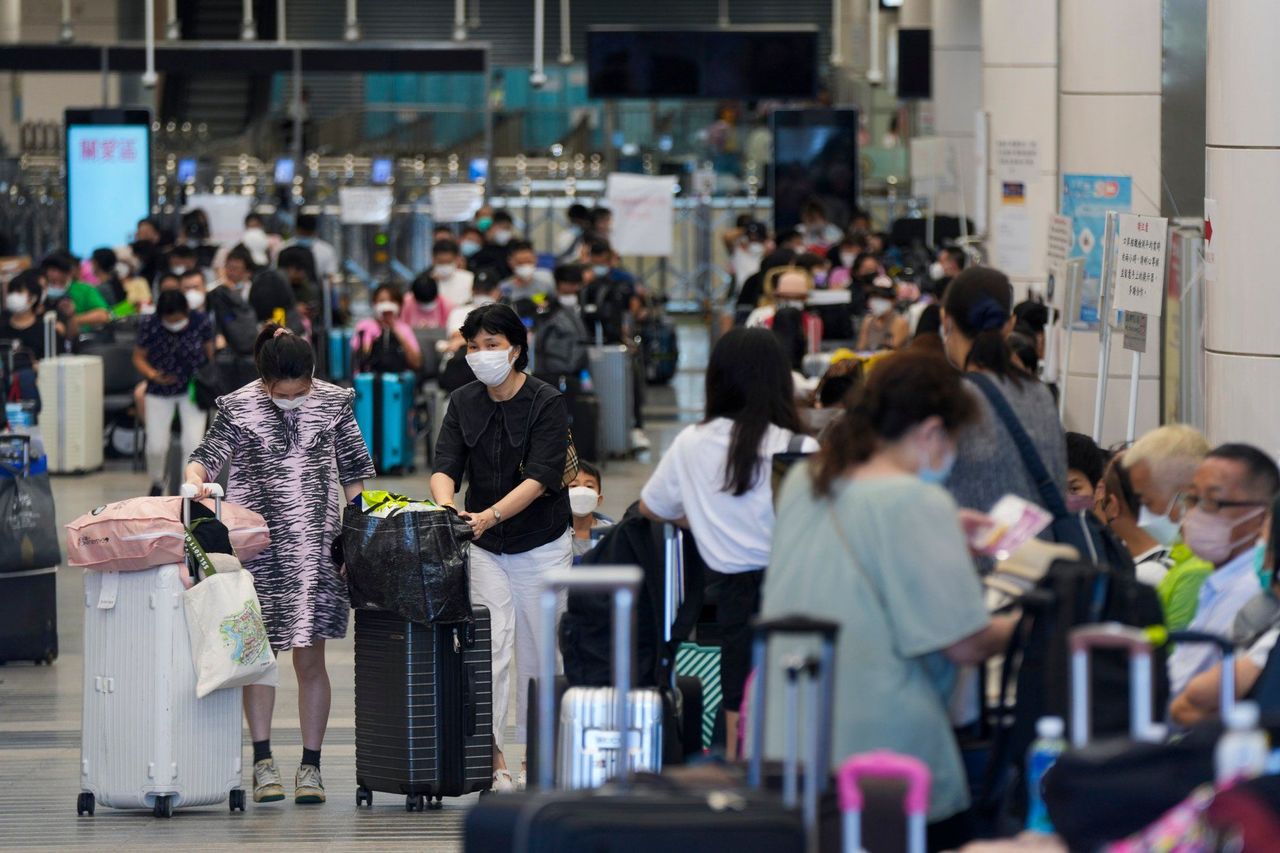 Travellers wait at the departure hall of Shenzhen Bay Port on Sunday.

Planning to visit his relatives on the mainland, Yuen said the Shenzhen government should have made more quarantine hotel rooms available.

"The 2,000 a day is definitely not enough," he said. "Residents need to go to Shenzhen. But the issue of quarantine hotel rooms should be addressed first. I was lucky to lock in my booking early on."

Alan Wong, a 49-year-old construction company manager, was unable to book a quarantine hotel room in Shenzhen and his company paid a scalper 2,300 yuan (US$293) to secure a reservation one week in advance.

"It's more expensive, but there's no other way," he said. "We need to go back [to the mainland] to get things done and seal business deals. And my company is willing to pay a scalper extra, which makes my job easier. Waiting for [nucleic acid test] results for hours isn't really a big deal compared to that."

Wong said that while it was fairer to use the quota system, the chances of failing to get a hotel room created too many uncertainties for people who needed to do business.

"It's just like waiting for the results of the Mark Six or a Home Ownership Scheme ballot. You'll never know until the last minute," Wong said.

Secretary for Health Dr Lo Chung-mau visited the checkpoint in the afternoon. Earlier in the day, Lo explained in a TV interview that quarantine-free travel with the mainland remained unfeasible at the moment, as allowing it would require a significant change to the nation's anti-pandemic policies. Lo added that Hong Kong residents needed to follow the mainland's requirements when travelling there.

A Hong Kong government spokesman said travellers would need to wait for about three hours to receive their Covid-19 test result at the control point and urged them to cross the boundary in the afternoon to avoid the morning rush.

Under the upcoming booking arrangement, which is expected to be ready in a week, travellers must obtain a spot at a Shenzhen quarantine hotel and reserve a time for the Covid-19 test at the border crossing on the day of departure.

"The arrangement will help further shorten the processing time of the special nucleic acid test, reduce the long waiting time of travellers at the control point, and refine the crowd management at Shenzhen Bay control point," the government said.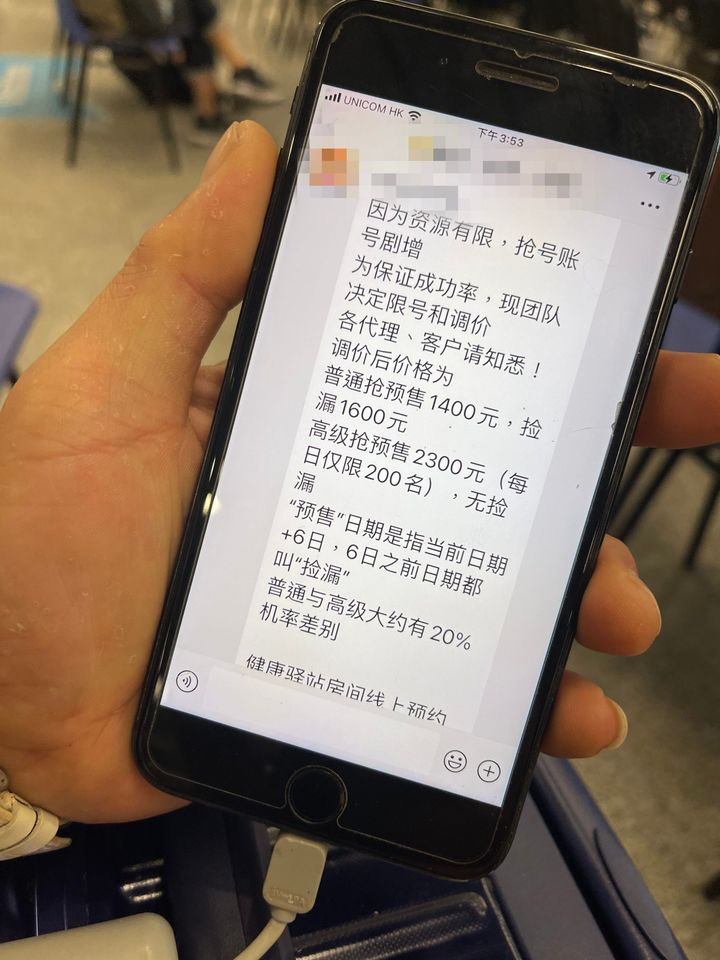 A WeChat message from a scalper showing fees for a quarantine hotel reservation in Shenzhen. It ranged from 1,600 yuan to 2,300 yuan.

After his afternoon visit to Shenzhen Bay checkpoint, Lo said Hong Kong and Shenzhen authorities would continue to cooperate to help more residents cross the border with greater convenience.

He also offered an apology for the inconvenience caused to those queuing for long at the checkpoint for tests in the morning.

"It is mainly due to the large crowds. We will find ways to improve," he said.

He also thanked Shenzhen authorities for increasing the number of quarantine hotel rooms to 2,000 a day and introducing the anti-scalping measure.

On a typical Sunday such as June 19, the crossing handled 947 departing travellers and 1,132 arrivals. Those numbers rose to 1,477 and 1,177 on Thursday, 1,857 and 1,344 on Friday, and 1,792 and 1,270 on Saturday.

The mainland late last month cut the time arrivals needed to spend in isolation from 14 days at a designated facility and seven days at home to one week and three days, respectively.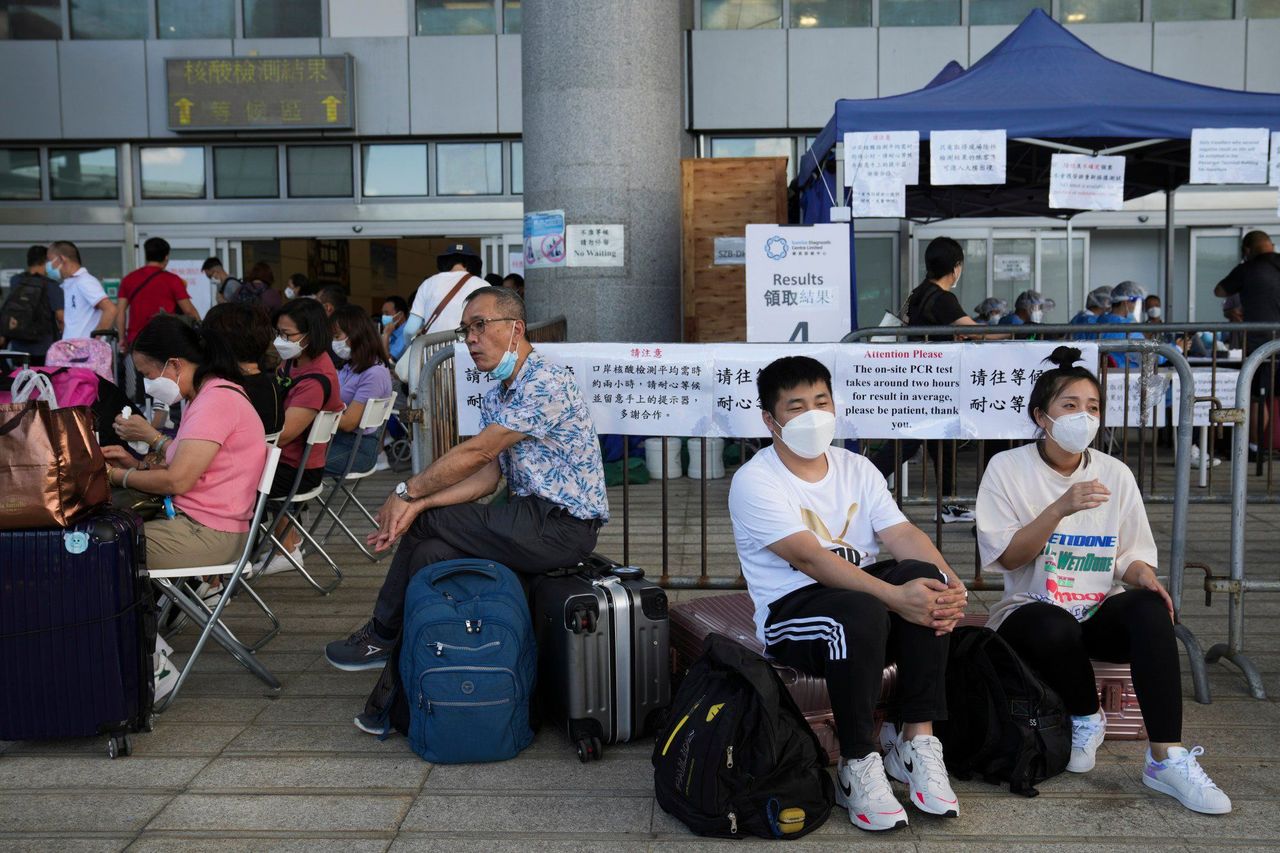 Travellers wait at the departure hall of Shenzhen Bay Port on Sunday.

Hongkongers hoping to travel across the border previously needed to book a room at a quarantine hotel through a government website on a first-come, first-served basis. But to combat the scalping, the Shenzhen government would allocate rooms to travellers by drawing lots, taking into consideration supply and demand, as well as the travel history of the applicant, authorities said. A traveller can only make one booking for the same date and results will be announced at 8pm daily.

Deputy director of Society for Community Organisation Sze Lai-shan said: "The problem now is not much about online booking or queuing at the control point, but more about insufficient hotel rooms for quarantine in the Shenzhen side.

"The online booking thing is a crowd management measure. It does not mean more people can go to the mainland unless the Shenzhen side makes more quarantine hotel rooms available to meet demand."

Legislator Edward Leung Hei, of the Beijing-friendly Democratic Alliance for the Betterment and Progress of Hong Kong, urged the government to increase shuttle bus services for the Hong Kong-Zhuhai-Macau Bridge to allow more visitors to enter the mainland using that access point.