Finance minister Paul Chan says AlipayHK, Tap & Go or WeChat Pay HK users to receive first half of e-voucher worth HK$5,000 in one instalment.
More than 6.3 million Hongkongers will receive the first half of this year's consumption vouchers worth HK$5,000 (US$638) each from April 7, the city's financial chief has revealed.

Writing on his official blog, Financial Secretary Paul Chan Mo-po on Sunday said the government was ready to issue the first batch of e-vouchers after eligible recipients had renewed their registration and 6.2 million residents had kept their accounts active.

"The first batch of the consumption vouchers will be issued on April 7 with an effective period of seven months until October 31," he said.

Eligible residents using AlipayHK, Tap & Go or WeChat Pay HK as their designated digital payment platform for the handout will receive the HK$5,000 in one instalment, he said.

Alipay is operated by Ant Group, an affiliate of Alibaba Group Holding, which owns the South China Morning Post.
Hong Kong property developer first to offer up goodies to e-voucher shoppers
26 Mar 2022

Meanwhile, residents who opted to use Octopus as their payment platform would receive the voucher in two allocations of HK$4,000 and HK$1,000, Chan said, with the second instalment to be disbursed as early as June 16.

The government previously said the second phase of the vouchers, consisting of HK$5,000 per person, was expected to be launched in mid-2022.

Several Hong Kong property developers on Sunday responded to the upcoming disbursement of e-vouchers by announcing various promotional schemes, even as city leader Carrie Lam Cheng Yuet-ngor urged consumers not to rush to spend their handouts.

Sino Group and Sun Hung Kai Properties said they would be rolling out several promotions in partnership with digital payment platforms at their shopping malls, including coupons, cashbacks and discounts.

A source told the Post that authorities had called for all digital payment platforms involved in the scheme to make preparations for the handout.

"The government is planning to roll out the new round of consumption vouchers as early as April 7. The officials have asked these digital payment platforms to get prepared," the insider said.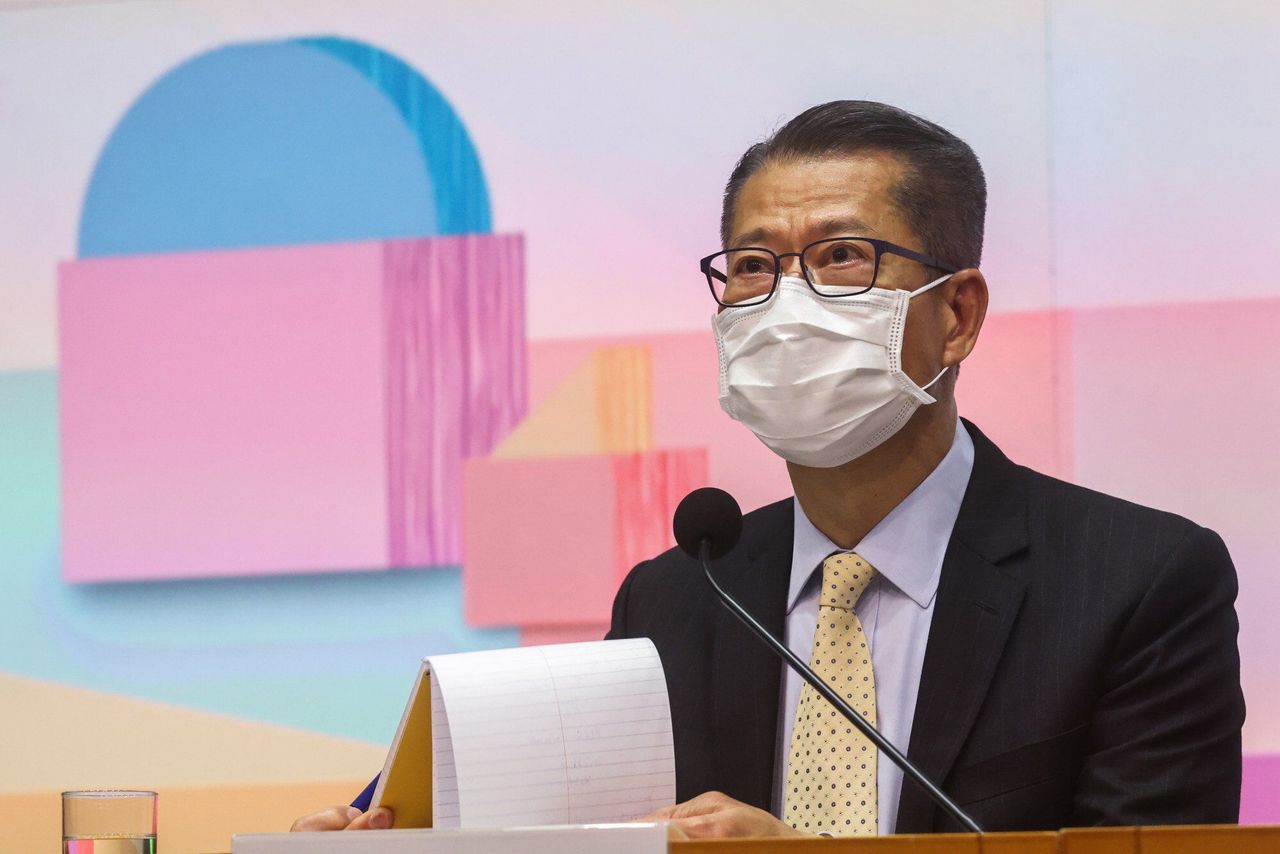 Financial Secretary Paul Chan.

Finance minister Chan said the goal of issuing the first batch of e-vouchers in early April was to support residents "bearing the brunt of the pandemic".

"This time people have a longer usage period. I hope the residents can flexibly arrange their spending plans and not rush to go out on spending sprees," he said.

Business owners who temporarily closed their premises as part of anti-epidemic measures had previously complained that they would not be able to reopen in time to benefit from residents spending their e-vouchers.

Lam said in March that social-distancing restrictions would be eased in three phases over a period of three months starting on April 21, provided there was no rebound in coronavirus cases.

But Chan said the new e-vouchers would only expire after seven months compared to last year's period of five months. However, the handout still cannot be spent on person to person transactions or used to pay for public services, utilities or fines.

The fresh round of e-vouchers featured prominently in Chan's yearly budget announcement in February and aims to boost consumer spending to support the local economy.

As with last year's handout, all permanent residents aged 18 and up are eligible to receive the latest round of vouchers, in addition to new immigrants from mainland China.

The second half of the voucher, worth HK$5,000, will not be disbursed until mid-2022, with all eligible Hongkongers required to reapply. The move will allow for the enrolment of other electronic payment systems that did not participate in last year's scheme.

Any residents, including newly eligible recipients, who did not sign up for the previous scheme will be required to wait until registration for the second batch of e-vouchers to apply for their HK$10,000 handout.

The previous round of digital coupons cost the government HK$36 billion and boosted growth by at least 0.7 per cent, while the bill for the latest round is estimated to reach HK$66.4 billion and is projected to boost the economy by 1.2 per cent.

Last year, some 70 per cent of 6.3 million qualified residents chose Octopus for the e-vouchers, while 20 per cent opted for AlipayHK, with the remaining users spread between Tap & Go and WeChat Pay HK.