On 11-day trip to Italy with his wife, financial analyst Isaac Cheung says: 'Travelling seems a bit foreign to us now … I struggled to pack my suitcase.'
Financial analyst Isaac Cheung and his wife were among tens of thousands of holidaymakers taking advantage of the festive break and Hong Kong's relaxed Covid-19 travel curbs, with the couple flying out on Christmas Eve for an 11-day trip to Italy.

"The paramount reason is that I haven't left Hong Kong for three years," the 52-year-old said. "I feel desperate to sate my hunger to go out. It doesn't matter that air tickets are costlier than normal times."

Cheung said the couple had been prepared to spend about HK$100,000 (US$12,809) on the getaway trip after staying put in Hong Kong for three years. Before the pandemic erupted at the start of 2020, the couple would usually travel twice a year.

"Travelling seems a bit foreign to us now," he said. "I struggled to pack my suitcase, and the clearance procedure seemed a bit different."

Following the scrapping of the city's three-day medical surveillance period and amber health code for arrivals, residents have seized on the new travel regime to enjoy their Christmas holiday in faraway places.

Under the new rules, inbound travellers who receive a negative polymerase chain reaction (PCR) test upon arrival at the airport are granted citywide freedom of movement.

Arrivals are also required to take a second PCR screening on the third day, as well as undergo rapid antigen testing for a five-day period. Anyone who tests positive will continue to be placed in isolation.

In announcing the changes earlier, Chief Executive John Lee Ka-chiu noted imported cases posed less of a risk to the community than local ones.

Hong Kong on Sunday reported 21,225 infections, 964 of which were imported, and 50 related deaths. The city's Covid-19 tally stood at 2,484,812 cases and 11,462 fatalities.

According to government figures, the daily number of departures since the government eased its

entry regime on December 14 had hovered between 26,000 and 32,000. On Christmas Eve, authorities logged 29,013 departures. By comparison, the figure from December 1 to 14 ranged between 16,000 and 24,000.

Since the latest curbs were relaxed, the number of arrivals has been roughly between 20,000 and 21,000 each day.

Steve Huen Kwok-chuen, executive director of travel agency EGL Tours, said the company had scheduled about 180 overseas group tours for roughly 5,000 people in total over the Christmas holiday.

"Now that the pandemic has changed, we are satisfied with the situation," he said.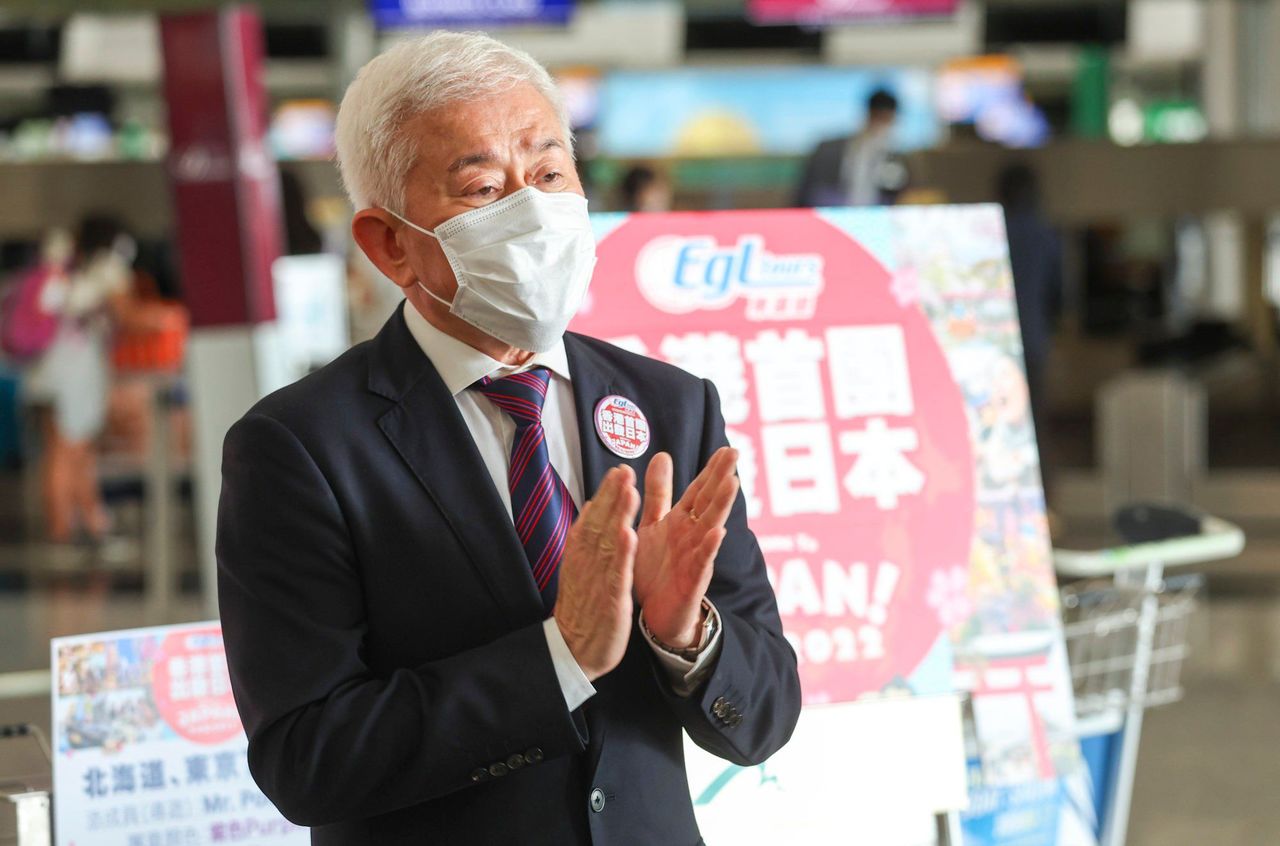 Steve Huen, executive director of EGL Tours.
By comparison, the number of tours organised for the Lunar New Year extended weekend next month would surpass the Christmas figure by 30 per cent, he said, adding he believed the city's aviation industry needed more time to adjust to the changes in demand and increase passenger capacity.
"Hong Kong airport and airlines have resumed about one-fourth of their original capacity," he said. "We will probably have to wait until the second or third quarter of 2024 before seeing them return to their full capacity in pre-pandemic times."
Last month, the Airport Authority said passenger traffic was only expected to increase to 70 per cent of pre-pandemic levels before the end of next year.
Among those departing the city, traditional Chinese medicine student Jeremy Leung said he was travelling to Taipei for five days to "get some fresh air" before heading to mainland China next year for a one-year placement.
The 31-year-old said he expected the whole trip to cost about HK$8,000 and planned to enjoy some sightseeing and take in some performances at local theatres.
"That kind of carefreeness you find when travelling cannot be found in Hong Kong," he said. "Staycations can't replace the joy when you are travelling abroad."
Ryan Chan, a 23-year-old university student, said he was flying to Sydney, Australia, to visit relatives who had emigrated there earlier this year.
"I feel happy and lucky," he said. "The opportunity to travel has now become more treasurable and meaningful than before. Hong Kong has seen tides of emigration recently, with friends and relatives scattered across the world. Travelling now has a different layer of meaning to it."