Restrictions on social gatherings and work from home arrangements could see Hongkongers give out 30 per cent less money, according to Chinese University professor.
Hongkongers are giving less money amid muted Lunar New Year celebrations due to the fifth wave of the coronavirus pandemic as people have been reducing social interactions over the festive holiday.

Security guard, Leung Ling-po, 58, said he had less lai see – red paper packets filled with "lucky money" – this year as residents in his block tried to minimise physical contact given the latest outbreak.

He received around HK$1,000 (US$128) during Lunar New Year from the block of flats of around 70 households last year, with HK$20 or HK$50 being inside the envelopes. This year he received less than HK$500.

"I think it was understandable as we talked to each other less during the pandemic, and the residents tried to escape the gift-exchange in this critical time – the fifth wave is still spreading," he said.

However, he had received more fruits as people seemed to prefer such gifts instead.

"The red envelopes are the blessings from others no matter how much money it delivered, but I was surprised that more residents sent me the fruits," Leung said.

As the city continues to battle the fifth wave of infections, social-distancing restrictions including a ban on dining in restaurants past 6pm, have put a crimp on gatherings, and residents too have handed out fewer red packets.

Hongkongers hand out lai see on auspicious occasions like weddings and Lunar New Year, which begins on February 1 this year and lasts two weeks.

Married couples and older people traditionally give lai see packets to children and younger people during Lunar New Year.

Simon Lee Siu-po, Honorary Institute Fellow of the Asia Pacific Institute of Business at Chinese University, said lai see is usually given in two settings: family and work.

With large scale gatherings restricted, and many people working from home, it was only natural to see lai see shrinking this year, he said, as he estimated that people would give around 30 per cent less this year.

Less contact with family members, colleagues working from home and not returning to the office on Friday would dent lai see takings for recipients, Lee said.

"The amount will definitely be lower this year," he said. Typically, residents distribute between a thousand to tens of thousands of dollars a year, depending on the number of relatives and colleagues in their circle, he added.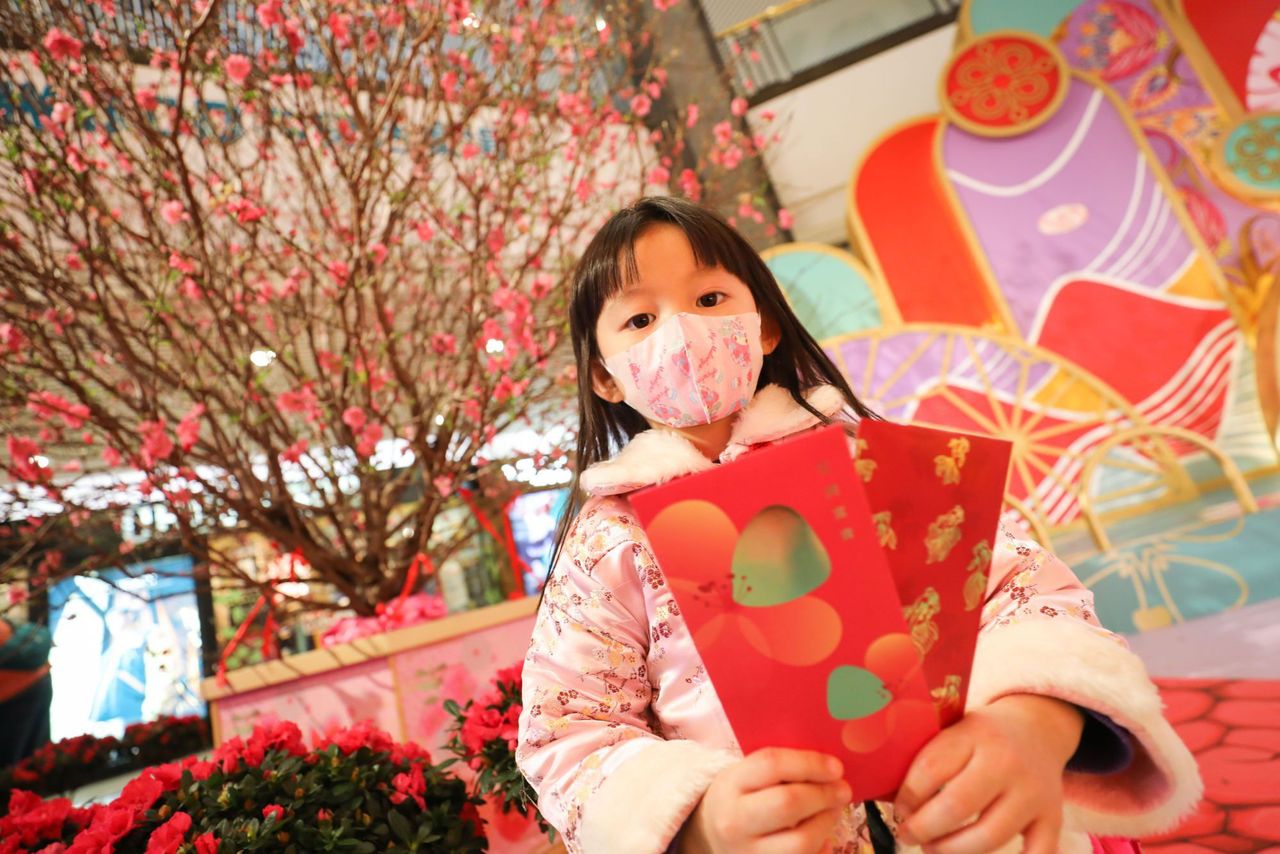 There are fewer opportunities to give red packets as residents attend fewer social gatherings and work from home.

Allan, who asked to be referred to by his first name, said he would typically visit friends and relatives to hand out lai see on the second day of Lunar New Year.

However, this year not only did he visit fewer people, but when he dropped off a gift basket at a friend's flat, he left it on the doorstep without going into their home.

The semi-retired businessman in his fifties said he would normally give around HK$10,000 a year in total, but gave a third of that this year as he was not meeting as many people and eating out in the evening.

Lam chung-kit, 47, and his family have not dared to visit his parents in Tin Shui Wai and stayed home instead on Wednesday, a day after his residential block was ordered to do compulsory testing against Covid-19 after a resident was confirmed infected.

"We tested negative, but to be safe, for the first time we did not have family lunch with my parents on the second day of the Chinese New Year. What a pity," the businessman said.

"People are afraid to go out under the pandemic, not to mention giving out the red packet money or receiving gifts from others," said Ng Wai-tung, a community organiser from the Society for Community Organisation (SoCO).

Ng added that as many workers from the lower-income had been hit by the numerous lockdowns over the past couple of weeks, many had no choice but to stay home, earn less and therefore they also spent less.

The organisation also changed its gift-giving for the season, handing out cakes by going door-to-door, as residents were unwilling to queue on the streets and be exposed to other people.

Last year, all major Hong Kong banks reported a decline in the number of customers approaching them for new banknotes for lai see – fresh notes are always preferred – due to an increase in electronic transfers and amid signs of deepening economic uncertainty. The trend looks set to continue.

Up until Lunar New Year in 2020, about 350 million banknotes worth almost HK$10 billion on average were exchanged within the two weeks before the holiday every year, data from Hong Kong Monetary Authority showed.

A survey of 1,044 residents conducted by the Hong Kong Research Association last year found that 37 per cent of the respondents planned to spend less on lai see last year than a year previously.

With social distancing rules in effect, the city's big banks, such as HSBC, Standard Chartered, Bank of China (Hong Kong), Citibank, have rolled out "e-lai see" services to allow digital red packet services, mostly targeted at young consumers.

Crystal Lee, 22, a secondary schoolteacher said had she received money electronically with the largest amount being $8.82 and the smallest one being $0.84 from friends as well as influencers posting PayMe links on their Instagram stories and distributing money to people randomly.

Six and eight, homonyms for "good fortune" and "prosperity," are the favourite amounts to hand out.

"I think it's creative and convenient to send e-lai see in this way. It can be all done by just clicking a button," she said.

"But I still prefer receiving it in person as it's more heartwarming to me."