Teen cries tears of joy at seeing her idol as two-time silver medallist Haughey draws 200 people to homecoming event.
Hongkongers gathered at a shopping centre on Friday to catch a glimpse of the city's most-decorated Olympian Siobhan Haughey, who saluted the "motivating force" of her hometown.

A crowd of 200 turned up at Pacific Place in Admiralty to see swimmer Haughey, the two-time silver medal star of Hong Kong's best-ever Games performance in Tokyo this summer.

She met children from local swimming clubs, including those bidding to emulate her success, while onlookers showed their appreciation from a distance.

Mackayla Yabut, 13, who was in the crowd, cried tears of joy at seeing her idol.

"She inspired me to go back to swimming," Yabut said. "I quit before because I went from a higher level back to beginner because my coach said I wasn't good at breaststroke. It really demoralised me to swim with younger kids … but she motivated me to never give up."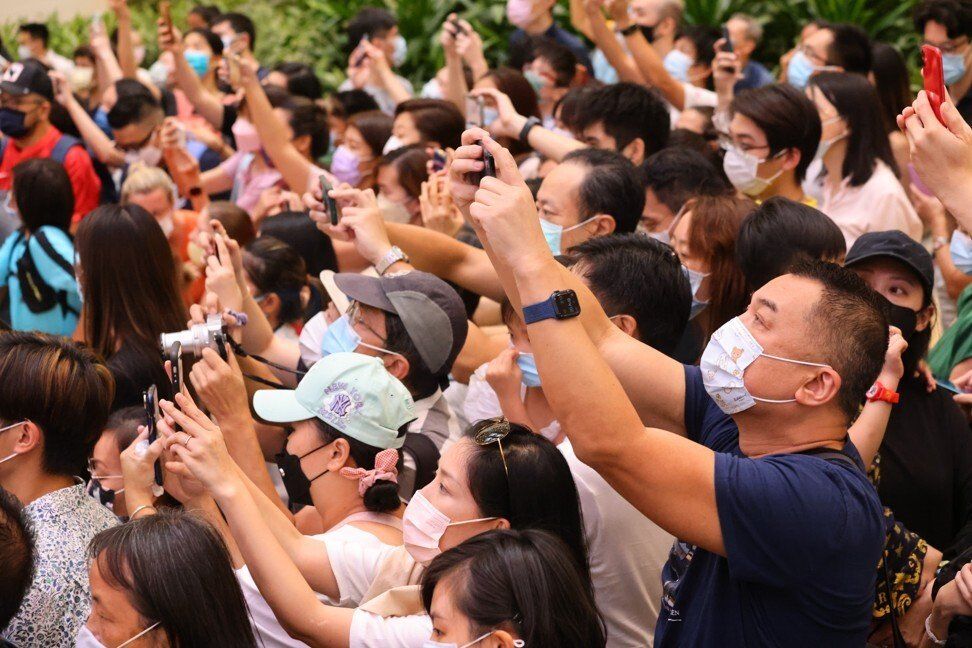 About 200 descended on an Admiralty shopping centre for the Siobhan Haughey event.

Project manager Samuel Mak, 38, took the day off work to attend the homecoming event, organised by retail company Swire Resources.

"She's so amazing and talented. She has worked so hard her whole life. To win two medals representing Hong Kong is legendary," he said.

During the event, Haughey told the crowd she had an "unforgettable experience" at the Tokyo 2020 Olympic Games, where she bagged silver medals in the 100m and 200m freestyle.

"Even though there was no audience at the Olympics, Hongkongers kept sending messages of support. That was a very big motivating force," she said.

Despite being billed as a meet and greet event, only VIP guests – youngsters from swimming clubs – were allowed to get Haughey's autograph and take photos with her.

Pun Hung, 23, who is studying education, said he was "a bit disappointed" the area was cordoned off, having arrived hoping to get a selfie with Haughey.

But those lucky enough to meet Haughey cherished their time with the Olympian.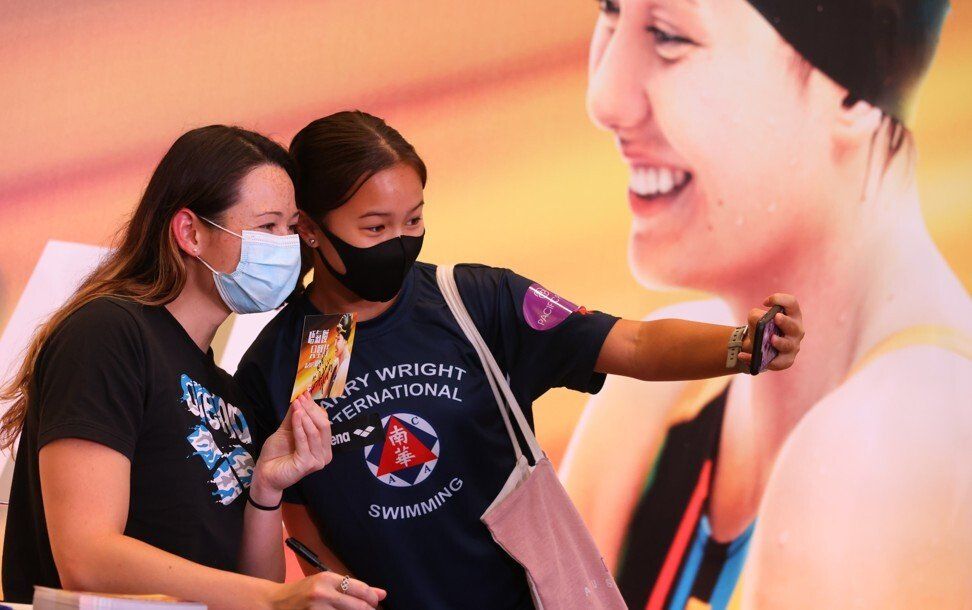 Olympics star Siobhan Haughey meets fellow swimmer Katie Hawkins.

Charlotte McFarland, 13, who has been swimming competitively for seven years with Harry Wright International – Haughey's old club – said she now believed she could also make it to the Olympics one day.

"Just to see that we have the same coach, it makes me think I can win a medal," she said. "And she is really nice too, she let us take a selfie with her."

Michael Fasching, who first started coaching Haughey when she was 12 at the South China Athletic Association through Harry Wright International, told the Post there had been increased interest in swimming among parents and children at the club since Tokyo 2020.

"Every four years we have this bump," Fasching said. "But we predict it is going to hold up a little longer this time and extend a little further. And we very desperately need this after the last 14 months."

Fasching noted pools were closed for a cumulative period of eight months during the Covid-19 pandemic, bringing the swimming community to its knees. He expressed hope that Haughey's medals could help rebuild and renew Hong Kong's love for swimming.