Shoppers rally round AbouThai stores for third straight day after business had HK$400,000 worth of goods seized by customs officers.
Hundreds of shoppers have flocked to support a pro-democracy Hong Kong retail chain for a third straight day, after authorities seized
HK$400,000 (US$51,400) worth of mislabelled goods from the business.

On Sunday afternoon, more than 100 people queued up at the AbouThai branch in Queensway Plaza in Admiralty, with the line snaking around the exterior of the shop.

Among them was a retiree surnamed Zhong, who bought bottles of wine with the slogan "Hong Kong add oil" written on the packaging. The wine also came with a wooden crate that had the words "Freedom 2019" printed on it.

"It's the Hong Kong spirit," Zhong said. "This is an international city, so I can buy all types of products such as Australian wine, lobster and steak. There is no need to stick with Chinese products."

He was referring to calls to support Australian products after China imposed a raft of punitive restrictions on imports from Australia amid deteriorating relations between the two countries.

Shoppers wait to pay at the AbouThai store in Queensway Plaza.

Zhong believed AbouThai had room to improve in terms of product labelling, but said he believed it was a double standard that other businesses with the same issues were not raided.

"Customs has to be fair, they can't just target specific shops. Any business that violates the law should be punished," he said. "It's very difficult to prove, but anyone with eyes can see the ulterior motive behind the operation."

Support for AbouThai came after more than 100 officers from the Customs and Excise Department raided all but one of the retail chain's 26 stores, and a warehouse in Tsuen Wan on Thursday. Some 8,805 products, including shower gel, household cleaning detergents and bleach, were seized.

A 33-year-old male director responsible for the group's operation was also arrested, and later bailed.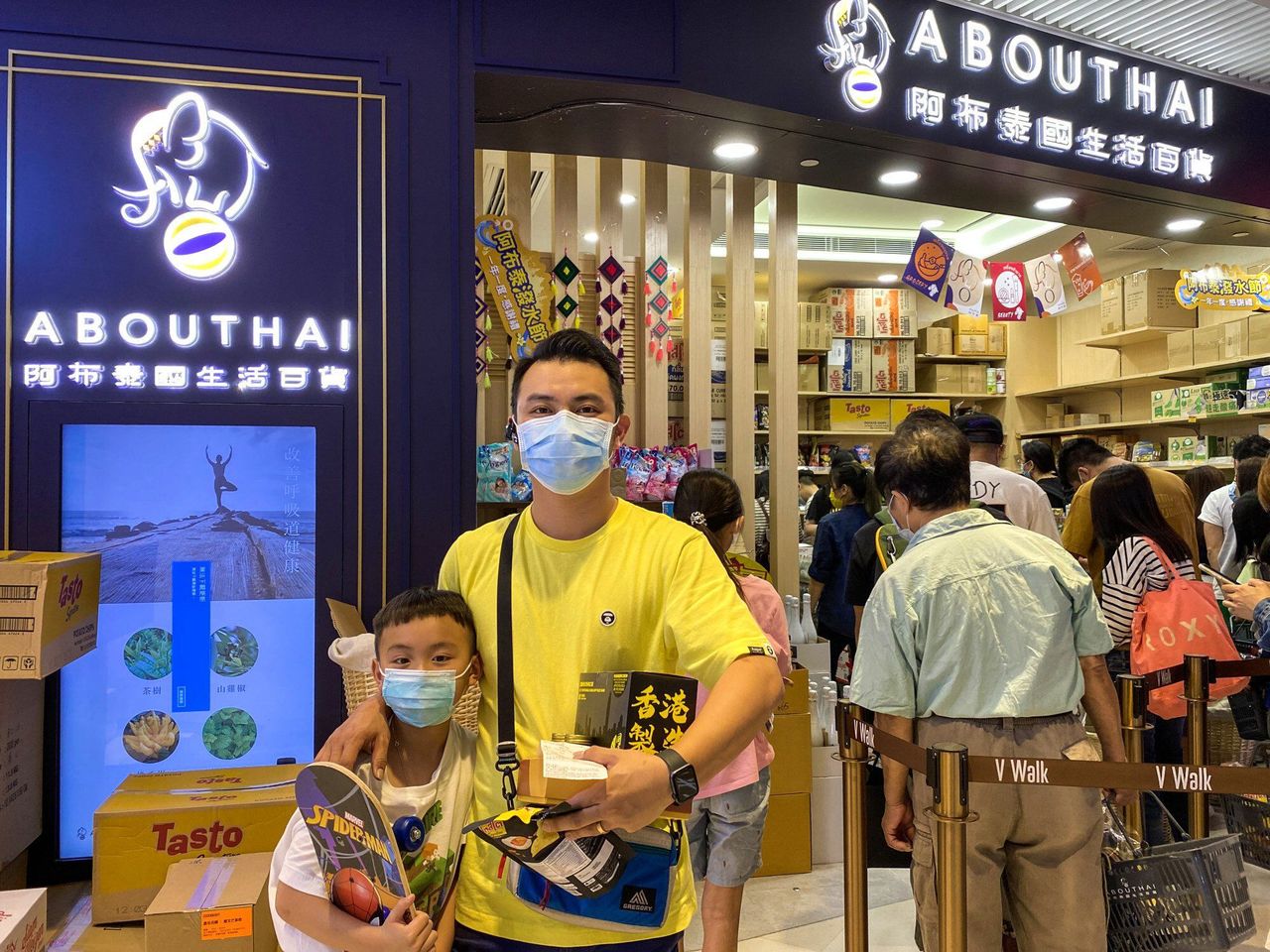 Sky Ho and his six-year-old son waited for more than an hour in line to buy goods at an AbouThai store in Nam Cheong.

The chain's founder, Mike Lam King-nam, was one of the defendants granted bail in a case involving 47 opposition figures charged under the national security law over their involvement in an unofficial primary election last year.

At one of the chain's stores in Nam Cheong's V Walk shopping centre, Sky Ho, a shop owner in his 30s, said he had waited in line for more than an hour to buy masks, household products and snacks, and spent about HK$300.

"This is my first time shopping here, but I wanted to support the store after what had happened," he said. "I can't directly give money to them, so I came to do my part to help."

Another shopper, Vicky, who is in her 30s and works in the construction industry, said she wanted to support shops in the "yellow economic circle". The term refers to operators who openly supported anti-government protesters in 2019, and the customers choosing their services.

"We're just normal citizens who are doing what we can to help," she said. "I'm worried that authorities will clamp down on consumers after the implementation of the national security law. But until then, I will keep supporting these types of businesses."

The department defended the operation and condemned what it called false accusations alleging the raid was an act of "repression".

It said the packaging did not carry any bilingual warnings on how to keep the products safe, including guidance relating to their use, consumption or disposal. Therefore the products were suspected to have breached the Consumer Goods Safety Regulation , subsidiary legislation of the Consumer Goods Safety Ordinance .