Entertainment tycoon Allan Zeman offers reassurances that lessons were learned after 21 revellers died and 63 were injured in neighbourhood in 1993.
Hong Kong's Halloween revellers were undeterred by a Saturday night crowd crush in South Korea that killed more than 150 people as they flocked to a city nightlife area in costumes on Sunday.

Chief Executive John Lee Ka-chiu said earlier on Sunday he had ordered security officials to monitor developments on the stampede in the country's capital Seoul – which led to the deaths of at least 151 people, including three Chinese nationals, and injured another 82 – and be ready to offer help to any city residents affected by the incident.

The news from Seoul also rekindled memories of Hong Kong's own tragedy when more than 20 party-goers were trampled to death in Lan Kwai Fong nearly 30 years ago, but the man who built the entertainment district, tycoon Allan Zeman, offered reassurances that lessons in crowd control had been well learned.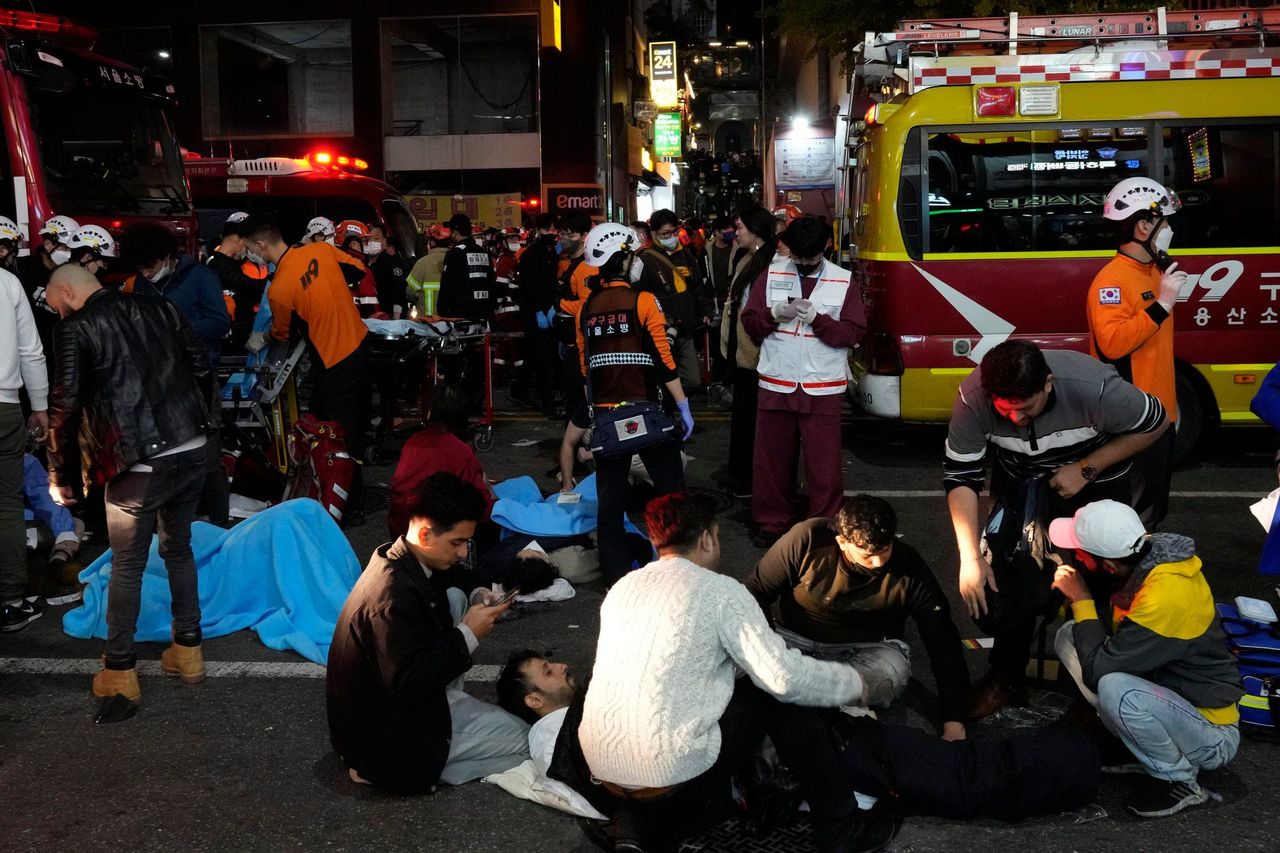 South Korean firefighters help the injured after a crowd surge at Halloween celebrations in Seoul on Saturday left at least 151 dead and dozens injured.

On Sunday night, groups of parents with their children decked out as Disney and Marvel superhero characters posed for photos as they went trick-or-treating around the sloping streets of the Central neighbourhood.

A 35-year old man, surnamed Lam and dressed in an angel costume, visited the area with his infant son, dressed as a little devil and six-year old daughter, who wore a witch's costume.

"I am not affected by the accident in Seoul. I have to leave early only because it is Monday tomorrow," Lam said. "I need to work and send my kids to school."

Rachel De La Raga, a 31-year-old domestic worker dressed as a fallen angel, said she planned to watch the fun in Lan Kwai Fong and party with friends, without her mood being affected by the tragedy in Seoul.

"I think the Hong Kong police are very organised about that kind of issue, so I think it is something that can be controlled," she said, "I am not worried."

But a 30-year-old city resident, who gave his surname as Cham, who arrived with his girlfriend, said they planned to leave before the crowds built up.

"Given the stampede that happened in Seoul, we won't stay here long," Cham said. "Safety first. We are worried that it may happen in Hong Kong as a similar accident has happened before."

A total of 21 new year revellers died and 63 were injured in a crowd crush in the area on the first day of 1993.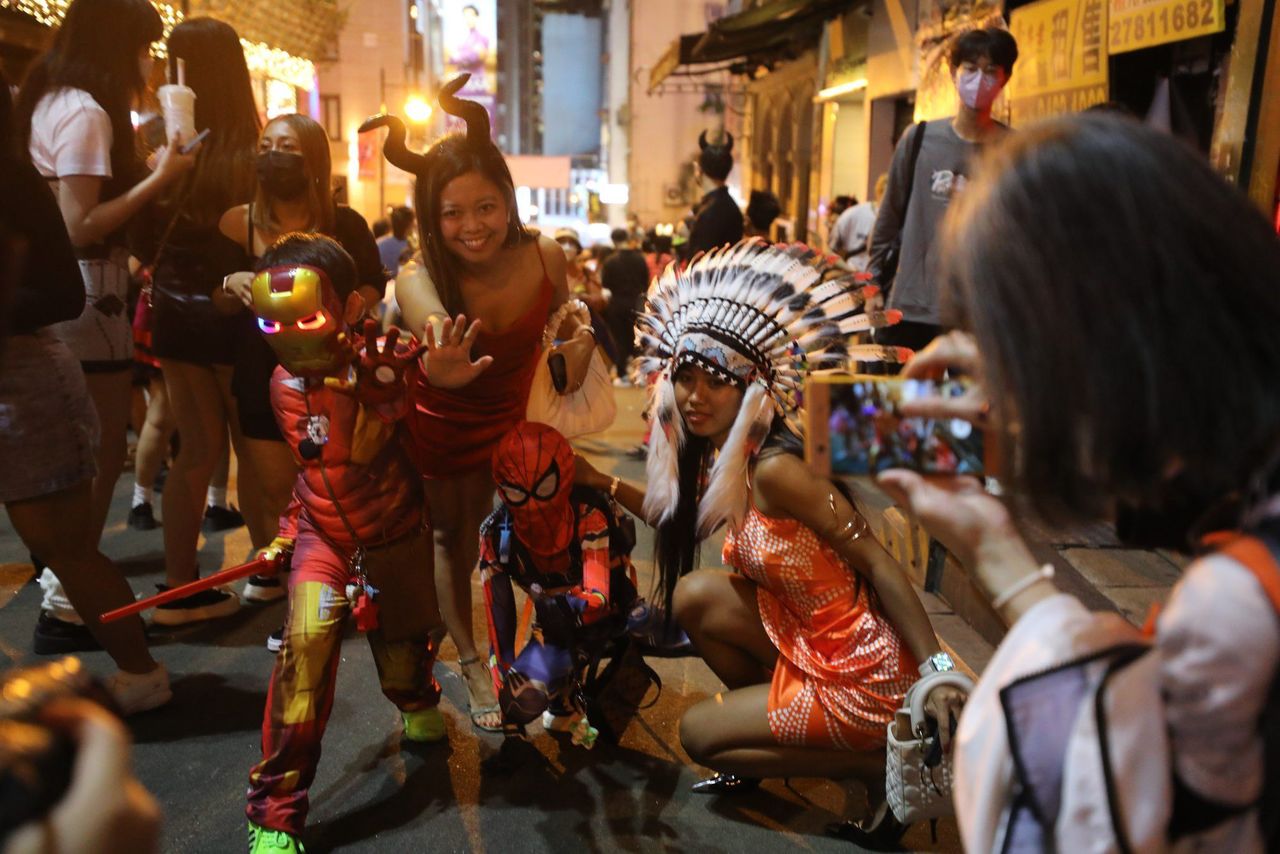 Halloween revellers throng Lan Kwai Fong as police mount a major crowd control operation.

Police on Sunday closed some roads and set up barricades on streets in Lan Kwai Fong with banners signalling one-way walking directions and ensured room for emergency passage through the streets.

But Superintendent Chow Wing-yee said the force had not taken special crowd control measures after the Seoul tragedy.

"This year's measures were similar to that in last year. We have many years of experience in handling the Lan Kwai Fong celebration activities," Chow said.

Officers were seen diverting residents on a detour to Lan Kwai Fong as the crowd grew at night, as they blocked D'Aguilar Street and only allowed people to enter the area in groups every 15 to 20 minutes.

A police announcement was also played several times to appeal to people to stop gathering in the area and leave the vicinity by Wyndham Street.

Retail worker Joe Lo, who dressed up as the main character of the movie The Texas Chainsaw Massacre, said the crowd controls were necessary.

"Look at South Korea – accidents happen in a blink of an eye," said the 38-year-old. "I wasn't bothered by the crowd control at all. It's better safe than sorry."

Hong Kong resident Tristen Reeves, the owner of Poke HK, a takeaway restaurant in Lan Kwai Fong, said the police efforts on Sunday were similar to past practice.

But he admitted the area was significantly quieter than on Saturday.

"Maybe it's the accident, maybe it's a Sunday, or maybe it's too early now. I'm just happy to see everyone dressed up for Halloween and having a good time," Reeves said.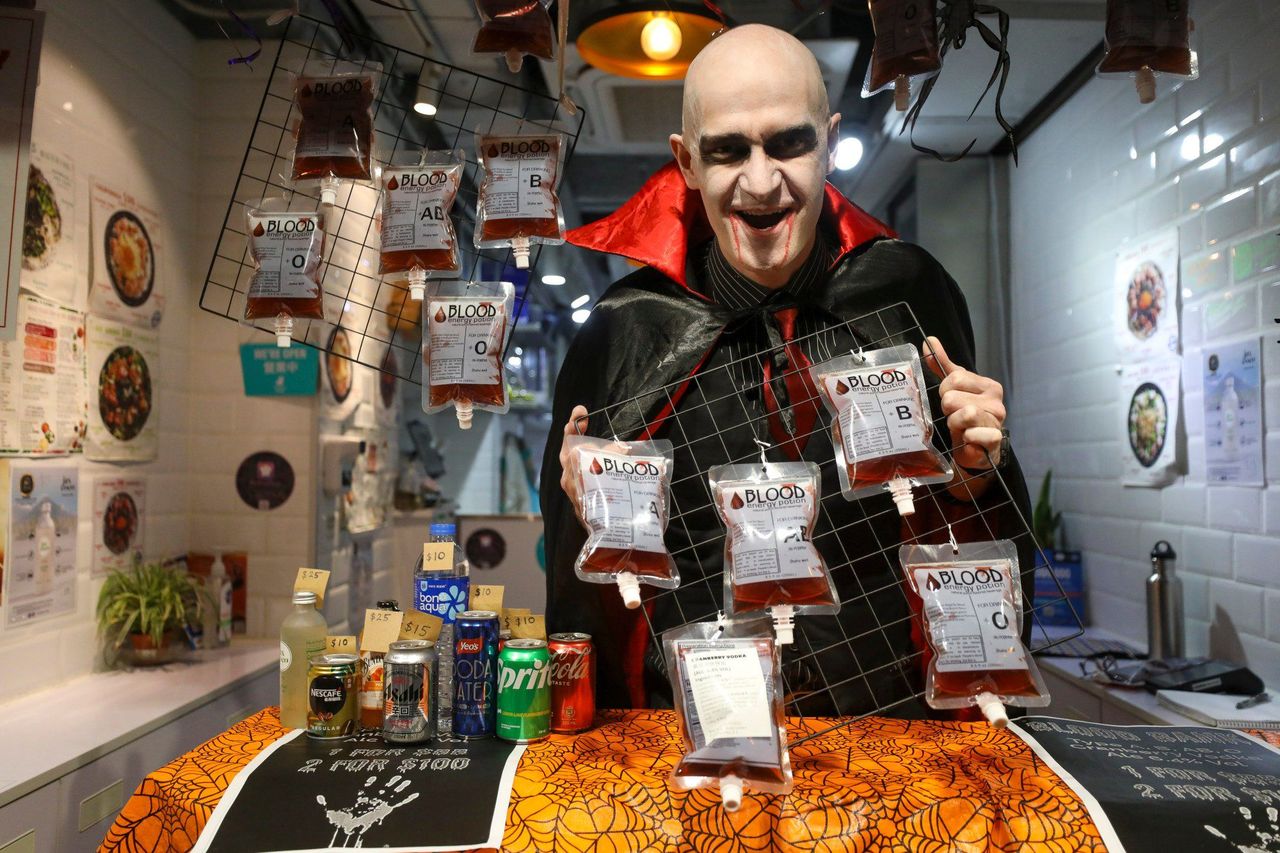 Tristen Reeves, owner of Poke HK.

Zeman, the chairman of the Lan Kwai Fong group, said he expected the Seoul disaster would dampen the festive mood in the city, but added bars were usually less busy on Sunday.

"Saturday night is usually the night everybody goes out. People have work on Monday so we don't expect the business on Sunday to be so good," he said.

Zeman added that most bars and restaurants on Saturday were fully booked, and estimated that business was up to 80 per cent over last year.

"It was a breath of fresh air because in the past they have been struggling due to the [Covid-19 social-distancing] restrictions," he said. "Now it is a different world."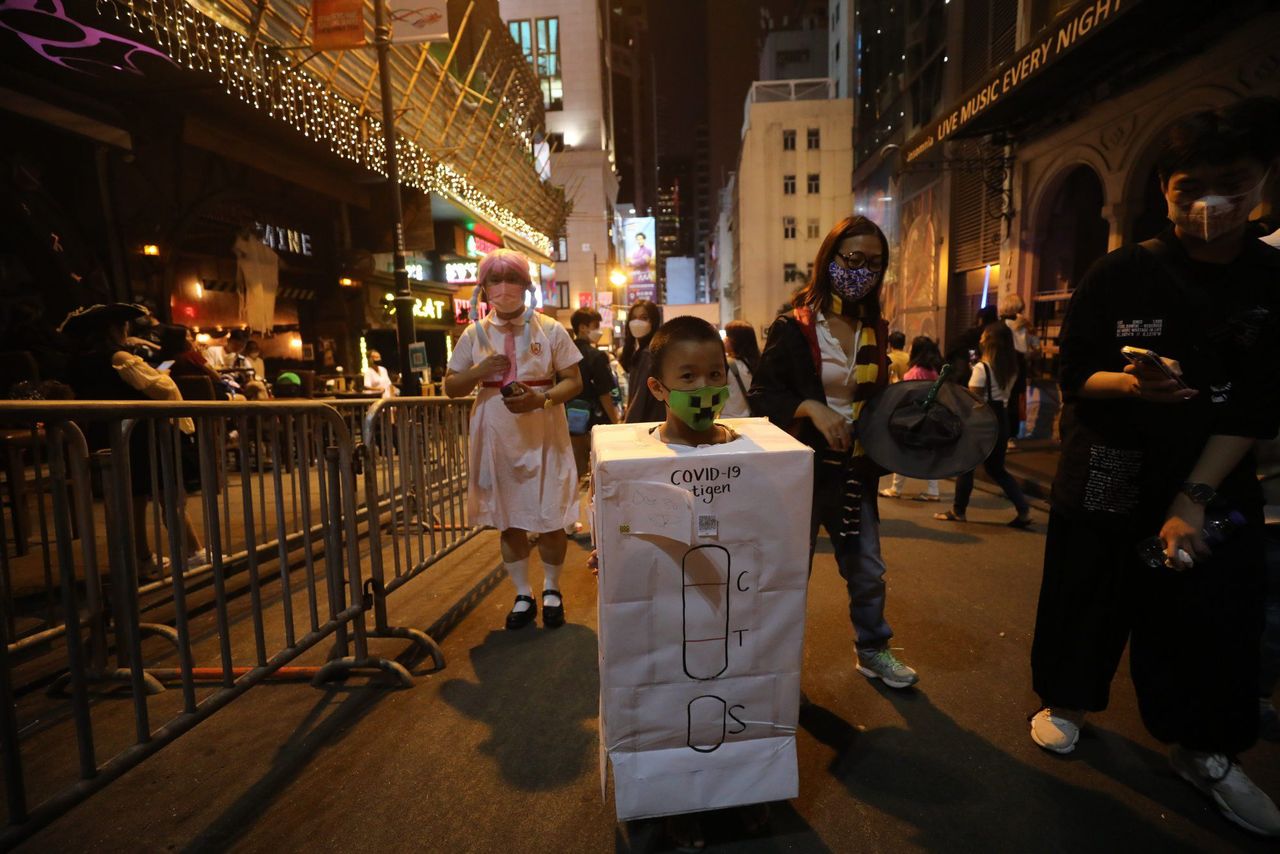 A little boy in a Covid-19 test costume joins the crowds celebrating Halloween in Lan Kwai Fong.

He also reassured the public that Lan Kwai Fong would be safe as police had learned lessons from the 1993 tragedy in the area.

Zeman explained that police would not allow any more people into the area once the maximum number the force had set was reached.

"There's a formula [on crowd-control measures] now," Zeman said. "It is very, very safe."

Lee said on his social media page on Sunday that his administration was paying close attention to the disaster in Seoul.

"I express profound sorrow over the passing of the victims, extend my deepest condolences to their families and wish for a speedy recovery to all those who were injured," he wrote.

"I have asked [the] Security Bureau to monitor its development and stand ready to render assistance to any Hong Kong residents that may need help."

Secretary for Security Chris Tang Ping-keung on Sunday afternoon said the government had not received any calls for assistance from Hongkongers about the Itaewon tragedy in Seoul.

"We shall closely monitor the situation. If there is a need by Hongkongers for assistance, we shall spare no efforts to offer help," said Tang.

Tang said he appreciated that many revellers would go out to celebrate Halloween and appealed to the public to take care and follow instructions from police officers on the spot.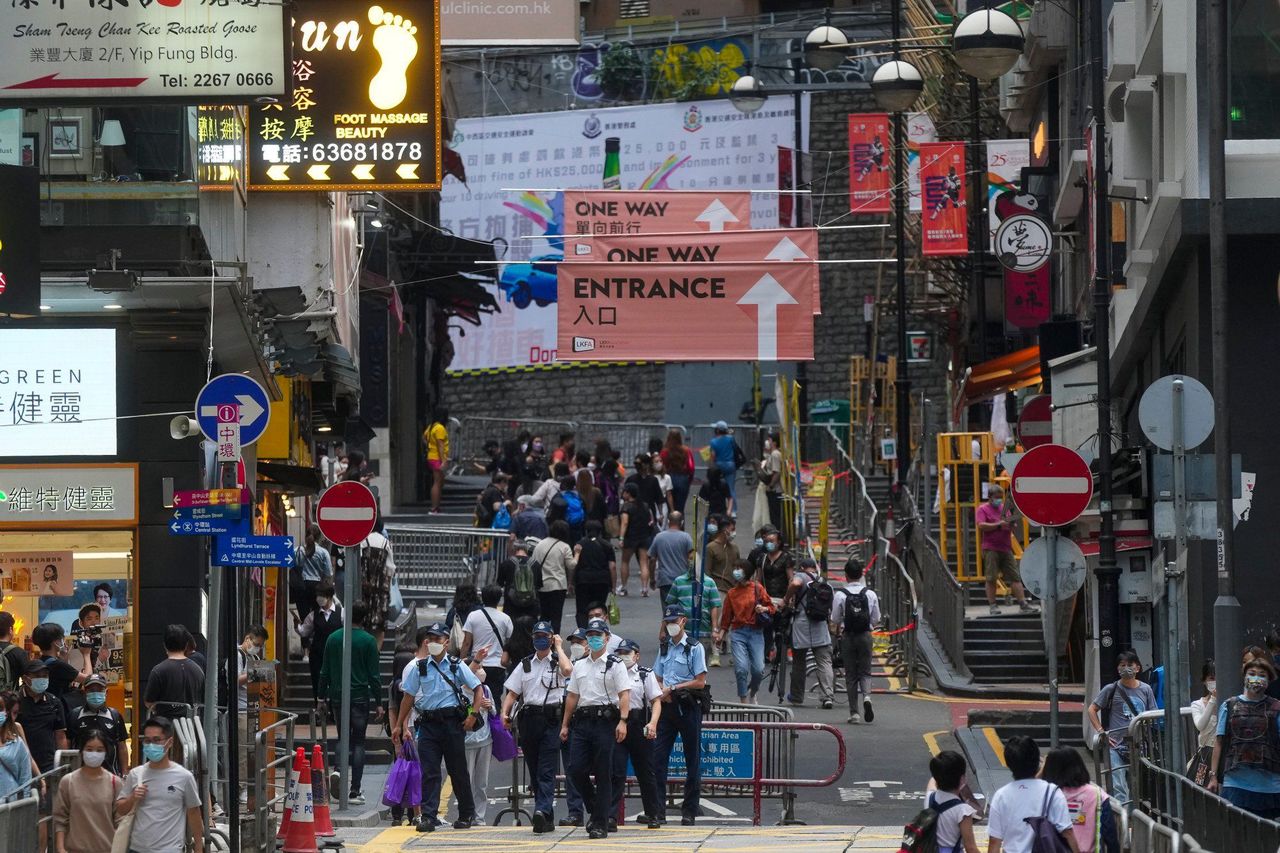 Police officers prepare Lan Kwai Fong for an influx of crowds celebrating Halloween.

The Immigration Department said it was liaising with Beijing's ministry of foreign affairs office in Hong Kong and the nation's embassy in South Korea for the latest details on the situation.

Hongkongers who need help should contact the Immigration Department on its round-the-clock hotline (852) 1868 or mobile app, officials added.

Saturday's tragedy happened after a huge crowd celebrating Halloween surged into an alley in a nightlife area of the South Korean capital.

The event was the first such celebration in the city in three years and followed the lifting of the country's Covid-19 social distancing rules.