Police detain a reporter from online news portal Freeman Express for allegedly booing the anthem at a shopping centre screening of Edgar Cheung's Olympic final.
Police have arrested a 40-year-old man accused of breaching Hong Kong's national anthem law by booing March of the Volunteers during a mall screening of Olympic fencer Edgar Cheung Ka-long receiving his gold medal.

Officers detained the suspect, a reporter from online news portal Freeman Express, outside Metroplaza in Kwai Chung at about 1pm on Friday. As of 5pm, he was still being held for questioning and had not been charged.

Eileen Chung Lai-yee, a senior superintendent from police's Kowloon East regional headquarters, said the man was arrested for allegedly insulting China's national anthem, an offence under Hong Kong legislation passed last year which also outlaws misusing the song.

Officers identified the suspect from security camera footage at Kwun Tong's APM shopping centre, where crowds had gathered on Monday night to watch a live broadcast of Cheung's final at the Tokyo Olympics against Italian Daniele Garozzo in the men's individual foil, and the medal ceremony that followed.

"When the national anthem was played [during the medal ceremony], he raised the Hong Kong colonial flag, which was also found [among his belongings] in our arrest," Chung said. "He also incited other people at the scene to boo and chant slogans."

She said the man was found to be carrying 10 Hong Kong colonial flags of different sizes, adding that an investigation was under way to see if there were others at the mall who had violated the national security law, or who were involved in any incitement behaviour.

A spokeswoman for Sun Hung Kai Properties, which owns the mall, said: "The management office of APM will fully cooperate with police on its investigation."

Officers have been probing an outbreak of boos and jeers at the mall during the playing of the national anthem marking Cheung's history-making win.

Earlier on Friday, police quietly fanned out in shopping centres across Hong Kong as local swimmer Siobhan Haughey went for another medal, a move intended to prevent any potential booing of the national anthem during the live broadcast.

Force insiders said the operation involved both enhanced patrols by uniformed officers and surveillance by plain-clothes officers.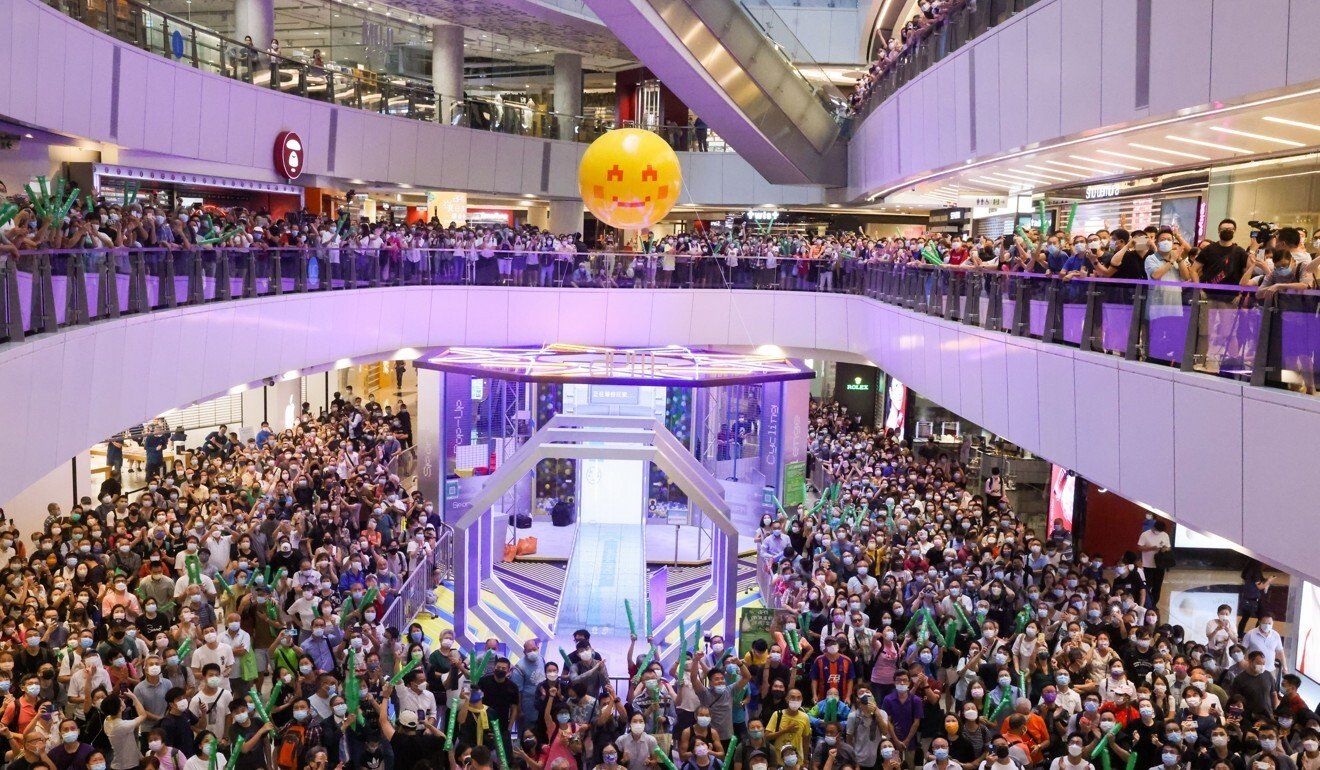 A massive crowd gathers in the APM mall in Kwun Tong on Friday to watch local swimmer Siobhan Haughey race.

Asked why police action was necessary, one source said: "We are concerned about whether there might be any unruly behaviour, booing and chanting slogans that may contravene the national security law and national anthem ordinance."

Haughey won the silver medal, her second of this year's Games after taking second in the 200m freestyle, but there were no incidents on Friday similar to Monday night's, according to the source.

"It may have been a different story if a Hong Kong or mainland athlete won gold," he said.

The source said it was likely that similar police operations would be conducted for the live broadcasts of major Olympic events involving Hong Kong or mainland Chinese athletes.

Hundreds of spectators gathered on Monday different across different levels of the APM mall and watched Cheung's history-making victory on giant screens.

It was the city's second-ever Olympic gold and came 25 years after windsurfer Lee Lai-shan claimed a historic win at the 1996 Atlanta Games.

As Cheung, 24, stood on the winners' podium and the anthem was played, some in the crowd began booing and jeering, online clips showed.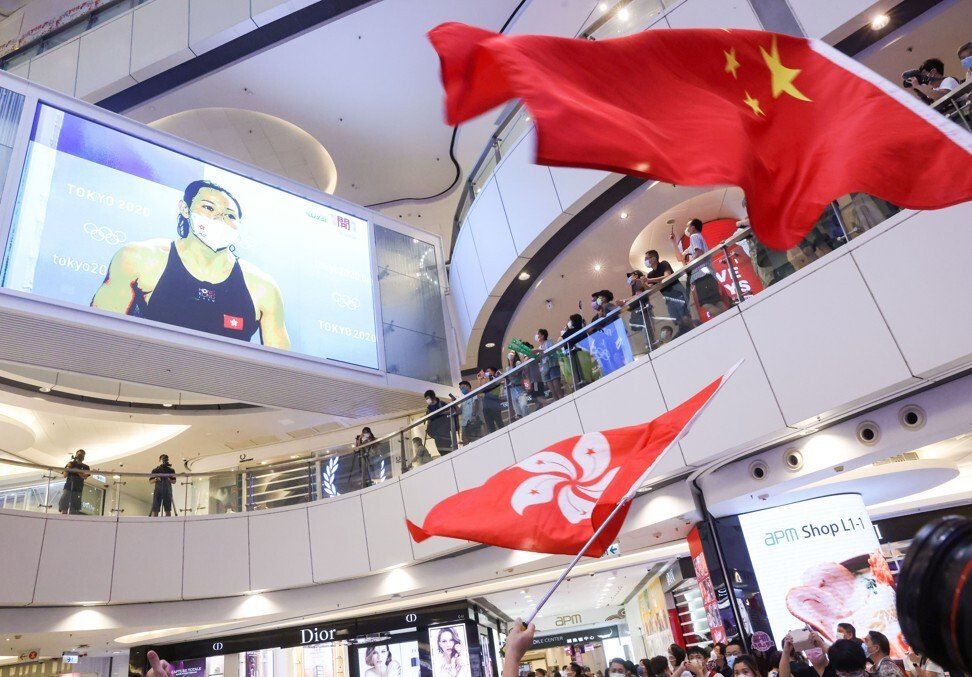 Double silver medallist Siobhan Haughey is seen on a giant screen at a Hong Kong shopping centre on Friday.

Many more shouted "We are Hong Kong" immediately after the booing stopped, while others clapped. One person was spotted waving the colonial flag.

Legal professionals warned the incident risked contravening both the national anthem and security laws, both of which came into force in June last year.

The incident also sparked a small demonstration by government supporters outside police headquarters in Wan Chai on Wednesday, with protesters calling for a probe.

Detectives were later tasked with looking into the case.

Anyone found guilty of violating the national anthem law can be jailed for up to three years and fined as much as HK$50,000.