Property manager Kim Chiang, 41, admits four counts of displaying seditious publications and a fifth related to possession.
A man who displayed posters to insult three judges in charge of Hong Kong's first national security law trial and call for further protests in the city has pleaded guilty to five counts of sedition-related offences.

Property manager Kim Chiang Chung-sang returned to West Kowloon Court on Wednesday to admit some of the charges laid against him after police found the 41-year-old had affixed four provocative posters at a kindergarten and a fifth in the High Court between June 11 and July 29 last year.

The court heard that the first two posters were juxtaposed with each other at TWGHS Tsui Tsin Tong Kindergarten in Sheung Shui.

One poster called on "comrades of June 12" to meet in Causeway Bay to mark the anniversary of a large-scale demonstration against a now-withdrawn extradition bill on June 12, 2019.

The other poster criticised a magistrate's ruling in a case stemming from the unrest, along with a remark that said: "Promise us: remain angry".

The third poster, written in simplified Chinese, contained a drawing of Mao Zedong and offered support for the protests with a tweak on a quote by the late Communist Party leader: "Innocent it is to start a revolution of our times. Justified it is to liberate and rebel." It was a reference to the popular rallying cry of the 2019 anti-government protests: "Liberate Hong Kong; revolution of our times".

The poster was found at the kindergarten on June 23, 2021, which marked the opening day of trial for Leon Tong Ying-kit, the first person charged under the Beijing-imposed security law.

Three High Court judges convicted the 24-year-old restaurant worker on July 27 of terrorism and inciting secession for ramming his motorcycle into a group of police officers while flying a flag emblazoned with the "Liberate Hong Kong" slogan during the annual July 1 protest of the previous year. He was subsequently jailed for nine years.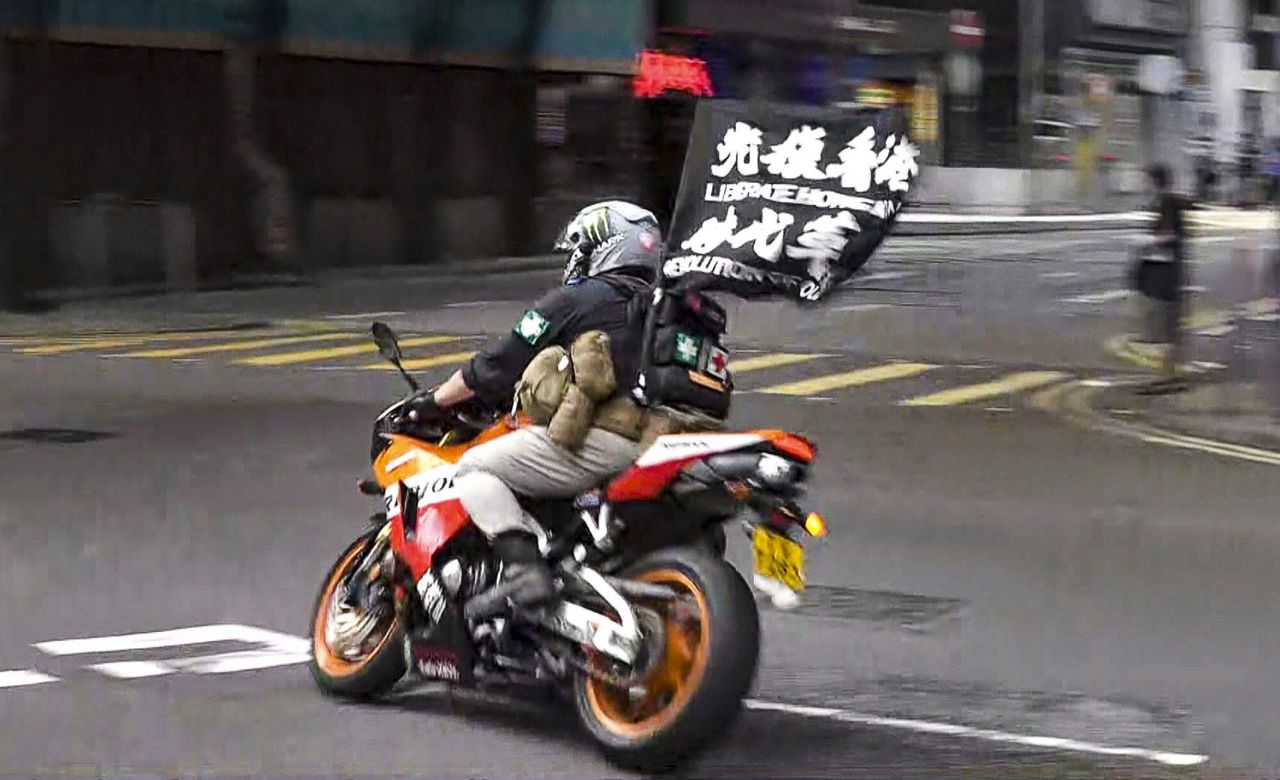 Leon Tong was convicted of terrorism and inciting secession for ramming his motorcycle into police officers while flying a flag with a protest slogan.

Following Tong's conviction, Chiang affixed two more posters at the kindergarten and in a public toilet of the High Court on July 28 and 29 last year, respectively.

The three judges overseeing Tong's trial – Esther Toh Lye-ping, Anthea Pang Po-kam and Wilson Chan Ka-shun – were depicted as "Communist dogs", with a line that said they and their families would "definitely go to hell".

The posters also said city leader Carrie Lam Cheng Yuet-ngor would remain a "sinner" for centuries to come, along with an illustration showing Lam being placed in a pillory and leg cuff.

Police arrested Chiang on August 6 and found 48 digital files with seditious illustrations and messages in his smartphone and two USB devices. Many of the files contained insults directed at Lam, police officers and judges who had previously handled security law cases or those related to the protests.

Chiang pleaded guilty to four counts of displaying seditious publications and a fifth related to possession before acting chief magistrate Peter Law Tak-chuen, who, along with the three High Court judges, was hand-picked by Lam to adjudicate security law proceedings.

Prosecutor Stella Lo Wing-shan initially applied for two others counts of displaying seditious publication and another of possession to be left on court file, meaning her team could pursue at any time in the future with the permission of this court or the Court of Appeal.

She later asked to withdraw the three counts instead after Law noted the application was impermissible in the magistrates' courts.

In mitigation, defence counsel Steven Kwan Man-wai said his client had displayed the posters at the kindergarten where many residents would walk past, but he had no intention of spreading the seditious messages to the children there.

The lawyer urged the court to consider a financial penalty or suspended jail sentence, citing precedents in Britain and other common law jurisdictions.

Chiang, who has spent more than five months in custody, will remain behind bars until Monday's sentencing. He faces up to three years in prison.

Sedition is an offence under the colonial-era Crimes Ordinance punishable by up to two years in jail upon first conviction. However, a magistrate can sentence a defendant who faces multiple charges to a total of up to three years' imprisonment.