One of city's oldest and largest travel agencies announces temporary closures of main office and all branches, citing difficulties resuming full operations.
Hong Thai Travel Services, one of the city's oldest and largest travel agencies, has temporarily closed all its branches to minimise operating costs until Hong Kong fully reopens its borders to mainland China and the rest of the world.

In a statement on Wednesday, the company said operating over the past two years was like entering a "dark tunnel" that had no way out in sight, with its tour guides and other employees earning no income and being forced to turn to other industries for work or take up part-time jobs.

"The company hopes to save costs and temporarily operate at minimal cost to reserve its strength until the full reopening of the borders," Hong Thai said, with its main office and frontline branches to cease operations for the present.

Chief Executive John Lee Ka-chiu last week indicated that a full reopening of the border with the mainland or further relaxation of Hong Kong's entry regime was unlikely to happen soon.

A check of Hong Thai's website by the Post showed all of its four branches in Hong Kong, in addition to the two in Shenzhen and Macau, had temporarily closed.

A spokeswoman on Wednesday said the agency had no plans to wind up business, dismissing rumours that it would permanently close its doors.

While authorities last month scrapped hotel quarantine in favour of a three-day medical surveillance period under the "0+3" entry regime, the travel agency said it was having difficulties arranging for staff to fully resume their duties in such a short space of time.

Under the government's new arrangements, inbound arrivals undergoing the surveillance period have limited movement in the city and are barred from entering premises that require vaccine checks, such as bars and restaurants.

Many of Hong Kong's outbound travellers were forgoing tour packages and opting to take trips by themselves, making it hard for the company to fully resume operations, despite having diversified its business to include a souvenir delivery service, the agency said.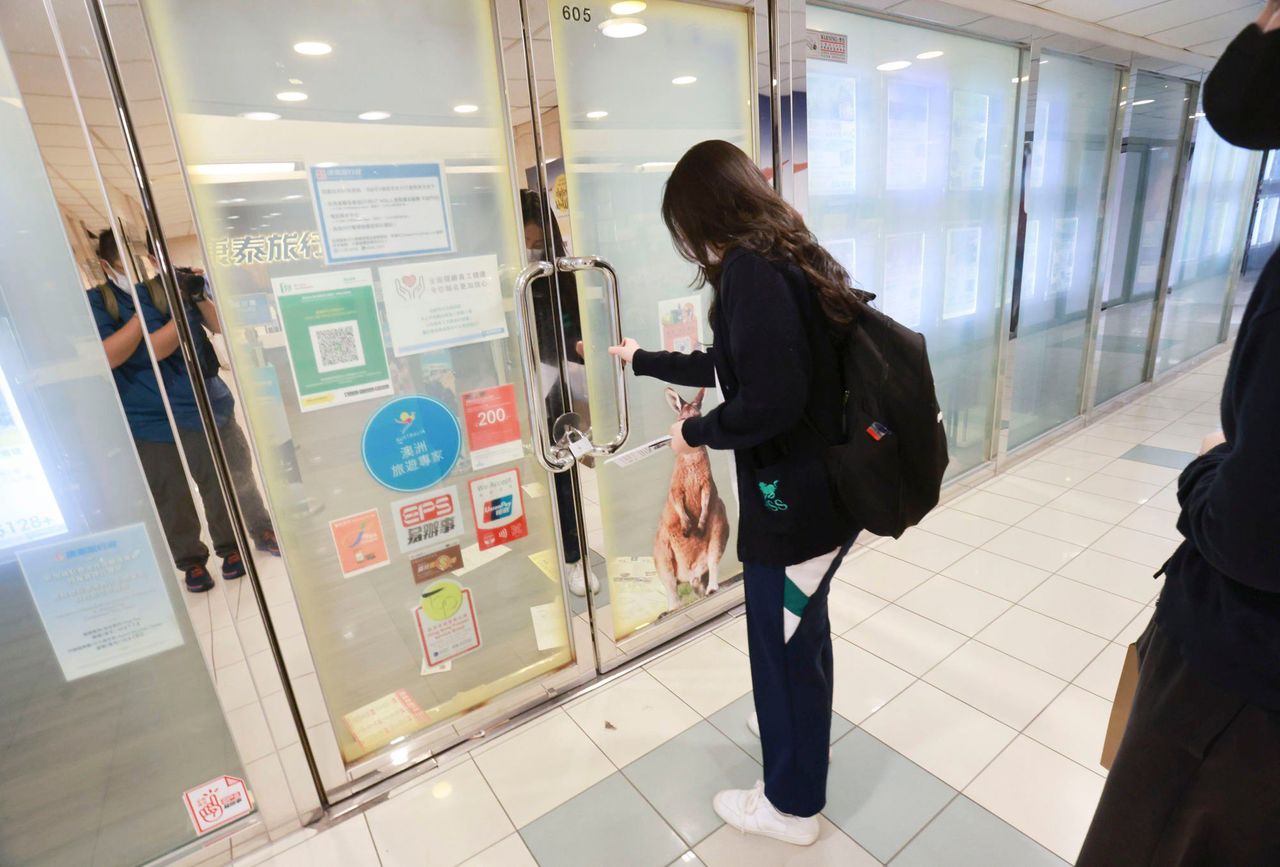 Hong Thai's Causeway Bay branch is closed for business.

Calls to the agency's hotline and branches in Causeway Bay, Mong Kok and Kowloon Bay were not answered and were transferred to a voicemail box.

A notice posted on the window of the Causeway Bay outlet said all branches had been closed from August 1 in response to the government's anti-epidemic measures.

Lawmaker Perry Yiu Pak-leung, who represents the tourism sector, said the relaxation of entry curbs under the "0+3" scheme had created the wrong impression that business would surge again, explaining the industry was a long way from recovery.

Despite some improvements in the number of people booking outbound tours, travel agencies were still facing hurdles such as limited flight capacities and many residents opting to travel by themselves, he said.

Compared with smaller travel agencies, medium- and large-sized companies had to contend with additional difficulties, including cash flow problems, as well as higher manpower and rental costs, the legislator explained.

"It is difficult for them to rely only on such a small amount of business to support their large volume," he said, adding that he was concerned more travel agencies could close down.

Yiu urged the government to do more to support the sector, such as allowing agencies to organise inbound tours which exempted travellers from restrictions on certain premises, including theme parks and museums, during the surveillance period.

Freddy Yip Hing-ning, president of the Hong Kong Travel Agent Owners Association, said it was a common practice for struggling companies to close their branches to reduce operating costs during the pandemic and wait for things to improve.

Yip said he had learned that Hong Thai was retaining 200 to 300 employees, with most of them on unpaid leave. He added that he was concerned the company, in addition to others, could eventually close down if border restrictions remained in place.

He urged authorities to scrap all travel curbs as soon as possible to help attract more tourists and ensure struggling businesses could survive.

The Travel Industry Authority, the regulatory body for agencies, said it was seeking information on operations from Hong Thai, adding that it had received one inquiry from the public so far. It will follow up on the case depending on the situation.

The law requires licensed travel agents with plans to cease operating to notify the authority no less than 14 days before cessation.

Founded in 1966 by Wong Ming-chuen, a graduate of Whampoa Military Academy established by Dr Sun Yat-sen, Hong Thai is one of Hong Kong's oldest and largest tour agencies. The business covers tours, package trips, cruises, airline tickets, hotels, incentive travel, private groups, study tours and overseas weddings.

At its peak, the company had more than 1,000 employees and operated over 30 branches in places such as Hong Kong, the mainland and the United States, as well as Thailand and Taiwan.

Mainland company Sheng Tou International Investment, which has links to Hainan-based HNA Group, bought 51 per cent of Hong Thai's shares from the founder's son Jackie Wong See-sum and grandson Jason Wong Chun-tat in 2011.

The company was later sold in 2019 for HK$116 million to Caissa Touristic DMC (Hong Kong) Group under Shenzhen-listed Caissa Touristic.

The number of travel agencies in Hong Kong has shrunk for three years in a row, with the pandemic and the 2019 social unrest keeping tourists away. The city had 1,760 agencies at the end of 2019, gradually dropping to 1,661 in early 2022.

In January, the board of Morning Star Travel Services, another leading household name and the first listed travel agency in the city, passed a resolution to liquidate the 50-year-old company.