Taoist followers wait outside for up to seven hours to get inside Wong Tai Sin Temple before burning first incense sticks of Lunar New Year.
Hong Kong's most well-known Taoist temple has resumed the ritual of burning the first incense sticks of the Lunar New Year after a two-year suspension because of the Covid-19 pandemic.

Sik Sik Yuen Wong Tai Sin Temple opened at 9pm on Saturday, Lunar New Year's Eve, for worshippers to make offerings to the Great Immortal Wong at 11pm.

The temple will stay open until Lunar New Year's Day on Sunday.

Annie Chan, a 54-year-old nurse, was among the first to start queuing up for the ceremony, having waited outside the temple since around 2pm.

"I come to Wong Tai Sin Temple every year, except for the past two years. I was always among the earliest to arrive," she said.

"I feel excited and happy today. Since I started worshipping the Great Immortal, everything has gone well and I've regained my health. This is why I have to come every year."

The Great Immortal Wong, widely known as Wong Tai Sin, is a Chinese Taoist deity believed by his followers to have healing powers.

Sik Sik Yuen, the operator of the temple, in 2021 and also last year cancelled the ceremony and revised the arrangements for Spring Festival worship, saying the city's Covid-19 crisis showed no signs of abating.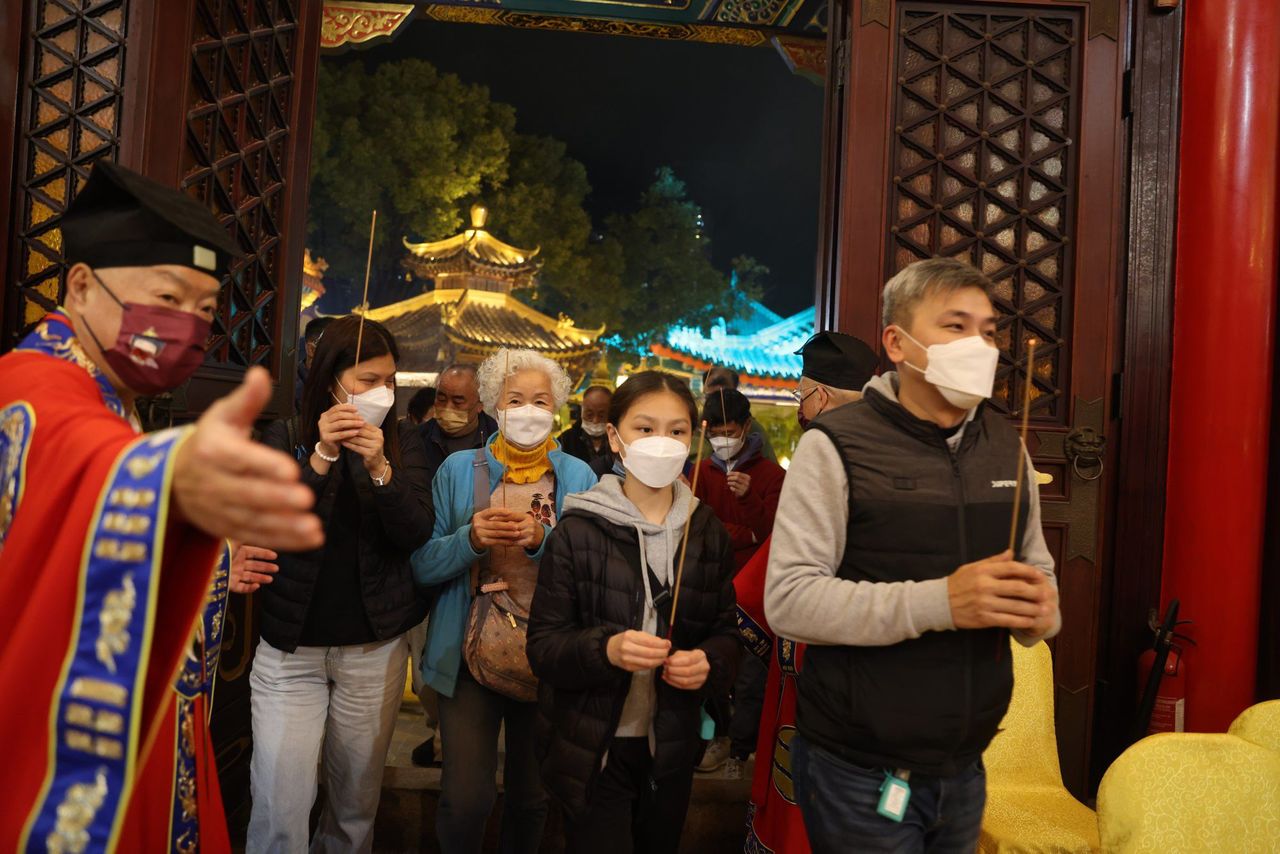 People are welcomed into Wong Tai Sin Temple.
Instead, the temple broadcast its blessing ceremony live on
Facebook
and television, which included ringing a bell and a drum in unison 24 times to pray for Hongkongers and fellow worshippers.
Before the
Covid
-19 pandemic, worshippers flocked to place joss sticks before a painting of the Great Immortal Wong, hoping for good luck for the year ahead.
People usually queued cheek by jowl for hours so that they could be the first to offer their incense sticks at the main altar. Folk wisdom is that those who make the first offering receive the most blessings.
An hour before Saturday's ceremony began, hundreds of people lined up to make their offerings. However, the turnout was relatively smaller than before the pandemic.
Some worshippers said they had managed to catch up with the early bird group despite arriving after 8pm, an unlikely occurrence at events more than two years ago.
The arrivals carried joss sticks and pinwheels, symbolising good luck, as well as toys and lanterns resembling rabbits to mark this year's zodiac animal.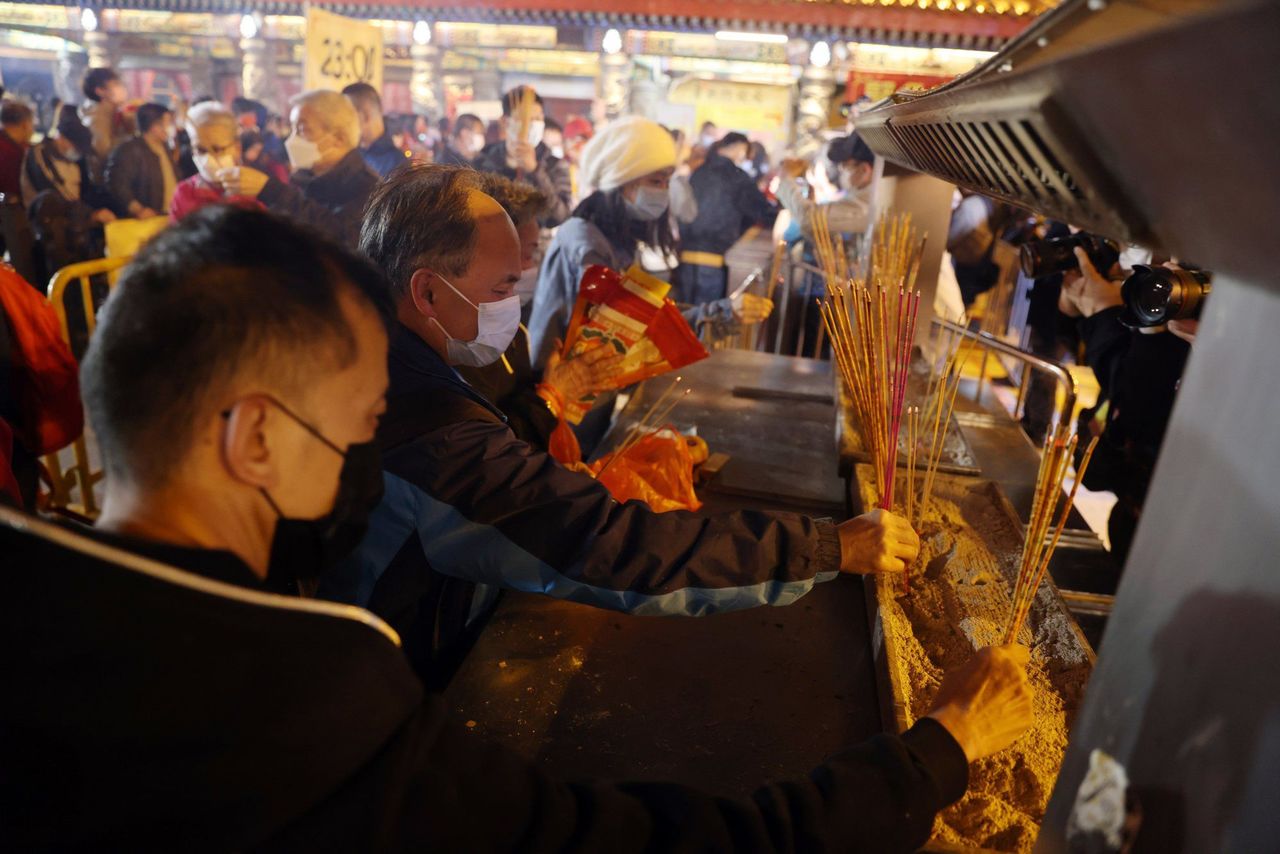 Worshippers burn joss sticks in the hopes of securing good fortune throughout the Year of the Rabbit.

"When I first moved to Hong Kong, I knew about this [event], and I always wanted to do it," said Zac Marcone, a researcher at Chinese University.

But the 25-year-old said it had been "impossible to come here" during the three years he had lived in Hong Kong due to the suspension.

"It feels great. Everyone has been very helpful. I accidentally burned the incense sticks too early, but everyone helped me to get some new ones," he added.

This year police have implemented crowd safety management measures and special traffic arrangements from 7am on Saturday to 1am on February 6 to ensure the safety of the public and smooth traffic flow around the temple.

A section of Sha Tin Pass Road between Lung Cheung Road and Fung Tak Road will be reserved for minibuses, while the Wong Tai Sin Public Transport Terminus Car Park will be closed during the period.

Vehicles are also forbidden to park or stop at a section of Wong Tai Sin Road between Sha Tin Pass Road and Nga Chuk Street.

"Police will continue traffic enforcement action during the Lunar New Year period, including multiple ticketing or towing away illegally parked vehicles without prior warning," the force said on Friday.

Police also said they would adjust such measures according to traffic and crowd conditions and that the public should exercise patience and heed officers' instructions.