Chief executive vows to look into minimising inconvenience for arrivals and reducing seven-day hotel quarantine.
Hong Kong will not return to tougher Covid-19 control measures previously in place for arrivals, the city's leader has said, despite health authorities warning of a rising trend in coronavirus-related hospitalisations and severe cases.

Chief Executive John Lee Ka-chiu, however, vowed on Wednesday that the administration would not let caseloads continue to rise, and a source familiar with government policy said a previous requirement, under which overseas travellers had to undergo an extra polymerase chain reaction (PCR) test on the third day of arrival, would resume. The measure would come into effect on July 8, the source said.

Lee, at his first question and answer session in the Legislative Council, said: "We should surround the trees that are sick instead of those which are not. One of the goals is to deal with the days for quarantine … it is inappropriate to go back to some very stringent measures."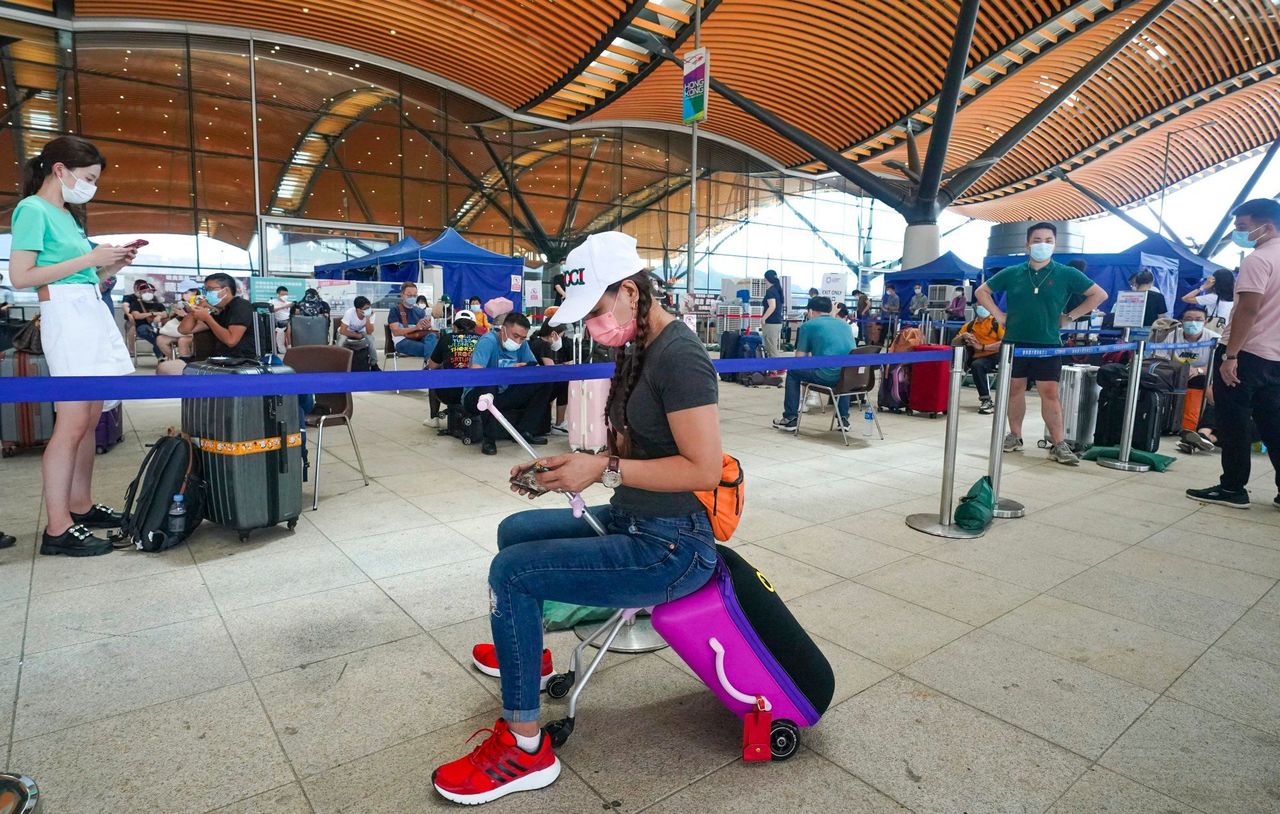 An outbound traveller waiting to get tested for Covid-19 at the Hong Kong-Zhuhai-Macau Bridge.

He said the authorities would use precise methods to screen out uninfected international travellers and minimise inconvenience, as well as look into how the existing seven-day hotel quarantine could be shortened.

Health authorities on Wednesday reported 2,815 coronavirus infections, including 143 imported cases. One additional virus-related death was recorded. The city's overall coronavirus tally stands at 1,258,840 infections, with 9,406 related fatalities.

Health officials noted an upwards trend in the number of severe cases and hospitalised patients with Covid-19 in past weeks, and warned about the possibility of reinfections caused by new subvariants.

Dr Gladys Kwan, chief manager of the Hospital Authority, said the daily number of newly hospitalised cases had dropped from around 70 in early May to about 30 in early June, but the figure had recently rebounded to more than 100.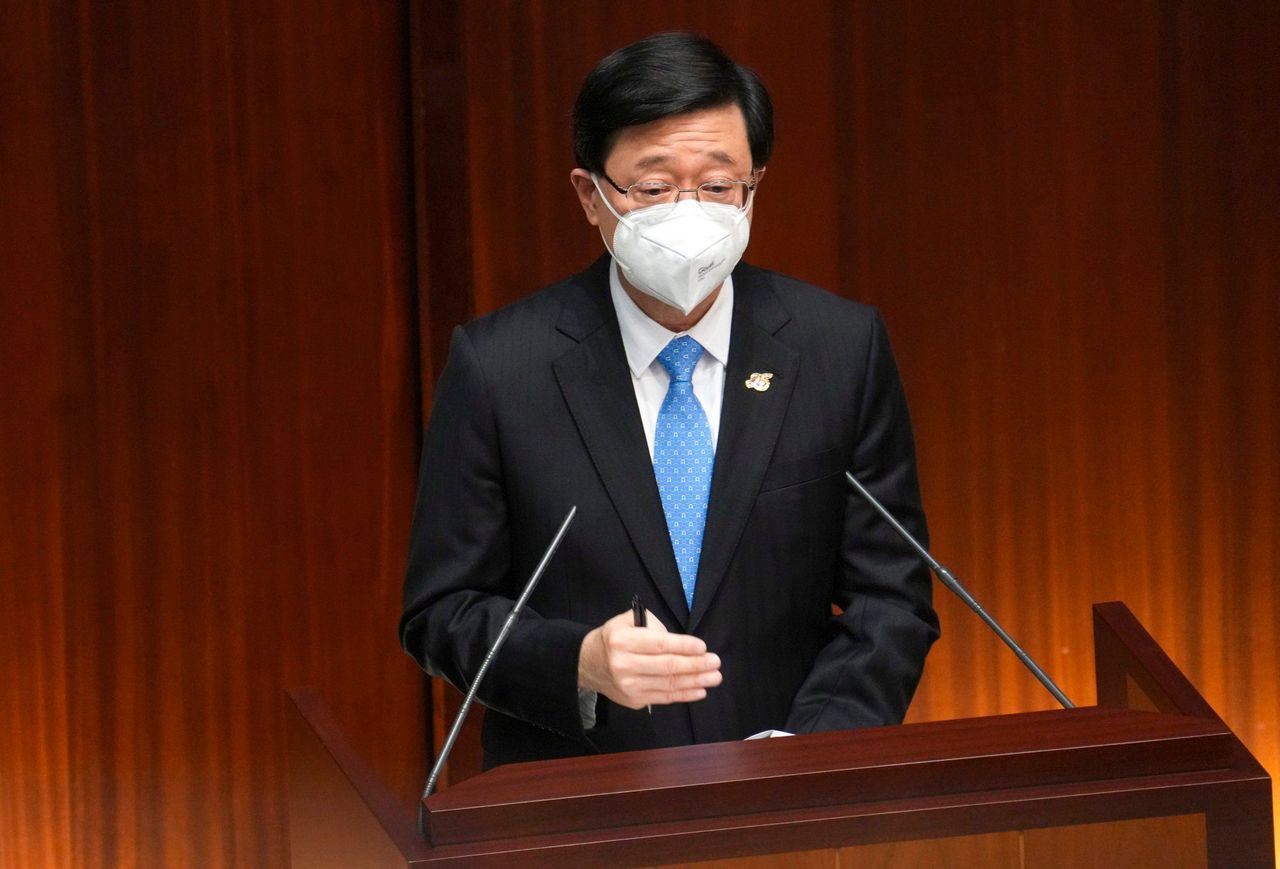 Chief Executive John Lee attends his first question and answer session as the city's leader.

She said the number of Covid-19 patients in public hospitals had risen from 400 in June to 830 as of Wednesday, while those in a serious or critical condition had increased from 20 to 30.

"Although we can still handle the current situation, we are worried that public institutions may face more pressure if the caseload rises massively," she said.

But Kwan said they did not set indicators for suspending certain services to free up manpower for Covid-19 patients, adding that they would look at the overall situation.

Health authorities also uncovered 22 suspected cases of Omicron subvariants BA.4 and BA.5 and 19 suspected BA.2.12.1 infections.

"We can see the proportion of BA.4 and BA.5 local cases [among overall daily infections] has been rising. On June 21, the proportion was 0 per cent. It is almost 1 per cent now," said Dr Chuang Shuk-kwan of the Centre for Health Protection said.

"It is likely that the subvariants are relatively more transmissive. We are also worried about possible reinfections. We will continue to monitor the situation."

A source familiar with the government's internal assessment said the subvariants might undermine the local epidemic situation as overseas experience had shown people who had caught Covid-19 before were being reinfected.

A total of 239 cases were reported at 209 schools. Ninety-six schools had two or more infections in the past seven days.

The total number of cases in a cluster linked to Hong Kong Buddhist Hospital in Lok Fu had risen to 14 as nine patients from the same ward and a cleaner were infected.

Lee, meanwhile, told lawmakers he disagreed with criticism that the city was "lying flat", or tang ping in Mandarin, mainland Chinese slang referring to those idling.

"We cannot let infection numbers continue to rise," he warned, pointing to the burden on the healthcare system and the impact on high-risk residents such as the elderly and chronically ill patients.

But Lee added that the city had to strike a balance between risks and needs based on scientific evidence, and achieve the most impact at the lowest cost to society.

Using PCR tests at an earlier stage more effectively to exclude people who were not infected was one of the proposed measures, he said.

"This could exempt them from tough restrictions, so they can work and live normally as soon as possible," he added.

Currently, incoming travellers are required to undergo PCR tests 48 hours before boarding, at the airport on arrival and on their fifth, ninth, and 12th day in the city. They also have to do daily rapid antigen tests during the quarantine period.

Lee said the government would also make use of technology for quarantine to minimise inconvenience caused to both local residents and incoming travellers. The health minister was reviewing relevant data to decide to what extent the quarantine period could be shortened, Lee said.

With the city maintaining one of the toughest quarantine systems in the world, arrivals are required to undergo one week of isolation at a designated hotel. The same duration also applies to close contacts of local confirmed cases who have to be isolated at home.

On reopening the border with the mainland, Lee said he understood Beijing's concerns as Hong Kong was still logging about 2,000 Covid-19 cases daily.

He pledged to communicate with mainland authorities to build mutual trust and consider the interests of both sides, and to come up with a plan under which both parties could meet each other halfway.

"[We have] to ensure that the risks are controllable and traceable, and both sides can feel at ease. We hope to explore ways to minimise inconvenience to residents, and will see if there are possible interim measures. This is a pragmatic way of doing things," he added.

Lee said, for example, the health bureau had been actively engaging mainland authorities, which recently agreed to increase the quota for quarantine hotels across the border from 1,300 to 2,000 rooms for city residents returning there.

Hongkongers going to the mainland must undergo seven days of quarantine at a government-designated site and isolate at home for three more days.

Gilman Siu Kit-hang, associate professor at Polytechnic University's health, technology and informatics department, said BA.4 or BA.5 gaining ground or becoming the dominant strain in Hong Kong would not thwart efforts to reopen the border with the mainland.

"China has just recorded a few cases of BA.5 itself in Xian, so the threat is from the entire world but it has still cut quarantine recently to seven days in a government site plus three days at home," Siu said.

He said that although the more transmissible BA.4 and BA.5 strains could lead to reinfections in those who previous were infected with the Omicron BA.2 subvariant during the recent fifth wave of cases, Hongkongers could get more lasting protection from a booster shot, or better from a Omicron-targeting vaccine, such as those from BioNTech or Moderna, which were likely to be available later this year.