'We're top four in the world, and all three of us are home-grown talent,' says world No 15 Doo Hoi-kem after leading team through to Olympic semi-final against second seeds Japan.
Hong Kong's athletes have already made history at the Tokyo Olympics and on Monday it was the turn of the women's table tennis team to write their chapter.

A 3-1 victory over Romania in the quarter-finals means that on Tuesday Hong Kong will be represented in the last four for the first time and a medal of any colour is within the team's grasp.

It was another golden day for China too, with more Olympic success in weightlifting (two), shooting, gymnastics and women's cycling, with the track cyclists setting a new world record in the team sprint.

China now has 29 golds in total, and could realistically finish with 35 by the end of the Games, easily beating Rio 2016's haul of 26, but behind their record 48 at Beijing in 2008.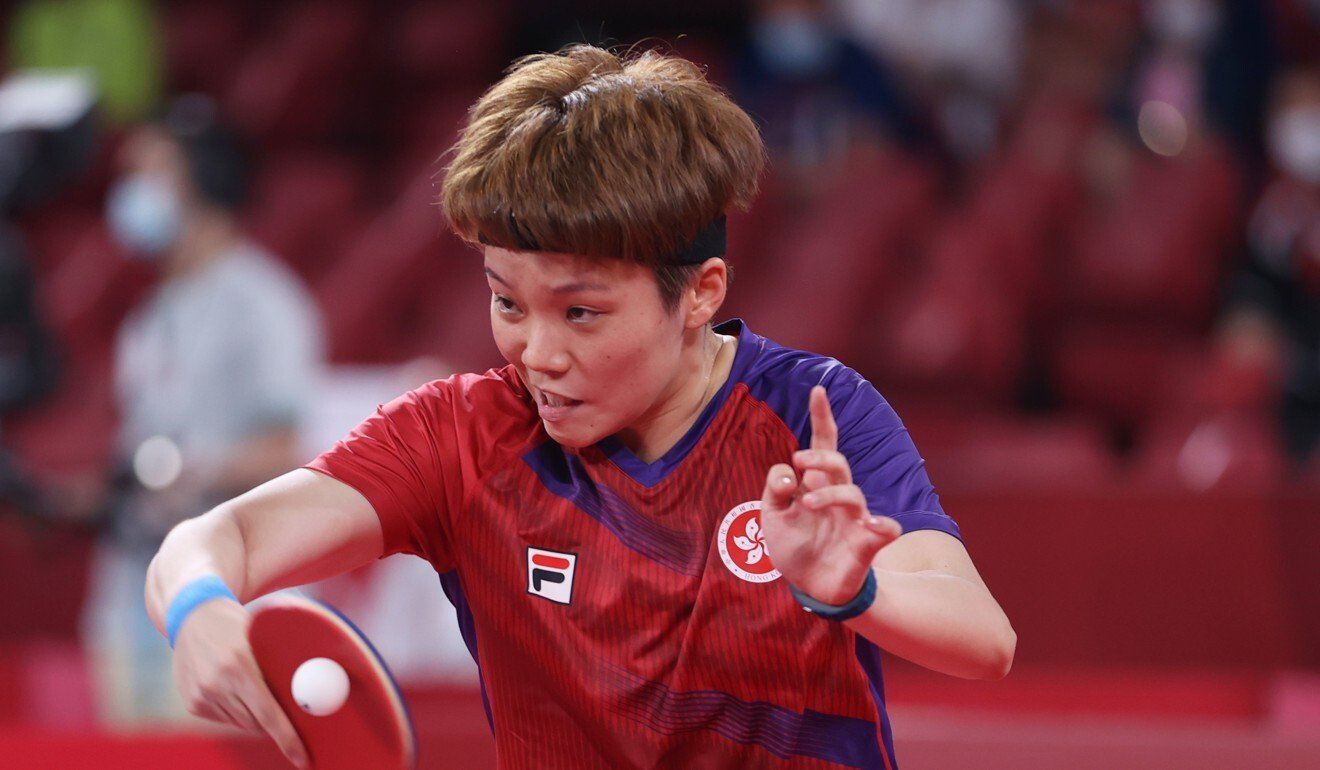 Doo Hoi-kem leads Hong Kong to victory over Romania in the women's team table tennis quarter-finals in Tokyo.

But for Hong Kong, all eyes are on the home-grown trio of Doo Hoi-kem, Lee Ho-ching and Minnie Soo Wai-yam. The fourth seeds face second seeds Japan in the semi-finals to start what officials hope will be another glorious week, with Grace Lau Mo-sheung and Sarah Lee Wai-sze still to compete, in kata karate and track cycling respectively.

For Doo, who won both her singles games, the significance of the day could not be overstated, and the 24-year-old hoped having a team of Hongkongers would inspire the next generation.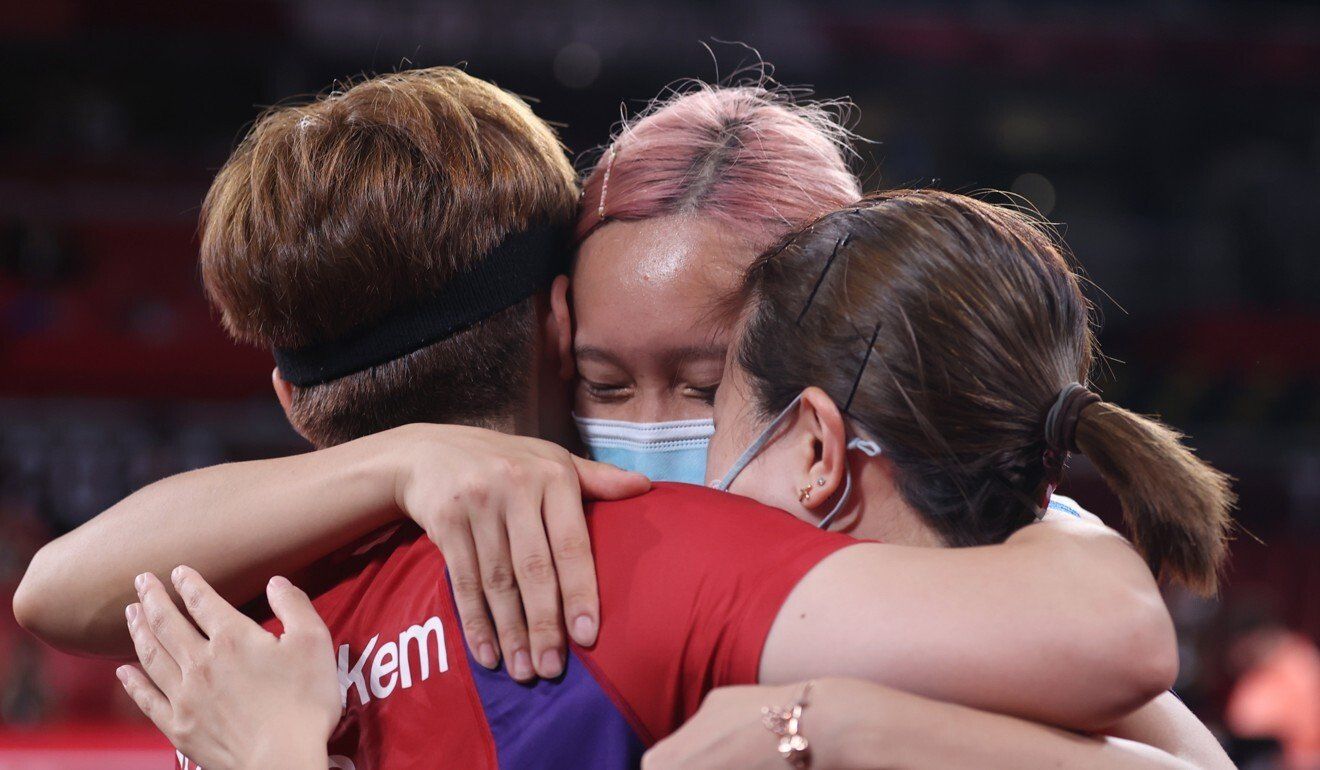 Doo Hoi-kem, Minnie Soo Wai-yam and Lee Ho-ching embrace after winning through to the semi-finals.

"We're top four in the world, and all three of us are home-grown talent," world No 15 Doo said. "Before, many mainlanders represented Hong Kong, and it's been the hard work of many generations to bring us to here today.

"I hope the younger generation can be inspired and see hope in us," said Doo.

Lee's triumph in her singles match against Elizabeta Samara was something of a coming-of-age win after her loss to Caroline Kumahara, of Brazil, in the previous round, and the mistakes she made in the opening doubles defeat alongside Soo on Monday.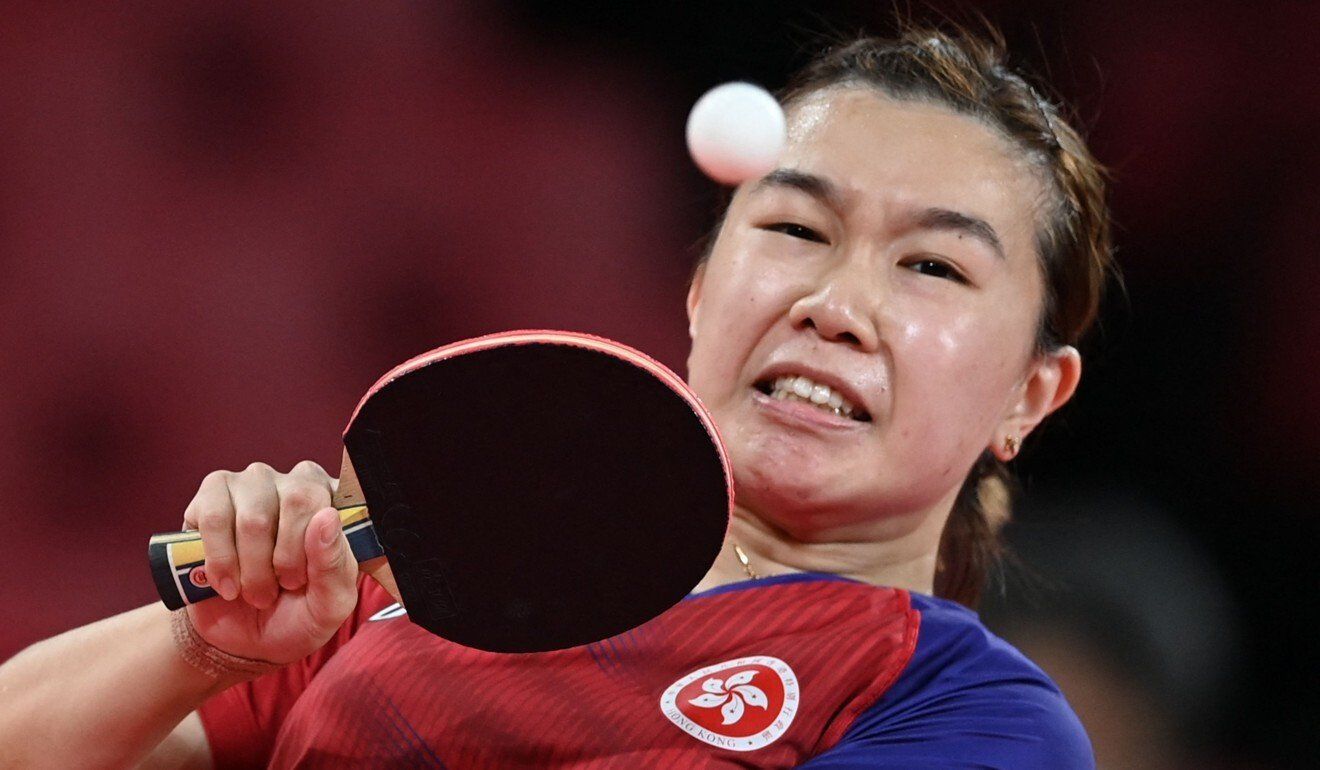 Lee Ho-ching digs deep to beat Elizabeta Samara in the team quarter-final.

Coach Li Ching had described the Brazilian player as "ordinary", and Lee's performance "not up to standard", but the Romanian is the European champion.

"I'm very excited and emotional," said 28-year-old Lee, who is ranked 45th in the world and is appearing at her third Olympics. "Before I was led by the senior players and sometimes I avoided facing the tough task and relied on them. I could not avoid it today, and I'm so happy to have won."

Li knows a thing or two about success – he and partner Ko Lai-chak won silver in the men's doubles in Athens in 2004 – and he vowed the women, who will be the underdogs against Japan, would not "give in without a fight".

"It will not be easy for the girls," he said. "I hope we can win a medal this time and even if we lose in the semi-finals, we can still win the bronze medal match … and will make use of our team spirit."

The two remaining quarter-finals will be played on Tuesday morning, with top seeds China playing Singapore and South Korea facing Germany. The winners of those games will face off on Wednesday morning.

With 18 golds in total up for grabs on Monday, China (29) grabbed almost a third of them, bursting clear of the USA (21) and Japan (17) at the top of the table.

The highlight came from weightlifter Li Wenwen in the women's +87kg category, where she lifted an Olympic record of 320kg (140kg in snatch and 180kg in the clean and jerk). Both are also Olympic records).

Li, 21, had already made herself known when the 150kg weightlifter from Anshan in northern China posted a picture of herself sleeping on the floor in her room at the athletes' village, fearing the cardboard bed may not be able to sustain her weight.

Organisers introduced the recyclable beds, designed to withstand 200kg in weight, as part of the Games' sustainability plan.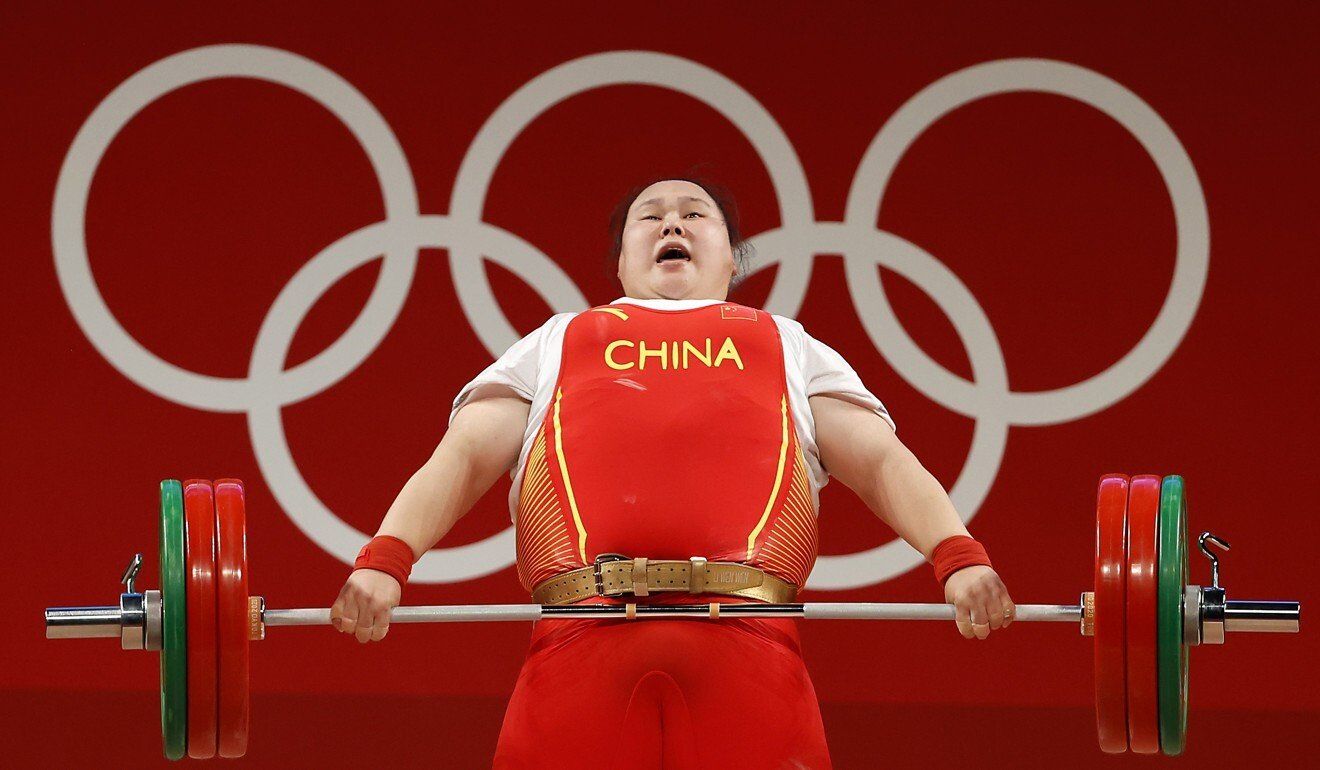 Li Wenwen breaks three Olympic records, including lifting 140kg in the snatch portion of the women's +87kg gold medal event.

The +87kg competition also featured New Zealand transgender weightlifter Laurel Hubbard, who finished last after failing in all her lifts. She flashed a heart sign to the cameras as she left the podium.

China's other gold medal winners were weightlifter Wang Zhouyu in the 87kg category; track cyclists Zhong Tianshi and Bao Shanju in the women's team sprint; gymnast Liu Yang in the men's rings; and shooter Zhang Changhong, who set a world record in the men's 50m rifle 3 positions final.