'You really changed my life by trusting that I would still be able to compete at the Olympics,' says Hayley Chan Hei-man of former coach Rene Appel after solid finish in Enoshima Yacht Harbour.
Hong Kong's Hayley Chan Hei-man finished eighth in the overall women's RS: X fleet after an impressive seventh-place finish in the medal race final in the Enoshima Yacht Harbour on Saturday.

The 30-year-old secured her best-ever Olympic performance after narrowly qualifying for the final two days earlier. The double points showdown allowed Chan, who finished 12th in her Games debut in London 2012 despite having being hospitalised weeks beforehand, to maintain her placing after the 12 regular races throughout the week. She finished on 95 net points, just two behind Danish compatriot Laerke Buhl-Hansen.

Chan individually thanked all the coaches – especially former Hong Kong windsurfing head coach Rene Appel and incumbent Chan King-yin – who helped her throughout her career in what is likely to be her final Olympic outing. She said in the lead-up that she was ready to think about coaching and starting a family.

"Thanks to all my coaches for believing in my Olympic dream. Everyone has really taken care in this circle. Rene, I really want to thank you, even though you're not in Hong Kong at the moment and you're sailing around the world. You really changed my life by trusting that I would still be able to compete at the Olympics, even though I had that accident. Thank you for passing me onto Ah Ying [Chan] because he has definitely changed my life," Chan said after the race.

"Thanks to Ah Ying, although he can get on my nerves, but I really feel he has helped me realise my dream to get to the Olympics.

"We learned step by step and I've learned so much about myself. Thanks for helping me on this path, and you giving 100 per cent at every training, maybe your hunger is even bigger than mine. And thanks to the Hong Kong people."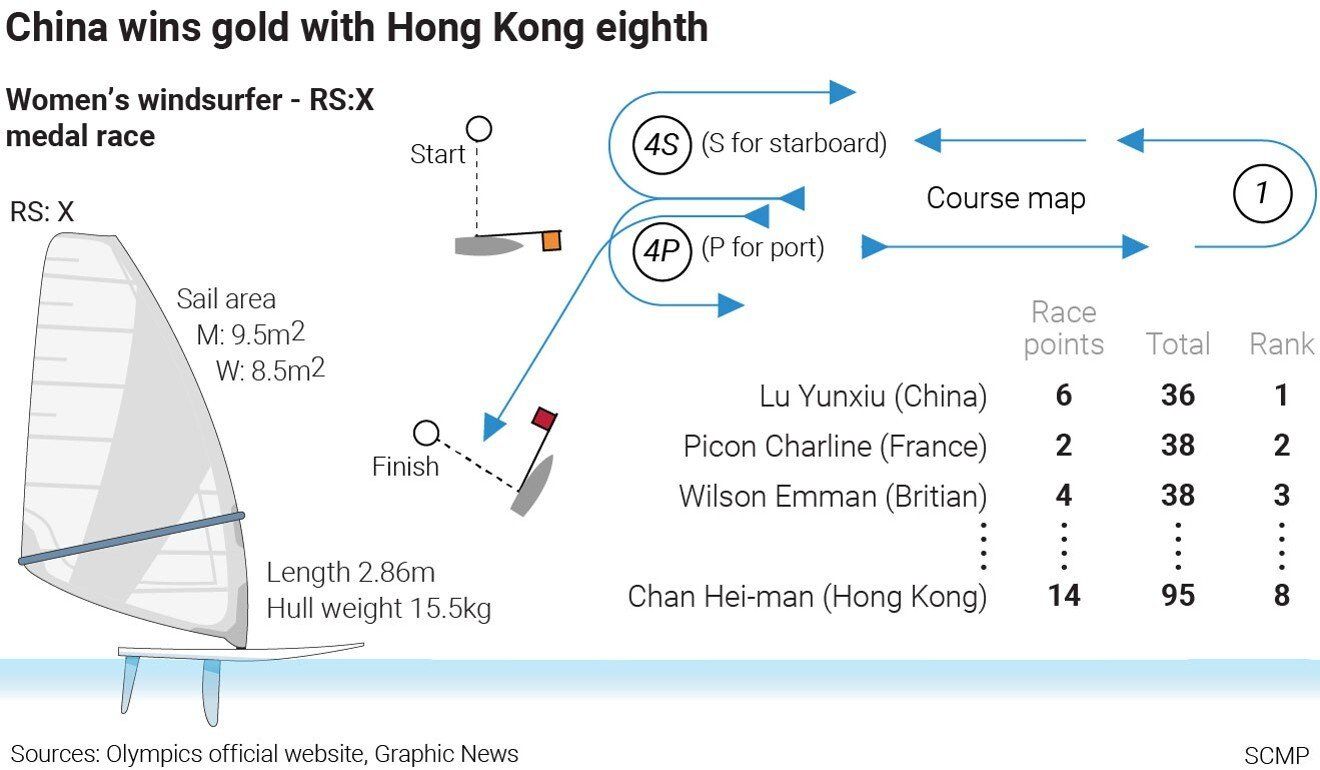 How they finished

China's Lu Yunxiu won the gold medal after a solid third-place outing in the medal race, while Charline Picon, of France, and Emma Wilson, of Great Britain, finished with silver and bronze, respectively.

The 25-year-old Lu became only the second Chinese athlete to win in the category, after Yin Jian at the 2008 Beijing Games. The Chinese women also won silver at Rio 2016 (Chen Peina), Athens 2004 (Yin) and Barcelona 1992 (Xhang Xiaodong).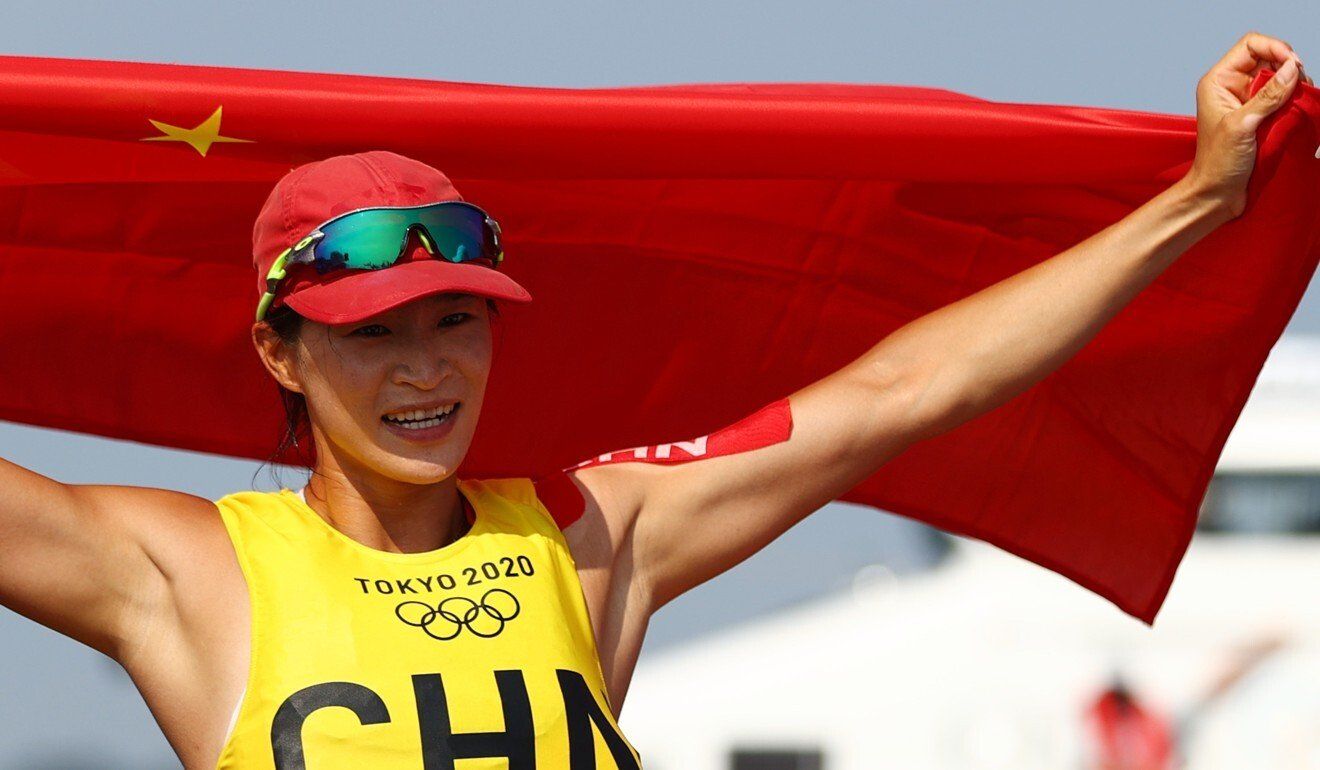 Lu Yunxiu, of China, celebrates after winning gold in the women's RS: X windsurfing medal race.

Hong Kong's own Lee Lai-shan, who was coached by Appel, famously became the city's first Olympic gold medallist after clinching gold at the 1996 Atlanta Games.

Hong Kong men's representative Michael Cheng Chun-leung did not make the final round, finishing 13th overall, a drop from his eighth-place finish at Rio 2016.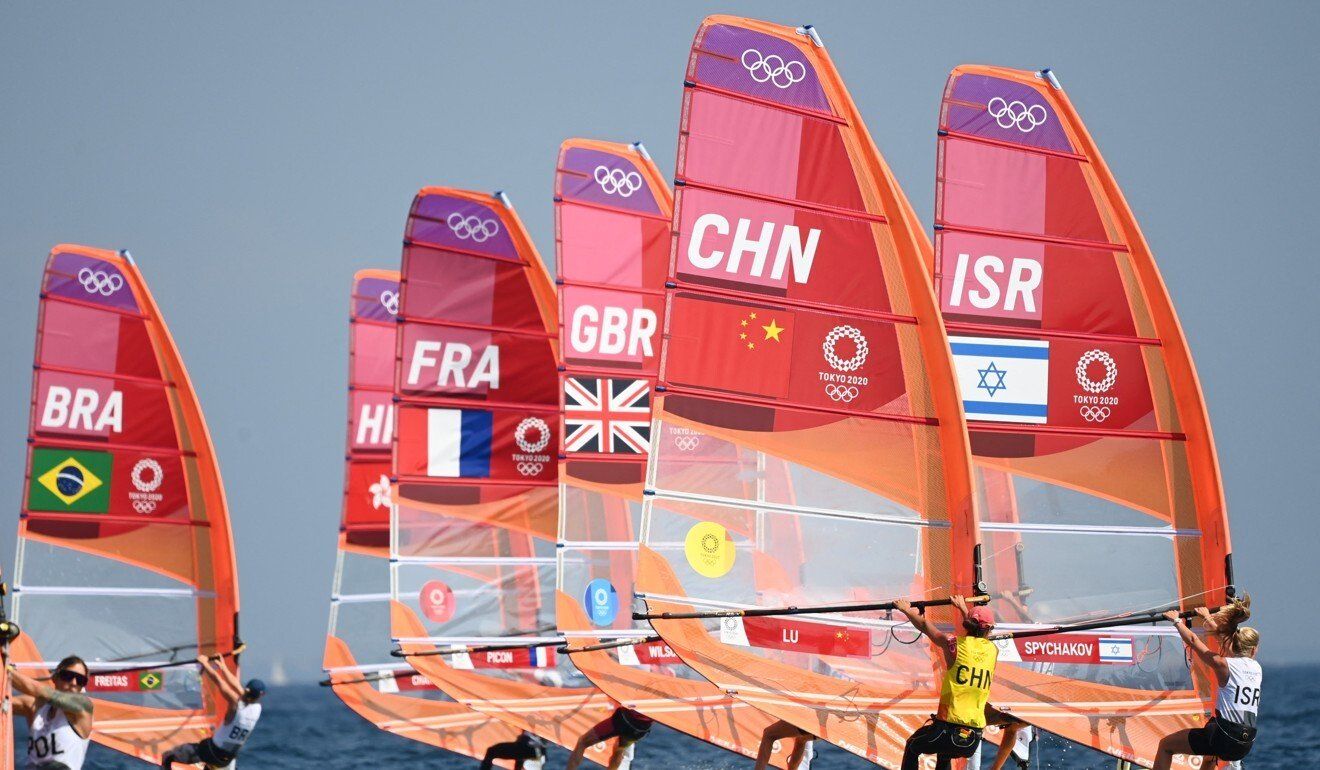 Competitors in the women's windsurfer RS: X medal race.

The world governing body already decided to replace RS: X with new sailboarding edition, iFoil, for the 2024 Paris Games.