Many among the elderly are unsure how to use the government's online self-reporting platform, others find the scheme futile.
Hong Kong began a three-day voluntary mass coronavirus testing exercise on Friday amid a fifth wave of infections, but resistance and challenges had already surfaced.

Some among the elderly lamented it as pointless since they were "dying anyway", while a community group said it expected many to not know how to make a report online should they test positive for Covid-19.

In the lead-up to the three-day exercise that started on Friday, the Society for Community Organisation reached out to thousands of seniors and taught them how to use rapid antigen test (RAT) kits. WhatsApp videos were also put together for the more tech-savvy ones to view on their smartphones.

However, reception among the elderly has been mixed.

Sze Lai-shan, the organisation's deputy director, said the government's self-reporting platform could be a stumbling block for elderly people unfamiliar with technology.

"If they test positive, they may have to call us and we have to see how to help them submit their information online," she said. "Of course, there are elderly people who don't want to do the tests, some don't even want to wear masks anymore. Others may feel all this is too troublesome, since they are dying anyway."

The mass testing scheme is voluntary, and residents who test positive can choose to register their results online. People without internet access or who do not know how to use the platform can call a 24/7 hotline for support at 1836 119.

Still, Sze said there were some elderly residents who were taking part in the drive since they had already received free rapid tests in the government's anti-epidemic service bags.

Authorities have been distributing the bags to some 3 million households since last Saturday. Each bag contains 20 rapid tests, 20 KN95 masks and two boxes of proprietary traditional Chinese medicine.

But not every resident living in subdivided units has gotten them, and some complained only one pack was provided for a whole unit that housed different families, according to Sze.

That meant those Hongkongers would have to go to other designated centres to collect their packs instead, she said.

Housewife Siu Fun, who lives in a subdivided unit with her family of six in Sham Shui Po, said she had not received one of the packs, and had repeatedly tried ringing a hotline, but to no avail. However, the 38-year-old and her family were still taking part in the exercise at their own cost, which Siu described as a "huge" expense given they were unemployed.

"It costs HK$50 a day for the five of us, excluding my 10-month old son. Some organisations gave us a few RAT kits but those were used up quickly," she said, adding that their test results were negative so far.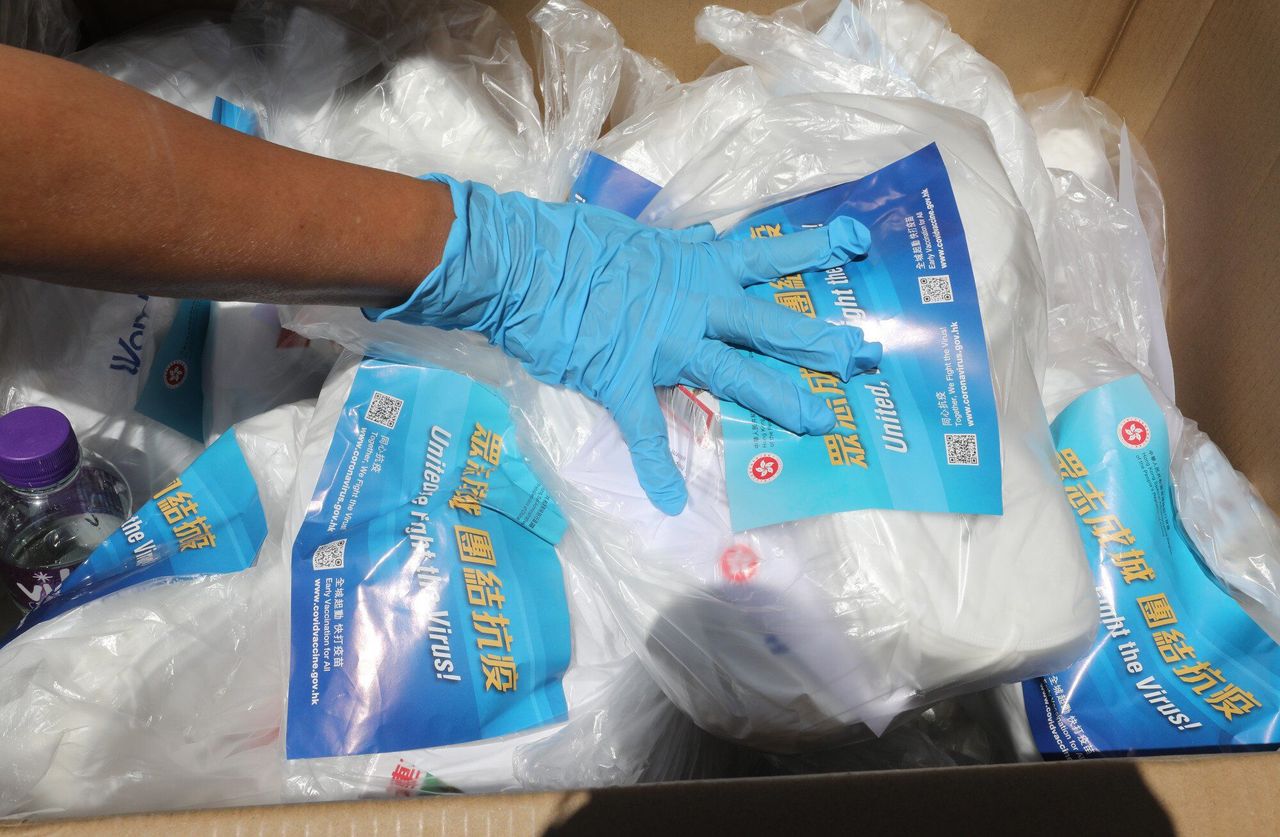 Each anti-epidemic service bag contains 20 rapid tests, 20 KN95 masks and two boxes of proprietary traditional Chinese medicine.

Chief Executive Carrie Lam Cheng Yuet-ngor last week called on Hong Kong residents to test themselves from April 8 to 10 using the kits delivered to their homes, and to report any infections to authorities within 24 hours.

The city leader said the voluntary at-home RAT scheme would provide a snapshot of how many Hongkongers were infected, while also identifying asymptomatic cases and cutting off transmission chains.

But Lam also stressed that she had not given up on plans to possibly mandate universal testing in the future.

Dr Albert Au Ka-wing, a principal medical and health officer at the Centre for Health Protection, recommended people conduct the RAT tests as soon as they woke up in the morning, as mucus that developed overnight would ensure the sample collection was accurate.

"In general, for recovered patients, they don't have to participate in daily RAT tests again," Au said, noting they would still have immunity against the coronavirus. "But if you show symptoms again, do a test and see a doctor."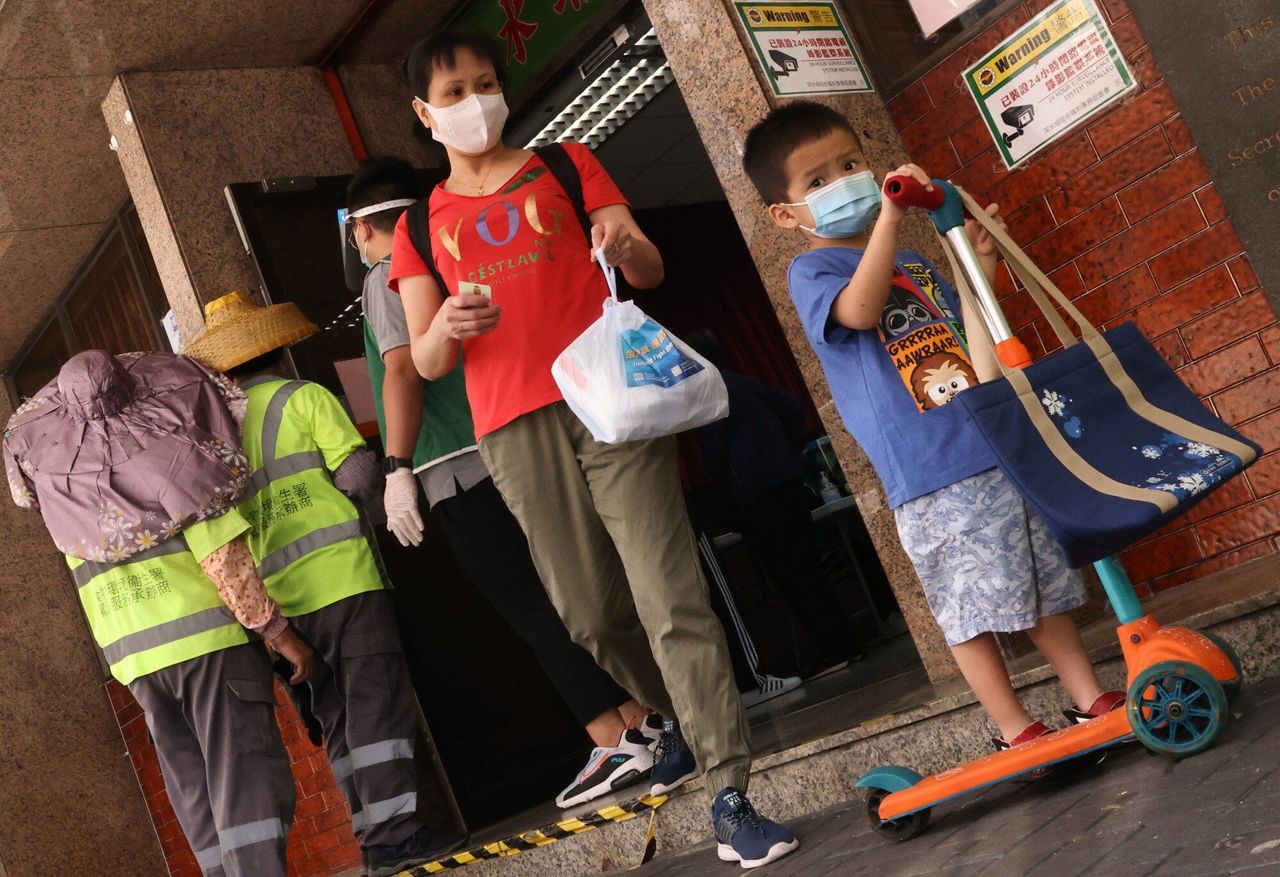 People pick up their anti-epidemic supply kits at the Sham Shui Po Kaifong Welfare Association on Thursday.

Hongkongers, meanwhile, appeared to have mixed feelings about the scheme.

A teacher who gave her name as YC Cheung said she would not be joining the three-day exercise as she tested herself frequently.

"I've already been doing those tests regularly every third and fourth day after going out as a way of protecting my dad, who lives with me and who cannot get vaccinated yet due to a recent heart surgery," she said.

"Those days happen to fall on April 7 and 8, which is close to the government schedule. I don't see the point of doing it again on April 9 and 10."

She also said she was not convinced how figures from the mass testing would help the government gauge the situation, given that the rapid test results might not be accurate.

Civil servant Alice Cheung was also undecided on whether to join the exercise.

"It is indeed convenient since the kits are delivered to your doorstep for free. I don't mind doing that, but I don't understand why we have to do it three days in a row. That's troublesome. I'll think about it," she said.

Simon Wong Ka-wo, president of the Hong Kong Federation of Restaurants and Related Trades, said the voluntary testing scheme should not be a hassle for restaurant operators, some of whom were already getting employees to take rapid tests every day before reporting for work.

"I don't think 100 per cent of catering staff will take the tests, but we would encourage them to do so anyway as a precautionary measure," he said, adding that the test kits provided in anti-epidemic packs should help employers struggling to afford them for their staff.