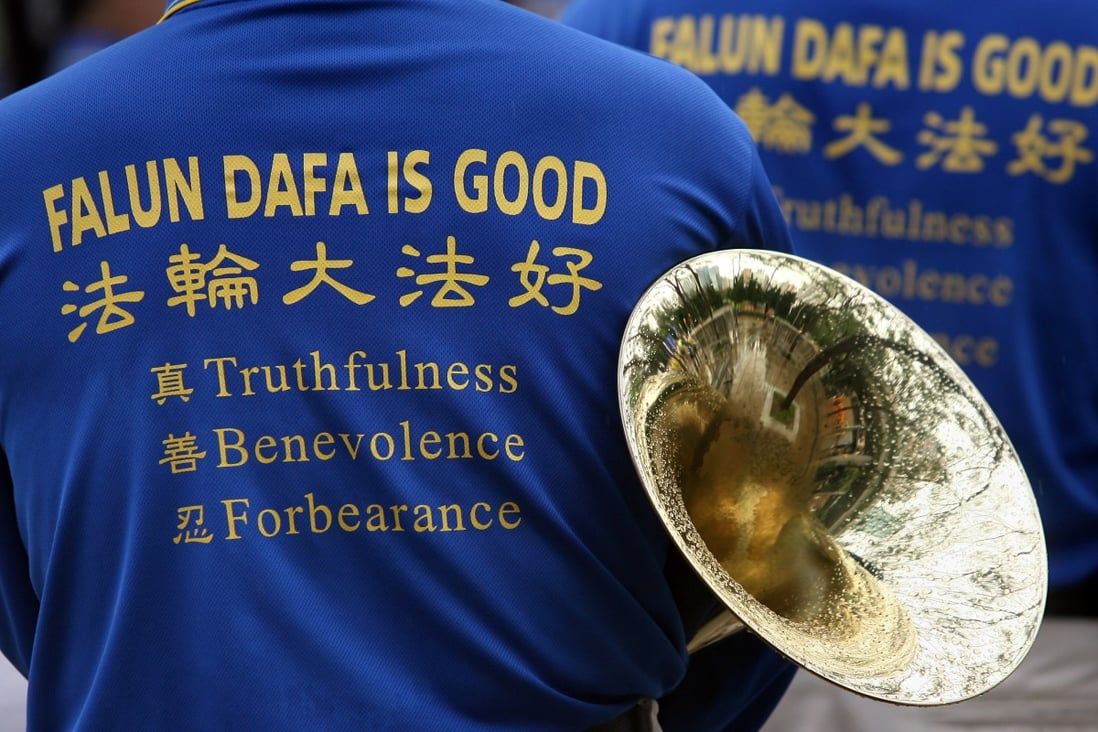 Hong Kong vigilante given suspended sentence for damaging Falun Gong property
Hu Aimin sentenced to two weeks in jail, suspended for 2½ years, for vandalising posters and advertising material.
A Hong Kong court on Thursday imposed a suspended jail sentence on a man for vandalising Falun Gong posters and advertising material, after rejecting his assertion his acts of vigilantism were allowed under the national security law.

West Kowloon Court sentenced Hu Aimin to two weeks imprisonment, suspended for 2½ years, on five counts of criminal damage over the disturbance he caused at four Falun Gong street booths between December 13 and 20, 2020.

The 47-year-old jobless man stood trial in August when he contended he felt obliged to "safeguard national security" by protecting people from being "poisoned" and "incited" by the "secessionist" messages of the spiritual movement.

But Magistrate Li Chi-ho said in his verdict last month Hu had taken the law into his own hands and had used the Beijing-decreed legislation as an excuse.

The trial heard Hu had damaged 16 banners, five flags, 19 foam placards and a computer rack worth a total of HK$15,000 (US$1,921) over an eight-day span.

The defaced banners contained slogans such as "Heaven obliterates the Chinese Communist Party", as well as accusations that the party had illegally removed the internal organs of Falun Gong members.

At one point during the proceedings, the defence asked the court to take into account a statement from pro-Beijing legislator Priscilla Leung Mei-fun in her purported capacity as "an expert of the national security law", a request which was ultimately turned down.

Hu, who moved to Hong Kong from mainland China in 2011, argued the Falun Gong was "a tool to secede from China" and represented "an element of social instability".

He referred to Article 6 of the national security law and said everyone had a duty to protect the country's safety.

But Li dismissed the argument as sophistry, saying the provision did not empower residents to displace the role of law enforcement, adding that logic would mean one could kill someone he believed to have transgressed the new legislation and use it as a defence.

On Thursday, Li said the accused did not understand the law correctly, noting he had told a probation officer he still believed what he had done was justified.

The magistrate highlighted Hu's "complete lack of remorse" and his not guilty plea in refusing to settle the case with a fine.

"While your patriotism deserves respect and credit, it cannot be an excuse for doing whatever you want," Li told the defendant. "The sentence, therefore, needs to have a deterrent effect so as to prevent you from reoffending."

Falun Gong started demanding legal recognition and the freedom to organise its activities as its followers grew but Beijing labelled the group a "heretical organisation" and banned it outright.

Outlawed and branded a cult in mainland China, the Falun Gong have been in Hong Kong for 25 years, drawing followers who practise a mix of meditation, slow martial arts movements and breathing exercises.

The local chapter, registered in 1996, has set up prominent street booths across the city accusing Beijing of persecution and joined other civil society groups taking part in the annual march on July 1, a major demonstration that coincides with the anniversary of Hong Kong's return to China in 1997.

Pro-Beijing politicians have accused the organisation of seeking to subvert state power and demanded law enforcement take action.