Details of new policy to be announced next week, Dr Chuang Shuk-kwan of the Centre for Health Protection says.
Hong Kong's leader has confirmed officials are hatching plans to include five- to 11-year-olds in the city's Covid-19 vaccine pass scheme, as a top minister has also revealed that a major NGO will join the government's effort to boost the inoculation rate among the elderly.

Chief Executive John Lee Ka-chiu, confirming an earlier report from the Post, on Thursday said the vaccine requirement could help prevent children from developing severe coronavirus symptoms.

"We are indeed thinking about boosting vaccination, especially targeting children, where data have clearly shown that inoculation is beneficial to reducing severe and fatal cases," he said.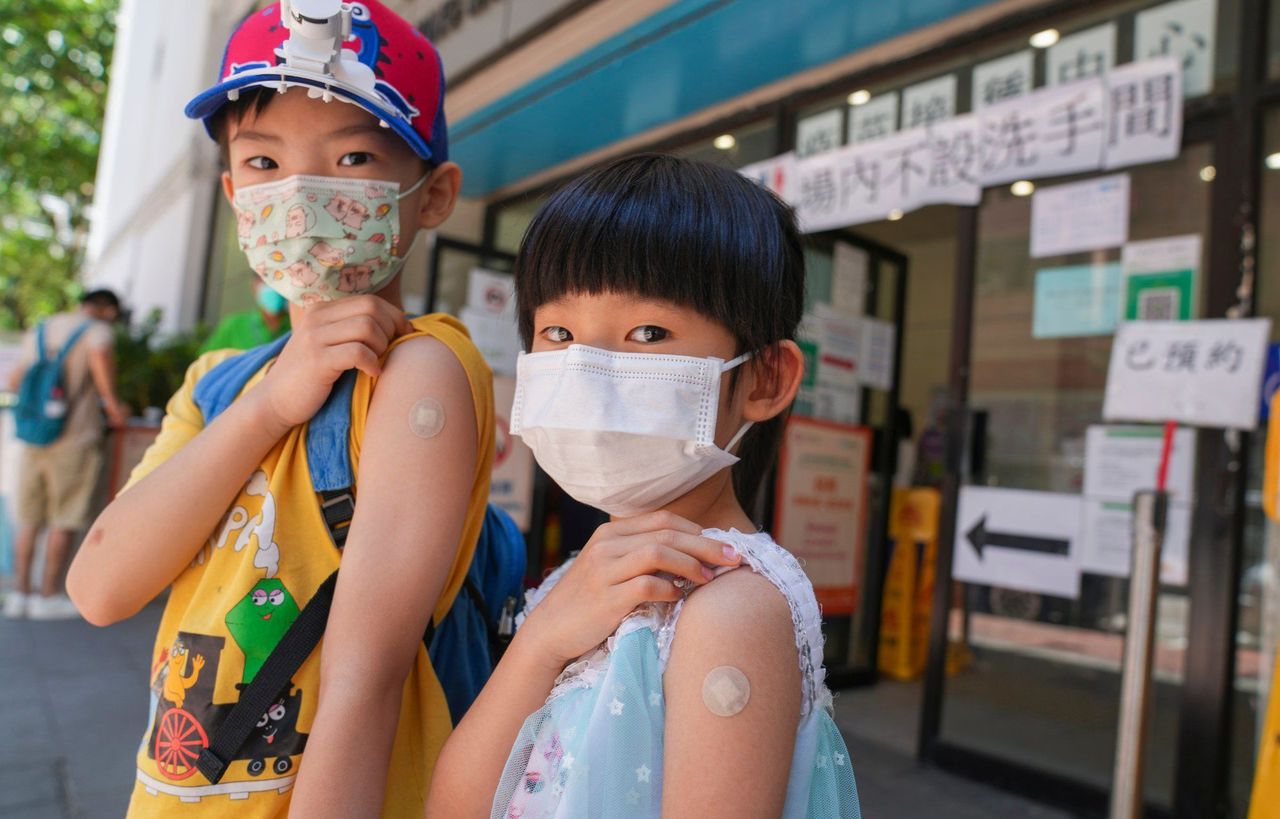 An updated vaccine pass would require children aged 5 to 11 to have had two doses of a Covid-19 vaccine to dine out and enter certain premises.

The updated vaccine pass will require children aged 5 to 11 to have had two doses of a Covid-19 vaccine to dine out and visit most government and business premises, a source had earlier said.

Dr Chuang Shuk-kwan of the Centre for Health Protection said details of the new policy would be announced next week, adding that children would have a two-month grace period to get vaccinated before the measure came into force.

The development came as Hong Kong's daily coronavirus tally reached 10,586 infections, the first time a five-digit figure had been logged in more than five months.

Dr Lau Ka-hin, a chief manager at the Hospital Authority, said it was important to inoculate children against the virus and highlighted that a 15-month-old unvaccinated girl was being treated in intensive care at United Christian Hospital after she came down with Covid-19.

Secretary for the Civil Service Ingrid Yeung Ho Poi-yan also encouraged parents to vaccinate their children during an earlier briefing on Thursday.

"As for lowering the vaccination age threshold for the vaccine pass, we will consider all measures that can boost the vaccination rate. The relevant department is considering that measure," said Yeung, who is in charge of the city's inoculation drive.

With local Covid-19 cases surging again, Yeung also announced that 32 more private clinics would offer coronavirus vaccinations, with half providing Sinovac shots and the other half BioNTech jabs.

The minister also revealed that the Senior Citizen Home Safety Association, the operator of a 24-hour "safety phone" call service for the elderly, would contact its users and appeal to them to get vaccinated.

"We believe NGOs, which are often seen by the elderly as reliable and trusted partners, can help convince them of the importance of vaccination and remove some of their doubts," Yeung explained.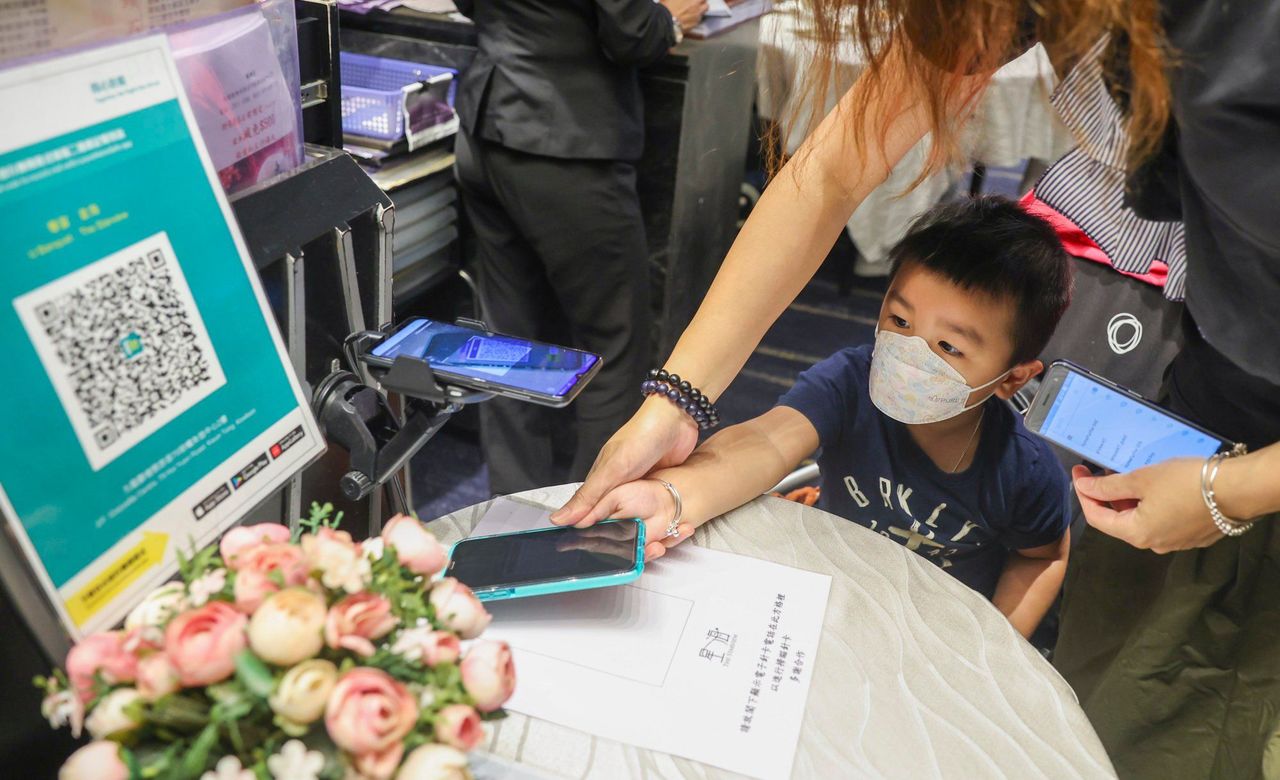 Officials are hatching plans to include five- to 11-year-olds in the city's Covid-19 vaccine pass scheme, John Lee has confirmed.

She said about 30 per cent of people aged over 80 were still unvaccinated. For children between the age of six months and three years, the take-up rate of the Sinovac vaccine, which became available to them four weeks ago, was just over 11 per cent.

"I hope through these different channels, family members, neighbours and the community can all persuade one another to get vaccinated," Yeung said.

The government said later that its vaccination outreach services for residents at care homes for the elderly and the disabled would continue until the end of this month.

Authorities said they had increased booster jab coverage in care homes from 40 to 60 per cent since the launch of the scheme on July 25.

The government added that it aimed to reach 70 per cent by next month, which would help develop an immunity barrier coverage of 90 per cent, given some care home residents had acquired natural immunity because of earlier infections.

The news came after Yeung Tak-keung, the city's sports commissioner, said he was confident that the Hong Kong Sevens rugby competition was on track to start as scheduled in November.

The city's flagship sporting event will be held from November 4 to 6 at Hong Kong Stadium for the first time since April 2019.

The sports commissioner's remarks were on the back of last week's sudden cancellation of the Sun Hung Kai Properties Hong Kong 10K Championships and the decision by the Badminton World Federation to call off November's Hong Kong Open.

A recent suggestion to hold the 2023 World Dragon Boat Racing Championships in Thailand had also contributed to concerns from rugby fans that the Sevens tournament might not go ahead.

"We have discussed the epidemic prevention regulations with the Rugby Union. With international players managed under a closed-loop hotel system, the venue limited to 85 per cent capacity, masks-on rule and vaccine pass among the audience, I'm confident the event will proceed as scheduled," Yeung told a radio programme.

Financial Secretary Paul Chan Mo-po had previously said the government should do everything it could to guarantee the event would be held to underline the continued vitality of the city.

Chan has targeted November as an important time in the city's emergence from Covid-19 restrictions, with a high-profile financial summit involving some of the world's top business leaders planned.

Meanwhile, starting from Saturday, all travellers to Hong Kong from mainland China and Macau will be required to take a mandatory nucleic acid test on the second day of their arrival, instead of the fourth and sixth days, according to a government statement.

The new measure will apply to travellers undergoing mandatory home quarantine and those who have joined the Return2HK or Come2HK schemes.

Authorities also said air passengers arriving from the mainland and Macau would not be required to undergo current testing arrangements at the airport from Saturday.

As a transitional arrangement, those who had already arrived in Hong Kong and undergone nucleic acid screening before September 3 would no longer need to take the second test, the government said.