According to department, more than 600 seasonal lifeguards needed to be hired by May to open all aquatic venues but only 240 reported for duty.
Only 40 per cent of 600 seasonal lifeguards had reported for duty so far, Hong Kong's leisure authorities conceded on Monday, suggesting a full reopening of public beaches and pools in Hong Kong was "unlikely" this year.

The revelation sparked an outcry among lawmakers who demanded more progressive measures by the government to tackle the acute shortage of lifeguards, which they said had been a long-standing issue.

Director of Leisure and Cultural Services Vincent Liu Ming-kwong said the government was struggling to hire lifeguards for public beaches and pools despite the introduction of a more attractive two-year, full-time contract with the aim of finding more than 110 people.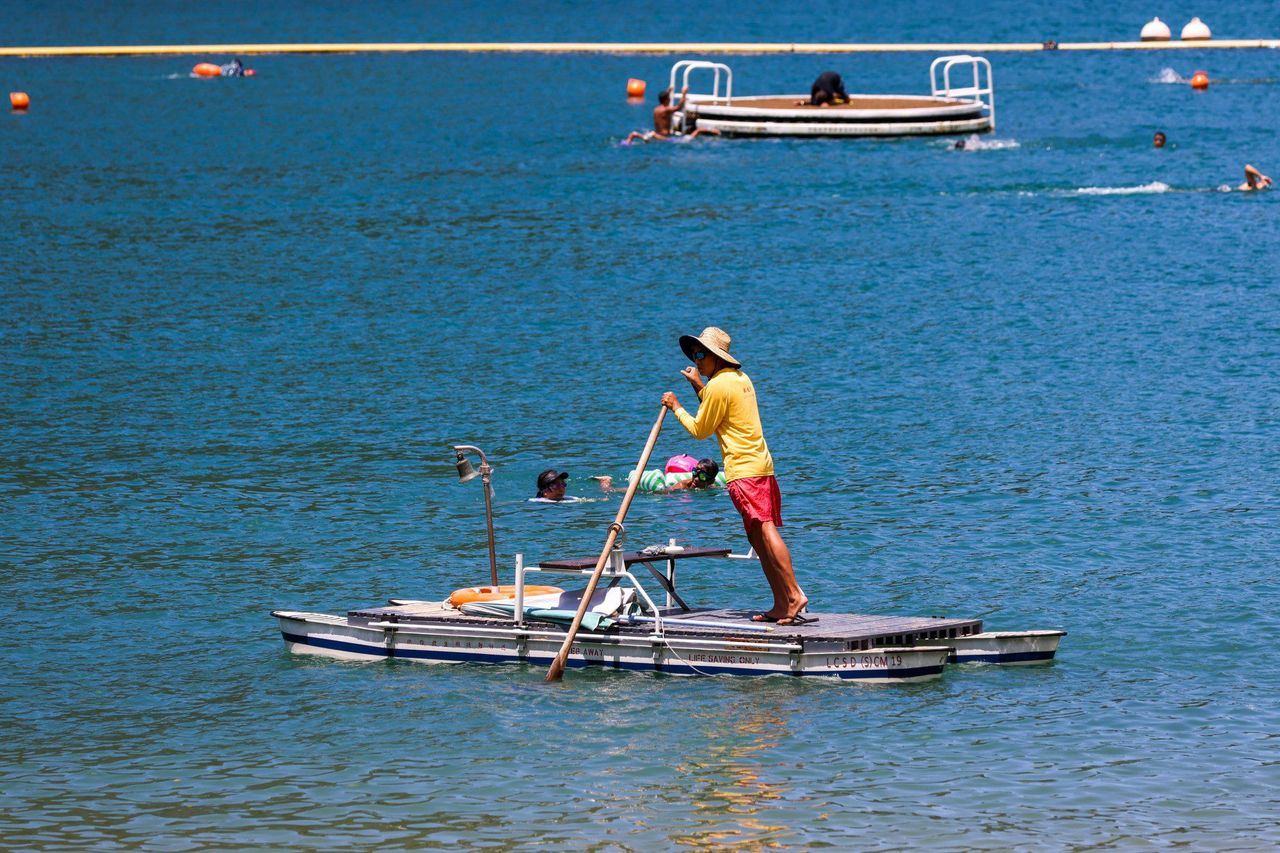 A lifeguard patrols Deep Water Bay Beach.

Only 40 successful applicants were ready to be deployed, he added.

"It is the first time in years we have had difficulties recruiting full-time employees," Liu said.

The Leisure and Cultural Services Department said that more than 600 seasonal lifeguards needed to be hired by May to cater for demand when all aquatic venues were reopened. But, by May 1, only 240 of them had reported for duty.

The department said life-saving services would only be provided at 22 out of 42 public beaches because of staff shortages this month, with three of them being closed for other reasons.

Up to 17 of the 45 public swimming pools would be partially open, while another four are under redevelopment or maintenance.

While recruitment continued, Liu said, it was "unlikely that we can expect a full reopening [of public beaches and pools]".

The department has started a fast track programme which provides lifeguard training and helps trainees secure the required qualification in six months or less.

It also plans to introduce a new AI drowning detection system – designed to calculate the possibility of drowning and alert the lifeguards – in Kwun Tong swimming pool in the next few months under a pilot scheme.

But lawmaker Michael Tien Puk-sun slammed the government for its slow action, saying a similar AI drowning detection system had been implemented in Kowloon Munsang College a year ago.

Liu explained the testing delay was because of different settings between school and public pools and that the department needed to examine other AI systems.

Labour constituency lawmaker Chau Siu-chung argued that the staff storage had been a long-standing issue which had deteriorated year after year. "Yet, the authority has not taken measures that can tackle the fundamental issues," he said.

Chau argued the salary offered by the government to full-time lifeguards was "unattractive" as it was the same as for seasonal workers, while the latter could opt for more competitive pay from private clubs.

Nick Wu Kai-wing, Hong Kong and Kowloon Life Guards' Union spokesman, said the staff shortages emerged every few years because young people did not want to apply for the non-civil service contract positions because of the limited career advancement opportunities.

It is the first summer since Hong Kong returned to normality following the lifting of all pandemic restrictions earlier this year, including social-distancing rules and the mask mandate.