Prosecutor says engineering undergraduate Lui Sai-yu co-administered Telegram platform, named 'Channel of Anti-Communism and Hong Kong Independence' to incite violence, disobedience.
A university student has admitted to violating the national security law by co-managing a Telegram channel that called for Hong Kong's independence and resistance against the Chinese Communist Party.

Engineering undergraduate Lui Sai-yu pleaded guilty on Wednesday to inciting secession before a district judge hand-picked by the city leader to adjudicate national security cases. In exchange for his admission, the prosecution dropped two other charges related to the possession of firearms and offensive weapons.

The 25-year-old student from Polytechnic University is the sixth person to be convicted under the legislation imposed by Beijing in June 2020, and the third to be found guilty of inciting secession, an offence punishable by up to seven years in jail when heard before a judge of the District Court.

Lui has been incarcerated since his arrest in September 2020, after officers from the police's national security unit raided his residence in Fanling and seized a pepper ball launcher, two military knives, an extendable baton as well as protective equipment commonly used by protesters during the social unrest in 2019.

Initial investigations had focused on Lui's sale of weapons through social media, but officers later turned their attention to his Telegram channel, which contained over a thousand provocative messages and illustrations.

Prosecutor Ivan Cheung Cheuk-kan said the defendant and another unknown user had co-administered the platform, named "Channel of Anti-Communism and Hong Kong Independence", with a view to "incite violence and counsel disobedience to the law".

He added that before the national security law took effect, offers had been made on the platform to sell weapons and protective equipment to "valiant" protesters, as well as providing them with advice on how to counter actions by law enforcement.

The channel had remained active after the commencement of the new legislation, with Lui making repeated calls for independence under the alias "Admin for Defensive Equipment".

In a post dated July 4, 2020, Lui declared he would publish the catchphrase "Hong Kong Independence, the only way out" on the channel every day. He said at the time: "I personally treat the national security law like 'rubbish paper' … We can be as humble as dust, but we cannot be twisted like maggots."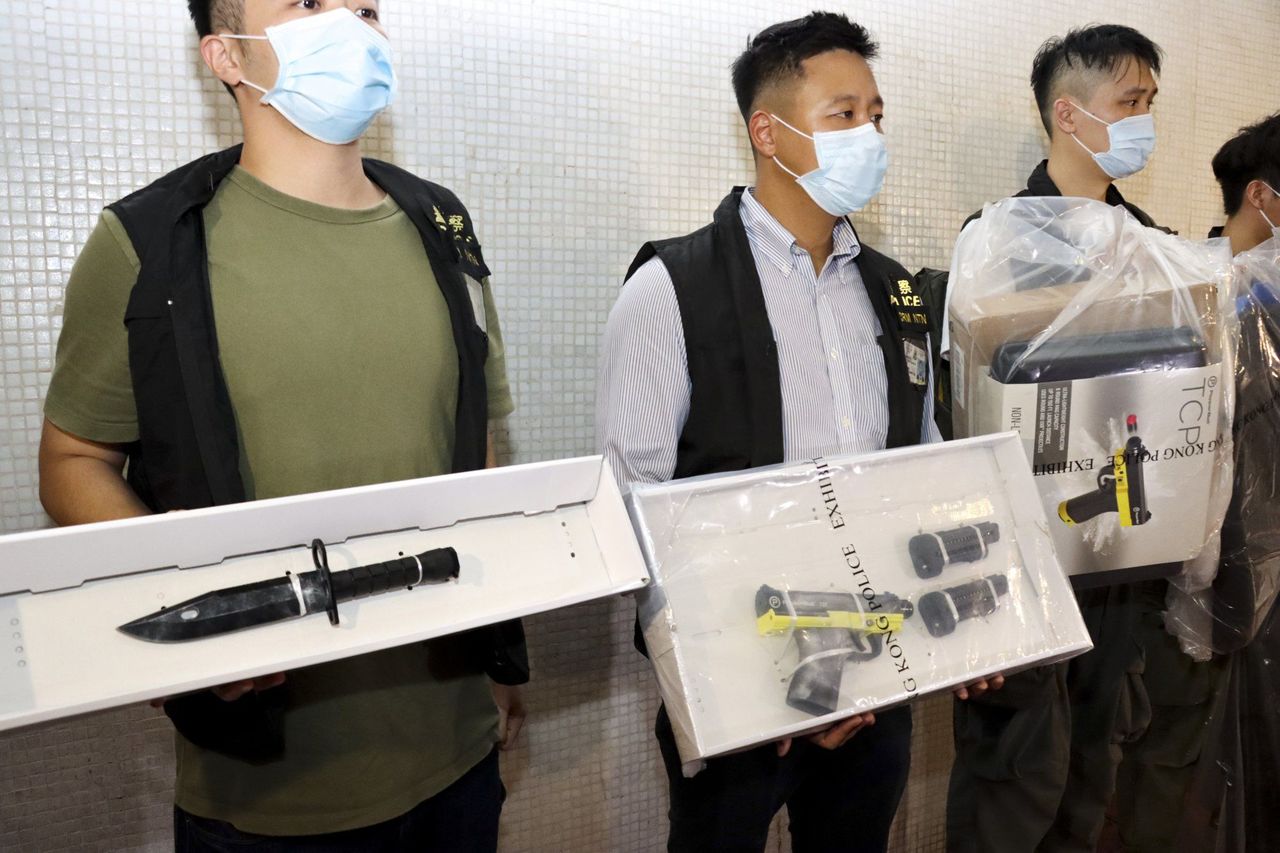 Hong Kong police seized a pepper ball launcher, two military knives, an extendable baton and protective equipment from Lui Sai-yu's residence during a raid in September 2020.

From the time that the national security law was legislated to the defendant's arrest, police identified 357 posts of a concerning nature published on the channel by members. The platform also featured 12 opinion polls on topics that the prosecution said were related to secession.

The channel had 1,040 subscribers as of September 23, 2020.

Cheung noted that out of 1,495 posts extracted from Lui's smartphone, at least 338 of them were either published by, or related to, the defendant.

Senior Counsel Edwin Choy Wai-bond, who currently represents the 25-year-old, said his client's culpability should be on the lower end of the spectrum when one considered his "otherwise unblemished record".

Choy said the student was "very ashamed" of his offence as it had worried his mother, who had single-handedly raised the defendant after his father's premature death.

"Had it not been for 2019, we would have expected a rather happy future for this young man," Choy said. "He had tried his best to live a normal life despite being disrupted by the social events in 2019."

In his mitigation letter, Lui asked Judge Amanda Woodcock to appreciate his "initial intention" to have the government listen to and respect the views of the Hong Kong people.

"During the anti-legislation movement in 2019, it was difficult for an energetic and idealistic young man to keep oneself completely uninvolved," he wrote.

"I witnessed the government turning a deaf ear to views expressed by a million residents. My love for Hong Kong was no less than anyone else's. Hong Kong is the place in which I grew up."

"I treasure the core values of this place. I believe the values of the Hong Kong people can coexist with the culture in China."

Woodcock will pass sentence on Friday.