Accounts on mainland Chinese social media platforms claim to help prospective students gain admission regardless of academic performance or language abilities.
Six Hong Kong universities have hit out at claims by self-proclaimed education agents online offering "connections" to help mainland Chinese applicants secure degree places in the city for fees of up to almost HK$1 million (US$127,400), as they denied any such arrangements existed.

The institutions stressed that all admissions were competitive and made on the basis of merit, warning that students would be expelled if they were found to have used false qualifications, in their replies to the Post.

The saga was sparked by a flood of social media posts advertising the ability to "pay for a university place in Hong Kong" on some mainland platforms. They included Xiaohongshu, a popular Instagram-style social e-commerce platform.

A check by the Post found numerous posts advertising services that claimed to secure places at the University of Hong Kong (HKU) regardless of the students' academic performance.

A seller on one of the platforms, with the username "9 Mile International Education", claimed a 800,000 yuan (US$115,800) payment could secure a spot on a course for a master's degree at HKU through a "green track", which requires no proof of academic performance or English-language ability.

The agent also promised a full refund if the applicant was rejected.

Another seller, "New Eminent Overseas Education", promoted a 400,000 yuan "direct admission" service for master's degree courses at the Chinese University of Hong Kong in a post made on Wednesday.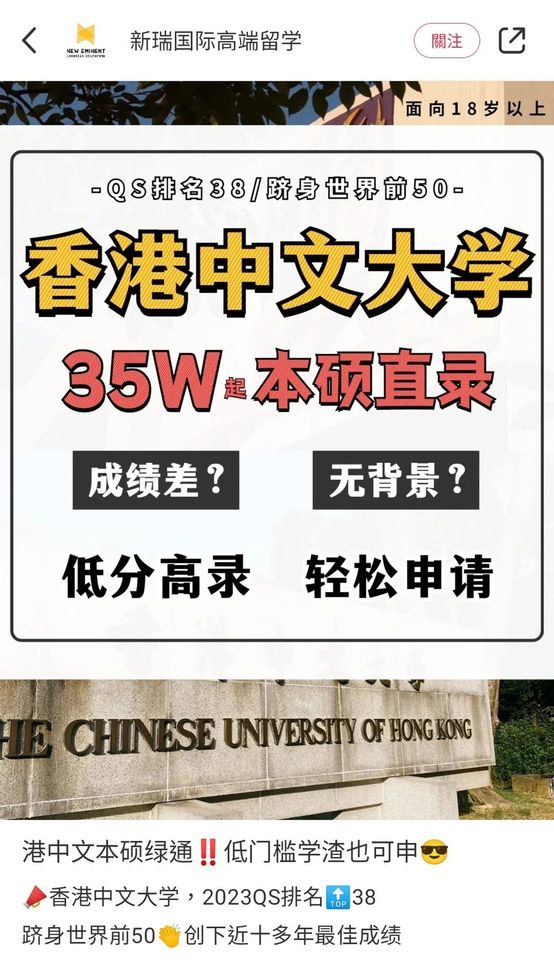 Screen captures from one online posts advertising admission to Chinese University.

It claimed applications through the agency would have a better chance of securing entry to the institution outside the "ordinary" channels, and that the person could simply "sit back and receive an offer" with their all-inclusive service.

Other users claimed they could increase students' admission chances to HKU and other city universities by paying for "internal recommendation letters" arranged through the seller's personal network.

One social media post purportedly showed an admission offer letter dated January this year. In the letter, the student appeared to have received a conditional offer for an undergraduate economics degree at HKU.

"Recommended internally by a business school professor and successfully got the offer!" the post wrote.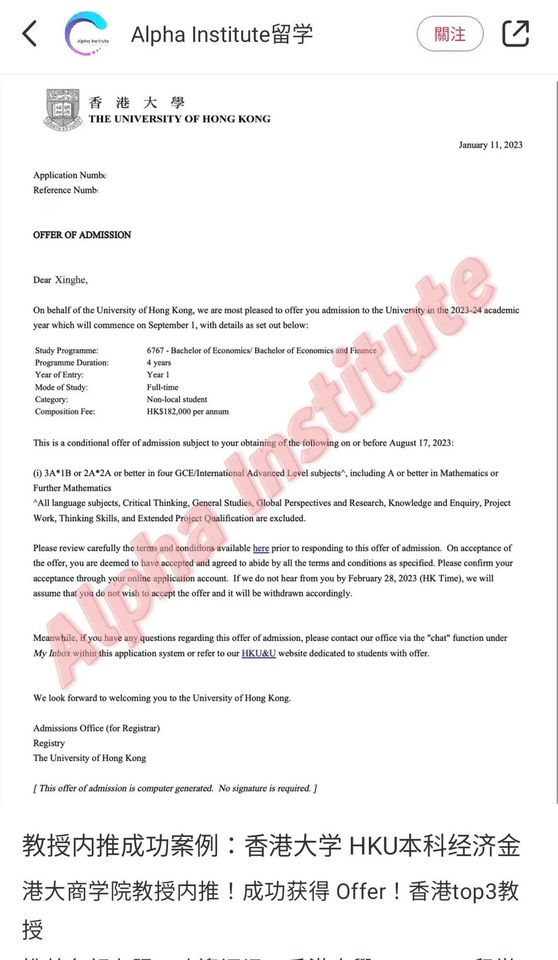 The purported admission offer letter from HKU, which was posted by a social media user.

The user who uploaded the letter, "Alpha Institute Overseas Study", told a Post reporter posing as an interested student that an applicant would still need to apply through the regular channel before requesting an "internal recommendation".

The pricing of the service would depend on the student's academic credentials, the seller said.

"The professor's recommendation letter will give a boost to the credentials, increasing the probability of admission," the user claimed.

In a strongly worded statement, HKU said the posts were "totally unfounded" and added that the university would reserve the right to "pursue legal action against those responsible".

It said it had never authorised any "intermediary organisations" to recruit or admit students from mainland China, and there was no such thing as an "internal recommendations" mechanism for professors to vouch for non-local students in the admission process.

HKU emphasised that non-local applicants must directly submit their applications to the university, adding that admissions are competitive and based on merit.

Chinese University also denied having any internal referral channel for non-local students and said their selection criteria were based on academic results, extracurricular activities and performance during admission interviews.

Likewise, Baptist University and Hong Kong University of Science and Technology also said they followed established admission procedures and verified the documents and qualifications supplied by applicants.

Polytechnic University also said it had not authorised any third party to help recruit non-local students through any "recommendation" mechanism.

All five universities said they would take disciplinary action against students should they be found to have falsified their academic credentials, including expulsion or withdrawal of their admission offer.

A City University spokesman said the institution had no relationship with the education agents and reminded students who wished to study there to "apply through normal and formal channels".

Hong Kong legislator Professor Lau Chi-pang, who is also associate vice-president of Lingnan University, urged mainland students not to seek out the services.

"It is 100 per cent impossible for anyone to get a place in any of the universities in Hong Kong through such a channel," Lau said.

"Many mainlanders like to come to Hong Kong to study at universities because the cost is not as high as going overseas. Hong Kong is a Chinese community and mainlanders would find it easier to adapt."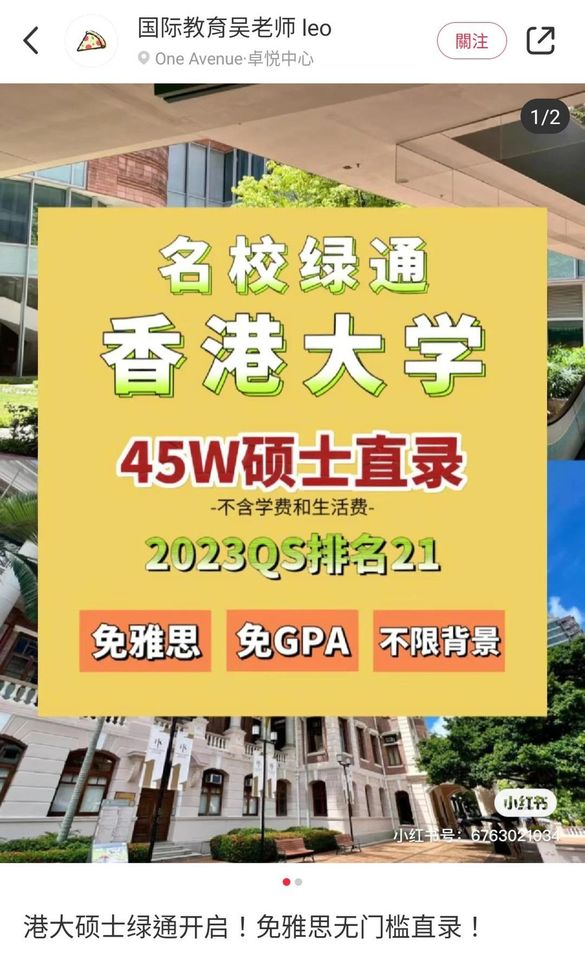 Another advertisement claiming to offer admission to the University of Hong Kong.

Barrister Albert Luk Wai-hung also warned that falsification of documents was a serious offence.

"While Hong Kong police may not be able to catch those agents if they are based on the mainland, the mainland students here could be charged with conspiracy to defraud," Luk said.

"But the academic qualifications a mainland student achieved after completing the university course here might not be affected even though he or she was found to have used false means to get admitted."

The city's eight publicly funded universities may admit non-locals for undergraduate programmes for up to 20 per cent of the approved student numbers in the respective institutions under the current policy.

Between the 2019-20 and 2021-22 academic years, the number of non-local students taking publicly funded undergraduate programmes in Hong Kong increased from 12,249 to 13,254.

As of last June, about 65 per cent were from the mainland, according to the Education Bureau.

More than 22,000 non-local students were enrolled in self-financing taught and research postgraduate programmes in those two academic years, most of whom were from the mainland.