The initiatives were revealed during online meeting involving Luo Huining, Beijing's top man in Hong Kong, and heads of several of the biggest companies in the city.
Members of the popular Hong Kong boy band Mirror have been enlisted as "anti-pandemic ambassadors", while a major property developer has offered the government a site in the New Territories to build a makeshift hospital.

The two initiatives were among 16 measures pledged by business leaders who attended an online seminar chaired by Luo Huining, director of Beijing's liaison office in Hong Kong, on Friday.

Luo had sought to rally the tycoons into doing their part for the city in tackling the coronavirus pandemic, citing three ways to wage the battle: stay confident, stay united and take action.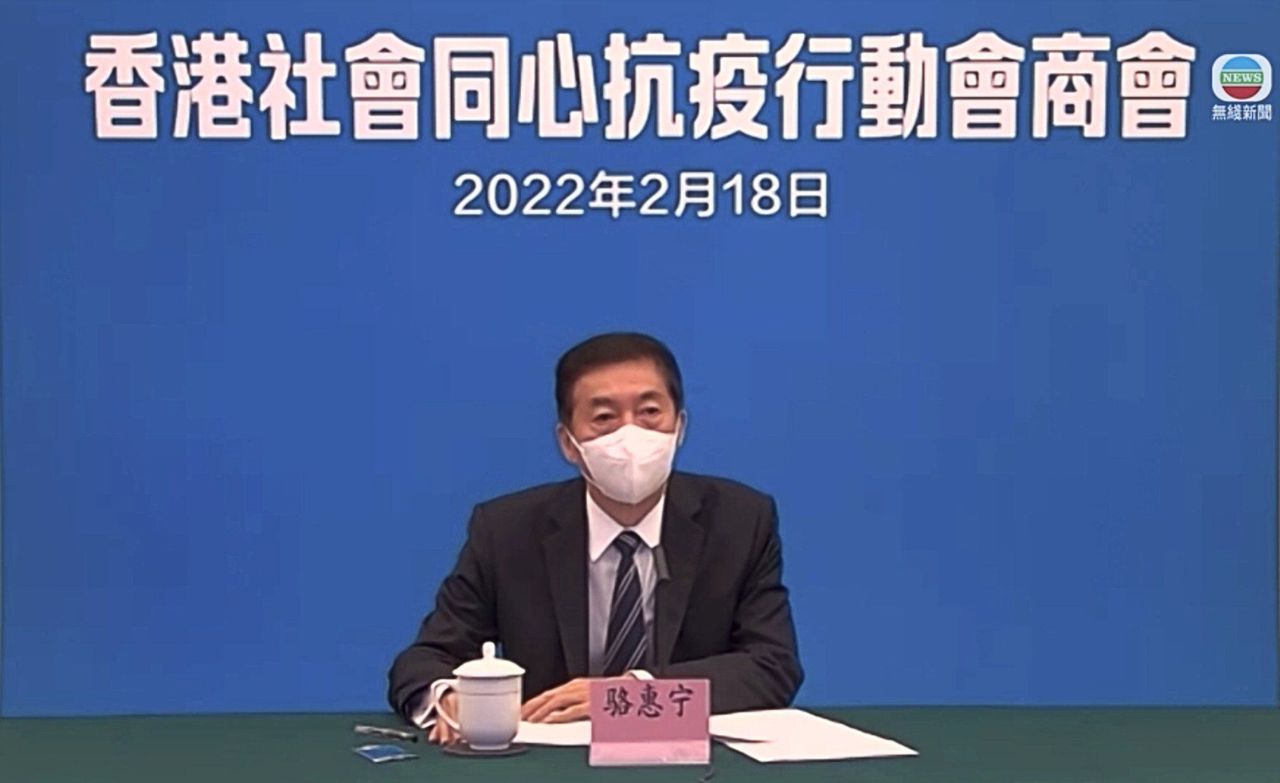 Luo Huining, director of Beijing's liaison office in Hong Kong.

A separate top-level, tripartite coordination group session was also held in Shenzhen on Friday, helmed by Xia Baolong, director of the State Council's Hong Kong and Macau Affairs Office.

According to a report by the Hong Kong China News Agency, Xia urged all relevant mainland departments to work together with the local government to fight the pandemic, stating the immediate task would be to ramp up the city's testing capacity and quarantine facilities.

The meeting also studied ways to guarantee mainland Chinese supplies to Hong Kong and support the construction of a makeshift hospital in the city.

At the event with Luo, tycoon Richard Li Tzar-kai, who heads the ViuTV local television channel and the Now TV entertainment platform, revealed that the 12 members of pop group Mirror would be enlisted as "anti-pandemic ambassadors".

"Through filming promotional videos, they will help to encourage the public to stay home and fight the pandemic," said Li, who is also chairman of the Pacific Century Group conglomerate.

Mirror is currently under ViuTV, which is part of PCCW Media owned by Li, son of Hong Kong billionaire Li Ka-shing.

New World Development CEO Adrian Cheng Chi-kong promised to free up the Hong Kong Convention and Exhibition Centre for community testing purposes, while Peter Lee Ka-kit, co-chairman of Henderson Land Development, said his group would offer a 20-hectare site on Lam Kam Road for an "instant" hospital.

Luo, Beijing's top man in Hong Kong, called on the community to step up the fight against the worsening coronavirus wave.

"Hong Kong is our common home, and as long as we help each other – and bravely ride through the tough times together, we can definitely win the battle against the pandemic," he said.

"In the fight against the pandemic, the most precious thing is confidence, the most important quality is unity, and what's needed the most is action."

Other speakers at the seminar included Sino Land head Robert Ng Chee Siong, Sun Hung Kai Properties chairman Raymond Kwok Ping-luen, Sunwah Group boss Jonathan Choi Koon-shum and Wang Xiangming, chairman of China Resources Group.

During the 30-minute conference, these bosses – representing some of the biggest companies in the city – put forward a slew of initiatives, including stepping up the supply of rapid antigen tests for low-income households and frontline hospital staff, and shipping more food and goods into Hong Kong through a new route.

Ng said his company had bought 280,000 rapid test kits to give to residents and hotels under his group, which had joined the government's scheme to turn 700 hotel rooms into isolation facilities.

The seminar was held just two days after Chinese President Xi Jinping issued instructions on Wednesday to the Hong Kong government through two pro-Beijing newspapers, indicating the fight against the worsening coronavirus outbreak should be the "overriding priority" of local officials.

Also at the meeting was Chief Secretary John Lee Ka-chiu, who thanked the central government for its support and promised that city authorities would do their utmost to contain the coronavirus.

Richard Li's brother Victor Li Tzar-kuoi, chairman and managing director of tycoon Li Ka-shing's flagship company, pulled out hours before the seminar due to sickness.

According to a statement by CK Asset Holdings, Li was undergoing tests for Covid-19 after reporting symptoms, including "light coughing" and "hoarseness in his voice".

CK Asset, which has offered 3,000 rooms in four hotels under its management for use as isolation facilities, was rallying its resources and staff to help authorities contain the spread of Covid-19 infections, said the statement, which also cited a copy of Li's prepared speech for the meeting with Luo.


Anti-pandemic measures from Hong Kong's private sector:

1. Mainland Chinese enterprises will ensure continuous supplies of daily necessities and anti-pandemic goods.

2. Mainland enterprises will also ensure continuous and safe supply of drinking water and fuel.

3. Mainland enterprises will help raise Hong Kong's PCR test capacity.

4. Hong Kong businessmen and mainland enterprises will provide hotels as isolation facilities and malls or offices as vaccination centres.

5. Hong Kong's business sector will donate sites for building facilities for isolation and medical treatment.

6. Mainland enterprises will construct isolation and medical facilities.

7. Organisations in Hong Kong will donate money and anti-pandemic necessities, including heaters for patients left outdoors at hospitals.

8. Hong Kong and mainland enterprises will offer discounts for food and daily necessities, and promise not to raise prices.

9. Hong Kong firms will encourage staff to work from home.

10. Mainland banks will continue to provide relief measures.

11. The Hong Kong Community Anti-Coronavirus Link will assemble volunteer teams across the city's 18 districts.

12. Hong Kong artists will compose a song for the anti-pandemic fight.

13. Hong Kong and mainland enterprises will display anti-pandemic slogans on outdoor LED screens and bus facades.

14. Online users can pen signatures to express support for frontline medical staff. Mainland online commerce platforms will also be mobilised to support frontline medical staff.

15. A youth-led volunteer fleet of taxis and private vehicles will be assembled to ferry medical staff and anti-pandemic goods.

16. The Hong Kong Coalition will supply anti-pandemic goods and necessities for security guards and cleaning workers.