Despite case that broke Hong Kong's run of days without local infections, officials are weighing launch of bubble with Guangdong, sources say.
Hong Kong's border with mainland China could reopen for quarantine-free travel as early as next month, sources have told the Post, starting with the launch of a proposed bubble with Guangdong for businesspeople.

However, mainland authorities remain concerned about Hong Kong's ability to achieve a state of "zero local infections", and uncertainties over recent Covid-19 cases could scuttle the plan.

The city was nearing the critical milestone of a full month without any local untraceable infections until the case of a four-year-old boy whose test results caused some confusion this week. Two other Hongkongers have tested positive over the past week after travelling to the mainland.

Health authorities confirmed only one coronavirus case, brought in from overseas, on Friday, which took the city's overall tally to 11,829, with 210 related deaths.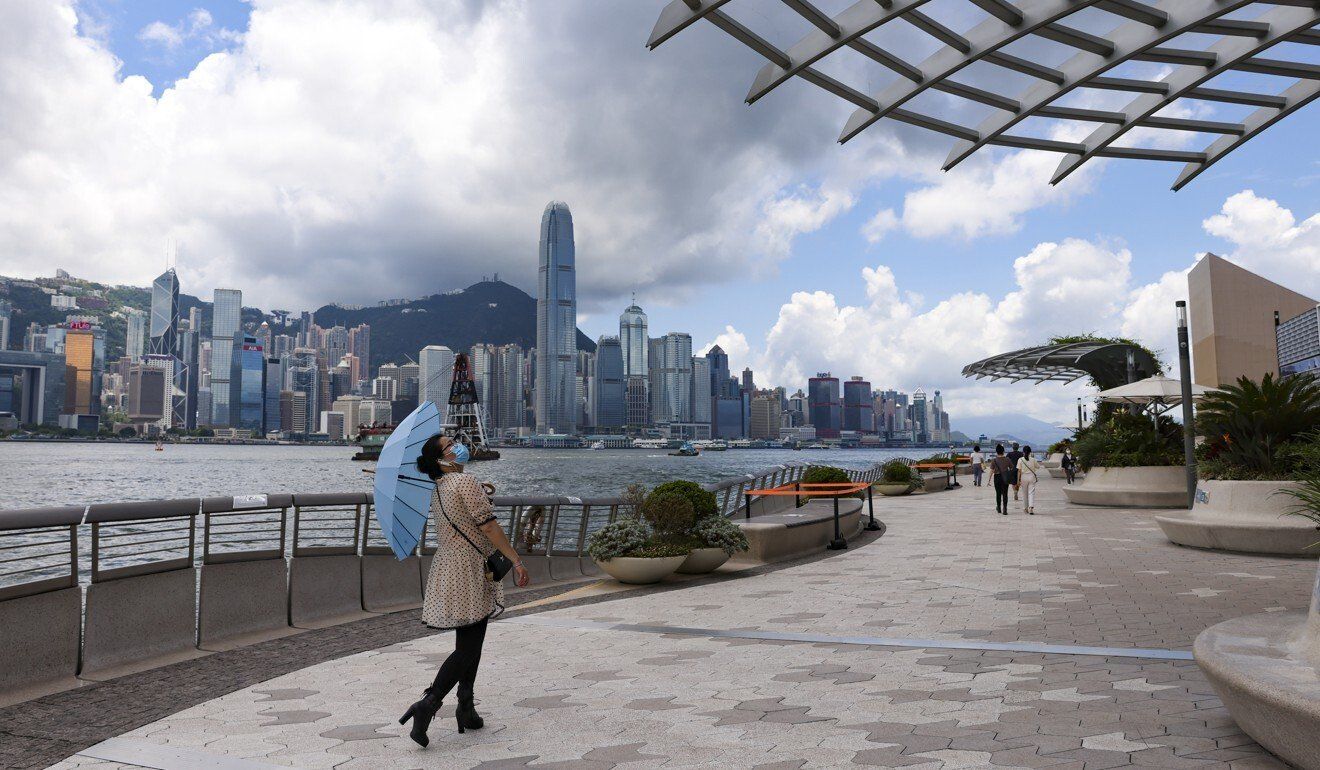 Hong Kong's Avenue of Stars attraction in Tsim Sha Tsui was bustling with tourists before the pandemic.

A mainland official with knowledge of border-reopening discussions in light of the generally improving situation in Hong Kong said a travel bubble arrangement for eligible businesspeople from the city with companies or factories in neighbouring Guangdong had been proposed as the first step for gradually easing cross-border travel restrictions.

"But nothing is confirmed for now," he said.

The source said the travel bubble was originally scheduled to be launched at the end of June or in early July, with travellers required to have received a second vaccine dose at least two weeks in advance. They would also have to test negative and remain traceable with a mainland tracking app.

"Starting with the businesspeople, we hope to expand it to technology and culture groups," the source said, referring to scientists and technopreneurs, as well as artists who would need to perform on both sides of the border.

"But there are lots of details to be worked out, including how many cities in Guangdong should be open to the bubble, whether there should be a short quarantine period to wait for test results from Guangdong health authorities, if there should be a daily quota [for travellers] and designated transport arrangements.

"They will have to travel on designated vehicles. They will not be allowed to take local public transport. Details of the length of their visit are also being worked on."

Chief Executive Carrie Lam Cheng Yuet-ngor discussed the business community's views on launching the bubble at the weekly meeting of her de facto cabinet on Tuesday, but no decision was made as the call was not hers alone to make, said one of the senior advisers, requesting anonymity.

Another Executive Council member, Jeffrey Lam Kin-fung, who represents the interests of the business sector in the legislature, believed conditions for a "commercial bubble" for the Greater Bay Area were ripe.

"I hope it can be done in the near future," said the lawmaker with the Business and Professionals Alliance for Hong Kong.

Under "concrete proposals" he said he offered to the city's leader late last month, fully vaccinated people could travel "point to point" between bay area cities via designated transport. The scheme could begin with a quota of about 1,000 people each week and be gradually expanded to cover tourism.

University of Hong Kong (HKU) microbiologist Dr Ho Pak-leung also supported the idea of quarantine-free travel to the mainland for residents who had received two vaccine shots, but authorities over the border might be hesitant over the arrangement due to fears over imported cases.

According to Ho's tally, 26 Hongkongers have been found to carry the virus after arriving on the mainland since last July.

This past Monday, a 43-year-old car designer tested positive after arriving in Shanghai from Hong Kong. An 18-year-old student, who travelled to Shenzhen on May 5, was confirmed with the coronavirus on Wednesday. Cosco Inn in Kennedy Town, where the student stayed from April 29 to May 5, was issued with a mandatory testing order.

A Guangdong government source cautioned that any new outbreaks in Hong Kong could interrupt border opening discussions and the city must first qualify as a "low-risk zone" with the central government.

"We relaxed the quarantine requirement for Macau residents entering Guangdong only after it successfully cleared all Covid-19 cases, including the suspected cases, and showed a very consistent record of no locally infected cases," the insider said. "Some consistency is expected with respect to Hong Kong."

Infectious disease expert Professor Yuen Kwok-yung, who has been investigating the boy's test results, said the latest information supported his theory the Covid-19 infection was not recently acquired. The boy tested positive on Friday last week but subsequent checks suggested the case was a false positive until Thursday when Yuen upheld the initial classification.

Yuen suspected the toddler caught the virus from fellow residents in Pak Tin estate in January, while noting the city would on Friday be marking 28 straight days of zero local infections if the case was treated as a past infection.

The HKU academic also revealed that overnight testing by his team showed that the boy's samples tested positive for human herpesvirus 7, further backing his theory the infection was not new, as the second virus could trigger symptoms such as rashes the boy suffered.

Arriving at a private clinic in Tsing Yi where the boy obtained a testing kit, Yuen added he had taken environmental samples to explore the "tiny possibility" the boy's specimen was contaminated by remnants of the coronavirus as the clinic also administered the Sinovac vaccine, which contains the inactivated virus.

Health authorities announced late on Friday all residents of towers 5A and 5B at Cullinan West in Sham Shui Po must be screened after at least one preliminary positive case was discovered.

A source said the case involved a domestic helper who took the test on the 26th day of her return from Indonesia. He added her viral load was low.