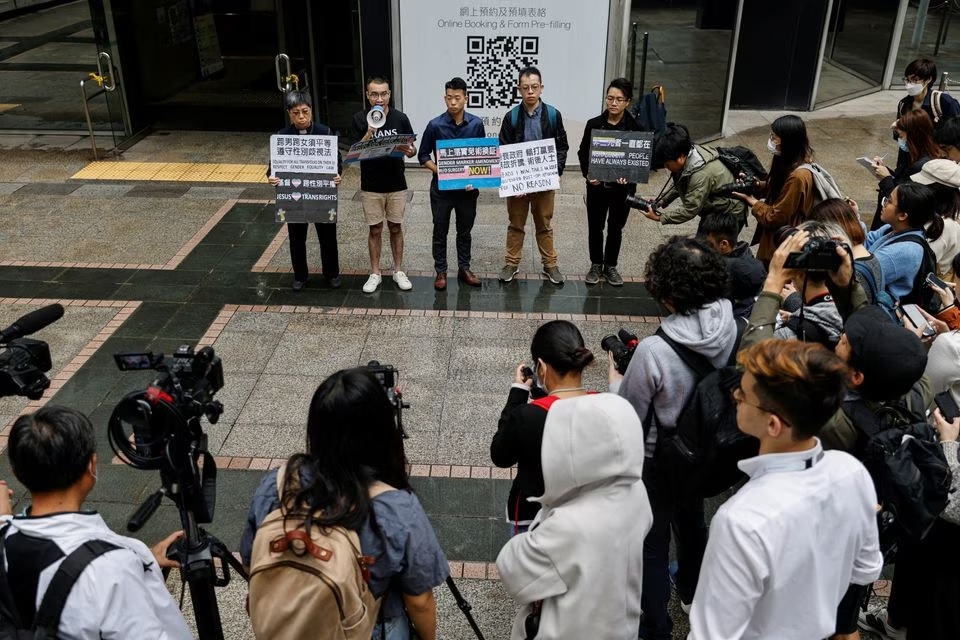 Hong Kong transgender protesters say government is not abiding by landmark ruling
A group of Hong Kong transgender people staged a small protest on Friday against a delay by authorities in changing the gender indicated on their identity documents, saying they have yet to be fully recognized despite a landmark court ruling in February.
The protesters held up placards outside the immigration department in the rain, demanding authorities abide by the legal judgment granting transgender people the right to change the gender marker on their identity cards, without undergoing a full sex reassignment operation.

Such operations are highly intrusive and involve removing sexual organs, with a high risk of serious complications.

The ruling was hailed as a victory for transgender rights in the Chinese-ruled city, making it a more progressive jurisdiction than Asian countries like Singapore, Japan and South Korea.

But Henry Tse, the founder of the group Transgender Equality Hong Kong, who was involved in the protest, said he was still waiting for his identity card to be formally changed to show he is a man.

"The government is using administrative tactics to deliberately delay the whole process," Tse told Reuters.

Another protester, Emery Fung, 28, who has a gender marker change application pending, said he had not been given a timeline despite trying to ask the authorities numerous times.

"There's no clarification," Fung told Reuters.

The Immigration Department told Reuters it was studying the judgment carefully and would aim to finish a policy review "in a reasonable time", without giving specifics.

The department would not confirm whether it had suspended applications for gender marker changes since the ruling, as reported by media, nor say how many people were affected.

Kelley Loper, an expert in human rights law at the University of Hong Kong, criticized the government's failure to implement the decision swiftly.

"Any delay potentially undermines their dignity and perpetuates discrimination and marginalization," Loper told Reuters, noting that ordinary acts like going to the bank or a public toilet could become problematic.

According to a study conducted by the Sexualities Research Program at the Chinese University of Hong Kong (CUHK) and Transgender Resource Center in 2019-20, half of the city's transgender people faced discrimination and 76.9% of respondents said they had contemplated suicide.

"Legal uncertainty will continue to put a huge pressure on this community and affect their mental health," Suen Yiu-tung, an associate professor of gender studies who led the research, told Reuters.

Despite the delay, some like Henry Koh, executive director of ILGA Asia, the Asian arm of the International Lesbian, Gay, Bisexual, Trans and Intersex Association, were hopeful the Hong Kong gender marker judgment could have a regional impact.

"In countries such as mainland China, Singapore, South Korea and Japan, which still require gender reassignment surgery to have their gender recognized, this ruling could provide an example of what is possible and could potentially influence future legislation and ensure more inclusive gender recognition policies," Koh said.